Square vs round coffee tables - which are better? Designers agree on the best shape for a perfectly curated space
5 considerations interior designers say you must take into account when picking between a square and round coffee table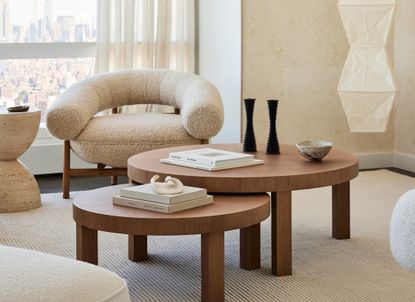 (Image credit: Nicole Franzen. Design: Jessica Gersten Interiors)
The shape of your coffee table is a design decision that can have real impact on a room and how it feels. Not only does it impact the look and tactile feel of a space, but it can change the flow of the room, how you and your friends or family interact and use the room.
Current coffee table trends point towards round coffee tables as more popular, bringing that arched, shapely look that is so popular in living room furniture at the moment. But some prefer the more angular feel and structure that can come with a square coffee table.
There is no hard and fast rule as to what is right, but there are points of consideration to bear in mind. Follow our guide to help you find the perfect coffee table for your room.
1. Consider the shapes you have in the room
Choosing your shape is about more than just current coffee table trends - it's completely dependent on the space it sits in. Think about the other shapes you have in the space and the answer as to whether you go round or square will be obvious. Look at your sofa, is it curved? Does it have a rectangular feel to it? Echoing this movement will help a living room feel cohesive and unified.
Think about the wider shape of the room too and how you can complement the space and the four walls with your choice of furniture.
'The shape of your coffee table should complement the living room layout,' says Alla Yaskovets of O&A London.
'A round coffee table may be the perfect addition to an open-plan living room with a rectangular dining table. This is because it adds a softness to the sharp edges of the surrounding furniture, making for a more inviting atmosphere.'
Alternatively, a square coffee table may work better in a space with a round dining table, as it balances out the roundness of the table. 'Ultimately, the shape of the coffee table should be carefully considered to ensure it complements the overall layout and creates a cohesive design,' says Alla.
2. Think about where your coffee table will sit
Secondly, think about where in the room you are putting your coffee table and how you plan to use it. Is it going to be against the wall or will it sit floating in the center of a living room rug? A coffee table against the wall makes sense to be long and rectangular, whereas a floating coffee makes sense in a round shape. Think about the relationship between the bigger pieces of furniture - if it sits at the 90 degree angle of a L-shape modular sofa, a rectangular or square shape coffee table can slot perfectly there. If you've opted to position your armchair at more of an angle, then a round table could look better as it will open up your space a little more.
Your coffee table shape might be dictated by the size of the space you have too. For sizing, 'A good rule of thumb for coffee table size is to select a coffee table roughly half the length of your couch,' says Alla. 'For example, the length of the Ocean sofa [above] by Liaigre is 94 inches, whereas the diameter of the Tudor coffee table by Holly Hunt is 48 inches.'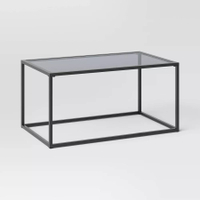 Swanton glass top coffee table
This glass top coffee table is a simple box design that can work indoor or outdoors. It's boxy and rigid, but I like how its form is and would find it easy to style with books and candles. It's also just the right coffee table size to store magazines underneath.
3. Pick a shape that enables flow around the room
Think about the use of the room and the traffic flow. Will people be able to easily manoeuvre around the space without bumping into the table? Is it a high traffic area that needs to be carefully considered? This can impact whether you choose square or round.
You need to be able to circulate around a coffee table,' says Ophélie Doria of Space Factory. 'Round coffee tables typically allow for a better circulation. The most important is to think about its height, if the sofa is low, the coffee table has to be even lower, and the same way and vice versa.'
4. Look for a style that is softer
There is something soft and gentle about a round coffee table, softening any harsh edges that might make your space feel cold and unwelcoming. The roundness subconsciously feels more welcoming. 'Round coffee tables are my preference versus a square one,' says Andi Morse of Morse Design. 'Round coffee tables have softer lines, are not as structured and provide more legroom in most instances.'
The softness of round tables isn't just welcoming, they can cause less injuries due to a lack of any hard edges. 'If there's any issue with the size of the space at all, I will steer clients towards a round coffee table. I always say, your shins will thank you later,' says Bethany Adams of Bethany Adams Interiors.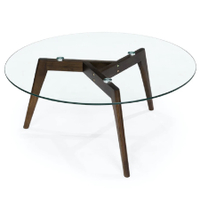 If you want something a bit softer, this round shape from Article is soothing and aesthetically beautiful. I like its glass top so you can see the angular walnut legs.
5. Think about what's trending
There is no doubt that curves and organic shapes are trending and proving popular among homeowners and designers. So if what is popular is important to you is the latest coffee table trends, then round is your way to go. Bring in curves with travertine tables, go fully round, or try two round nesting tables that work together to give you storage space but in a stylish way.
'Curves are trending in 2023,' says Erin Coren of Curated Nest. 'Coffee tables are a fun way to bring in this trend. They add softness, a feeling of coziness and clean, modern lines.'
'Curves not only add architectural interest and diversity to a room but also something unexpected,' says Ginger Curtis of Urbanology Designs. 'We are often used to clean lines and right angles, being thrown a curve ball is not always a bad thing.'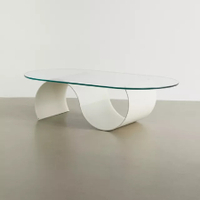 This travertine coffee table is a great inbetween. Long and rectangular, but with smooth edges and curves, I love how elegant this piece is.
The Livingetc newsletter is your shortcut to the now and the next in home design. Subscribe today to receive a stunning free 200-page book of the best homes from around the world.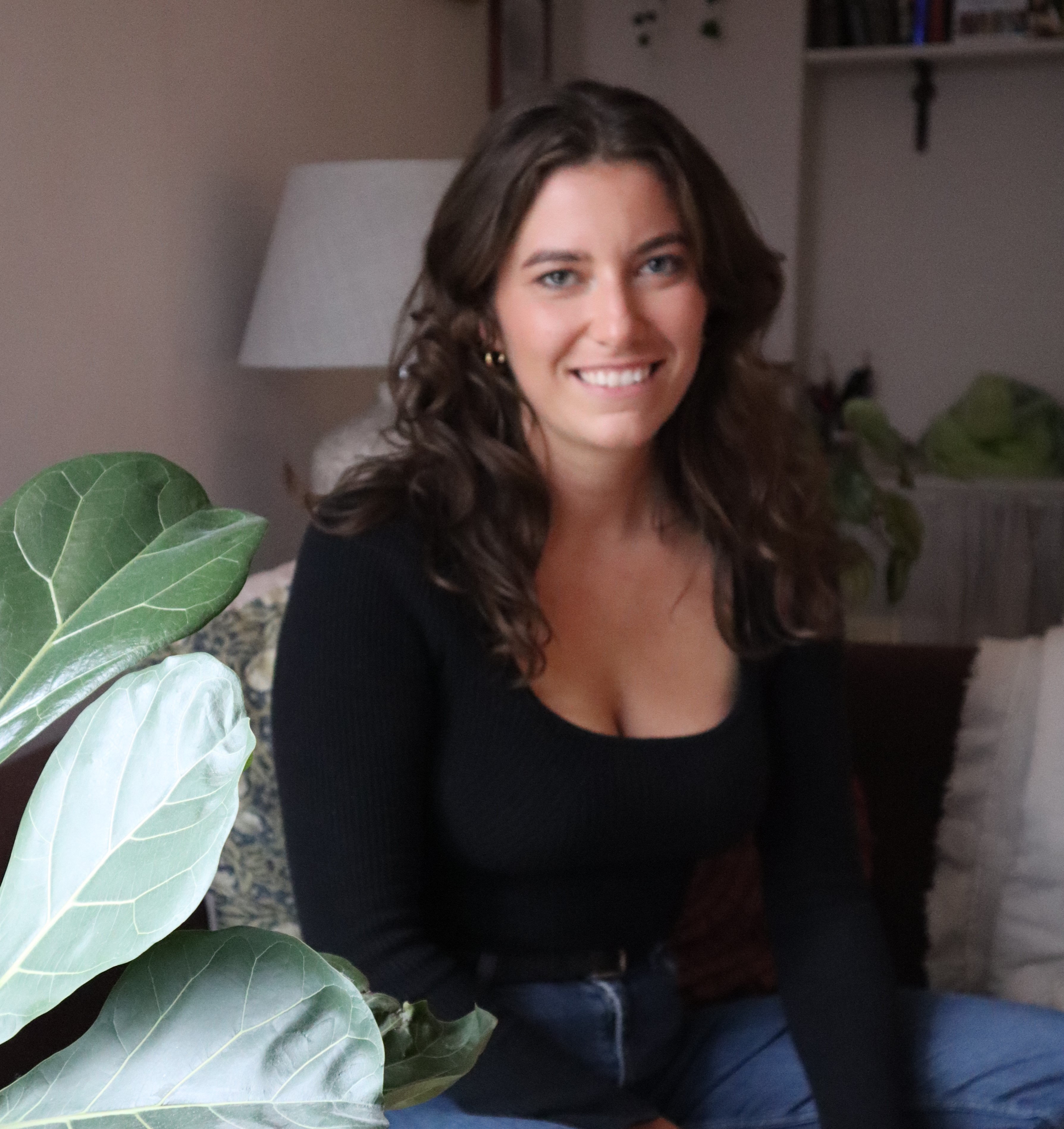 Livingetc content editor and design expert
Oonagh is a content editor at Livingetc.com and an expert at spotting the interior trends that are making waves in the design world. Writing a mix of everything and everything from home tours to news, long-form features to design idea pieces on the website, as well as frequently featured in the monthly print magazine, she's the go-to for design advice in the home. Previously, she worked on a London property title, producing long-read interiors features, style pages and conducting interviews with a range of famous faces from the UK interiors scene, from Kit Kemp to Robert Kime. In doing so, she has developed a keen interest in London's historical architecture and the city's distinct tastemakers paving the way in the world of interiors.