10 cozy minimalist living rooms you could hunker down in all winter
Cozy minimalist living rooms are not a contradiction in terms, as these beautifully designed spaces show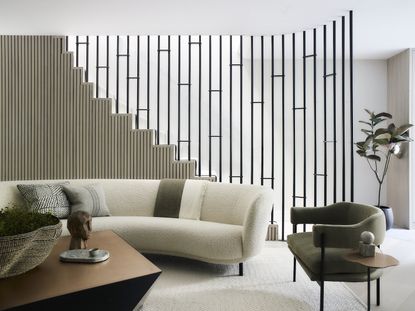 (Image credit: Chelsea modern townhouse by Gunter & Co, photographer: Mary Wadsworth)
One of the most liveable interior design trends to come out of 2022 was the way minimalism went warm. It evolved into a softer, more inviting and cozier aesthetic. 'Soft minimalism', as it's becoming known, encompasses richer hues, rounded edges and imperfect, organic materials.
"For us 'minimalism' is a highly overused and often incorrectly used term," said Grant Straghan, architect and founder of deDraft. "Often interpreted as an empty white space of straight crisp lines, it is now more often considered to involve a pared back simplicity, increasingly frequently using natural materials, with all storage concealed from view and a highly curated arrangement of freestanding, often sculptural furniture."
The shift is likely a reflection of the changing cultural mood, and is fantastic news if you love modern design but want to maximize the coziness of your living room. Here are 10 tips and examples of cozy minimalist living rooms to get you started.
10 cozy minimalist living rooms and how to design one
1. Layer up natural textiles
Incorporating a variety of natural textiles is key to ensuring your minimalist space feels cozy rather than sterile. "Textiles inspired by or from nature such as wool contrast the materials found in more traditional minimalist design," says Daisy Brown, Co-Founder of design brand Six the Residence. "Natural materials such as wood allow you to use more traditionally minimalist angled lines whilst still achieving a warm finish."
Curtains are a great opportunity to layer textiles in your living room. Sheer, linen curtains are a great choice, as per the image above. "They diffuse the natural light and create a luminous and tranquil atmosphere," says Roisin Lafferty.
Choosing a weightier fabric is another good option. "In a minimalist living room, a pair of thick curtains made from a beautiful fabric can't fail to create a cozy vibe," says Irene Gunter, founder at Gunter & Co. "My top tip when it comes to curtains is to get the length right! To my mind it's a big no-no to have a sizable gap between the floor and the hem of the curtains. This is a look that needs to stay firmly in the 1980s! If your interior is contemporary, curtains should sit just a couple of millimeters above the floor. Alternatively, in more traditional projects you might have them pooling onto the floor, which gives a more dramatic look."
2. Anchor your space in natural materials
One of the most defining features of soft minimalism is the inclusion and celebration of natural materials. "Natural materials never fail to warm-up a minimalist space," says Irene Gunter, Founder, Gunter & Co. "Take the living room in this modern townhouse [above]. The addition of a bespoke bleached oak staircase adds a cozy vibe."
If you're decorating your minimalist living room from scratch, try to use natural materials for the foundational elements of the room, like your flooring and walls. "Nothing has character and depth like the imperfect beauty of natural materials," says Roisin Lafferty of Kingston Lafferty Design. "Think stone, travertine, honed marbles and then wide plank timber floors - the depth they can add as your base layer is incredible. They have their own subtle variances of tone and pattern that underpin spaces beautifully. Lime paint and plaster can also add a painterly and natural overlay."
3. Curate accessories, rather than eliminate them
In any minimalist living room - cozy or otherwise - you should never include furnishings or ornaments for the sake of it. "To achieve the serene finish of a cozy minimalist living room, keep only what you love and find ways to disguise wires etc," says Daisy Brown. "By simplifying the space you are able to highlight the beauty of your selected pieces."
But while decoration may be forbidden in traditional minimalist living rooms, soft minimalism is more lenient. This is yet more proof that minimalism is evolving. "Think sleek rather than sparse," says Daisy Brown. "Our intention is to help people curate spaces that invite you in and make you want to stay a while. Textures and textiles are key to this. Look for pieces that beg to be touched and layer them. A Bouclè chair with a real Sheepskin pouf will offer instance warmth to a simple space."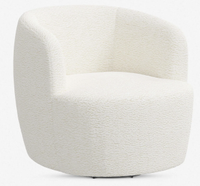 Boucle Rue swivel chair, Lulu and Georgia
So subtle is the texture of this boucle that at first glance it seems like a classic minimalist piece: sleek and chic. But its tactile surface will help you to feel cozy, cocooned and cosseted.
4. Treat your feet to a sumptuous area rug
Area rugs are a delightful way to add coziness to your living room, especially if you've got wooden floorboards as your base layer. Opt for a simple design in a comforting fabric for a warm minimalist look.
"While your living room rug may be plain to suit your minimalist aesthetic, it should be super luxurious underfoot," says Irene Gunter. "So, look for a high-quality rug that feels fabulous! A quick note: always weigh up the pros and cons of the material your rug is made of. For example, when silk is used in a rug, the color changes drastically depending on the direction of the warp and weft. If you are unsure, ask your interior designer for advice. Another way to add interest with a neutral rug is by choosing a contrasting binding."
5. Incorporate curves and organic silhouettes
Curved shapes—such as in the blue curved sofa above—can help give your living room a cocooning feel, and are another defining feature of soft minimalism. Daisy Brown says: "It moves away from the hard lines of traditional minimalism and utilizes curves and rounded edges. Clever use of shapes and silhouettes adds interest to a space and keeps the eye intrigued in a subtle way."
For example, to offset the square shape of the room in her modern townhouse project [see the image in point one], Irene Gunter included a curved staircase. "Adding curves and organic shapes helps to soften sharp lines and makes you feel more at ease," she says.
6. Choose warm, earthy neutrals
Soft minimalism is more welcoming of color than its predecessor—preferably warm neutral tones. "I love putty, natural, clay-like tones such as [Farrow and Ball's] Purbeck Stone or Charleston Gray," says Roisin Lafferty.
Daisy Brown agrees that this look allows for more playfulness when it comes to color. "You can think beyond the obvious hues associated with minimalism and play with tones you love," she says. "The tone of your furniture choice can transform a space. A dark brown sofa styled on a concrete floor instantly changes the space from Brutalist to Cozy Minimalist."
But while white walls are synonymous with traditional minimalism, they can work just as well in a cozy minimalist living room. "Bright whites are timeless and can create a beautiful framework for timeless or bold furniture pieces," says Roisin Lafferty.
7. Create cozy pools of light
Layered lightning is essential to any room, but especially when you're trying to make your space super cozy. "Start with a central ceiling piece and then add table and floor lamps around the room," says Hanna Walter, from Heathfield & Co. "Combining light sources in this way allows you to create a space that easily adapts to how it is being used. For example, if your living room doubles up as your home office, the lighting needs to be bright enough to allow you to work during the day, but also soft enough for when you want to be cozy in the evening."
Hanna also advises mixing the size and scale of your lamps. "Choosing lamps of different heights means that when they're switched on, you'll have cozy pools of light glowing at different levels," she says.
8. Add textured lampshades with warm finishes
Your living room lighting is another opportunity to add layers of comforting textiles to your cozy minimalist living room, without cluttering the space with more pillows and throws. "Pair lamps with lampshades in textured fabrics that complement the other 'cozy' elements of the room, such as rugs, throws and cushions," says Hanna Walter. "Lampshades in warm hues will also cast a cozier light."
The material you choose for the base of your lamp can also make your living room feel more snug. Hanna Walter adds: "Choose lights and lamps that have a warm metalwork finish. For example, brass and bronze have a warmer look and feel than cooler metals such as chrome and nickel. 
Similarly, materials like textured ceramics and grainy woods create a warmer feel than glossy or high shine surfaces."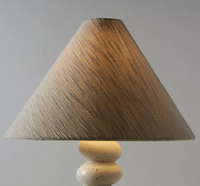 9. Indulge in fire or candle light
There's arguably nothing cozier than sitting in front of a real fire, and for many a living room isn't complete without one. Thankfully, there are more and more environmentally friendly alternatives to traditional log or coal fires, such as bio ethanol fireplaces which don't need a flue and are smoke-free.
"Nothing beats the light of a real fire," agrees Daisy Brown. "Minimalist options are abundant and the inbuilt wall options allow you to enjoy a natural fire in a minimalist design. We also love simple pillar candles and the warm glow they create."
10. Create warmth with wall cladding
Our final trick to creating cozy minimalist living rooms might require the help of a professional, but could be well worth the investment. By adding cladding to your living room walls, you can create a feeling of warmth and encasement.
"I love to include wall claddings that add another dimension to the space without adding color or strong texture," says Roisin Lafferty. "Ideally this can be done by echoing materials from other areas, such as continuing timber flooring on walls, or polished plaster on walls to match a polished concrete floor. I also love to use sheets of bronze mirror on full walls as a seamless intervention that tricks your eye, adds a warmth to the room and extends the feeling of space."
The Livingetc newsletter is your shortcut to the now and the next in home design. Subscribe today to receive a stunning free 200-page book of the best homes from around the world.
Kate Hollowood is a freelance journalist who writes about a range of topics for Marie Claire UK, from current affairs to features on health, careers and relationships. She is a regular contributor to Livingetc, specializing in reporting on American designers and global interiors trends. Based in London, Kate has also written for titles like the i paper, Refinery29, Cosmopolitan and It's Nice That.