Weber vs Napoleon - pitting the grill titans against each other
Want to know which brand you can trust with your hot dogs and kebabs this summer? We compare Weber and Napoleon to see which comes out on top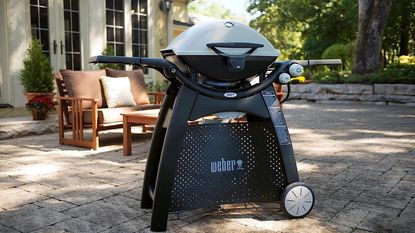 (Image credit: Weber)
When thinking about grills, whether gas, charcoal, portable, or high-end, Weber and Napoleon are two brands that probably come to mind. Offering many similar products while differing significantly in other areas, we wanted to determine whether Napoleon or Weber is the better choice for all your backyard grilling needs.
Models from both brands would undoubtedly perform well and are favorites of many a grill master, but we wanted to look at things like price points, design, and extra features in addition to overall performance and reputation.
If you're interested in how different brands compare to one another, head over to our best gas grills guide, where we rank all of the grills we have tested and reviewed. Keep reading if you've narrowed your search down to Weber and Napoleon.
Weber vs Napoleon: Pricing
Weber has an excellent reputation for durability, with high-quality materials and solid construction. This, of course, could impact price, but Weber grills generally sit at the budget to the mid-range end of the scale.
Prices for a small charcoal model start at as little as $80, while a gas grill can be picked up for about $200. Of course, a larger gas grill from Weber with all of the extra features will still set you back around $1,000.
Meanwhile, Napoleon tends to throw in many of those extras as standard, so prices start a little higher. Its gas grills, like the Rogue 425, cost around $700, but buyers will get a durable grill with a built-in rotisserie, smoker box, and infrared burner for their extra money.
---
Verdict: Both Weber and Napoleon offer good value for money across their range, but those on a budget will find cheaper options from Weber.
Weber vs Napoleon: Design
Many of Weber's grills have a classic, traditional design, with models like the iconic Weber Kettle Grill staying pretty true to the original vision from the '50s. This signature look means people often know a Weber grill by sight, though other models are made for functionality above style.
On the other hand, Napoleon tends to lean towards sleek simplicity with its grills, chrome accents, and LED lighting giving them a contemporary aesthetic that feels very high-end.
Each brand has its own signature features, too, such as Weber's GS4 Grilling System and 'flavorizer bars', or Napoleon's 'Sizzle Zone' technology, which in simple terms, is an infrared burner system designed to cut down on pre-heating times.
As for the best portable grill options, both Weber and Napoleon have their own versions designed to be taken on the go. Weber's Traveler Portable Gas Grill is ideal for tailgating or camping with a fold-up design, while Napoleon's TravelQ 285 Portable Gas Grill has a similar portable stand for versatile cooking. Both models offer ample grilling space, attractive color options, and efficient temperature management.
---
Verdict: Weber grills tend to be smaller with a more classic design, while Napoleon grills will suit those who want a little more pizzazz, with LED lights and chrome accents giving them a high-end look.
$5,299
Napoleon Prestige Pro 825
Weber vs Napoleon: Performance
While both brands use high-quality materials and expert craftsmanship for their grill range, there are some differences in their approach and performance. Napoleon grills, for example, are built using thicker, more durable metal and, more often (though not always), feature side burners and warming racks for keeping food warm while you fire up the main grill.
Meanwhile, Weber grills have an excellent reputation for reaching high temperatures quickly, while many people believe Napoleon grills are more consistent. Each has its benefits for different types of cooking, of course, and it varies depending on which model you are using.
If you're looking for the best charcoal grill, Weber has been in the business since the 1950s and still sells its kettle grills. This history and experience are attractive when getting into barbequing (or just picking up the tongs ahead of grilling season), and Napoleon is relatively new to the charcoal grill world in comparison.
That said, though Napoleon may be more known for its gas grills, even its charcoal models offer additional features like adjustable charcoal beds and integrated smoker trays - though at a higher price than you might see from Weber.
---
Verdict: Those looking for a high-end gas grill with all of the trimmings might want to spend a little more on the built-quality of a Napoleon grill, but Weber is our winner for charcoal.
$219
Weber Original Kettle Premium Charcoal Grill
Weber Q3200 vs Napoleon Phantom Rogue SE 425
The Weber Q 3200 is the perfect entry gas grill to buy right now, as it offers you the chance to cookout all year long if you choose, and imbues your food with that sublime charred flavor.
For
One of the most affordable gas grills
Really easy to move around
Easy to clean
Against
One of the most affordable gas grills
Really easy to move around
Easy to clean
Napoleon Phantom Rogue SE 425
The Napoleon Phantom Rogue is easy to wheel around, easy to clean, and cooks incredibly well. It isn't the sexiest grill, but its functionality definitely gives Napoleon the credentials to topple Weber from the top spot.
For
Heats up quickly and accurately
Cooks succulent spatchcock chicken
The infrared panel is good for specialty cuts like a Tomahawk steak
Comes with an impressive 15 year guarantee
15 year guarantee
Light and on wheels, so relatively easy to move around
Easy to clean the grills
Against
Really tricky to put together to with unclear instructions
Looks a little like something an air steward might wheel up and down the aisle
One of the most expensive gas grills
Weber vs Napoleon: Our verdict
Weber and Napoleon are both excellent grill brands, with both simple models and high-end gas grills available from either company. However, what you're looking for will impact which one is ultimately the best choice.
Weber is our choice for budget grills and charcoal models, with all types of grill starting at a lower price point than many competitors. Charcoal grills from Weber come with a lot of history that means their performance has had a chance to be fine-tuned over time.
Those who want a sleek, high-end gas grill with extras like expanded cooking space, infrared burners, rotisseries, Bluetooth connectivity, and more, probably won't regret opting for Napoleon.