Weber Q 3200 gas grill review - the perfect barbecue for small backyards and anyone who just wants to get cooking
Livingetc's editor tests the affordable Weber Q 3200, and while its lower price means it loses out on some style points it makes up for it in just getting on with the job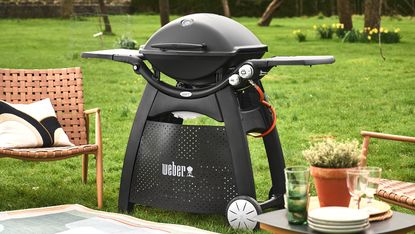 (Image credit: Future/Phil Barker)
Lightweight and budget-friendly gas grill that's ideal for beginners and those with small backyards
Reasons to buy
+

One of the most affordable gas grills

+

Really easy to move around

+

Easy to clean
Reasons to avoid
-

The plastic frontage and wheels don't look very stylish

-

Its lightweight frame doesn't seem like it'll withstand strong weather
Weber are the the first name anyone thinks of when it comes to gas grills. It's the Farrow and Ball of barbecues. The Amazon of alfresco feasting. The, well, the Weber of grilled sausages. It's because it offers so many different models, spanning the range of hi tech and highly affordable, from sleek to cheap. And because, on the whole, it gets it right.
The Weber Q 3200 is at the more affordable end of the spectrum. From around $400 - and keeping in mind your average gas grill is anywhere from $800 and up - it's a relatively entry-level option for anyone who just wants to wave some tongs around and serve up a few beef steaks.
But that affordability comes with a few drawbacks - of course. I put it together, used it to cook meat, veggie skewers and chicken on it and generally put it through its paces. But did it sizzle as much as the burgers? To see how it compares with other models in the market, see our guide to the best gas grills.
Weber Q 3200: Key specs
Cooking capacity: 393 inches squared
Number of burners: 2
With a hood? Yes
Power: Gas canister (not included)
Ready to cook on in: 15 minutes
Color: Black, with a hood in cream or black
Height: 43.5 inches
Weber Q 3200: Set-up
Despite having reviewed so many gas grills I still need to have plenty of help with the assembly. But even for someone as traditionally averse to a flatpack as me the Weber Q 3200 was pretty quick to get going. All the parts just slotted in together, all the wheels slid onto their casters, the control dials were clear about where they had to be.
And unlike many other grills, there weren't a ton of screws or fixtures, it was like it had been created specifically for people who just want to get grilling (and who doesn't?!).
In total, it took just over an hour, and I'm convinced that if you were to be more adept at reading instructions you could have it done in half that time.
Weber Q 3200: Performance
There are even cheaper models in the Weber Q series, but this is about as low down the price spectrum as I'd suggest you go - you're better off with a traditional charcoal barbecue beyond this entry point.
What this can do, which the cheaper models can't, is allow you to control the two gas burners independently, so you can create areas on the grill that are hotter - or cooler - than other parts. It's perfect for having meat on one side and veggies on the other, all cooking at the same time.
And the two dials are so easy to use. Almost too easy - their plastic cog-like design evokes a kid's wheelie kitchen rather than a serious bit of kit. But if all you need is a vehicle to get you to the point where you're eating outside in the sunshine with friends then this relatively no-frills function is ideal.
It got to full heat in about 15 minutes - slower than the wonderful Everdure FORCE and faster than the Napoleon Phantom Rogue - so it would work for anyone who likes to get grilling on a whim, heading outside the moment the sun begins to shine.
The Q 3200 also comes with a handy resting platform for you to place cooked food on to stay warm before you're ready to eat it. And as you can see from the picture below of me trying it out - the char lines are just perfect, the reason you'd want a gas grill in the first place. Mmmm, crispy.
Weber Q 3200: Design
Admittedly, this is where the Weber Q 3200 falls down, and at that price point you might expect that it's not going to look like a work of art. The casing feels a little flimsy, the plastic dials are a little like a kid's toy, the wheels seem like they might fall off after a medium-level storm.
But! But. It's not all bad. The shape is ergonomic, a retro-futurist take on mid century design and the size and shape of the grills themselves make them easy to clean and maintain, spreading the heat out well and creating excellent grill marks.
I'd recommend this for a small backyard in which you just want to entertain and have fun and and aren't too worried about extras like infra-red heat panels.
And because it's so lightweight, it can be easily move into a sheltered spot or garage when a storm or winter comes.
Like almost all gas grills, it does need a bit of space to store - it doesn't fold down in any way so the size you see is the size you need to find room for.
Weber Q 3200: Our verdict
The Weber Q 3200 is the perfect entry gas grill to buy right now. It doesn't have any bells or whistles, really, but then a neither a bell nor a whistle ever cooked a good burger. Which this can do.
For the price, it offers you the chance to cookout all year long if you choose, imbuing your food with that sublime charred flavor and your life with that easy sense of belonging that alfresco living provides.
It's never going to win a beauty contest, but it does go some way to turn your backyard into a haven, allowing you a space and a place to relax and enjoy being outdoors.
About this review, and the reviewer
Pip is the editor of Livingetc, and has been writing about design and food in national publications for almost 20 years. He has interviewed most major designer and chef working today, and has written a cookbook, The Herb and Flower Cookbook, published in 2014, and a design book, A New Leaf, published in 2021.
He believes that the kitchen is his most important space, a room to cook and entertain and chat and live, and has to look good and be functional, too - a philosophy and approach he carries over to every product for the home, specifically grills, of which has has had hands-on experience of many.
The Livingetc newsletter is your shortcut to the now and the next in home design. Subscribe today to receive a stunning free 200-page book of the best homes from around the world.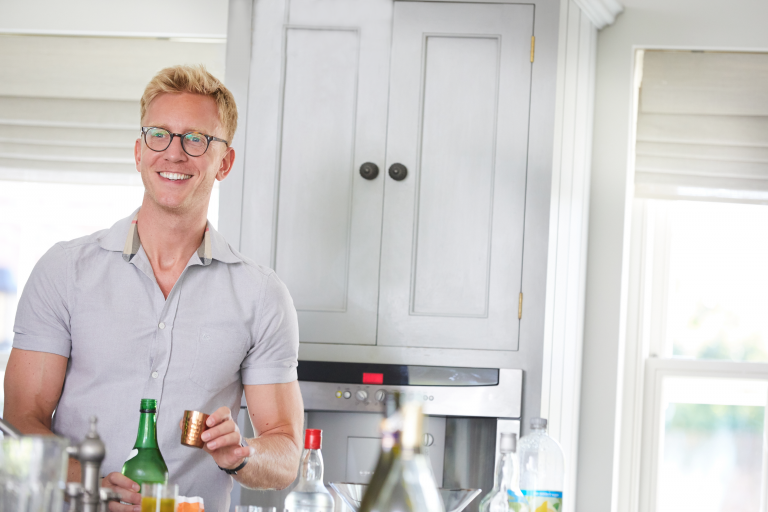 The editor of Livingetc, Pip Rich (formerly Pip McCormac) is a lifestyle journalist of almost 20 years experience working for some of the UK's biggest titles. As well as holding staff positions at Sunday Times Style, Red and Grazia he has written for the Guardian, The Telegraph, The Times and ES Magazine. The host of Livingetc's podcast Home Truths, Pip has also published three books - his most recent, A New Leaf, was released in December 2021 and is about the homes of architects who have filled their spaces with houseplants. He has recently moved out of London - and a home that ELLE Decoration called one of the ten best small spaces in the world - to start a new renovation project in Somerset.