Everdure FORCE review - the first time our editor has ever given five stars
Livingetc's editor tests the smaller gas barbecue created by superstar chef Heston Blumenthal. And this is why he loved it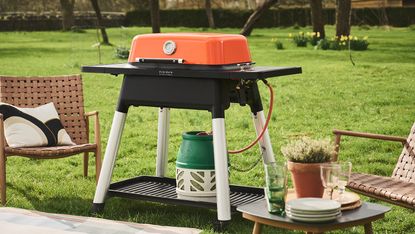 (Image credit: Future/Phil Barker)
It looks good, cooks good and is more compact than the Everdure FURNACE, making it lighter and easier for alfresco life
Reasons to buy
+

The best looking gas grill on the market

+

Gives really good char lines to food

+

Easy to control

+

More affordable than most gas grills

+

Light and super easy to move around
Reasons to avoid
-

Cleaning the intricate grills is a little tricky

-

Difficult to put together
Spoiler alert - this Everdure FORCE gas grill review is pretty much a love letter to the art of barbecuing. Because for something that is such a simple pleasure it is so rare for brands to get it right. But now, they have.
I loved Everdure's FURNACE gas grill. The slightly larger, slightly bulkier sibling to the FORCE, I was keen to see if this more compact version lived up. Gas grills are a shorthand for easy, relaxed summer living - the ability to cook a burger or scorch a veggie skewer mere minutes after you've had the idea to. And the FURNACE scored well on being easy to use, great to cook with and looking like it had been designed with aesthetics in mind.
Superstar chef Heston Blumenthal has been collaborating with Everdure since 2016 and this two-burner barbecue has clearly been created by someone who knows good food. He's famous for his theatrical presentation and scientific approaches to cooking, and there is a precision in the way his Everdure grills can cook.
Of course, sometimes you just want to cook a good burger, rather than make a whole production out of your dinner. So I've put the Everdure FORCE to task, cooking sausages, burgers, vegetables and even a spatchcock chicken on it, alongside marking its style, ease of use and storage. To see how it compares with other models in the market, see our guide to the best gas grills.
Everdure FORCE by Heston Blumenthal: Key specs
Cooking capacity: 960 inches squared
Number of burners: 2
With a hood? Yes
Power: Gas canister (not included)
Ready to use in: 5 - 6 minutes
Color: Black and chrome, but the hood comes in 3 color options
Height: 46 inches
Everdure FORCE by Heston Blumenthal: Set-up
I've got better at gas grill assembly since I reviewed the FURNACE, and also had a head start - the FORCE is very similar in the way it's put together. But I'm still not a natural flat packer, and I had to rope in a couple of friends to help.
And in total, it took us just over an hour to assemble - one hour and eight minutes, to be precise. The way that it came packaged meant it was easy to see which part went where - not always a given - and nothing was too tricky to attach.
The parts included a stand, a hood, a fat tray, and shelves to hang tongs and place sauces on, as well as the two grills.
As it has two wheels on one end it was easy to tip and roll into position. And it looked so good! Unlike all the other boxy, chrome or black grills around, this one had a retro-appeal.
Everdure FORCE by Heston Blumenthal: Performance
The FORCE is the perfect gas grill because it's super-simple to use. It has two little handles - one for each grill - which you turn to control the temperature of each one. That's it. It doesn't need gimmicks because it just cooks well - and isn't that all you really need it to do?
When I'm deciding which of the best grills comes out on top the speed with which they pre-heat is paramount. I want something that I can just use the moment the sun comes out and my sausages are ready. With the hood down, the grill took around five to six minutes to get to full heat, at which burgers sizzled the moment you put them on the hot plates.
As with the Everdure FURNACE, the lattice of the plates creates a criss cross of charred lines on whatever you're cooking - sealing that grilled flavor into the dish. . With such an intricate design, the surface area that touches the meat, fish or vegetables is vast. So, as you turn it on the grill, it catches the char really well.
And seriously, look at this chicken! This was cooked with the hood down, turning it once mid way through. And it was as juicy and flavorful as it looks.
Everdure FORCE by Heston Blumenthal: Design
It looks like a 1950s American diner. Like The Jetsons have imagined a future where a grill takes just five minutes to heat up. Like a mid century designer had an understanding of modern technology. And the orange feels very right for now.
The hood actually comes in three colors - graphite or mint are options too - but it's the orange that stands out. Design studios like Michaelis Boyd and Gunter & Co have been using it in projects to create stand out moments which burst with joy - the mood you'd hope a gas grill would evoke, too. The centerpiece to happy evenings and get togethers it ought to be an aesthetic that raises a smile.
Tongs at the ready
Pip Rich gives the Everdure FORCE a whirl
Every little detail felt considered. The materials were sturdy and chosen to withstand the elements if need be, while remaining light enough to wheel around. The form fits the function, those indented grills spreading the heat around the gentle curve of the hood.
There's a geometry at work here that other gas grill brands could learn from - this is the model for a modern backyard where you want everything in it to look like it was curated.
But! The cleaning is still a little troublesome. Everdure suggests that you wipe the grills while they're still warm, but by this point you're likely to be still sitting, enjoying your food. The trick is to keep the hood closed and then when you get a second, wipe a cloth over the grills to get the worst of the grease off them - anything else can be scrubbed off later.
And it does take a bit of space to store - it doesn't fold down in any way so the size you see is the size you need to find room for.
Everdure FORCE by Heston Blumenthal: Our verdict
The Everdure FORCE is the best gas grill to buy right now, if you want a piece of kit that is easy to use and looks good, too. Not only does it cook well but it's simple - it delivers on a promise that almost anyone can cook on it without having to worry too much about any technicalities.
But that's not to say it's not intelligent - in fact it's smarter thanks to its ease of use. Heston and the Everdure team have clearly put a lot of expertise into making this a barbecue that works, and is sturdy and can be moved around (not what can be said of all models from all brands).
The storage is a slight issue. It can be left out if need be, but when the weather turns you'll want to have somewhere in a garage you can keep it, and will need to clear a bit of room.
About this review, and the reviewer
Pip is the editor of Livingetc, and has been writing about design and food in national publications for almost 20 years. He has interviewed most major designer and chef working today, and has written a cookbook, The Herb and Flower Cookbook, published in 2014, and a design book, A New Leaf, published in 2021.
He believes that the kitchen is his most important space, a room to cook and entertain and chat and live, and has to look good and be functional, too - a philosophy and approach he carries over to every product for the home, specifically grills, of which has has had hands-on experience of many.
The Livingetc newsletter is your shortcut to the now and the next in home design. Subscribe today to receive a stunning free 200-page book of the best homes from around the world.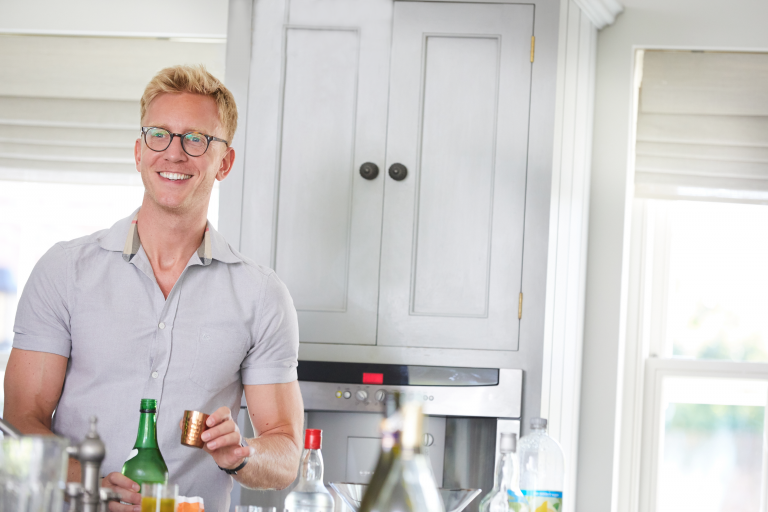 The editor of Livingetc, Pip Rich (formerly Pip McCormac) is a lifestyle journalist of almost 20 years experience working for some of the UK's biggest titles. As well as holding staff positions at Sunday Times Style, Red and Grazia he has written for the Guardian, The Telegraph, The Times and ES Magazine. The host of Livingetc's podcast Home Truths, Pip has also published three books - his most recent, A New Leaf, was released in December 2021 and is about the homes of architects who have filled their spaces with houseplants. He has recently moved out of London - and a home that ELLE Decoration called one of the ten best small spaces in the world - to start a new renovation project in Somerset.