Where do interior designers shop? Find out here
Ever wondered where interior designers shop for furniture, art and antiques? Add these sources to your little black book.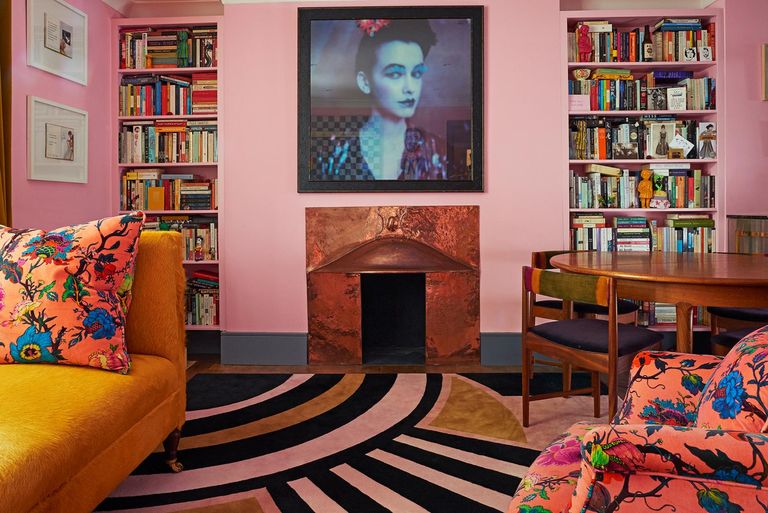 (Image credit: Rachel Chudley and The Cob Gallery)
Want to know where interior designers shop for those statement pieces or unusual artworks and artefacts or want to know more about modern interior design?
We've asked some of our favourite interior designers to reveal their secrets and they've come up trumps. From high-street favourites to under-the-radar gems, as well as flea markets, graduate shows and even eBay, these shops, websites and brands are in every interior designer's little black books, so add them to yours too.
TM LIGHTING
João Botelho met Andrew Molyneux and Harry Triggs, the founders of TM Lighting, at the London Design Fair and instantly fell in love with the way their LED lights enhance the magic of art within a space. Botelho says, 'Their sleek, energy-efficient lights highlight the colour, lines, emotions and beauty of each piece.'
KING & MCGAW
'We have used King & McGaw for a wall composed of several different artworks when the budget didn't allow for original pieces. Its online collection is vast and I can spend hours finding a piece that works for us. In addition, King & McGaw's delivery and customer service are incredible,' says Petra Arko, interior designer, Bergman & Mar.
1ST DIBS
Looking for something completely unique, that you won't find anywhere else? One visit to the 1stDibs website and if you're anything like us you'll soon have about a million tabs open and it'll suddenly be five hours later. You've been warned. With usual lightingand sculptural furniture, it's no wonder the website is praised by the likes of Peter Mikic (a self-confessed addict) and Sophie Ashby. Ashby's favourite chair, the Mario Milana's M Lounge chair, can be found in her bedroom corner and 'it sings for itself'. Available from 1st Dibs, of course. Where else.
THE COB GALLERY
Rachel Chudley, interior designer, says 'Working with The Cob Gallery, co-curating art and design exhibitions, has taught me a huge amount: how art can transform a space, the power of composition and how to work with artists.'
AMARA
Whether it's for striking rugs by Seletti Wears Toilet Paper or Fornasetti vases, AMARA is a treasure trove for modern homeware and accessories. Designer Sally Mackerethuses AMARA's witty Architettonico table, by Fornasetti, to create interiors that feel 'exciting', and to 'feel as if they've evolved naturally over time'. In Mackereth's own home, a former Victorian stables, she mixes pieces like these with flea-market finds. Also a fan is John Hitchcox, who loves Fornasetti's 'graphic hit of black and white'. "Even just one plate or candle can transform a room with an element of wit, humour and surprise", Hitchcox adds.
ART ROOM LONDON
Sophie Ashby, interior designer, Studio Ashby, sys 'It's rare for us to work with an art consultant but I found Vanita Barany of Art Room London to be the perfect collaborator. She is hugely knowledgeable, has meaningful relationships with all the key galleries, dealers and auction houses and knew exactly where to look to find what my client needed.
BLITHFIELD
For handcrafted textiles, Blithfield is Kit Kemp's go-to. "One of my greatest loves is finding handcrafted textiles," Kit Kemp explains. "They can be woven or hand-blocked, silk screened or digitally printed – all can inspire a palette and when hung, they become the centre of attention."
PARAGON PRESS
'Paragon Press is an indispensable resource to the most renowned contemporary artists and is our first stop when we're looking for modern, unusual and collectable pieces, says Tom Bartlett, architect, Waldo Works. 'We worked closely with them to complete the design work of this penthouse apartment in the City.'
eBAY
eBay needs no introduction, although you might not have guessed that it's where many interior designers shop. Sophie Ashby snaps up her large palms from eBay: "Better than buying them new and scraggly from a nursery – because they instantly soften a man-made environment, they help purify the air in the city and they make me happy every day to see them." Simon Rawlings is also a fan: "One of my favourites is a £20, 1m-wide Japanese paper lantern bought on eBay – it looks so dramatic over the dining table, with such a beautiful glow."
THE POSTER CLUB
'For a budget option, we often refer people on to The Poster Club . It has a great selection of high-quality prints and frames from artists such as Studio Paradissi and Hein Studio,' says Sheena Murphy, interior designer, Nune.
FINE CELL WORK
For fabrics with the feel-good-factor, Fine Cell Work is a charity that trains prisoners to do highly skilled needlework, giving them something to do in the long hours they spend in a cell. The fabrics are surprisingly beautiful and very detailed. Kit Kemp uses their fabrics to create interesting lamp shades: "Interesting lamp bases with patterned shades, such as the ones I designed for Fine Cell Work, creates interest, while contrast piping, trims and handles lend a sense of the unexpected."
PROJECTS ON WALLS
'Working with Scarlett Colicci, founder of Projects on Walls, an art sourcing and advisory service for interior designers, is invaluable. She has an amazing eye and sources unique pieces of art, helping to curate and combine pieces in an original way,' says Elnaz Namaki, interior designer.
FIONA MCDONALD
If you love Mid-Century Modern style furniture, you'll love Fiona McDonald's eclectic mix of retro tables, consoles and cabinets. Martin Brudnizki is known to use Fiona McDonald's vintage pieces as the key features in a room. "I don't believe a bedroom should have anything more than a bed and bedside table – I've turned the second bedroom into a study-cum-dressing room with a vintage table from Fiona McDonald, armchairs for sitting in and a chaise for laying out clothes."
ARTWORK INSTALL
Laura Fulmine, interior designer and stylist, says 'I was recommended Artwork Install through a friend when I wanted to hang artwork in a hotel project that I completed a couple of years ago. I have not used anyone else to hang art ever since. Anton and his team arrive with every single piece of equipment you could think of. They are absolute perfectionists and I would trust them to hang anything in any situation.'
GEORGE SMITH
Interior design firm And Objects, headed up by Martin Brudnizki, has collaborated with furniture favourite George Smith to create the coveted Cocktail collection. The stylish, low-level seating looks great when mixed and matched in a plush bar or lounging space, and are rather perfect for perching with a Martini or two.
COOKE'S FRAMING
My latest find for my little black book is Cooke's Framing, says Louisa Warfield, art consultant. 'The owner, Ash, describes what he does as "an honest approach to making bespoke, hand- finished frames, which are designed to complement every artwork individually". And I couldn't agree more.'
GRADUATE SHOWS
Where do designers go to find art? Graduate shows."Graduate shows at the main art colleges are a great way to get in with rising stars before their careers take off, buying straight from artists, often for just a few hundred pounds," explains designer Francis Sultana.
HABITAT
A high-street hero that offers sleek designs on a more relatable budget, perennial favourite Habitatnever goes out of fashion. Uber-designer Tom Dixon was their head of design for ten years, and design-duo Turner Pocockincorporate classics like the smart ladder-back Talia chairs into their residential design projects.
HEAL'S
With a super modern (and somewhat affordable) collection of own brand furniture and lighting as well as a few classics thrown in the mix, like Kartell's Masters Chair – a favourite of John Hitchcox – Heal's ticks all the boxes when it comes to home staples.
IRVING & MORRISON
Irving & Morrison is a hot-spot for cushions and unusual bases – designer Tiffany Duggan finds their accessories from founder Penny Morrison, and also from Lorfords Antiques.
JAMES WORRALL
James Worrall takes the work out of scouring flea markets, auctions and shops for collectors items, and is one of the port of calls for designer Peter Mikic when he's on the hunt for something unusual.
KEMPTON PARK
A fabulous flea market for one-off vintage finds, Kempton Park in Sunbury is where Peter Mikichunts for bits and bobs like shelves and details.
NEST
A go-to for many interior designers, Nest offers lots of design classics– such as Eero Aarnio's Magis Puppy, which is one of John Hitchcox' favourite ways of injecting some fun in a space, along withJasper Morrison's Superloon floor lamp for Flos and Philippe's Masters Chair for Kartell (both available from Nest) which Hitchcox uses for both indoors and out.
RALPH PUCCI
Visit:Ralph Pucci
To bring texture into a space, the designer behind Sketch Restaurant's fabulously pink interiors, India Mahdavi, has collaborated with Ralph Pucci to create a fabulously textured furniture range. TheStromboli rattan tables are a favourite of Sophie Ashby, who's used them in some of her interior projects. We also love Mahdavi's other designs – like the curved Jelly Pea sofa.
ROYAL DRAWING SCHOOL
Want to snap up a bargain? Who doesn't. The Royal Drawing School's end-of-year show is where designers like Peter Mikic go to find artworks by artists that are still to be discovered.
SCARAMANGA
For one-off unusual pieces, Scaramanga is a designer's first port of call. It's where interior designer Jo Berryman finds the wooden chests, tables and chairs she uses for her projects.
THE CONRAN SHOP
Housing countless design classics like the Series 7 chair,Arco lamp, and Saarinen Tulip Table, not to mention bringing out modern takes on old classic like the limited-edition Wishbone Chair, it's no surprise The Conran Shop is regarded as a design favourite. The sleek Saarinen table is a favourite of Jo Berryman, who uses the table to create interest in a dining room, while designer Sally Mackerethhas often spoken of her love for theHarry Bertoia Bird chair, her favourite chair of all time. "I decorate the same way I dress.I'll wear a great fashion piece with old jeans – it's exactly how I like to furnish a space. A few fab pieces, such as a Harry Bertoia Bird chair – my favourite of all time – next to a chair I found at a market that I've repainted", she explains.
THE DECORATIVE COLLECTIVE
Looking for that carved hand chair, a set of antique barber chairs or maybe a Sputnik chandelier? You'll find it all on The Decorative Collective's website. With everything from taxidermy to teacups and from Mid-Century Modern style furniture to random oddities (a post-war miniature caravan dolls house or a palace made out of shells, anyone?), you'll find it all here. One of Peter Mikic's worst-kept secrets.
Peter Mikic sources a lot from Dorian Caffot de Fawes Antiques via The Decorative Collective website.
THE FRENCH HOUSE
Another great place for sourcing retro and vintage pieces, The French House is full of interesting finds, from Mid-Century Modern style tables to upholstered chaise longues and oddities. It's one of Jo Berryman's go-to's for interesting furniture.
THE INVISIBLE COLLECTION
Fairly under-the-radar until their recent collaboration with Sophie Ashby, The Invisible Collectionoffers all those striking one-off pieces that you'd never otherwise find, at the click of a button. The Studio Ashby furniture collection is their first partnership with a British designer, and we've fallen head over heels for all of it. Designer Tiffany Duggan was already a fan, snapping up armchairs and side tables for bathrooms to make them feel like a bigger suite – like Reda Amalou's Dot tables from The Invisible Collection, which are 'perfect for perching a book or glass of wine on'.
THE NEW CRAFTSMEN
Kate Hume heads to the The New Craftsmen for accessories which "really exude the touch of the human hand", like Nicola Tassie's jugs and Joe Hogan's baskets. She particularly loves pieces like Feldspar's hand-dimpled porcelain, from mugs to candles. "A sensual, sculptural feel, with a bit of a curve, lends softness to a room without being too stuffy or feminine", Hume adds. She's a fan of The New Craftsmen as Hume is "always drawn to pieces with a sense of story and a handmade feel – pieces that will age with you."
Shining a spotlight on the now and the next in home design and decor, Livingetc is the UK's best selling high end and contemporary home design magazine. As a brand, showcases the world's very best homes, and has access to leading international designers for insight and ideas. it was first published in 1998, and is currently edited by Pip McCormac.