First look at Yinka Ilori's first ever homeware collection
Yinka Ilori's first homeware designs are a riot of brilliant colour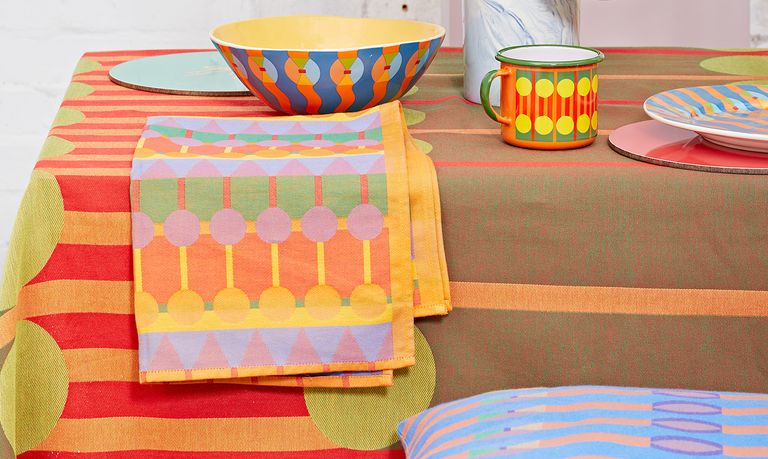 (Image credit: Yinka Ilori)
London-based artist Yinka Ilori's first homeware collection is an explosion of colour,pattern and narrative stemming from his British-Nigerian heritage.
If you heard Yinka when he was a guest on our Home Truths podcast, you'll know he is drawn to bright colours, is a total grafter, and not afraid to try new things.
And the designer's first ever homeware collection is set to brighten both Christmas lunch and the after-dinner sofa slump, as the first release covers table top and textiles, accent pieces designed to inject positive tones and vibrant colour into the home. It's filled with exciting pieces of modern interior design.
Yinka was able to create the collection after a number of public commissions were put on hold over 2020, giving him time to focus on what he describes as 'a joy project'.
'My first homeware collection is a continuation of design work inspired by my British Nigerian heritage and childhood. It's a colourful celebration of two cultures expressed through abstract, technicolour pattern and contemporary craft,' Yinka says.
'Unexpected, functional household items have been reworked as colourful artworks to instil a sense of optimism and joy.'
The tableware and textile pieces are decorated in provocative patterns amalgamating multiple scales, forms and shapes to bridge the gap between art and objects of use.
Materials come from specialist hubs around the world; hand turned stoneware and woven linens from Portugal, enamelware from Poland, hand-knotted rugs from Nepal and tableware from the UK.
'Bringing my artworks – normally associated with large scale installations and public exhibitions – to a new setting within the home has been a truly uplifting and fascinating project to work on' says Yinka.
Shop the collection here