Last minute Christmas gifts for under £50 - perfect for design lovers everywhere
Last minute Christmas gifts for that person who loves good design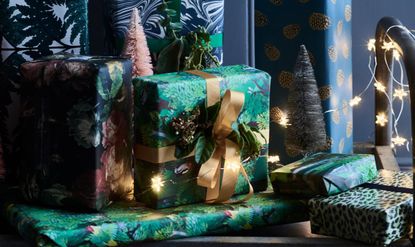 (Image credit: Future)
There's still time to get some last minute Christmas gifts, and all of this edit comes in in at under £50.
You'll find everything from gin to napkins, candles to cocktail glasses, all chosen by the Livingetc team for being super stylish. Good design needn't cost the earth, and this is all very good design.
Soho Home
The warmth of the yellow tinted glass is matched by how satisfying these goblets are to hold.
Havana goblet, £48 for four, Soho Home (opens in new tab)
MoMA Design Store
Boldly graphic stripes move the trend for brightly coloured taper candles on a step or two.
Colour stacked candles, £25.99 for four, MoMA Design Store (opens in new tab)
Heti's Colours
Adding yet more colour and charm to the dining table are these pretty and punchy napkins.
Mara napkin set, £32.50 for two, Heti's Colours (opens in new tab)
Reverend Hubert
Made from an updated version of a recipe from 1904, this warming winter wonder is full of festive flavours, as zingy as the bottle's design.
Winter Gin Liqueur, £35.99, Reverend Hubert (opens in new tab)
Livingetc subscription
We couldn't not include a monthly subscription the print edition of Livingetc, the perfect design gift that keeps on giving. Next year's issues will have new columnists, new decorating ideas, and the same emphasis on the most beautiful and inspiring homes in the world.
Livingetc subscription, £31.99 for 12 months, saving 47%. Order here (opens in new tab).
Paper Thin Moon
With its daubed monochrome pattern and comfortingly homely shape, this vase sits happily in a modern kitchen.
Sophia vase, £39, Paper Thin Moon (opens in new tab)
Puritx
It was perhaps only a matter of time before hand sanitiser got an exceedingly cool makeover, and Puritx's range smells like luxe scented candles. All vegan, full of essential oils, and cool enough to sit happily on your bathroom shelf or hall table.
Hand sanitiser in Bergamot, vetiver and black pepper, £12.50, Puritx (opens in new tab)
Paul Smith at Liberty
If 2020 has taught us anything, it's that we all need to embrace our own inner Dandy to find a little joy - why shouldn't this pocket square be unisex?
Silk pocket square by Paul Smith, £50, Liberty (opens in new tab)
HAY
Working from home requires a desk that you don't necessarily get to leave at the end of the day. Help make it chic with these sharp and stylish gold scissors.
Phi gold plated scissors, £25, HAY (opens in new tab)
Donna Wilson
Known for her whimsical and playful designs, Donna Hay's plates have a touch of the 1950s Robin Day about them.
Autumn Leaf plate, £31, Donna Wilson (opens in new tab)
Yogi Bare
With its design of a starry constellation, this is clearly one of the best yoga mats (opens in new tab). Lightweight and travel friendly, it means you can give the gift of peace and suppleness on the go.
Teddy lightweight travel mat, £42.95, Cosmic Bare (opens in new tab)
Matilda Goad
Nothing beats the gift of breakfast in bed - particularly if hand delivered on one of Matilda Goad's egg cup plates.
Ceramic egg cup plate, £25, Matilda Goad (opens in new tab)
Shining a spotlight on the now and the next in home design and decor, Livingetc is the UK's best selling high end and contemporary home design magazine. As a brand, Livingetc showcases the world's very best homes, breaks and makes the trends, and has access to leading international designers for insight and ideas. It was first published in 1998, and is currently edited by Pip Rich.