This modern take on an alpine chalet breaks the rules of tradition
The holiday home offers a fresh and modern take on alpine living...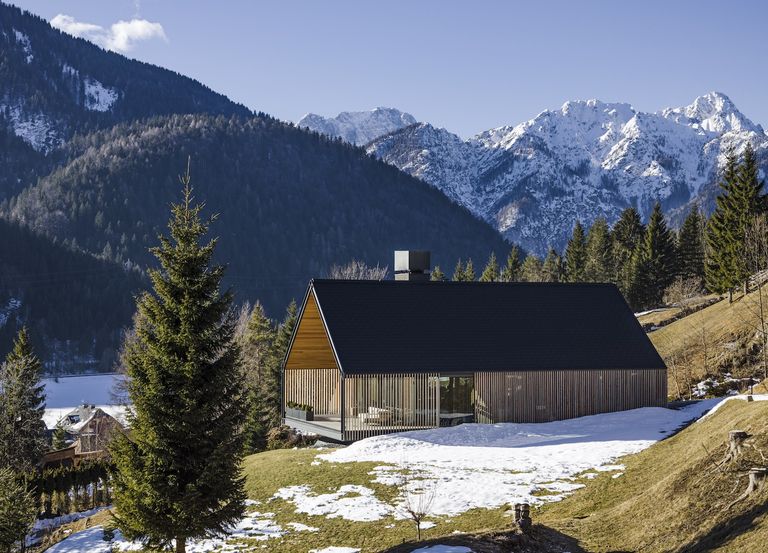 (Image credit: Gianni Antoniali)
This strikingly modern chalet features a highly contemporary interior, and frames striking alpine views through double-height, floor-to-ceiling glass windows.
Designed by local firm Gri e Zucchi Architettura (GEZA), the holiday home offers a fresh and modern take on alpine living.
Its gabled roof and timber-clad façade are a nod to the traditional chalet shape, but while it still retains the homely cosiness of a classic wooden cabin, its modern interiors are flooded with crisp, natural light.
Named Z house, the chalet was designed to intimately connect its residents to its alpine settings, serving as a luxurious base where the owners—a couple who produce high-end wines—often entertain guests. As a second home, it's used mainly during weekends and holidays to host parties, lunches, and dinners.
Set on a steep hill in the tiny village of Camporosso in Italy, the alpine chalet is designed to capture panoramic views of the nearby valley and mountains.
As it's set on a steep slope, the house can be seen from afar as it stands boldly in the landscape. But the closer you get, the structure starts to seemingly blend and disappear into the landscape.
Because the site is so steep, Architecture firm GEZA decided to divide the house into two volumes. One half sits higher on the slope and the other is anchored to the ground at a slightly lower elevation, as if it had slipped and gently settled.
The main entrance, open plan living space and kitchen, and the master bedroom all sit within the higher volume on the ground floor, while additional bedrooms, a sauna and wellness area sit in the lower volume.
The exterior of the house is wrapped in vertical slats of wood – a nod to the traditional agricultural chalets of the area.
The wood slats provide privacy, and prevents too much sunlight reaching the large sections of glazing behind.
The slats are playfully placed at uneven intervals and are sometimes rotated partly to play with the filtered light that dapples through onto the terrace and into the interiors.
The dramatic, double-height living space overlooks the village through double-height windows.
In front of the living room there is a wide cantilevered terrace that opens the front of the house.
The open-plan living area also features a staircase up to the mezzanine balcony, where there's a home office area.
The modern kitchen and dining area has a roaring wood fire and panoramas to match the living space.
The concrete structure of the chalet is only visible internally. From the outside it looks as if it was made just from glass and wood.
Inside, the dark palette of steel, wood and polished concrete contrasts with the lighter timber-clad exterior and living room ceiling.