5 sustainable architecture projects that show what the future of eco-homes looks like
We've rounded up a cross-section of sustainable architecture projects that offer unique and interesting insights into recent sustainable architecture work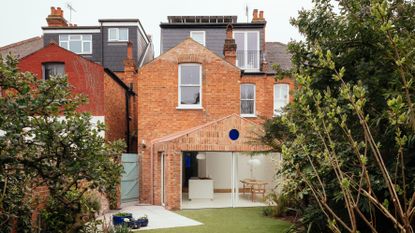 (Image credit: Photographer: Jim Stephenson Architect: VATRAA Architecture)
From the food we buy to the way we heat our homes, we are all more interested in choosing options that are more sustainable. And that want and, let's be honest, need to be kinder to our planet has seeped into the world of architecture too, with sustainable architecture projects becoming more and more common. There are so many preconceptions about what it means to build an eco-friendly home, but as all these innovative projects prove, sustainable architecture can both look good and do good.
So if you want to take sustainable living to the next level, and be more eco-conscious in your projects (or just want to peruse some beautiful inspiring projects) we've rounded up a cross-section of residential, hospitality, and civic architecture projects that offer unique and interesting insights into recent sustainable architecture world.
1. The Circular House by A-Zero Architects
A residential extension project with a difference, A-Zero Architects worked with client Lulu Cox to transform this pre-existing terraced house into a space that captures a core use of repurposed sustainable materials with a sleek level of finesse. This is reused at its best.
'The clients for this project wanted to prioritize reused materials throughout, and they actively chose materials which have a story to tell. The existing property, though extremely dilapidated, was essentially solid enough, so we decided to focus our attention on extending the property using recycled materials where possible', say A-Zero Architects.
However, this significant approach to sustainable architecture, and by approach, we refer to the practice of reuse and repurposing, has been curated with such attention to detail and honest sleekness that it prevails as one of the best examples we have seen to date.
You needn't necessarily see the recycled elements. For example, scaffolding boards have been repurposed in a ground floor kitchen extension to the rear of the property creating an open plan kitchen-dining room which, thanks to glazing, gives an open outlook onto the rear garden space. The boards, which are neatly and methodically spaced to create the ceiling structure, have an additional skylight window spaced in-between them in the roof, creating a lightwell for the kitchen diner below.
Owner of Circular House Lulu Cox says, 'Our approach was to be as resourceful as possible when renovating our house. We wanted to live in a building where every item or feature has a story behind it. For example, our Iroko kitchen countertops came from a school science lab: graffiti and Bunsen burner marks remain, showing its history.'
'Reclaimed scaffold boards were used to create the framework of our kitchen. They are a key visual element that not only helped form the style of our kitchen but by keeping them exposed we maximized the ceiling height. The space is functional, which is fundamental for a small property. The patina from salvaged materials such as the pine floorboards and a Parisian Globe street light creates character. It is a fun, warm, and relaxing space to be in, once the garden is complete with a wildflower lawn our love for nature & natural materials will be complete,' says Cox.
'We found our architects (A Zero) through The Modern House, they were local and shared our vision for sustainable design.'
2. Winter Park Library and Events Centre by Adjaye Associates
Jumping into a much larger scale of sustainable civic architecture, Adjaye Associates (led by Sir David Adjaye) undertook this ground-breaking civic building project in Orlando. We've never seen such a chic and sustainable library until now that is. The budget? An eye-watering $41.7 million dollars, but it shows.
Underpinning the significance of this multimillion-dollar project, Sabrina Bernat, the executive director of Winter Park Library, tells us, 'Thanks to the tremendous effort of visionaries and experts across multiple disciplines and fields, we are grateful that our dream, of education for all, has finally become a reality.' Sabrina explains, 'The doors have opened to a world of opportunity for our residents to seek new knowledge and experiences. It's a once-in-a-generation project, creating a dynamic learning environment through amazing enhanced indoor and outdoor spaces.'
David Adjaye is the founder of the Accra, London, and New York-based architecture practice Adjaye Associates. He is responsible for a wide variety of contemporary architectural projects. Notably, he refurbished and gave the Mole House in North London a new lease of life. Adjaye Associates are currently also undertaking projects including the UK Holocaust Memorial and Learning Centre in London, and the National Cathedral of Ghana in Accra, amongst a smorgasbord of other projects too.
Of this latest civic library and events center project in Orlando Adjaye describes the development, 'As a centerpiece of the revitalized Martin Luther King Jr. Park, the new campus is designed as a robust space for community gathering, edification, and empowerment.'
'Arches, inspired by local fauna and the region's vernacular architecture, establish the form of the pavilions, with vaulted rooflines and sweeping windows creating a porous relationship between interior and exterior, drawing natural light deep into the buildings', says Adjaye. 'The library's open-plan supports collection spaces accessible to all ages and abilities. These open spaces are framed by four timber-lined cores that contain Winter Park's historical and archival collection spaces.'
What are the main sustainable elements of note of the Winter Park Library and Events Centre? For starters, all three of the structures (the library, events, and the welcome portico structure) are guided, Adjaye Associates says, 'by biophilic design principle'. Constructed out of rose-pigmented concrete, the structures are positioned on a raised belvedere that provides views onto Lake Mendsen, this, Adjaye Associates say, 'increasing connectivity to the park's wellness offerings and supporting a new network of exterior green community spaces that run between the three structures.'
Also, we should mention those amazing staircase ideas – a standout feature of the project!
3. Clapham Common Art Gallery, by Common Ground Workshop
Common Ground Workshop is a London-based architecture practice with a unique vision. It's all about the collaborative process; Their emphasis is on putting clients, end-users, communities, and industry professionals at the heart of everything they do. On one of their latest Sustainable Architecture projects, Common Ground Workshop director Jack Pannell says, 'We recently completed this private art gallery and working studios for a local artist in Clapham, South West London. The project involved retrofitting and carefully modifying a historical printing warehouse to the rear of the residential property, which is set within a south-facing garden.'
Pannell explains, 'At the heart of the project's conservation philosophy is a focus on sustainability. Materials salvaged from minor demolitions and alterations have been reintroduced to the new build elements. Light levels have been greatly enhanced within the arts space, with 90% of the south-facing façade opened up and replaced with large pivot doors: to prevent excessive heat gain the structural lintel introduced over the doors to support the masonry wall above has been extruded to act as a solar shade.'
And there have been more sustainable build elements worked into the project, too, as Pannell explains, 'underfloor heating has also been introduced throughout the entire space: rather than pouring a heavy-duty concrete slab and screed layer and removing all existing timber joist flooring, Common Ground Workshop opted to retain the existing floor structure in its entirety and utilized a contemporary heating solution that could be retrofitted to the existing timber floor and covered with a highly efficient micro-concrete topping.'
'The space acts like a chameleon, shape-shifting from gallery to studio with the introduction of mobile walls and 'cabinets of curiosities' offering both storage and valuable wall space for artists to display the art.'
The result? An exciting new creative hub for South West London that is deeply rooted in sustainable values.
4.Wren Urban Nest by BDP Architecture
Talking hospitality and hotels now, we're jumping over to Ireland for a sustainable architecture project by BDP Architecture which not only works at the forefront of sustainable architecture practice, but also acts as a display case for a rich spread of Irish craftsmanship, and spotlights Ireland's heritage of craftsmanship and making.
Speaking specifically of their outlook on sustainability, Philip Gray, environmental design director, says, 'BDP's approach to sustainable design spans from macro-scale, through the creation of the sustainable urban environments, to micro-scale, through the specification of individual building systems and components. Our designers, ecologists, sustainability specialists, and engineers create environments that are demonstrably sustainable; through resource consumption, ecological impact and contribution to the local, economic and cultural landscape.'
Let's take a closer look at their latest sustainable architecture project, The Wren Urban Nest hotel design. Based in the heart of Dublin, The Wren is a new 137-room, nine-floor hotel designed and built using carbon reduction technologies, making it, BDP say, 'one of Europe's most sustainable hotels in a major city centre.'
Gray says, 'Eliminating the need for fossil fuels, the building uses 100% renewable energy and is the first hotel in Ireland to comply with the World Green Building Council's definition of 'Net Zero Operational Carbon', without having to purchase carbon offsets.'
Gray underpins the need for architects to outline clearly to clients the sustainable routes and avenues on offer, saying, 'Our standardised approach to whole life carbon analysis ensures that the impact of building retention or reuse is assessed against new construction options to allow our clients to make an informed decision on long-term value.'
Just what are the specific sustainable elements of this project? There are three, Gray says, which standout strongly. 'On heating and ventilation, Wren's hot water, heating, and cooling system design is based on a combination of highly efficient air source and water-to-water heat pumps – a completely renewable source of energy. The ventilation system captures 81% of rejected heat using a thermal wheel, which also heats the incoming fresh air for free. With no fossil fuels being consumed, the hotel avoids the production of large amounts of local pollution within its urban environment.'
Additionally, there's also the considered water conservation system, which Gray comments, 'The hotel's water demand is approximately 60% lower than that of typical hotel accommodation buildings through the implementation of water conservation measures and low-loss fitting specifications. Rainwater runoff is attenuated, reducing loads on the public mains and a green roof provides natural cooling and space for biodiversity.'
5. Salvaged Brick Extension House by VATRAA Architecture
Bogdan Rasu, founding partner (in partnership with Annamaria Pricu) of VATRAA architecture practice, says, 'this project demonstrates how reusing materials can have a powerful architectural impact while reducing the CO2 footprint.' How have VATRAA achieved sustainable outcomes with this residential build in North London? Rasu says that VATRAA implemented 'the 'reuse' approach by finding meaningful purpose for materials resulting from on-site demolitions.'
'Instead of transporting discarded materials to landfill and having new materials fabricated and shipped on-site, we found ways to work with what was already there. We used 99% of the bricks that resulted from the demolition of the original flank and rear walls to build new external walls of the wraparound extension. The result is a complementary addition that feels part of a whole while respecting the character of the old Victorian house,' explains Rasu.
Significantly for VATRAA this approach to sustainability is also about integrating the new addition into the environment. 'The context played an important role in defining not only the outside but also the inside. The exterior of the extension relates to the surroundings through its form and - significantly - its materiality. The gable shape of the extension continues a series of similar archetypes found around the property.'
'The salvaged red brick takes a new life in a new vertical bond that, together with the blue stained glass, brings a subtle reference to the 'pediment' (or 'fronton') found in classical architecture.' Furthermore, VATRAA has worked the brick material inside the build too, to the interiors. 'To create a strong inside-outside relationship, the brick is brought to form the internal leaf of the cavity walls, this time, in a white finish to absorb natural light and highlight the vibrant brick facade,' says Rasu.
The Livingetc newsletter is your shortcut to the now and the next in home design. Subscribe today to receive a stunning free 200-page book of the best homes from around the world.
Rory Alastair Robertson has a long-standing history working across the interiors industry. Raised in Morningside, Edinburgh, Rory grew up surrounded by classically grand Scottish Georgian and Victorian architecture.
His first appreciation for interior decoration sparked when his mother hired scaffolding and decorated their three-storey Victorian staircase in Farrow & Ball Picture Gallery Red, by herself. She then painstakingly gold leafed the drawing room - by hand - over a base coat of Sudbury Yellow. This was the era of Jocasta Innes and Kenneth Turner, when paint techniques and maximalist style were the decorating raison d'être.
With this inherited gene of creativity, Rory went on to study Interior Architecture at the University of Edinburgh, and later, Theatre Set Design and Architectural Illustration at The Rhode Island School of Design on America's East Coast.
Rory's foray with the editorial world started a decade ago at Livingetc magazine, a title which he regularly contributes to today. Specialising with a deep-seated appreciation for historical homes and interiors, Rory often travels far and wide to be inspired by unique properties with a fascinating history.
If he's not uncovering an unusual National Trust property in the UK, then he's seeking out a Neo-Classical clifftop villa in Capri or a Palazzo in Florence.
Based in London's Shoreditch, working as a Senior Interiors Editor and Consultant, Rory's portfolio of work is a creative melting pot of residential and commercial interior design projects and a plethora of editorial writing work. Rory is also Guest Interiors Lecturer at the prestigious KLC School of Interior Design in Chelsea, London. His most cosseted possession is a ramshackle Citroen Deux Chevaux, which he has reupholstered in Pierre Frey yellow and turquoise silk fabric.
Discover more at roryrobertson.co.uk and @rory_stylist.