Small kitchen diner ideas – 10 fresh ways to elevate a compact space
If you have a tiny space to squeeze in your kitchen and diner, don't despair. Our experts reveal how to make it functional and stylish with these chic small kitchen diner ideas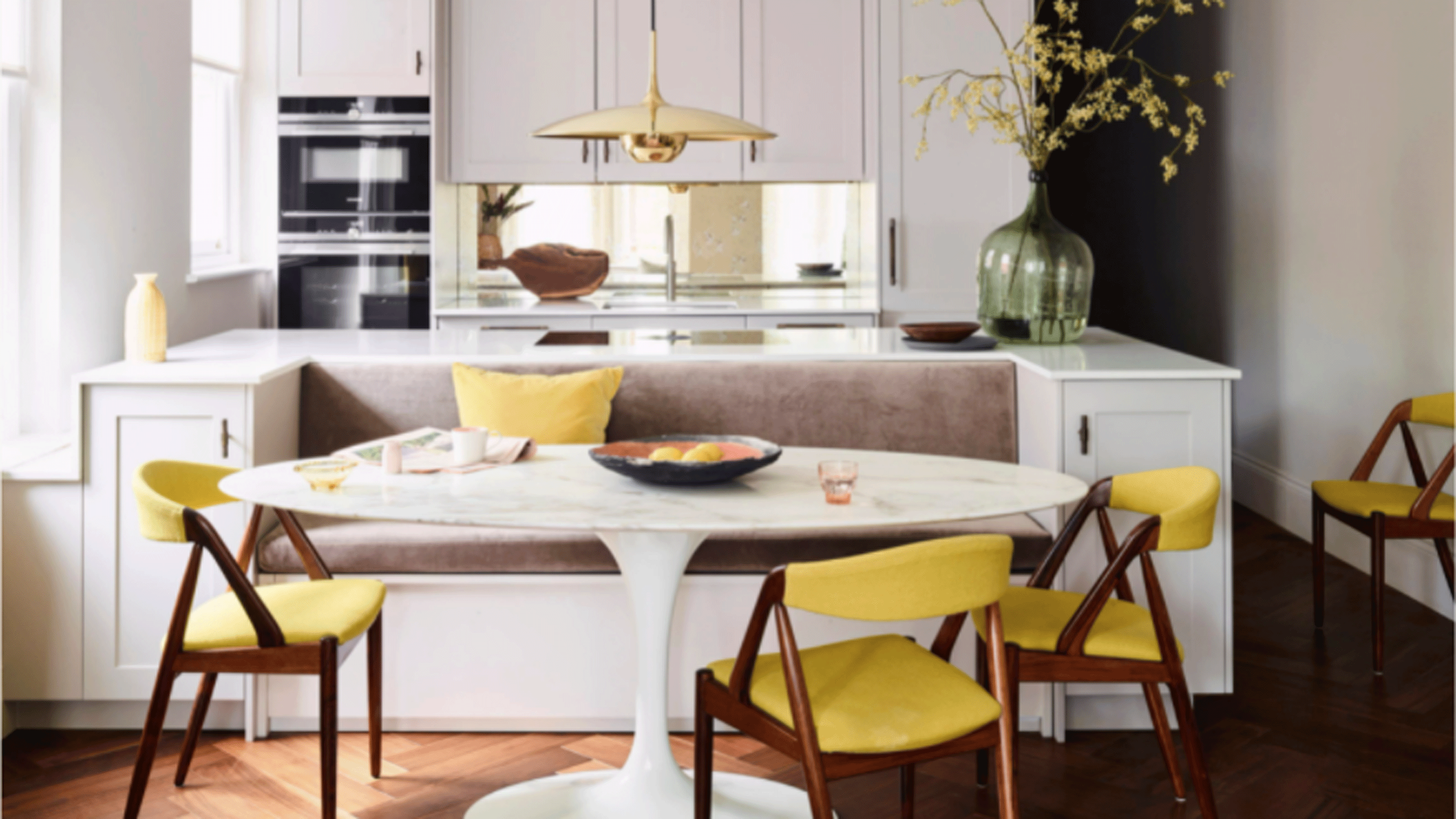 (Image credit: Roundhouse/ Mary Wadsworth)
While small kitchen diner ideas can undoubtedly have their design challenges, they can be as beautiful and functional as a space twice its size. The main thing to focus on is that there is enough space for the practical element of cooking, there are plenty of storage solutions so that clutter is at a minimum, and there is also room to eat comfortably with friends and family. The starting point when designing a small kitchen diner is the floorplan, says Daniel Bowler, Director for Eggersmann UK.
'A floorplan is an important part of the design process for any kitchen, from the largest to the smallest. This is the very best way of determining the layout and making the most of all available space, which of course becomes even more crucial in compact situations where every inch must be maximized and used in the best possible way.
There are many design tricks that can be worked into a small kitchen to ensure it is big on luxury. 'In terms of color schemes, the lighter the better in small spaces; keeping things neutral can still be visually interesting though as raw and natural materials such as wood, metal, and stone can all be used,' says Daniel.
Here, we have rounded up 10 kitchen design ideas to enhance the look of even the smallest kitchen diner. Proof you can have a dream kitchen, regardless of its size.
1. Incorporate banquette seating into the island
This apartment kitchen in an old mansion block was created by Roundhouseand needed to include soft seating, dining, and kitchen in an open plan living space. The client already had a stunning Saarinen oval marble table and was very keen to use it. 'However we quickly discovered that the table was too large for the space,' says Roundhouse designer Sam Hart.
'However, by incorporating the banquette into the kitchen island, seating on one side of the table was allowed for. This saved quite a bit of space in the room allowing a generous area for sofas and a coffee table. We designed a deeper island to create the banquette seating and to accommodate storage on both sides. The addition of subtle color creates a backdrop for soft furnishings.'
2. Choose a L-shaped kitchen for greater flexibility
A galley kitchen layout — when you have two parallel runs of base cabinets, wall cabinets, and countertops located both sides of a central walkway — is often the go-to for a small kitchen. But there are other strong options so it is important to consider the other small kitchen layouts. 'When thinking about a layout, an L-shaped kitchen is a good layout for a smaller kitchen diner as it allows space for a dining table and doesn't intrude on the main space too much,' says Adrian Bergman, design manager at British Standard by Plain English.
'It permits straightforward access between the main elements although the distance traveled can be greater than with other layouts. It's usually best to group the fridge, sink and dishwasher together and then move round to the hob and oven on the second run.'
3. Paint the walls dark for an intimate and cocooning feel
In a small or north-facing space, it is always tempting to opt for solely neutral kitchen color ideas to try to enhance the light, but going for a dark shade can be more dramatic and create a cozy feel which works perfectly for intimate dining.
In this dining nook by interior designer Heidi Caillier, she has painted the shiplap walls and seating a warming charcoal which is not only cocooning but pulls together all the other elements in the space.
4. Build up layers of texture and color
When it comes to creating a small dining space, the emphasis should not just be on furniture alone. Interior designer studio Salvesen Graham used a banquette as a great space-saving option which helps the space feel tailored but have also piled up the interest in this compact corner with color, art, cushions, and lighting. The cushions cleverly mirror each other in terms of the hues and placement and all the shades are picked up in the art on the wall. The result is a mood-lifting corner bursting with personality.
'Adding decorative pieces to a kitchen space such as a decorative lamp and cushions will help stop a kitchen feeling utilitarian and ensure it is another lovely room in your home.' says Nicole Salvesen.
5. Make use of the wall by having a fold-up table
Once floor space has been exhausted when designing a small kitchen diner, get more mileage by taking full advantage of an empty wall. This kitchen has installed a fold-up table which is perfect for a small family and can be put away between meals so it is not taking up space.
'In an instance where there is not enough room for a kitchen island, consider opting for a smaller chef's table, perhaps even on wheels, making this a portable and practical solution,' adds Daniel Bowler, Director for Eggersmann UK. 'Other ideas include swapping a dining table for a breakfast bar in an open-plan situation to help achieve a multi-functional design.'
6. Introduce a curved island to add contrast
A kitchen island is not necessarily ruled out when you have a small kitchen as you can see from this kitchen island seating idea. A curved island can be a great option because not only can it require less space, it also brings in an element of softness that can be missing from many kitchen designs.
'Depending on the size of your kitchen, a curved countertop is a perfect way to add a bit of contrast,' says Enass Mahmoud, creative director of London-based Studio Enass.
'There are a lot of linear elements when it comes to kitchens and sometimes adding a curve structure can help break the space up and give the illusion of a bigger kitchen as it creates movement and guides the eye around the room. A curved countertop or breakfast bar could be the main feature in your kitchen, especially if you dress it up with bright colorful seats.' Here, the red cushioned stools add vibrance and visual pizzazz to the kitchen color scheme.
7. Match your countertop to your dining seating for a cohesive look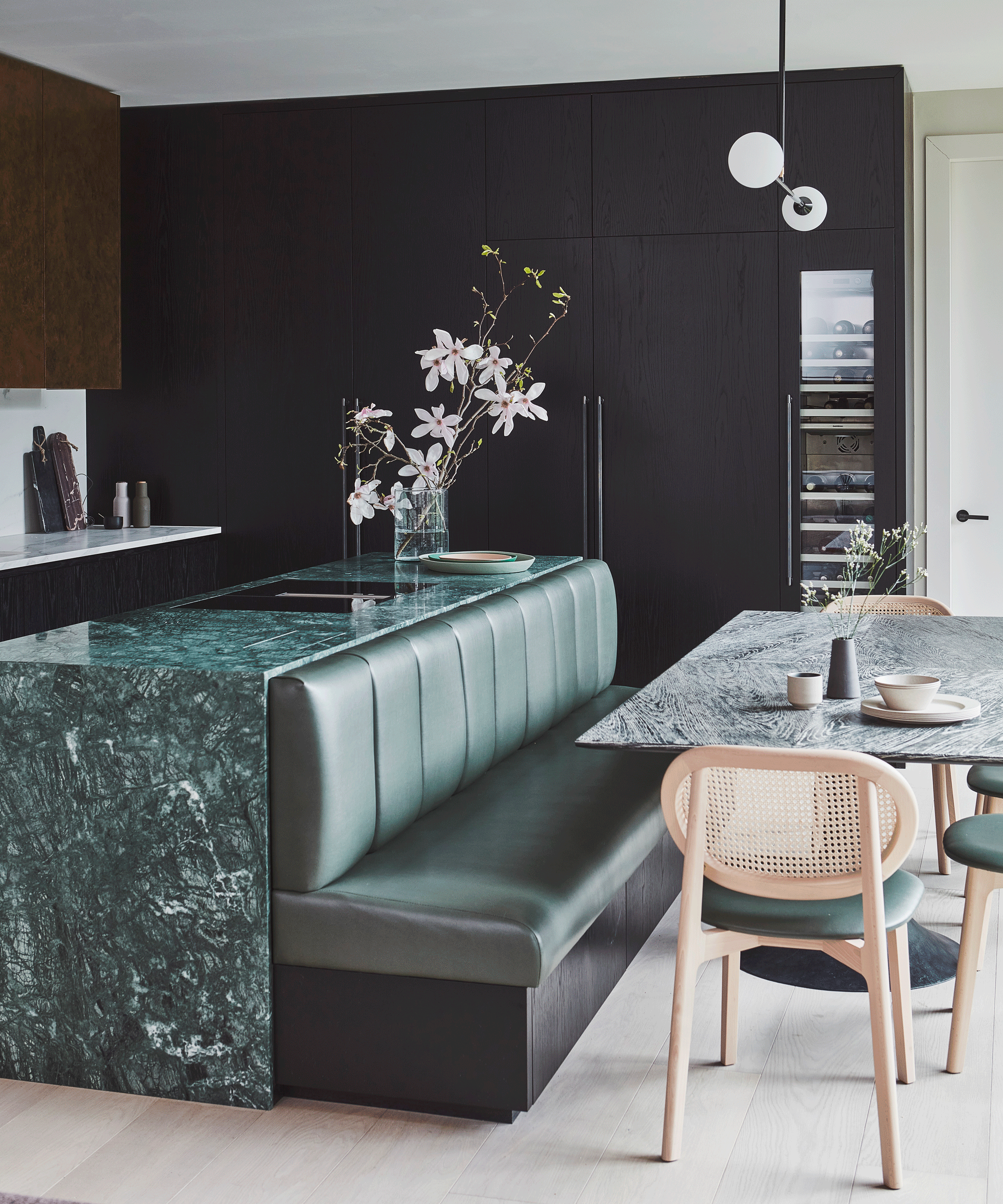 'If informal entertaining and relaxed seating is your vibe then a kitchen island that doubles up as a banquette seat is a fabulous way to save space in a small kitchen,' says Annie Ebenston, Lead Designer, Blakes London.
Matching the colors of both create a harmonious look but playing with different materials like in this instance, keeps the eye interested. 'By combining an island with a dining table set up in this way you can save circa 1.5meters of space while retaining the functionality and drama of the much coveted kitchen island,' adds Annie. 'Furthermore, if you're pushed for storage space, you can design a lift up seat on the banquette to serve as extra storage space.'
8. Introduce a three-in-one countertop, island and table hybrid design
In a small kitchen diner, it is important to make sure that all elements are as hardworking as possible. Two functions are great, but more is the dream. An island is the perfect piece that can maximize its potential and there are lots of clever ideas on installing an island in a small kitchen.
In this kitchen, an island peninsula can have a range of uses, and keeping the material wood, the same as the countertop, maintains a cohesive look.
'If you are limited on space in your kitchen or dining room, you could think about creating a multi-functional island and use it not only for countertop space but your table as well.' says Katy Thompson, senior designer, Naked Kitchens.
9. Paint the seating the same color as the kitchen cabinetry
Paint is one of the easiest and most affordable ways of transforming a small kitchen and there are many clever yet simple tricks that can be used to enhance a space.
'The banquette seating hand-painted in the same color as the kitchen cabinetry helps make the room appear longer, whilst also providing space-saving seating around the large family dining room,' says Richard Davonport, managing director, Davonport.
10. Match the table to the kitchen cabinetry
As well as matching the seating to the kitchen cabinetry, matching the table to the cabinetry is another way of making the best out of a small kitchen diner. This can be done using paint or the same material, either way it adds a continuity to the look of the kitchen and makes the space look bigger. In this kitchen by Superfront, the table and cabinetry keep to the same soft grey which unifies the design.
How do you make the most of a small kitchen diner?
There are many elements to think about when trying to make the most of a kitchen diner. It is easy to say storage is the most important element, as keeping things organized is paramount when space is at a premium,' says Daniel Bowler, Director for Eggersmann UK. 'That aside though, the design process for a small kitchen doesn't really differ too much from that of a larger room, in terms of the importance of elements like layout, materials, and colors.
'In any size space, the working triangle of kitchen design is a good practice to follow to make the finished space truly workable and comfortable. This connects the cooktop, fridge freezer and sink to make food preparation as simple as possible. The smaller the space, the fewer the steps needed between these no matter where they are sited, of course, but when more than one person is using the room at once it does make life a lot easier.'
What layout is best for a small kitchen?
A galley kitchen is considered the best small kitchen layout. It is two parallel runs of base cabinets, wall cabinets and countertops located both sides of a central walkway. Most leading designers suggest keeping tall cabinets and wall cabinets to one run while having base cabinets and open shelving on the other to avoid a claustrophobic feel or a 'tunnel' effect.
The Livingetc newsletter is your shortcut to the now and the next in home design. Subscribe today to receive a stunning free 200-page book of the best homes from around the world.
As the Deputy Editor of Livingetc, Busola Evans works across both print and digital and specialises in kitchens, bathrooms and projects. She is an expert at explaining how to improve, extend and convert your home. Prior to her current role, she was Associate Editor on both Livingetc and Homes & Gardens. A journalist for more than 20 years, she has written for a number of newspapers and magazines including The Guardian, The Sunday Times Magazine and Grazia, and was an interiors columnist for the London Evening Standard's ES Magazine.