Pantry door ideas – stylish and practical ways to restore order and originality to your kitchen
Up your kitchen game with the best pantry door ideas to help you store your dried goods tidier than ever before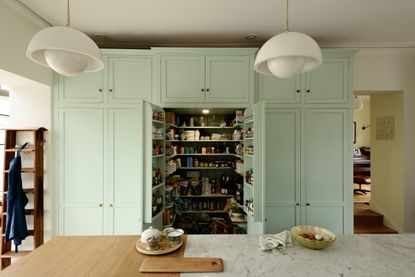 (Image credit: devOL)
A pantry is essentially a one-stop-shop for all your dried food goods. From your pasta to your parsnips and your rice to your raisins – a well-organized pantry is not only super satisfying to the eye, but it makes it easy to grab your edibles in one swift movement.
However, a pantry can be made a whole load more interesting by getting creative with the pantry door ideas you choose to mask the clutter. After all, if you're lucky enough to be the proud owner of a pantry, you'll know they aren't just a cupboard in the corner or an alcove that's been added as an afterthought. From walk-in pantries to a Butler's pantry and freestanding options to a built-in cabinet pantry complete with matching cupboard doors. Having a door to your pantry will help keep your kitchen chaos-free – even if this is far from the truth.
As Rachel Epstein, Design Specialist and Creative Director of CARME Home tells us, 'A pantry is often right at the top of kitchen wish lists, whether you're a foodie or not it's always great to have a space dedicated to storing excess food and utensils. But when considering what type of door to invest in, firstly you should deliberate its function. Whether you have a small or large walk-in pantry, you will want to cover up the inevitable clutter, but do you want it to go beyond this? For example, would you like the doors to provide more storage, or offer somewhere for family members to write notes, shopping lists and meal plans on?'
The size of your pantry will inevitably impact which door is right for you. But of course, there are the overall aesthetic and clever design options to consider too. To help you restore some order to your kitchen space, we've roped in the experts, rounded up the top designs, and compiled a list of the pantry ideas that look great both on the outside and in. You (and your pantry) can thank us later!
Inspiring pantry door ideas to hide the clutter
1. Try bi-folding pantry doors
Short on space in a small kitchen? One of the best ways to hide the kitchen clutter and cut down on square footage is to choose a breakfast pantry with bi-folding doors. Compact, aesthetically pleasing and easy to open and close, bi-folding doors enable you to fit more into your space – no matter the shape or size of your kitchen.
As Tom Howley, Design Director at the eponymous kitchen company explains, 'Smaller than a walk-in pantry, a breakfast pantry is a great place to hide all the everyday chaos. The doors bi-folding action gives neater, more usable access to the contents of the cupboards without blocking other cabinets. The space inside is expansive, often with work surface space for smaller appliances such as your kettle and toaster. It's also a great place to store your cereals, crockery, tea, coffee and cookbooks.'
Just remember to organize your pantry with these clever ideas to really make the most of your storage space.
2. Make it match
While we're all for mixing and matching kitchen cabinet colors, sometimes it's the simplest ideas that work the best. Just like this matching pantry door design, by Officine Gullo, which blends in seamlessly with the rest of the cabinetry.
As Manfredi Conforzi, Director at Officine Gullo, explains 'Our pantries have the same metalwork doors as the rest of the kitchen, in this way they are a seamless fit. Think about the layout of the kitchen as the pantry will be opened and closed regularly by whoever is cooking and other family members so it is important to have space around it for easy access. You don't want the open doors to clash with access to another part of the kitchen. We like to specify double doors opening onto a generous storage space which some clients customize with a breakfast preparation area, coffee machine and toaster.'
3. Go geometric
If blending in isn't your interior style, don't fret. You can make your pantry stand out by incorporating style and substance to the front of its doors. Enter: this wooden geometric design by Ledbury Studio.
'Handmade from English and European oak, it required a great deal of skill to create the exquisite geometric pattern featured on these pantry doors,' Charlie Smallbone, founder of Ledbury Studio tells us. 'The design allows this very prosaic but necessary kitchen component to be a focal point in its own right.'
Which is only right given that pantries really are a standout feature in any kitchen.
4. Opt for fingerprint-less designs
It's time to think outside of the box. In the 21st century, the materials used in our homes not only look good but come with ingenious design qualities too – like this aged pewter finished from Ledbury Studio which has been overlaid with a protective finish so you won't see any fingerprints. Plus, it works perfectly if you want to embrace the industrial kitchens trend.
Charlie says: 'This free-standing pantry features an aged pewter finish on the doors. It's been overlaid with a protective finish so that fingerprints don't mark it and the surface is easy to clean. The base cabinets feature an effect we call 'choppy water', whereby solid oak panels are carved and then stained dark.
'If you look carefully, you'll see that the doors are finished with gold-leaf appliqué, which injects a dash of glamour into the kitchen. Both the wood and the appliqué are protected by a five percent sheen lacquer.'
5. Give pantry doors a new lease of life with paint
Want a quick pantry door overhaul without you ripping out the cabinets and starting again? Then feast your eyes on this anything-but-boring hand-painted creation from Ledbury Studio.

Charlie Smallbone says, 'The pantry doors in this family kitchen were hand-painted on-site by Ledbury Studio's resident artist Emma Culshaw Bell. Painted doors are ideal for family kitchens because you can simply sand them down and repaint them when they need a refresh.
'This is a great way to switch up the color and get a new look without the cost of replacing whole cupboards.'
If you want any tips on how to pantry doors, just follow our guide to how to paint kitchen cabinets for all the tips you'll need.
6. Add some color with your pantry doors
Mighty mint green strikes again. Topping 2022's kitchen trends, the zingy, uplifting, yet subtle green shade is set to be big this year – and it's for good reason. As interior design turns collectively towards natural materials, forms, and colors, it's a calming and colorful way to nail the trend.
If you're interested in this shade, take note of this creative and color-happy design from kitchen creators, Pluck. George Glasier, co-founder of the Brixton-based brand, says 'Pluck larders are made to order, so there are lots of combinations to consider, opening your larder to a colorful interior is mood-boosting.'
Plus with spring just around the corner, now is the time to inject some color and happiness into your home. And the quick fix to refreshing any space? A hit of color.
7. Or add a splash of color to the inside
Just when you thought pantry doors couldn't get even more exciting, along comes this joyful offering from Pluck that's as pretty on the outside as it is on the inside.
Afterall, the look of your internal pantry door can be just as important as its external look. So mix and match your textures opting for tactile finishes on the front of your pantry door, with smoother surfaces on the inside.
In this design from Pluck, an unexpected combination of material textures and colors combine – and in our humble opinion, it works a treat here. Just remember, whether you have a pantry cupboard or a spacious walk-in pantry, the backs of the doors can be invaluable spaces to add extra storage. It can be the ideal spot to stash oils, store herbs, and place everyday additions, like salt and pepper.
8. Say yes to smoked glass doors
A doorless pantry allows you to easily see what your pantry shelving has got in store. But one of its design cons? It can look unsightly and messy if you haven't kept your pantry in pristine working order. But that's where smoked glass doors come in.
As Richard Atkins, Director of DesignSpace London tells us, 'The new 'must have' for any home where cooking and entertainment are taken seriously is our temperature and humidity-controlled walk-in pantry.
'This integrates seamlessly into the kitchen and offers a capacious chilled space, custom-fitted with tailored storage systems, perfect for storing both food and wine. In order to keep the pantry at a constant ambient temperature, it is available with smoked glass doors so that you can see into the 'room' without always having to open and close the door. Alternatively, the door is available in the same finish as the surrounding cabinets or wall paneling so that the door 'disappears' when closed, creating a sleek, minimalist finish.'
Does a pantry need a door?
A kitchen pantry is great for storing excess food and utensils, especially if you're a bulk buyer. But sometimes, it doesn't matter how organized you are, more often than not a whole load of different food containers can leave your kitchen space looking messy rather than a marvel to look at.
'Which is why having doors is always a good idea,' Rachel Epstein, Design Specialist and Creative Director of CARME Home says. 'It allows you to hide away anything you don't want on display and keeps your kitchen looking clean and fresh. 'Not only are doors great for hiding away a multitude of sins, but they also provide additional storage options. Like a fridge, you can add shelves to the back of doors. Doors have so much potential and should never be overlooked for useful opportunities such as storage A door is only needed if you have children in your house as doors provide a barrier to hide away any dangerous utensils from small hands that grab onto anything they can.'
How do you make a pantry door look good?
We like to think of a pantry door as a gateway to dried food heaven. But with all this power comes a whole load of responsibility. Thankfully, it's not too hard to make sure your pantry door adds to your interior vibe rather than takes it away. You just need to think about the look you are trying to achieve.
Epstein explains 'For a farmhouse kitchen look, wooden grooved doors are best, while a modern look is achieved with glass – but only if you want your items on show. If you're more modest with your interiors and want it to have a soft impact, why not paint it so it's coordinated with the walls? Or, to add more character, etched glass is a great way to achieve pretty pantry panes.

'Next you should consider what handles to use and where to place them, if any at all. Think about functionality – who uses the kitchen and how often. For full-length cupboards, you need sturdy handles, and this is best achieved if they are placed in the middle of the cabinet door, so it falls almost to your waist.'
How do you cover an open pantry?
If you're the proud owner of an open pantry – well played. Open pantries usually have more storage capacity thanks to their ability to have floor-to-ceiling shelves plus they can give a glimpse of what is to come. However, if your open pantry has left your kitchen looking more chaotic than cute, there are a range of ways in which you can hide the chaos.
Epstein says 'Curtains are a popular choice for covering an open pantry, and if this is you then make sure to wash them regularly. Fabrics often hold onto the smells of cooking which can be unpleasant if left for a while.
'Instead, why not opt for a more solid material, to keep your kitchen looking clean and fresh. Why not go for a similar door to the rest of your interiors, but add decorative elements such as glass or mirrors to add a little something extra?'
The Livingetc newsletter is your shortcut to the now and the next in home design. Subscribe today to receive a stunning free 200-page book of the best homes from around the world.
Becks is a freelance lifestyle writer who works across a number of Future's titles. This includes Real Homes, Top Ten Reviews, Tom's Guide, TechRadar and more. She started her career in print journalism at a local newspaper more than 8 years ago and has since then worked across digital and social media for food, fashion and fitness titles, along with home interior magazines. Her own interior style? She's big on creating mindful spaces in every corner of her home. If it doesn't spark joy or happiness, it has no place here. When she's not writing, she's reading and when she's not reading, she's writing.