10 amazing attic rooms that show sloping ceilings shouldn't stand in the way of good design
These attic rooms exemplify the potential of these often small spaces that can be converted into a bedrooms, offices, storage, bathrooms and more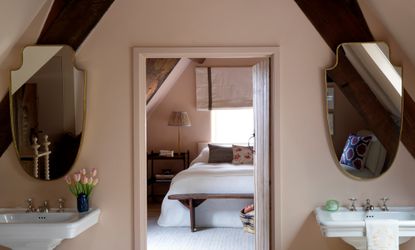 (Image credit: Olivine Design)
The Livingetc Newsletter
For style leaders and design lovers.
Thank you for signing up to LivingEtc. You will receive a verification email shortly.
There was a problem. Please refresh the page and try again.
Your attic room might be a dusty, unused space in your home, but once your realize the potential of this space to boost and expand the functionality of your house, you might reconsider how you're using it.
Attics can pack a punch: from being used as bedrooms, storage spaces, home offices, guest rooms, and living rooms to more, they have the potential to be the most inspiring and hardest-working rooms in the house. Something about those low, sloped ceilings and rooflines just sets the tone for intimate, enchanted living quarters.
If you have an attic space and want to make the most of it, then we have plenty of ideas for you. Top designers have opened up their portfolios to offer inspiration. Take a look at these living room, kitchen, or bedroom ideas hidden upstairs, under the roof.
1. This entertainment room located in the attic
Want a nice, breakaway zone in your home but don't have a place for it? Look up! This space designed by A1 Architects doubles up as a media room where family and friends can congregate. A long, comfortable sectional ensures the dwellers can play or even nap here.
Recessed lights dot the open storage shelves and ensure this room doesn't feel closed in or dingy. Plus, the large windows behind the seating always allow natural light to flow through the room.
Recessed Light with Night Light
Material: Plastic
Price: $55
Choose these recessed spots to ensure your attic room is always, evenly illuminated, with the perfect mood setting.
2. This kids' room with a cute desk
It can be hard sometimes to find a nice, quiet place for your kids to study, complete their homework, or finish projects. The main areas of the house can be distracting, and there's always noise to accompany. But this attic room has been used to design a kid's study room space, removed from all the chaos of the house.
A compact study table, a chair, and a wall lamp complete the scene. Kids like to be surrounded by color and images, as these stimulate their minds and imagination; so a wallpaper is added to bring in the much-needed color and dimension to this area.
'We designed this loft with lots of storage,' says Sophie von Wedekind, director at Spencer & Wedekind. 'The wallpaper all around and the different layers of color make it an enveloping & joyful space.'
3. This guest bedroom with attached bath
Everyone wants to be a good host but often it's hard to eke out a welcoming space for guests and offer them the peace they deserve. Enter attics! In this project, the entire space upstairs has been converted into a luxurious guest bedroom, complete with a bathroom and to create a relaxing mood, a lovely pink wall paint.
'When creating a bedroom and bathroom in a loft remember it is a balance of functionality and aesthetics,' says Victoria Gray, co-founder of Olivine Design. 'Space is often limited in lofts, with their unique sloping ceilings and alcoves so here we utilized the entrance area before the room for elegant wash basins which are easily accessible for guests staying on the top floor. We chose a light and airy palette for a spacious feel and selected furniture to suit the scale of the room.'
4. This cozy nook for kids
This sharing kids room nook is inspirational, and a great idea for parents who want to indulge their children and create special spaces for them in the house.
'When my clients bought their home, this was an attic bedroom with a beautiful lake view that was otherwise nondescript and rather unremarkable,' says Martha Mulholland, principal of Martha Mulholland Interior Design. 'The steep pitch of the ceiling gave me the idea of transforming it into a cozy hideaway for children to stay up past their bedtimes, sharing secrets and stories. The walls were just big enough to fit twin mattresses. We created three millwork niches that gave each child their private sleeping nook with a cubby, book light, and a bit of privacy, but kept them connected to their bunkmates. To make the space feel more immersive we ran the tongue and groove paneling up the walls and onto the ceiling, then painted everything a soothing tone of blue to mimic the sparkling lake beyond the window.'
Brunello Cucinelli knitted pillow
Material: Cashmere
Price: $1,050
Fluff up this kids space and window seat with this soft, tactical pillow, which is also easy to wash and clean.
5. This walk-in storage area
Another great way to expand your home's functionality is by using the attic for storage. This project has added a small walk-in closet, connected by stairs to the main living areas.
'Multiple space-saving solutions combined with a light and warm material palette define the spaciousness of this tiny Amsterdam loft,' say Eline Degenaar and Peter, founders of Studio Canius Degenaar. 'The efficient layout and various visual tricks make the apartment feel bigger than the 50 m2 it is.'
'An important intervention has been to connect the storage to the apartment using an internal staircase, changing the storage into the bedroom,' say Eline and Peter. 'The storage space is moved to the heart of the apartment in a floor-to-ceiling wall of oak veneer cabinets. These cabinets, in which the stairs are integrated, define the open connection between the living and dining and function as a room-dividing element. Open shelves are located on either end of the wall, with objects on display that give character to the spaces.'
6. This kids' playroom
In this attic space, the square footage and the ceiling were just perfect for a small playroom, that could accommodate seating, a study area, and a shelf for books. The low-to-floor seaters ensure that there are no accidents while playing, jumping, or getting up. The rug adds softness to the space.
'The angled ceilings of this renovated attic space are not only sized well for children, but the coziness of the A-frame brings a whimsy perfect for their play and creativity,' says Emilie Munroe, founder of Studio Munroe.
7. This attic which functions as an informal living and dining room
For those who socialize often or live in a home with too many members, it might be a good idea to convert the loft into a private, intimate space only for close members. This project shows how a living dining room combo can be created upstairs, away from the crowd, for quiet, memorable moments with family.
'The project is located in an old building, in the Neustadt area in Strasbourg,' say Aurélie Fechter & Johan Fritzell, founders of f+f architectes. 'This large duplex apartment occupies the former attic of the building. It has been created through the conversion of old maid rooms and the above loft that was used for storage. Throughout the project the material palette is restrained: wood flooring, black MDF that is dyed in the mass for the fixed furniture, and large sheets of thin ceramic in the bathrooms and kitchen top. The organization is simple: all rooms (bedrooms, bathrooms, office, family room) are located on the entrance level of the apartment, whereas the top floor is one open, informal loft space with kitchen, living, and dining area.'
'The existing varnished pinewood flooring, that had become orange-yellow over time, has been kept and renovated,' say Aurélie and Johan. 'The pine boards have been treated in a Scandinavian fashion with lye to block the pigments and prevent the wood from yellowing, then soaped for the finish. This gives the boards a pale-white, semi-mat aspect that is very soft to the touch.'
8. This attic used as a small office
A small home office away from the hubbub of the home is designed within the loft space. A simple desk, chair, and a light above complete the setup. By placing the seating next to the window, the feeling of being closed in is completely diminished.
'In line with the expectations that partly working from home will become the 'new normal', it was important to design a comfortable space in the loft,' say Eline and Peter of Studio Canius Degenaar. 'Using a sliding door [not pictured], the space can be closed off from the rest of the house.'
'With our design strategies, spaciousness is created in a city where living space is becoming increasingly scarce,' say Eline and Peter. 'This tiny ;oft is a blueprint for generous living conditions on a small footprint.'
Material: Rattan
Price: $65
Add a design touch to your tiny home office with this textured pendant light that will throw diffused illumination and add an elevated look to the attic.
9. This loft with a tiny window seat
Why should kids have all the fun? While it's a lovely idea to convert the attic into an extra space for children, in this project, a whimsical window seat is designed for the adults of the house to enjoy some quiet moments by themselves.
'The third-floor attic space was converted into a playroom for our client's two children,' says Mark Lavender, principal designer and owner of M. Lavender Interiors. 'We took advantage of this dormer area to provide a quiet place for reading or viewing out the window for the parents while their kids were playing in the rest of the space. It also serves as a place of respite from the hustle and bustle of the house if the rest of the family is downstairs. For this space, we kept the primary color scheme in place and accented the room with shades of green. The pine paneled ceiling with the strawberry red paint color brought back great memories of summer camp.'
Size: 0.75 litres
Price: $39
Choose this earthy, warm paint tone to make your loft feel like a more decorated and welcoming space. This tone is often best used in smaller spaces, as the color responds extraordinarily to the changes of light throughout the day.
10. This luxurious bathroom
Utilize the attic for personal luxuries, like a spa bathroom. In this project, a large, open bathroom with ample storage and a soft color palette makes the attic nothing short of an indulgent experience.
'The project was a renovation of an old Victorian home in Toronto – and along with that came some quirky realities that became quite fun to work with,' says Jennifer Kudlats, principal of Studio AC. 'One of these quirks was the immense ceiling height of the peaked roof at the top of the house where we designed the primary bedroom. The space was so dramatic and as a way of emphasizing this, we wanted to maintain an openness from east to west. We held the closet millwork down so the drama of the ceilingscape can be seen from the bed. The closet then acts as a buffer or threshold as you move from sleeping space to bathing space – again a play on a spa-like experience.'
For style leaders and design lovers.
Aditi Sharma Maheshwari is an architecture and design journalist with over 10 years of experience. She's worked at some of the leading media houses in India such as Elle Decor, Houzz and Architectural Digest (Condé Nast). Till recently, she was a freelance writer for publications such as Architectural Digest US, House Beautiful, Stir World, Beautiful Homes India among others. In her spare time, she volunteers at animal shelters and other rescue organizations.