The Innovation List - the smartest home tech to know about right now
The latest cutting edge ideas and innovations designed to make your home work smarter for you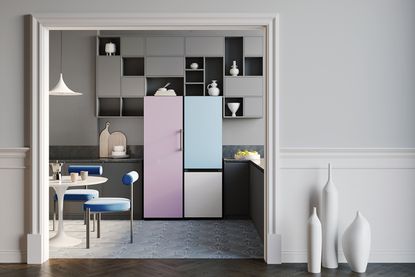 (Image credit: Samsung)
With so much smart tech being released into the market, we've rounded up an edit of the very best you need to know about. It's all things that will make your life easier, that are worth investing in, and will answer problems you never knew could be solved.
made to measure
A stylish bowl – choose from a range of subtle colours and wood veneer – with a hugely practical secret; it has a built in weigh scale and small LCD display that makes it easy to measure out your pet's food. The stainless-steel bowl is removable and dishwasher safe, and there's also a partner app that helps you keep track of your pet's feeding routines and calorie intake. Petkit Smart Bowl, £40 (petkit.com)
Hot stuff
Available in 11 textures, Livingstone radiant panels are made using reconstituted marble powder – a waste product of the marble cutting industry – which is formed and bound together using eco-friendly binding agents. Each panel is handcrafted and available with a choice of hidden valves, which maintains the decorative aesthetic. Livingstone radiator, from £1,123 (theradiatorcentre.com)
Winter warmer
Proof that patio heaters can add more than just warmth to your garden scheme, the Dome is an enormous 3,250W infrared lamp and dimmable light that looks great even when switched off and comes with remote control. Made in Belgium from stainless steel and aluminium, it can be left outside all year round. Standard options include Black and White, but RAL colour matching is also available. Heatsail Dome freestanding electric patio heater floor lamp in Black, £3,495 (cuckooland.com)
Charge up
This 10W solar panel easily hangs in a window offering eco-friendly battery top-ups for gadgets. It has a 3,400 mAh battery pack, so you can leave it to soak up the sun during the day and then charge your phone at night. Grouphug window solar charger, $149 (around £105) (grouphugtech.com)
Audio Book
Bang & Olufsen's Beosound Emerge speaker, created in collaboration with Benjamin Hubert from Layer, sits comfortably on a shelf alongside books – it's no coincidence it looks like a propped-up hardback – while also filling your home with the finest audio. Inside, there's a 4in driver, 1.45in mid-range driver and 0.6in, all of which can be controlled using Apple AirPlay 2, Chromecast and Google Assistant voice control. Choose from gold tone or black anthracite finishes. Bang & Olufsen Beosound Emerge, from £539 (bang-olufsen.com)
Mist opportunity
If you or one of your family struggles with health problems in a dry environment, this stylish humidifier could help. At 32cm tall, this almost silent (34dB max) humidifier spreads 250ml of mist per hour through an area of up to 30m². The 2.5ltr water tank is easy to remove and refill. Choose black or white with wooden feet and a neat leather tag. Duux Tag, £99.99 (duux.co.uk)
Just add speakers
The compact EVO 75 (H8.9xW35x D31cm) is the perfect compromise for those who demand the best sound quality from their hi-fi, but don't want their home cluttered up with big ugly boxes. Add speakers and your digital music can be controlled through the 6.8in LED screen, the StreamMagic app or virtually any streaming service. To help blend into your interior it comes with a choice of walnut veneer or Richlite (made from recycled paper) textured side panels. Cambridge Audio EVO 75, £1,799 (cambridgeaudio.com)
Kitchen Aide
Cooksy is a smart camera with a built-in thermal imaging sensor that can act as your own sous chef. Once mounted on the cooker hood and connected to the app, you can see the precise temperature of the pans you're using and if heat is distributed evenly. You can also follow step-by-step recipes via the app and you can even record your own recipes making it easy to replicate a successful dish each time. Cooksy, from around £275 (kickstarter.com)
Modular cooling
It's never been easier to make appliances work for you, thanks to Samsung's Bespoke Refrigerator collection. Mix and match your configuration, creating a multifunctional wall of cooling made up from one-door or two-door fridges and freezers. Plus you can choose from 14 coloured door fronts in seven finishes, from bright pastels to sophisticated monochrome. Samsung Bespoke Refrigerators, from £799.99 to £1,349.99; Individual panels, from £39.99 to £149.99 (samsung.com)
Clever coverings
Hardwearing, breathable, easy to clean and available in a host of bold Bauhaus-inspired shades, this high performance polyurethane fabric from Japan is suitable for all manner of applications including indoor and outdoor seating. Thanks to the woven prismatic appearance of the fabric, it looks infinitely more interesting than a basic flat vinyl covering.
Totally sucks
Designed to work seamlessly with Siemens induction hobs (available in 80cm and 90cm), this extractor fan features a single piece of glass that raises 250mm from inside the worktop to provide concentrated (501 m³/h max) grease and odour removal. What's more, it has a built-in LED light that can be colour-matched to your kitchen, it is Amazon Alexa and Google Assistant compatible for voice control, and being Wi-Fi enabled it will talk to a compatible hob to automatically provide the best level of extraction. Siemens iQ700 GlassdraftAir, from £2,349 (siemens-home.bsh-group.com)
Stand tall
In the design of this Sage Sit-Stand desk for Benchmark, David Rockwell took inspiration from the classic draftsman's desk, albeit with a hi-tech mechanism that can adjust the height to suit your proportions and comfort.

It's available with a solid sycamore top and grey stained ash base, oak top with oak base or rich walnut top with walnut base and you can also install a wool-covered divider.
Smoothie does it
Engineered by Colin Sapire, the man who invented the NutriBullet, the Beast B10 Health is a powerful blender that will pulverise fruit, vegetables, seeds and nuts in the blink of an eye thanks to the 1000W motor spinning at 18,000rpm. Aside from the aesthetic appeal, the container has been designed to increase internal turbulence to get your smoothie smoother in seconds.
Compact composter
The FoodCycler from Sage reduces the scraps in your bin by 80 per cent by transforming them into tiny EcoChips in as little as four hours. The 2ltr system pulverises, dehydrates, aerates and then sterilises food waste leaving a compact, odourless, almost soil-like, organic material that can easily be disposed of. FoodCycler, £399 (sageappliances.com/uk)
Slats better
Wall cladding not only creates a striking visual effect, but it can also be used to absorb sound from the neighbours, or soften echoes in open-plan spaces. SlatWall panels are made using FSC oak battens mounted on MDF board with either a black or grey recycled plastic felt cover. 1.44m2 SlatWall Acoustic Natural Oak, £129 (naturewall.co.uk)
Extra sparkle
The classic Quooker Fusion tap – you know, the one that dispenses 100°C instant boiling water and looks like it belongs in a brilliant future-modernist home – has been updated to be able to pour fizzy water now, too. Its gas canister can create around 60 litres of bubbles, cutting down immensely on the amount of single use plastic bottles you need if, at the end of the day, you like nothing more than a spritzer.
Classic Fusion Square tap with CUBE, £2,500 (quooker.co.uk)
Conference league
Remote working has advantages, but dialling into meetings remains often glitching and unproductive. Meeting Owl aims to make video conferencing more efficient thanks to its 360° speaker and 720p HD camera. Position it in the middle of a table – it can hear voices up to 3.6m away – and it will track and focus on whoever is speaking, even if they get up and move, or are dialling in from the other side of the world. Meeting Owl, £799 (owllabs.com)
Breathe easy
Given that most air purifiers cost at least £150, we applaud Ikea for making one available for a fraction of the cost. The 31x45cm fabric-covered unit, which
can be used with the floor stand or mounted on the wall vertically or horizontally, removes 99.5% of airborne particles such as dust and pollen down to PM2.5
(particle size 2.5µm) in a space up to 8-10m2. Three speeds (Maximum Clean Air Delivery Rate (CADR) 1 20 m3/h) and a 25dB sleep mode mean it can work
hard for you while also blending into the background, and replaceable filters cost from just £5.
Förnuftig air purifier, £50 (ikea.com)
Chris Haslam is a UK-based journalist who specialises in writing about tech, gadgets, audio, lifestyle and eco living. He regularly writes for Livingetc, and also contributes to WIRED, T3, Stuff, Ideal Home, House Beautiful, Your Home, Homes & Gardens, Grand Designs, Real Homes, Good Homes, Beautiful Kitchens, Country Homes & Interiors, Tesco Magazine, Style at Home and British Airways High Life Shopping