See inside this vibrant terraced house in north London where global artefacts reign supreme
This terraced house in north London has a distinct look – bold, uncluttered and vibrant. It's an object lesson in what you can do with a few carefully chosen pieces.
THE PROPERTY
A four-storey terraced house in north London. On the ground-floor of this modern home is a family room, kitchen, dining area and WC. Upstairs is the living room/study. The girls' bedrooms and a shower room are on the second floor, with the master bedroom suite on the third floor. The property is a rental and had been done up for a speedy let. Since the tenants weren't allowed to decorate, the used possessions to really put their stamp on the place.
See Also: More stunning modern homes from around the world
THE LIVING ROOM
On the first floor, an existing storage console has become an intriguing display of objects new and old, including a Fornasetti plate and a set of fashion dolls by Lucie Kaas.
The taxidermied lamb was found in Paris, as the tenants weren't able to have a pet.
The mid-century chairs (above) are covered in original fabric, and make a striking pair. Thespiky-tressed Lanvin dolls dancing on the mantelpiece add a touch of whimsy.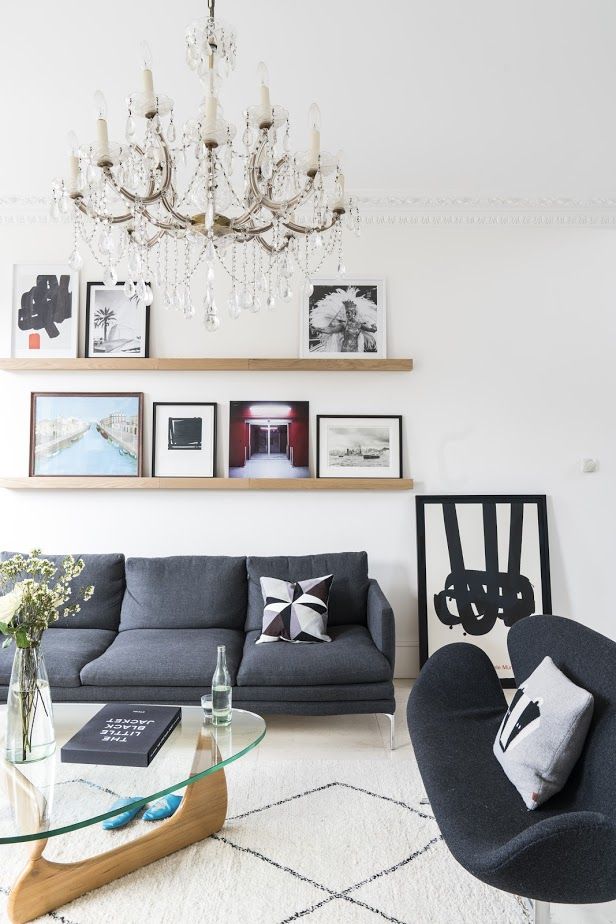 See Also: Living room ideas - 24 decorating tricks to inspire
THE FAMILY ROOM
The poster of the landmark 1979 London Calling album by the Clash depicts bassist Paul Simonon wielding his guitar like an axe, the vivid green injecting vibrant colour in this upbeat family room. There's also scale, in the form of the high-backed mid-century chair, plus layers of texture in the Beni Ouarain rugs and sheepskin throws that dress many of the surfaces both here and upstairs.
THE STUDY
The property is filled with art, collectables and acquisitionswith personal relevance. Atribal headdress hangs over a desk by post-war designer Pierre Guariche, and the paintings are by André Cervera and Pierre Soulages. This is art with provenance, but it is displayed with unstuffy nonchalance, propped against walls or perched on custom-made ledges. This makes it easier to move pieces around and play with different compositions.
THE KITCHEN
This streamlined scheme flows from the family room to the dining area at the back of the house.
THE DINING ROOM
The dining room is light and uncluttered, with a large white oval dining table from The Conran Shop. The mis-matched chairs create an informal and relaxed atmosphere.
The reclaimed chairs were originally used in an Indonesian school and the Japanese mask was a gift.
THE BEDROOM
This pared-back space is understated, with just a few accessories.
THE BATHROOM
The landlord knocked through to create an airy, open-plan master suite.
Photography ⁄ James Merrell
See Also: Master bathroom ideas - 19 stunning design ideas for a dreamy master bathroom