See inside Suzy Hoodless' home - a vibrant lesson in the clever use of colour
Interior designer Suzy Hoodless' home showcases an imaginative use of colour and has been transformed from bleak to chic...
THE PROPERTY
A Victorian terrace and modern home in west London. The ground floor comprises a double-aspect living room and a kitchen-diner. There is a study, utility room, master bedroom and bathroom on the first floor, two bedrooms and a bathroom on the second floor, and a bedroom on the third floor.
See Also: Tour A Colourful Victorian Terraced House In Crouch End

KITCHEN
After buying the four-storey terrace with her husband almost eight years ago, interior designer, Suzy Hoodless was immediately drawn to 'its space and seemingly endless floors'. She wanted to create a sociable home that would work for her family, but could also be shut down at night, and not filled with billions of plastic toys everywhere.
Kitchen cabinets painted a bold, matt Yves Klein-style blue bring an otherwise pared-back kitchen to life. Suzy says she can't imagine life without the saturated colour.
The bespoke, industrial wall shelving set against a clean backdrop of Carrara marble and white tiles lends a lightness to the space.
DINING AREA
The kitchen and custom-sized dining table were designed to accommodate Suzy's vintage Hans Wegner chairs, bought many years ago.
The black limestone flooring reflects the dark woodwork of the chairs.
See Also: Bright ideas - exploring colour in the dining room
living room
The couple opened up the space by removing some walls and lots of doors, divided the double-aspect ground-floor room 'to create a cosy but proper living room at the front and a sitting room/playroom in the middle', and knocked out a 'hopeless lean-to' at the back of the house. By lowering the kitchen level from that of the sitting room, they created a large kitchen-diner, which has made all the difference to the way they live.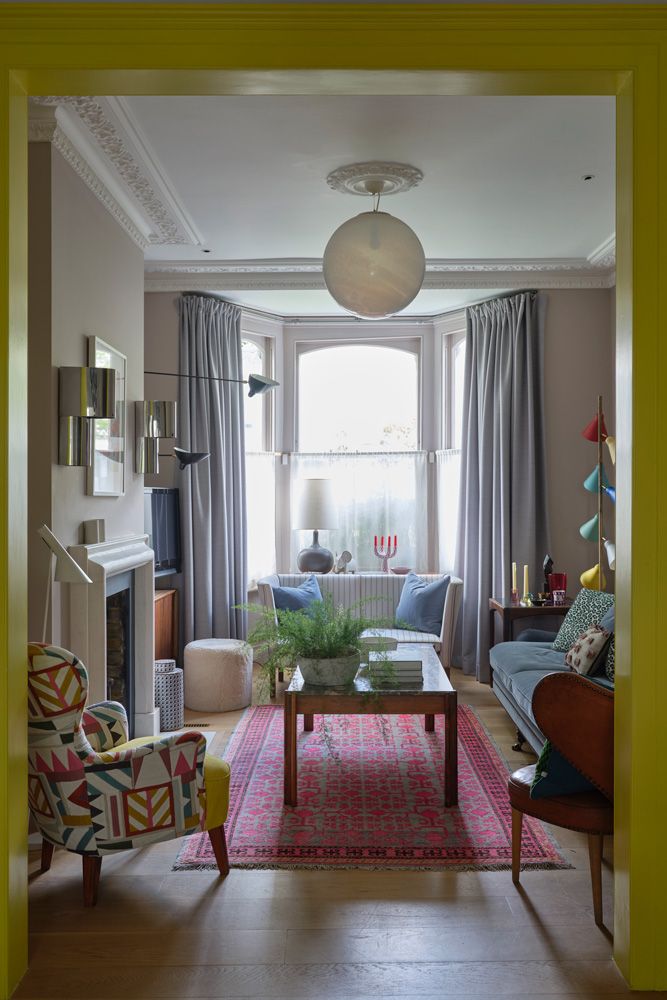 A powerful shock of incandescent yellow around the architrave, links the front living room to the middle sitting room, and instantly saves the two spaces from becoming 'too polite'.
master bedroom
A combination of pink and grey with a shot of deep rouge in the master bedroom creates a cocooning space.
The walls and wardrobe doors are painted the same shade of porcelain pink. The sheepskin chair lends a luxurious, sculptural element to the room.
study
The room started with the Eames chair and then the desk. It's a quiet place that Suzy and her husband escape to.
See Suzy's interior design projects and products at suzyhoodless.com
Photography / James Merrell
Find out more about Suzy Hoodless.