A London house that's full of natural materials and textures to help the owners feel grounded and happy
Designer Natasha Jones showcases her theory that natural materials and a connection to nature add up to joyful living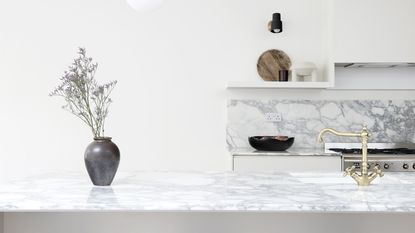 (Image credit: Anna Stathaki)
The Livingetc Newsletter
For style leaders and design lovers.
Thank you for signing up to LivingEtc. You will receive a verification email shortly.
There was a problem. Please refresh the page and try again.
When you have two young children and a new baby and are in the middle of a modern house renovation, interrupted by Covid, you either sink or swim… but luckily Natasha Jones is a strong swimmer with her water wings firmly in place.
'We did a big lifestyle re-evaluation half way through the building work and decided to relocate to Somerset,' she says. 'We have family there and it was always part of our long term plan but lockdown made us reflect on our whole way of life and we thought 'why wait?' The idea of bringing the children up in the country and living amongst family became a priority.'
The couple - she is an interior designer, he owns a building company - had bought the generously proportioned semi-detached Victorian house in south-west London in 2019 with a view to turning it into their dream family home. 'It made sense to continue the work on the house as a project, thinking it would suit a family similar to ours, looking for something ready to move into,' she says.
Living room
Natasha subscribes to the Biophilic design approach, which recognises that people feel happier surrounded by natural (and sustainable) materials and uses neutral colour palettes to enhance the feeling of light and space.
'I aim to create homes that have a connection to nature too, which is why we put a seating area next to the garden,' she says. Her philosophy is all about 'designing for real living,' which, she says, means a well conceived layout that flows logically, plentiful storage and spaces that take into account the needs of all members of the household.
Although the house was pared right back and a large modern extension idea to the side and rear plus loft conversion added, the couple took pains to ensure it didn't end up looking ultra-modern and stripped of character. 'We bought the house in probate, and it had been untouched for years, so we had no qualms about totally reconfiguring it,' says Natasha. 'We ended up with no original internal walls left in the property so we had essentially a blank sheet of paper with which to design an ideal layout for a family home,' she says.
The open plan hall is separated from the living room with a reeded glass and steel window which allows light and gives the period bones a contemporary twist.
Having done nearly five renovation projects together over seven years, the couple are quite gung-ho and not risk averse. 'We are pretty relaxed when it comes to big projects - it's what we do for a living after all - so we weren't phased by this one,' says Natasha, skimming over the small matter of having to deal with childcare, homeschooling, relocating and lockdown at the same time. Not surprisingly she wasn't able to be on site as much as she would have liked -'my one regret' she says.
Home office space
Natasha wanted to make use of the return wall by carving out a nook for a desk. It's anchored by the art and balanced by the floor lamp. Discover more desk ideas for the home office and how to make sure your space works hard in the style stakes.
Natasha creates interest and depth with a mix of vintage finds, designer pieces and high-street items 'sandwiched in between.' The narrative of a home, she says, is in the layering and the personal items that get added as owners get to live in and know their home. 'This is what really tells the individual story,' she adds.
Kitchen
The family wanted an open, airy feel for the kitchen. A neutral base was chosen to let the marble take centre stage. Open shelving makes the space feel more airy and draws the eye out making the room feel wider. 'I designed the cabinetry to be simple flat panels without handles so the materials and accessories are the heroes.'
Find more modern kitchen ideas to kickstart your renovation.
Dining room
Rear extension
Natasha chose the extending dining table, which counterbalances the proportions of the room, in a grounding black which also goes with the metal doors and the edging on the chairs. It's amazing how simple dining table ideas can elevate your décor.
'Aesthetics, which give a home character, should largely come from the materials used, in this instance the timber floor, the marble kitchen and the steel doors, she says. 'These foundations can be built upon and layered with furniture, textiles, fixtures and fittings, then the fun bit, accessories and objects that can be switched around as the house evolves.'
Floor-to-ceiling crittal steel doors maximise the light whilst adding interest and provide a seamless link to the garden, which is deliberately at the same level so the garden feels like another room to enjoy.
Main bedroom
'We were after neutral bedroom ideas and made this room as restful as possible to counterbalance our hectic lifestyles. None of it is shouting for attention, intentionally,' Natasha says. A large bay window is a great place to site a private seating area, away from the hustle and bustle of the rest of the house.
Guest bedroom
With an adjoining shower room, this stylish guest bedroom was designed as both a peaceful retreat and a warm, inviting space for guests.
Bathroom
This luxury bathroom idea links to the main bedroom but it has its own character with a walk-in shower, separate WC and double vanity.
As is evident to see, the house has turned out beautifully - and has already been snapped up by some lucky new owners.
See more: A tall and thin townhouse has been opened up to create an incredible, light-filled modern space
For style leaders and design lovers.
A legendary houses editor, Mary Weaver held the job of Homes Editor on Livingetc for over a decade. She set the aesthetic for which the brand has become known. She is now a freelance stylist, art director and writer, regularly contributing to Livingetc and overseeing the brand's successful House Tours franchises of live and webinar events.