Desk ideas for the home office - how to make sure your space works hard in the style stakes
Desk ideas for the home office - the expert's guide to creating a beautiful space to work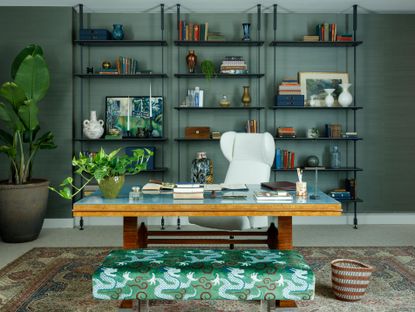 (Image credit: Phillip Durrant/Studio Ashby)
Desk ideas for the home office are essential for right now - you can only improvise for so long. It's safe to say there's been an irreversible shift towards a more flexible way of working. So, isn't it about time to give your office space some serious attention and start thinking about some home office ideas?
We've enlisted the help of 10 interior designers to give their expert advice on creating the perfect desk space for your home - no matter it's size, style or layout. Whether you're after small space hacks, or ideas for a dedicated office room, we've got you covered.
1. When it comes to desk ideas for the home office, BUILD IT IN
If budget allows, a set up that's custom built for your space is going to be able to really make the most of every inch, while also offering the most tailored solutions. Before designing, Fiona Duke of Fiona Duke Interiors recommends asking yourself the following questions; 'What will the desk actually be used for - is it writing, drawing or computer work? Will it house a large desktop computer, or a smaller laptop? They seem simple like simple questions, but are often forgotten and your answers will inform the actual size and shape you require the desk to be,' she says. 'Ample storage too is always key, as that way you can keep the desk free as a space to actually work! Design in cupboards and drawers for papers, documents or drawings.'
A mainstay of small home office ideas, the look and feel of a custom in-built unit is crucial too, as it will be a permanent fixture in your home for years to come. Fiona's advice is to take note of existing architectural details for a build that's sensitive to the surrounding room, 'We were able to recreate the coving in this project, and have reworked this into the top of the wall unit so that it feels seamless within the room, and very much part of the whole design. Wooden panelling was also in keeping with the style of the property, and provided a great way of hiding some of the electrics needed for the unit'.
2. MAKE ROOM FOR TWO
Built in needn't have to mean an elaborate design, in fact as with most things, keeping things simple can sometimes be best when wondering how to work from home. And in the case of this study designed by Albion Nord, paring the room back to the essentials has created a calm atmosphere with plenty of space for two people to focus.
A wrap around desk design is ideal if more than one person in your household needs to work from home, as it helps make a useful surface out of otherwise potentially dead space. For a really smart and cohesive look, keep the material of the desk and any subsequent shelving the same. Camilla Clarke, Creative Director at Albion Nord, champions the use of natural materials and colours to create a space that invites comfort and concentration; 'The walls and ceiling are painted the same rich green colour, cocooning the space and setting it apart from the rest of the home,' Camilla says. 'While antique bamboo folding chairs offer flexibility while also creating warmth alongside other natural textures.'
3. SLIDE TO HIDE
When space for a dedicated home office is lacking, it's time to get creative. 'A popular option is to incorporate a workspace into the design of a living room, kitchen or into the compact space
under the stairs in a hallway,' notes Roselind Wilson of Roselind Wilson Design. 'This multi-functioning approach to designing spaces has become increasingly popular in today's busy, family households where there are multiple demands on one room'.
But what happens when you want to switch off for the day? It can be difficult to leave the office behind if you can see it from your sofa as you're trying to relax. Roselind Wilson offers an inspiring option; 'When it comes to mastering the art of discretion for your desk, hiding it behind pocket sliding doors is an effective way to enhance the functionality of a room, while also enabling it to be closed away at the end of the day or concealed quickly if necessary, when guests arrive,' she says. 'Just be sure to take into account the overall design aesthetic of the room when creating this new space, as the hidden desk still needs to flow seamlessly within the space when the doors are open as well as closed'.
4. GOT A MULTIFUNCTIONAL SPACE? GET IN THE ZONE
Another way to make your desk feel like a separate space within a larger room is through the way you decorate, and more specifically by zoning. Home office wall decor is an important tool for this approach. Emma Gurner of Folds Inside explains the logic, 'Using wallpaper and paint to zone an open plan space is a really effective way to define an area,' Emma says. 'By introducing a contrasting colour or pattern to the walls you are creating a visual divide and therefore suggesting that the areas have different functions. It is also a great way to add pattern to a space in small doses creating interest and character.'
If the space you're able to carve out is narrow and small, Emma's got a couple of tips to maximise space, 'Consider the full height of the wall area to maximise storage. Shelving up to the ceiling can look great if files are styled together with some lovely accessories. You can also get some really neat fold away desks which are great if the room needs to become multi functional and you want to fold work away at the end of the day.'
5. FACE OUT TO A VIEW OF NATURE
In a dedicated home office space, it's worth taking the time to really consider the positioning of the desk - and against a wall or in the corner is definitely not your only option. In fact, a centrally positioned desk can work beautifully, especially if it faces the outdoors.
'Having a green view from the area you're working from is incredibly beneficial - we all have an inherent need to connect with nature and green spaces and doing so has huge benefits on the way we feel and subsequently our productivity,' says Irene Gunter, founder of Gunter & Co. 'However, if the layout of your home and the space you have set aside for a home office doesn't provide this outside view, then the next best thing is to bring the greenery inside by incorporating large house plants into your floor plan along with small potted indoor plants on desk tops, window sills and shelving units.'
Irene also offers a brilliant tip for creating a home working environment that doesn't trickle into your personal time; 'Consider hiring a carpenter to create some hidden features within the joinery which encourages you to put the tech away when you're finished for the day,' she says. 'Personally, I love creating drawers for each member of the household where they can store and charge their laptops, iPads or phones - out of sight, out of mind!'
6. GET AHEAD OF THE CURVE
Perhaps you're keen to adopt a centrally positioned desk, but lack the room and worry about the ease of movement within a small space. Luckily, co-founders of K&H Design Katie Glaister and Henry Miller-Robinson may have the answer - and it's ingenious.
'In this project, space was a little lacking so we designed a beautifully curved desk to sit across one corner of the client's home office,' say Katie and Henry. Allowing a more natural flow of movement than a standard rectangle desk, this piece also enables a view out to the window, without compromising on too much square footage. 'With tapered legs, cable management and a neat inlay, this curved desk was not only a great way to save space, but also looked very beautiful and elegant.'
7. PRIORITISE THE RIGHT STORAGE
As with any hard working room, storage in a home office is essential to maximise its potential, as well as keeping your desk clear and tidy for day to day tasks. Sheena Murphy, founder of Nune, worked wonders on this space that had a fair few roles to fulfil; 'This room was quite specific in that it had to be a home office, spare bedroom + TV room so we had to get very creative with storage solutions,' she says. 'We wrapped a shelf around the top of the room to store all the clients' books and painted it the same colour as the wall so it blended in as much as possible. It provided 17 linear feet of storage for them!'
While it can be easy to fall back on clever pieces of furniture that promise to be space saving, Sheena advocates getting creative and really considering the potential of your room to come up with bespoke solutions, 'Remember to use the whole room when considering your storage', she says. 'You don't necessarily need to rely on one piece of furniture to store everything, there are other smart solutions to be had if you can think outside the box a little.'
8. DON'T FORGET TO MAKE IT FUNCTIONAL
For all the aesthetic decisions, it can be easy to neglect the nitty gritty workings of a desk space. Most working from home set up's require a fair amount of wires - so plan your cable management into the design from the get go for a streamlined look. 'We work hard to hide away all the cables associated with IT, so cable management is a priority for all the desks we include in our projects', says Charu Gandhi, Founder & Director, Elicyon. 'Consider pop up sockets or cables disappearing into the legs of the desk - even when we use antique desks, we create a cable channel running along the side that discreetly tucks away wires.'
Alongside streamlining your tech, make sure it's accessible too. Charu says, 'Working from home can be a very enjoyable and productive experience if supported by a well designed interior. A handy tip is to create a pull-out shelf for printers, nothing as annoying as craning your neck into a cupboard while trying to scan a document.'
9. PUT IT IN A CUPBOARD
If you're due to undertake a kitchen renovation, it might be worth considering whether you can factor a desk area into your plans. Daniel Lau, Senior Design Consultant at Roundhouse Design explains how a cleverly designed cabinet is the perfect working from home space.
'It allows for a more flexible use of your space in general, as the desk can easily be closed off when not in use. Once the doors are closed, it will blend beautifully into the rest of the cabinetry and you'll hardly notice it's there. There is also something quite psychologically pleasing about being able to physically close off the doors after a hard days work.'
10. MAKE IT AN ENJOYABLE SPACE TO BE IN
Ultimately, you'll be spending a fair amount of time at your desk, so it's well worth adding a touch of fun and comfort to make the experience more pleasant. Colour is a wonderful way to do this, and you needn't feel restricted to the walls. Consider a complementary hue across the surface of your desk, and perhaps a joyful print across upholstery or window treatments.
Add some personality and style with artworks and mementos to help the space feel more homely. An open wall hung shelving unit is perfect for providing ample storage, while also giving you space to showcase your favoured accessories - and create that all important Zoom background!
Which way should a desk face in a home office?
If your room allows, positioning your desk in front of a window for natural light, and hopefully a view, will be a wonderful boost for your wellbeing. Sheer roller blinds are great for managing any distractions or glare.
Placing a desk centrally within a room makes for a strong design statement, as well as fluidity of movement around the space. You'll need to consider power sources as well as cable management - moving plug sockets into the flooring can be one way to go.
However, if space is tight and you're carving space out of a multifunctional room, a desk facing the wall within an alcove or cleverly designed cabinet can be a wonderfully productive area if decorated sensitively and mindfully.
How do I make a good work from home desk?
Storage is going to be your best friend here - whether you have freestanding solutions, or build them into the design of your desk and surrounding office space. From sliding shelves that hold keyboards and printers to concealed cable tidies; consider how to streamline every inch for maximum efficiency.
The positioning of both power and light sources are also key to creating a comfortable working environment. Ensure your desk is within easy reach of multiple plug sockets, and have a diffused lamp nearby that won't cause glare across your screen.
It's also well worth noting that the space should feel welcoming and enjoyable to work in, so don't forget to consider how to bring colour and texture into the space - wall coverings, accessories, chair fabric or a rug are all great places to add your own sense of style.
What can I do instead of a desk
Shelving units that house a fold down desk within them are a great solution for multipurpose living rooms or bedrooms, as they can be a beautifully decorative addition to the room while also offering a space to work.
Bespoke cupboards or cabinets are another lovely alternative to a desk, and can be designed to sit seamlessly within a kitchen or living space. And just like you would with a dedicated home office, they also have the luxury of being able to 'shut the door' on your work at the end of a long day.
The Livingetc newsletter is your shortcut to the now and the next in home design. Subscribe today to receive a stunning free 200-page book of the best homes from around the world.
Interiors stylist and journalist Amy Neason was the Deputy Style and Interiors editor at House Beautiful for years. She is now a freelance props and set stylist, creating work for a range of national publications and brands such as Imogen Heath. She has previously worked at Established & Sons, and her skills include styling still life and interiors shots for editorial features and sourcing unique products to create inspirational imagery.

She is particularly respected for interpreting seasonal trends into feature ideas and style stories.