How to work from home effectively – 12 expert tips to ensure productivity
WFH can be both a dream and a nightmare, so let our expert tips advise you on how to work from home more effectively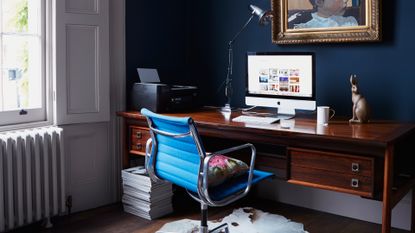 (Image credit: Sarah Hogan)
Looking for tips on how to work from home effectively? Aren't we all. Working remotely, if not full time at least for part of the week, has become a reality for so many of us over the last year, and it's been both a blessing and a curse. Ditching the commute has been life-changing, as has the potential extra time in bed and the ability to stay in loungewear all day. However, as the novelty of WFH has worn off, the Friday afternoon Zoom socials have petered out and productivity levels are expected to be the same as they once were in the office, things have got slightly trickier to balance.
But people have worked from home effectively for decades before 2020. So it's obviously manageable and possible to be just as productive at home as in an office, it's just about setting boundaries, having a schedule, and have the best home office set up possible in your space.
1. Have a dedicated work space
While the first few months of working from home might have been from the kitchen table, the sofa, or (on the really slow days) the bed but this is the norm now so finding a dedicated work spot that's comfortable and productive is key.
And even if you don't have room to call a home office, there are plenty of ways to carve out a space to work from in your current home. Closet offices are now a thing, for example, drop-down desks could be the solution or making use of an empty alcove may provide all the space you need for an inspiring small home office.
'Finding a functioning space to work from home without a dedicated office can feel like an impossible task, but with a little imagination and creativity, you can create a working set up in the smallest nooks of the home.' explains Jen and Marr, founders of Interior Fox.
'Take for example the bedroom, utilize the alcoves and maximize storage with built-in cabinets, not only does this create additional storage but the bottom half can easily be transformed into a workstation during the day. Alternatively, if you're lucky enough to have a closet or walk-in wardrobe, consider creating a cozy set up with a compact desk or floating shelf to pop your laptop on, but make sure to position it within easy reach of the power socket.'
2. Add make sure it reflects your tastes
The last thing you want is to sit down at your desk and feel uninspired, so make sure your workspace, wherever it is reflects your personal style too. Decorate the room as you would any other – bring in color and pattern and prints.
'The key is to work with what you have and make the most of the space to fit with your new routines when working from home.' says Lucy St George, Co-founder of Rockett St George. 'Often small changes can make a big impact on how areas of your home function for you. For example, plants are an amazing addition as they bring the outside in and help create a calm and productive place to work. I also think the importance of showcasing your personality through your interior is vital. We always encourage our customers to celebrate their individual sense of style, and introducing a few quirky ornaments that make you smile will help to create a playful and positive workspace where you can be creative!'
3. Create a schedule for working from home (and stick to it)
Back in the days of the office, chances are you had a routine. Get up, coffee (maybe breakfast if you have time) commute, more coffee, work, lunch, work, home. Well, that's vaguely what ours looked like anyway. And with working from home it's important to still have a routine even if it looks slightly different now.
Wake up, and get dressed, this just sets you up already to be more productive. Work out if that's your thing, maybe even try and get outside before you start work and try and start work at the same time each day. Always take a lunch hour and always finish at the same time as you would in the office.
'It might sound prescriptive, but having a daily routine, that you stick to, gives you structure, and while you might want to put on a load of washing or dust the bookshelves, actually getting on with your work is far more productive.' says Career Coach (and long-time work from homer) Natalie Trice.
'Getting into the habit of getting up, getting showered, getting dressed (messy buns and PJs at your desk are so lockdown one), and getting down to work is key to success. Scheduling a lunchtime, as well as adding in breaks for a coffee or quick walk, can help boost motivation, but if you get sidetracked by the hoover and dishwasher, you may end up working into the evening, and we don't want that. The more you can treat working from home, just as you would going into the office, the more effective you will be.'
4. Pick a desk and chair that work for you
Along with choosing the perfect spot to work in, choosing the best desk and chair to work from will help create a working from home spot that's comfortable and practical.
'The Covid-19 outbreak has necessarily sparked an upsurge in makeshift home offices, with many having to find small corners of their homes to work from, often leading to an uncomfortable or even painful working environment.' says Ben Stokes, Founder and Interior Designer for KAGU Interiors.
'So if you're looking to professionalize your space, consider comfort and practicality of home office furniture as well as the aesthetics. While style is important, selecting the right pieces to fit the body is key: for example, consider the height and depth of your chair and table to ensure they are well proportioned for you.'
'If you are having to improvise a little, there are plenty of ways to adjust your workspace using items around the home, for example, books to raise your screen height. And, to ensure your set-up continues to work well, remember these ergonomic principles: screen at eye level and directly in front of you; legs slightly extended with feet flat to the floor; relaxed shoulders with elbows at 90 degrees; and of course take regular breaks.'
5. Declutter each morning
We are firm believers in a tidy home equals a tidy mind, so before you start work each morning have a quick declutter. Make sure you have everything you need for the day close to hand but don't overcrowd your workspace. Less is usually more when it comes to a desk.
'Make sure to always declutter the space.' says Arlene McIntyre, Creative Director at Ventura. 'This will help create more room for multi-functional ways of working, allowing room for a printer, desktop and any other extras needed to complete tasks. Remember to keep the rest of the room tidy too, this stops the space from feeling cramped. The tidier and more organized the space is the less stress caused. Introduce clever storage that works in the space and that also compliments the style, this will ensure that everything is filed away and avoid feeling cramped.'
6. Get the positing of your desk spot on
The positioning of your desk can make all the difference to you feeling productive and inspired. Staring at a blank wall is hardly going to spark creativity and motivation. The best spot for a desk is in front of a window, as 'exposure to natural light helps regulate the body's natural circadian rhythms (sleep-wake schedules) so not only will you feel more awake during the day, but you'll also sleep better come night-time.' says lifestyle expert Catharina Björkman.
'The importance of natural light for health and wellbeing is not to be underestimated. Numerous studies have shown that natural light in office spaces improves worker satisfaction and productivity, so why wouldn't you want the same when working from home?'
'A simple place to start is by making sure that windows aren't blocked by furniture such as bookcases, wardrobes or even high-backed chairs or sofas. Make sure that your windows are regularly cleaned inside and out too, to ensure you're maximizing the amount of daylight able to stream through into your home.'
And if placing your desk in front of a window is going to be too distracting, try facing it into the room, with the window behind you so you still benefit from the natural light. Just make sure you choose effective window treatments like shutters or blinds so you can adjust the light when you need to.
7. Reduce distractions
At home, there are obviously so many more distractions than there would be in an office. You're potentially up against, kids, pets, the TV, phones, piles of washing, dirty dishes, we could go on, but the key is to have techniques to help reduce these distractions where possible.
Having a home office that feels separate from your living space, will help with privacy from anyone or thing you share your home with, so try and pick a spot that's behind a door. Even if you don't have a dedicated room as a home office, having a desk in your bedroom, loft space, basement, or even your closest will discourage any interruptions.
'If you want to be productive at home, you need to find a workspace where you can filter out distractions. Before COVID, I worked at my kitchen counter because I liked the space's abundance of natural sunlight. But once my daughter and husband started working remotely, I quickly found out that I needed a workspace where I could close the door filter out the rest of the activity going on in the house. Besides having a distraction-free place to work, we also came up with the ground rule: if someone's door is closed, do not disturb.' says Holly Reisem Hanna founder of The Work at Home Woman.
With devices like your phone or the TV, the answer is simple – keep them out of reach. And if you work in a room with a TV, face away from it to reduce temptation, if you like working with background noise, switch to the radio instead.
And with household tasks that you know are going to annoy you while you work, again the solution is simple, just keep them out of sight and out of mind. Plan time in your day to get them done so you don't have to be thinking about those jobs while you are working.
8. Set alarms to take regular breaks
When working from home it can be tempting to plow through the day without taking much of a break. Or when you do take breaks they are used up your household to-do lists. Breaks increase productivity and just think how many times in the office you would get up to make a drink or have a chat with co-workers. So if you struggle to take regular breaks, set an alarm for every two hours throughout the day and spend just 5-10 minutes away from your desk or any screens so you can reset.
9. Have clear boundaries
This is perhaps the most important tip for working from home effectively. It's so easy to let your work life seep into your home life when your work life is actually at home but it's so important for us to be able to switch off and for this, boundaries are key.
'To avoid WFH burnout, it's essential we create and maintain clear boundaries around our work life. This means creating times when you are committed to working, and times where you are not. It may mean scheduling in your exercise time and leisure time in the same way you schedule work meetings…and sticking to this schedule!' explains Psychologist Dr Courtney Raspin.
'And even though we are stuck at home, it may mean scheduling a 'date night' to ensure you nurture your most important relationships. It also means creating a separate space in your home that is designated for work purposes only. When this is not possible, for example, when you need to use the dining room table due to living in a smaller space, try to clear that area when you are finished working.'
'You may also need to put clear boundaries in place with your work colleagues. If you work 9-5, don't check your e-mails after this, and ask your colleagues to politely respect your working hours. If you work part-time, make sure you put your working days in your e-mail signature to avoid getting contacted on your non-workdays.'
10. Find time to get outside
We all know that spending time outdoors is good for your mental health, and even more so when you are working from home. Fresh air and putting that distance between you and your desk is a great way to reset throughout the day and come back feeling uplifted and motivated.
If you have the time try and take a walk on your lunch hour, or take your cup of tea into the garden for a few minutes and spend some time away from tech. And once back at your desk, open up the windows if the weather allows as fresh air will help you feel more alert.
11. Remember to connect with your colleagues
Keeping that connection and conversation with your colleagues can help with that isolated feeling that can often come with working from home. Set up meetings and chat groups that aren't just about work and share your to-do lists so you all can keep an eye on where you can be helpful.
And sometimes face to face interaction is what you need to give you that boost, so if you are able to set up meetings in co-working spaces or arrange to meet and work with a few of your colleagues in coffee shops so you get that creative uplift that comes with being in a room of people that do and care about the same thing you do.
If you are freelance, co-working spaces are great for getting that office feel and you'll often find there's someone you can bounce ideas around with or who will be interested in what you do. Plus, social media can be a good way to find connections with other freelancers.
12. Do something to mark the end of the day
For many of us, this used to be the commute. That time that marked the difference between work and home life. So replace that with something else that will divide your day. Something as simple as the routine of shutting your laptop and putting it out of sight or taking a walk around the block or having a quiet 10 minutes on the sofa with a cup of time, will help with your work-life balance and give you a moment to stop before you go straight into home life.
The Livingetc newsletter is your shortcut to the now and the next in home design. Subscribe today to receive a stunning free 200-page book of the best homes from around the world.
Hebe is the Digital Editor of Livingetc; she has a background in lifestyle and interior journalism and a passion for renovating small spaces. You'll usually find her attempting DIY, whether it's spray painting her whole kitchen, don't try that at home, or ever changing the wallpaper in her hallway. Livingetc has been such a huge inspiration and has influenced Hebe's style since she moved into her first rental and finally had a small amount of control over the decor and now loves being able to help others make decisions when decorating their own homes. Last year she moved from renting to owning her first teeny tiny Edwardian flat in London with her whippet Willow (who yes she chose to match her interiors...) and is already on the lookout for her next project.