See how smooth curves and interior arches were used to soften this 1850s villa
The only thing we love more than those arched doorways are this beach home's enviable outdoor living spaces – including a fireplace, al fresco dining area, swimming pool and roof terrace...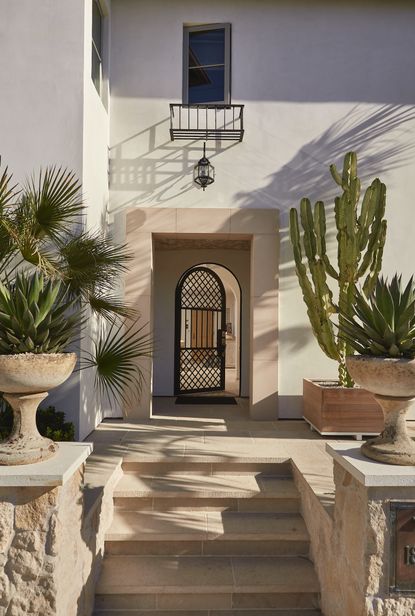 (Image credit: Noah Webb, noahwebb.com)
The Property
The owners immediately fell in love with this L.A. beach house because of the generous outdoor spaces – it features various patio (opens in new tab) areas, an outdoor dining area and outdoor fireplace as well as a swimming pool and roof terrace. However, the interiors were dark and dated, and needed to be completely redone.
They brought on Tim Clarke design (opens in new tab) to create a better layout and more open interiors. Known for his style of blending indoor and outdoor living, he created a ground floor that flows into beautiful outdoor areas.
The 1850's house was completely gutted inside. All the doors and windows were replaced, and reclaimed beams, plaster walls and limestone and hardwood floors were installed.
The main staircase was relocated to create a better flow and layout, and the master bedroom suite was moved to the top floor which is where the kitchen, living and dining spaces sit. This essentially creates a penthouse apartment up top, with guest bedrooms and relaxed lounge spaces at the ground level. Interior arches (opens in new tab) and arched alcoves soften the dark woods and dark brown palette.
Entrance
An arched front door swings open into a light filled hallway (opens in new tab).
Staircase
The staircase (opens in new tab) was relocated to sit closer to the hallway, giving the property a better layout. The stairs climb up to the kitchen, dining and living room (opens in new tab) on the first floor, along with the master bedroom (opens in new tab) suite.
See Also: This beach house in Australia breaks tradition with a more modern design approach (opens in new tab)
Dining area
The colour palette was inspired by Mallorca and Ibizia; "A place where the sun always shines and the people live in tune with nature", Tim Clarke says. "There is a pervading idea that life is good in the mediterranean--sun, sea, and siestas along with plump olives and good wine... Add in warm colours to create a sundried quality, burnt orange, terracotta, creams, browns and golds."
Living room
Arched doorways connect the dining area to the rest of the rooms, including a living room (opens in new tab) which connects to the kitchen.
Kitchen
A wood kitchen (opens in new tab) honours the style of properties in the surrounding Hermosa Beach area.
Family room
The vertical spaces that are so common in the beach communities often involve lots of stair climbing and so Tim Clarke set out to locate the main rooms all on one floor. That also allowed for a family room at ground level that has access to the garden, outdoor fireplace, pool, and outdoor dining.
The theme of interior arches (opens in new tab) continues with an arched doorway that leads through to guest bedrooms.
Guest bedrooms
This ground level also houses a music room for the owner to rehearse with his band, alongside a couple of guest bedrooms.
Jute rugs, soft arches, ceiling fans, natural linens and leather accents add to the rustic, subtle coastal theme.
Master bedroom
The master bedroom (opens in new tab) suite is upstairs. It was moved to the top floor adjacent to the kitchen, living and dining room, essentially creating a penthouse on the top floor.
A modern four poster bed (opens in new tab) injects instant grandeur. An exposed wooden beam, ceiling fan, and natural colour palette keep things rustic and within the theme of the rest of this coastal home.
Garden, pool and terraces
But it's the outdoor spaces that are the piece de resistance, and the generous outdoor spaces – highly unusual by Hermosa Beach standards – are what originally drew the owners to this home.
Tim Clarke is known for blending the indoors and out, and for creating spaces at home that remind us of summer vacation every day – those long languid days that stretch late into night.
There's an alfresco dining area, and a relaxed patio (opens in new tab) living area with outdoor fireplace.
A stone dining table grounds the outdoor dining space.
The pool features a series of fountains which fill the air with a relaxed, constant trickling sound.
Roof terrace
Up on the roof is a roof terrace with sweeping ocean views. A glass banister wraps around for wind protection and safety, while still maximising the views.
See Also: This beach house in Australia breaks tradition with a more modern design approach (opens in new tab)