Farnsworth House - a look at Mies van der Rohe's mid-century icon
Take an in depth tour of Farnsworth House, the home designed by Mies van der Rohe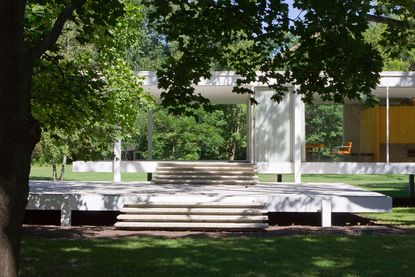 (Image credit: Alamy)
Designed by Ludwig Mies van der Rohe, who would go on to become one of the most influential architects of the 20th century, and built 1949-1951, to this day Farnsworth House remains a pilgrimage site for lovers of Modernist buildings and mid-century modern furniture design.
Farnsworth House by Mies van der Rohe
The 140-meter-square structure sits in a secluded 60-acre woodland south of the city of Plano in Illinois, along the bank of the Fox River. For his modern homes, Mies van der Rohe believed the relationship between architecture and nature was powerful, quoting 'Nature, too, shall live its own life. We must beware not to disrupt it with the colour of our houses and interior fittings. Yet we should attempt to bring nature, houses, and human beings together into a higher unity.' The transparent pavilion makes the most of its verdant locale, the wrap around glass allowing light and nature to fully saturate the space, exposing the building to its surroundings on an extreme level.
Like Frank Lloyd Wright houses, Farnsworth House both welcomes in nature and simultaneously strikes a contrast to its habitat, the still, angular shape juxtaposing the movements and growth of the vegetation, wildlife and water. The bold form at once blends with and dominates the greenery just as Fallingwater does.
Created as a weekend retreat for the successful Chicago doctor Edith Farnsworth, the space was intended as somewhere for her to enjoy her hobbies of violin playing, translating poetry, and taking in nature. The isolated site of Farnsworth House allowed Mies van der Rohe to realise his spatial and structural principles in a way his larger, more public, projects did not, and it was the first project in which he fully embraced the opportunity for total transparency and his ideal of a single room with a flexible function, a concept which was to define his career and vision of modern architecture.
Farnsworth House is the epitome of the International Style of architecture which was championed by Modernist architects such as Mies van der Rohe as well as Le Corbusier, Richard Neutra and Philip Johnson in the 1920s and 30s. The approach centres around rectilinear structures with minimal frameworks, open interiors spaces stripped of ornamentation, and an exposed architectural parts, constructed to seem weightless.
Farnsworth House interior
The building embodies the architect's purist vision of contemporary living, and is celebrated as one of his most significant works. Farnsworth House is distilled to the very fundamentals, with basic elements of traditional living such as walls, doors, art and personal objects banished in favour of a single open plan space framed by beams and glass.
Farnsworth House Dimensions
The one-story structure consists of three horizontal planes, the roof, the terrace, and the floor, supported by steel columns which hold the house 1.6 metres from the ground, making it appear to float.
The floor plan is a lesson in absolute minimalism, completely open save for a walled ply and Primavera wood core in the centre enclosing the kitchen, toilet, and a wardrobe, and hosting a wood panelled fireplace. Living, dining and sleeping spaces merge into one, with integrated furniture elements hinting at the function of certain areas without dictating what they should be.
Farnsworth House controversy
Dr Farnsworth was bitterly disappointed with the design, finding Mies van der Rohe's vision oppressively minimal and frustrating, explaining in 1953; 'In this house with its four walls of glass I feel like a prowling animal, always on the alert,' and 'I can't even put a clothes hanger in my house without considering how it affects everything from the outside'.
When the building was nearing completion, a very public dispute arose between architect and client culminating in a messy court case, with the pair suing and countersuing each other, while rumours of a failed romance between them swirled.
When, in 1955, Dr Farnsworth eventually moved in, she made a point of removing all of the Mies van der Rohe-designed furniture, replacing it with her own pieces by names such as Florence Knoll, Jens Risom, Bruno Mathsson and Franco Albini, as well as Asian antiques. She used the retreat for 21 years, often playing host to notable architectural figures keen to experience the renowned building, before selling it to property developer Peter Palumbo in 1972.
What's Farnsworth House like now?
As well as filling the garden with a litany of sculptures by the likes of Alexander Calder, Richard Serra, Henry Moore and Claes Oldenburg, Palumbo also oversaw the property's most comprehensive restoration, hiring the architecture firm of Dirk Lohan, Mies van der Rohe's grandson, to return the house its 1951 appearance, and reinstating furniture by Mies van der Rohe such as his Barcelona daybed and chairs.
In 2003 Farnsworth House was bought by the Friends of the Farnsworth House and entrusted to the National Trust for Historic Preservation. It opened for public tours in 2004 and is visited by 10,000 Modernist fans every year.
The critically acclaimed Farnsworth House was designated a National Historic Landmark in 2006, and is a must-see on every architecture enthusiast's map, considered one of America's most important Modernist sites. Frequently described with words such as 'poetry, art, heaven and masterpiece', the directional structure paved the way for Mie van der Rohe's remarkable career and is seen as the ultimate realisation of the architect's refined principles.
This year will see the house temporarily converted to how it was in 1955 showcase the style of Dr. Edith Farnsworth, a period of its life that is generally overlooked. This will be accompanied by exhibits focusing on the untold story of the house's commissioner, first occupant, and namesake.
See the building's tumultuous story play out on the big screen this year in upcoming film Farnsworth House starring Ralph Fiennes as Mies van der Rohe and Elizabeth Debicki as Edith Farnsworth.
The Livingetc newsletter is your shortcut to the now and the next in home design. Subscribe today to receive a stunning free 200-page book of the best homes from around the world.
Amy Moorea Wong is a freelance interior design journalist with a decade of experience in contemporary print and digital editorial, previously News Editor at Livingetc. She writes on a broad range of modern design topics from news and interior zeitgeist to houses, architecture, travel and wider culture. She has a penchant for natural materials, surprising pops of colour and pattern and design with an eco edge.