Mies van der Rohe - everything you need to know about the iconic mid-century designer
From chair to skyscrapers, Mies van der Rohe's legacy is everywhere in design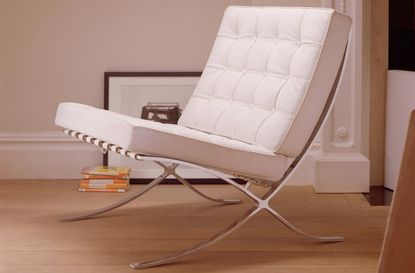 (Image credit: Future)
Mies van der Rohe designs have filtered into every area of modern interiors style. From his iconic Barcelona chair to the way skyscrapers are built, his touch is everywhere. Read on to discover why.
Who was Mies Van der Rohe?
German-American architect, designer and educator Mies van der Rohe – often referred to simply as 'Mies' – was born in 1886 in Aachen, Germany as Maria Ludwig Michael Mies. Receiving no formal architectural training other than a childhood spent working with his stonemason father, after an apprenticeship with German architect and designer Bruno Paul, he worked under influential architect Peter Behrens, a previous teacher of Le Corbusier, before starting his own business in 1913.
With the outbreak of World War II stalling the would-be architect's career – when he served in the German military building bridges and roads – his architectural vision debuted in 1921 with the design of a futuristic glass office building for Berlin's Friedrichstrasse Skyscraper competition (where it was overlooked and later rediscovered). During this time, he added 'van der Rohe' to his name, a nod to his mother's maiden name, signalling his transition from tradesman's son to architect to the elite.
Developing his now signature style throughout the 1920s, van der Rohe's Modernist approach reflected the forward-facing, liberal spirit of the era, fusing simple, rectilinear forms with intersecting planes, minimal structures and free-flowing open space realised in the then ultra-modern materials such as steel and plate glass.
Around 1929, van der Rohe formed a creative partnership with designer and architect Lilly Reich, with whom he collaborated with on numerous projects until he left Germany.
In 1930, van der Rohe took up the position of Director of the Bauhaus, a ground-breaking German school which taught contemporary art, design and architecture, with Reich teaching interior design and furniture design, one of the few women on staff. Hitler opposed the institution, and with van der Rohe refusing to align the school with the party's agenda, it was closed by the Nazis in 1933.
Reich stayed in Germany throughout the war which significantly hindered her career, completing a few small design jobs and having the foresight to remove 3,000 of Mies van der Rohe's drawings and 900 of her own from Berlin to avoid destruction, the treasure trove now in Museum of Modern Art in New York. Her untimely death in 1947 meant she was never able to revive her own practice, and Reich's input into monumental designs of the era is often overlooked.
Van der Rohe emigrated to the United States in 1937, taking up the role of Director of the Department of Architecture at Chicago's Armour Institute of Technology (later the Illinois Institute of Technology) in 1938 while simultaneously practising as an architect. During the 1920s and 1930s, the Modernist International Style movement he spearheaded reverberated around the world, embraced by architects and designers for decades to come.
Making his mark on America swiftly, in 1947 the architect's work was celebrated in the solo exhibition 'The Architecture of Mies van der Rohe' at New York's Museum of Modern Art and he went on to build some of the country's most recognisable and era-defining structures.
With a career spanning six decades, Mies Van der Rohe died in his adopted home city of Chicago in 1969 following a battle with cancer. His legacy as one of the most influential architects of the 20th century has carried his work forward into the modern age, with his iconic buildings and furniture design weathering the test of time and forever changing the course of global design principles.
Which design movement was Mies van der Rohe credited for starting?
Mies van der Rohe is often credited with starting the International Style movement, though in fact he was a leading figure in it rather than its founder, and it was an aesthetic he dedicated the majority of his career to. Along with key architectural figures including Walter Gropius, Le Corbusier, Richard Neutra and Jacobus Oud, the work of Mies van der Rohe played a leading role in its global domination, his steel frame, glass wrapped structures coming to define the look.
Developed in America and Europe in the 1920s and 1930s and interwoven with the clean aesthetic of Modernism, the International Style is defined by minimalism, a lack of decoration, rectilinear forms, open plan interiors, visual weightlessness and the use of innovative materials such as steel, glass and concrete, with the belief that form should rule over function.
The term 'International Style' was first used in 1932 by Henry-Russell Hitchcock and Philip Johnson, when curating an exhibition of the same name at the Museum of Modern Art, referring to works of architecture from the 1920s. Mies van der Rohe's designs were central to the show, reinforcing his role as a frontrunner of the International Style, as well as introducing the approach to the wider world.
What did Mies van der Rohe mean by less is more?
Once considered a revolutionary declaration, Mies van der Rohe's famous dictum 'less is more' means that simplicity can be better than extravagance or complication.
The motto expresses the architect's belief that clarity and uncomplicated forms are fundamental to good design, and that transparency and openness, while being physically 'less', create the most impact, significance, logic and beauty.
The phrase came to epitomise the Modernist and International Style ethos, and was the principle at the core of Mies van der Rohe's work, a way to express the true essence of a structure.
'Less is more' has endured the passage of time as well as Mies van der Rohe's physical work, becoming an integral part of the architect's legacy.
Mies van der Rohe buildings
The German Pavilion, Barcelona, Spain 1929
The German Pavilion for the 1929 Barcelona International Exposition was designed by Mies van der Rohe and Reich. A vision in intersecting planes in the highly-contemporary materials steel, glass and opulent stones such as marble, red onyx and travertine, the pavilion's open plan layout and radically pared down aesthetic was representative of the aesthetic Mies van der Rohe would become world famous for, with the building now considered one of the most significant temporary structures ever created.
Tugendhat House, Brno, Czech Republic 1928-30
The first inherently modern house Mies van der Rohe produced, in partnership with Reich, the structure blends with its rural surrounds while remaining an International Style statement. Reinforced concrete and an iron framework meant supporting walls could be eschewed in favour of an open plan, clutter-preventing interior, with a retractable wall of glass amplifying the impact of light and space. Decoration was added to the space with naturally patterned materials such as onyx and rare tropical woods. It was place on the UNESCO list of world cultural heritage in 2001.
Lake Shore Drive Apartments, Chicago, USA 1949-1951
A twin pair of 26-storey tower blocks built on the shores of Lake Michigan in Illinois, the Lake Shore Drive Apartments – aka the Glass House apartments – redefined the design principles for sky scrapers worldwide with their formula of steel grids, glass walls and lack of decorative features, embodying Mies van der Rohe's sentiment that architecture should and could be independent of its site. The buildings were added to America's National Register of Historic Places in 1980 and have been extensively copied around the globe.
Farnsworth House, Chicago, USA, 1951
A private residence within a 60-acre woodland estate, Farnsworth House by Mies van der Rohe is an homage to the relationship between nature and architecture. Wrapped in 360-degree glass walls, the building is integrated into its environment while also contrasting the surrounding greenery with its signature Mies van der Rohe minimal rectilinear structure and stark steel frame. Farnsworth House was designated a National Historic Landmark in 2006 and is open for public tours.
S.R. Crown Hall, Illinois Institute of Technology, Chicago, USA, 1956
Completed during Mies van der Rohe's tenure as Director of the Illinois Institute of Technology's Department of Architecture, Crown Hall is at the centre of the architect's larger campus design for the institution, highlighting the importance he afforded to the architecture school it houses. The building is a modular grid, elevated on a plinth with a wall of glass dissolving the boundary between indoor and out and framing the natural world. While it may have had problems with energy efficiency, it is viewed as one of the most significant pieces of architecture in the 20th Century Modernist movement. It was named a National Historic Landmark in 2001, with the remainder of the campus was entered into the National Register of Historic Places in 2005.
Seagram Building, New York City, USA, 1954-58
A definitive version of Mies van der Rohe's vision for skyscraper design, the monolithic Seabream Building looms 38 storeys high, its structural character clearly communicated (rather than being hidden as was typical) with the strips of bronze used to encase its concrete-clad steel frame. The building had a huge influence on American architecture, bringing the functionalism and modernity of the International Style to the fore in the corporate sphere.
Martin Luther King Jr. Memorial Library, Washington DC, USA, 1972
Completed after the architect's death in 1969, the Martin Luther King Jr. Memorial Library was Mies van der Rohe's final building design, and his only library. The International Style building comprises four storeys of steel and darkened glass, and is a rare example of Modernist architecture in Washington DC. In 2007 it was listed on the National Register of Historic Places. It underwent extensive renovations by Dutch design practice Mecanoo and local firm OTJ Architects in 2014, reopening to the public in 2020.
The Barcelona chair by Mies van der Rohe, 1929
The Barcelona chair made a colossal impact on the world, and is one of the most recognisable objects designed in the 20th century.
The design was created by Mies van der Rohe and Reich for the German Pavilion at the Barcelona International Exposition, the architect quoting that the chair would be 'a monumental object' and 'fit for king' as Spanish King Alfonso XIII and Queen Victoria Eugenie would be in attendance.
Flowing, intersecting lines define the piece, a pair of chrome plated flat steel bars supporting two upholstered cushions, the epitome of minimalist modern design Mies van der Rohe is celebrated for. Viewed from the side, the crossing legs form a smooth S scissor shape, the form echoing ancient Egyptian and Roman folding chairs and 19th century neoclassical seating, with the designer quoting 'I feel that it must be possible to harmonize the old and new in our civilization.'
After the German Pavilion was dismantled, the Barcelona chair was put into production and has been so enduringly popular that, aside from a sixteen-year gap, it has been manufactured continually since 1929. In 1950 Mies van der Rohe updated the design to incorporate more modern techniques, replacing the previously bolted together frame with a single piece of metal and using cowhide leather for the upholstery rather than the original's pigskin.
Knoll attained production rights to the Barcelona chair in 1963, and the piece – hand crafted to Mies van der Rohe's exact specifications – immediately became a jewel in the crown of the brand's collection.
The making of a Barcelona chair is a heavily hands-on affair; sewing the cushions takes around 28 hours, and the upholstery is then hand-welted and hand-tufted with leather buttons, held in place by 17 leather straps affixed to the frame which is finished to a gleaming mirror shine.
As which every iconic piece of furniture, The Barcelona chair has been besieged by copies and imitations, which appeared immediately after its debut. How to spot a fake Barcelona chair? Look for the KnollStudio logo and Mies van der Rohe signature stamped onto the leg, as well as an individual production number.
Despite the fact the that the Spanish King and Queen reportedly never sat on the chairs, the design has achieved cult status, revered around the world by design fans, and a summation of the design principles that defined Mies van der Rohe.
Mies van der Rohe chairs
Krefeld lounge chair, 1927
Created for the Esters and Lange residences in Germany, the Krefeld lounge chair by Mies van der Rohe and Reich, reveals the architects' fondness for traditional styles of furniture. Brought into production for the first time by Knoll in 2003, based on Reich's original drawings uncovered in the Museum of Modern Art archive, the collection includes a lounge chair, two-seater and three-seater sofas and an ottoman.
MR chair, 1927
With a tubular steel frame inspired by Bauhaus master Marcel Breuer, Mies van der Rohe's iconic MR chair is a contemporary take on the 19th century rocking chair. Still produced by American company Knoll, the 'chair without back legs' comes with or without arms with the seat in leather, padded leather or handwoven cane.
MR chaise, 1929
A relaxed, elongated version of the MR chair, Mies van der Rohe's MR chaise, features identical tubular steel and single leg design, with a reclining shape and padded upholstery. When asked why he created chairs with such generously sized seats, Mies van der Rohe was said to reply that he designed that which he would be most comfortable sitting in. The MR chaise won the Museum of Modern Art Award in 1977 and Design Centre Stuttgart Award in 1978.
Brno chair, 1930
Designed in collaboration with Reich for the bedroom in Mies van der Rohe's renowned project Tugendhat House in Brno, Czech Republic, the cantilevered Brno chair features either a tubular steel or flattened steel frame, a proliferation of clean lines and a simple profile. Made by Knoll, it's available in a range of leathers and fabrics.
Barcelona day bed, 1930
The Barcelona day bed – or Barcelona couch – is a sibling to the renown Barcelona chair, both of which were designed by Mies van der Rohe and Reich (although some attribute its design purely to Reich) for the 1929 Barcelona International Exposition. The upholstery is made from 72 individual cut leather panels which are hand-welted and hand-tufted with a matching bolster cushion, poised on tubular steel legs. Manufactured by Knoll, the piece won the Museum of Modern Art Award in 1977.
Who and what has been influenced by Mies van der Rohe?
Mies van der Rohe's work inspired generations of architects, designers and creatives the world over.
The design of the archetypal modern-day skyscraper leads back to Mies van der Rohe's towering walls of glass with simple construction elements; before the architect's emergence, the model for early high rises was more similar to an elongated house, classically styled with decorative facades modelled on historic buildings.
At a 1938 gala celebrating Mies van der Rohe's new role as Director of the architecture program at the Armour Institute of Technology, Frank Lloyd Wright publicly acknowledged his high regard for the architect, introducing him to the stage with the statement 'I admire him as an architect, respect and love him as a man. Armour Institute, I give you my Mies van der Rohe. You treat him well and love him as I do. He will reward you.'
Perhaps one of the most famous alumni of the Armour Institute is designer Florence Knoll who graduated with a bachelor's degree in Architecture in 1941. Studying under Mies van der Rohe, she repeatedly credited her mentor and friend as her most influential instructor (with Knoll later acquiring the rights to produce the architect's iconic Barcelona chair and collection).
More recently, IIT Masters in Architecture graduate, fashion designer and artistic director of Louis Vuitton menswear Virgil Abloh has cited Mies van der Rohe as an influence on his work, quoting 'Studying architecture in Crown Hall had a lasting effect on my aesthetic…The thought process that went into Modernism, or an International Style of architecture where one aesthetic can exist in different cultures… with one aesthetic that marks throughout them all...That's how I think of fashion and the branding, with these diagonal lines that are a universal language'.
The Livingetc newsletter is your shortcut to the now and the next in home design. Subscribe today to receive a stunning free 200-page book of the best homes from around the world.
Amy Moorea Wong is a freelance interior design journalist with a decade of experience in contemporary print and digital editorial, previously News Editor at Livingetc. She writes on a broad range of modern design topics from news and interior zeitgeist to houses, architecture, travel and wider culture. She has a penchant for natural materials, surprising pops of colour and pattern and design with an eco edge.