Fallingwater - a look at Frank Lloyd Wright's architectural masterpiece
Take an in depth tour of Fallingwater, the home designed by Frank Lloyd Wright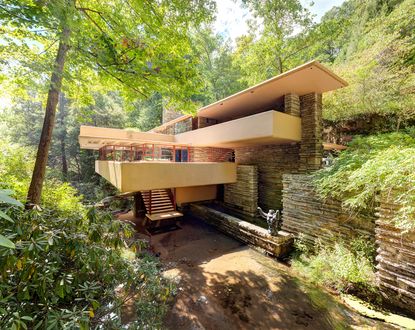 (Image credit: Alamy)
The Livingetc Newsletter
For style leaders and design lovers.
Thank you for signing up to LivingEtc. You will receive a verification email shortly.
There was a problem. Please refresh the page and try again.
Fallingwater is hailed as the "best all-time work of American architecture" by the American Institute of Architects. One of the many Frank Lloyd Wright houses designed in his prolific career, this is widely regarded as his crowning achievement and an icon on the landscape of global architecture, regularly referenced in modern interior design.
When was Fallingwater built?
Designed in 1935, Fallingwater exemplifies Wright's philosophy of organic architecture, a theory that so many of the top architecture firms share today; that art and nature should exist in harmony, integrating with and improving the other. Poised atop a waterfall in Pennsylvania's Bear Run Nature Reserve, water seeming to pour fourth from it, the house at once blends with and contrasts its leafy surrounds, redefining the relationship between humanity, architecture and the environment.
Its striking exterior consists of angular concrete slabs in a natural ochre tone, a colour that exists happily in beige living rooms to this day, cantilevered jagged local sandstone which blends with the neighbouring rock formations, windows edged in earth-coloured steel and glass walls which further merge indoor with out. Internally, the house comprises narrow corridors and low-ceilinged rooms to direct the eye and body outdoors. Despite suggesting that the house's concrete surfaces be coated in gold leaf, Wright only used two colours throughout the house – the light ochre mentioned above, and a burgundy for the steel.
Fallingwater looks like a sculpture, its unexpected right angles jutting out in unlikely ways. But its shape isn't just down to artistry - Frank Lloyd Wright was very much led by the building's surroundings, bending beams and flexing forms to accommodate pre-existing trees.
Fallingwater interior
Fallingwater was created as a weekend retreat for Wright's friend Edgar Kaufmann and his family, owners of a prominent local department store known for their taste and style. Kaufmann expected the building to be placed opposite the waterfall, affording a view of the tumbling water, and was said to be very upset with the cascade-straddling proposal. Wright remarked that he wanted the Kaufmanns 'to live with the waterfall…as an integral part of their lives', and unsurprisingly the family came to embrace the design, holidaying in the house until 1963 when it was donated to the Western Pennsylvania Conservancy, which runs it as a museum which has since drawn 5 million visitors.
Now a UNESCO World Heritage Site, a National Historic Landmark and a Commonwealth of Pennsylvania Treasure, Fallingwater is a 20th century architectural masterpiece which challenges the interaction between the natural and man-made world. It is open the public - as long as social distancing rules allow - and is filled with mid-century modern furniture, along with some Eastern influences.
Fallingwater floorplan
There are two parts to Fallingwater: the main house (1600 square metres) and the 500 square metre guest house.
The main house has a focal point in its fireplace, sliced into by a rock, allowing the waterfall to flow right through the living area.
The three storey house includes four bedrooms, spread out across the first and second floor, and a small kitchen - it was never going to be a home for cooking in, but think of it as the perfect place for cocktails, parties and home bar, instead.
There is also a swimming pool, which admittedly looks a little chilly here, but imagine it in full summer. Built into the side of the house, this secluded spot hangs onto the edge of the slope, looking out into the trees.
Visit Fallingwater
Visit Fallingwater from the comfort of your own home via the Fallingwater Cam to see it how it interacts with all seasons.
For style leaders and design lovers.
Amy Moorea Wong is a freelance interior design journalist with a decade of experience in contemporary print and digital editorial, previously News Editor at Livingetc. She writes on a broad range of modern design topics from news and interior zeitgeist to houses, architecture, travel and wider culture. She has a penchant for natural materials, surprising pops of colour and pattern and design with an eco edge.