The 10 best small apartments of 2022, all with design ideas you'll want to steal
With the year coming to a close, we decided to reflect on the best small apartments we saw in 2022, that still radiate fresh ideas and endless inspiration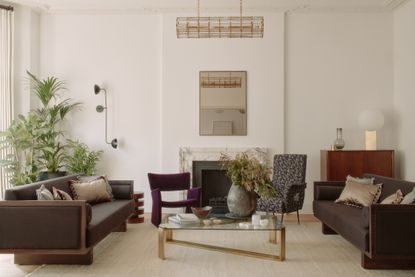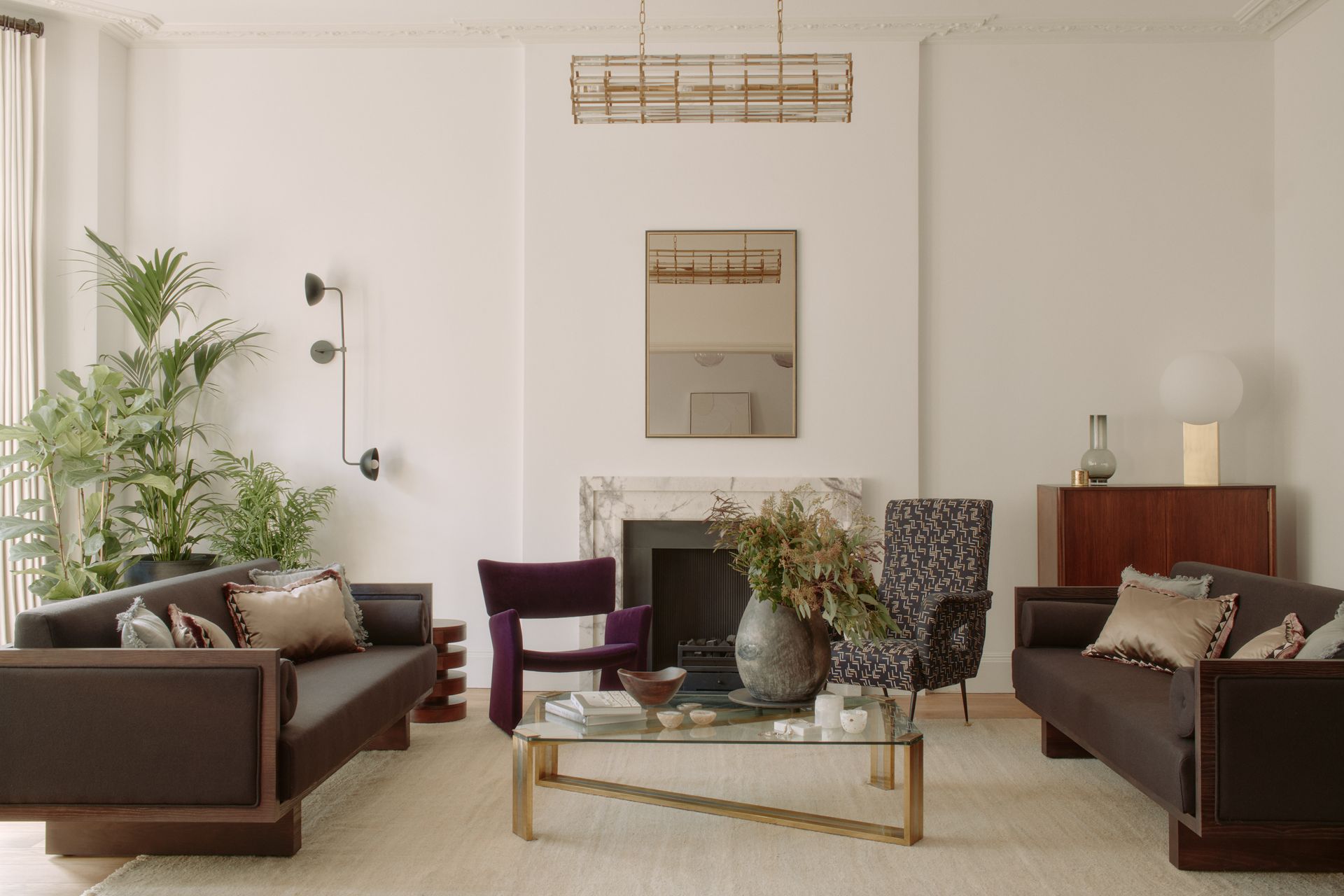 (Image credit: Styling: Sania Pell / Photography: Michael Sinclair)
The Livingetc Newsletter
For style leaders and design lovers.
Thank you for signing up to LivingEtc. You will receive a verification email shortly.
There was a problem. Please refresh the page and try again.
Cleverly-designed small apartments are like little jewel boxes – you don't know what's inside but when you open up, you're left dazzled. With a growing city population and shrinking apartment sizes, it's a given that most professionals end up in relatively smaller homes that can feel pokey. But if you were to talk to designers, you will learn that small homes can serve many purposes...sometimes all your needs. You just need to think out of the box and let your creativity flow.
To give you some inspiration, we decided to dig into our recent archives to find some projects that were absolute wins in terms of design, space-saving, and space-boosting ideas. Plus, packed with smile-inducing color schemes and clever furniture ideas, these apartments are a cut above the rest.
Take a look at these modern homes and take a leaf out of these fantastic designs. 2023 is just around the corner. And based on these best houses of the year perhaps give your small apartment a fresh, new lease of life!
Aditi is a homes writer and editor with several years of experience. Her articles, backed by expert insights, offer suggestions aimed at helping readers make the best home design choices. For this article, she dug deep into Livingetc's archives to find the most inspiring apartment projects.
1. This open-plan apartment in the West Village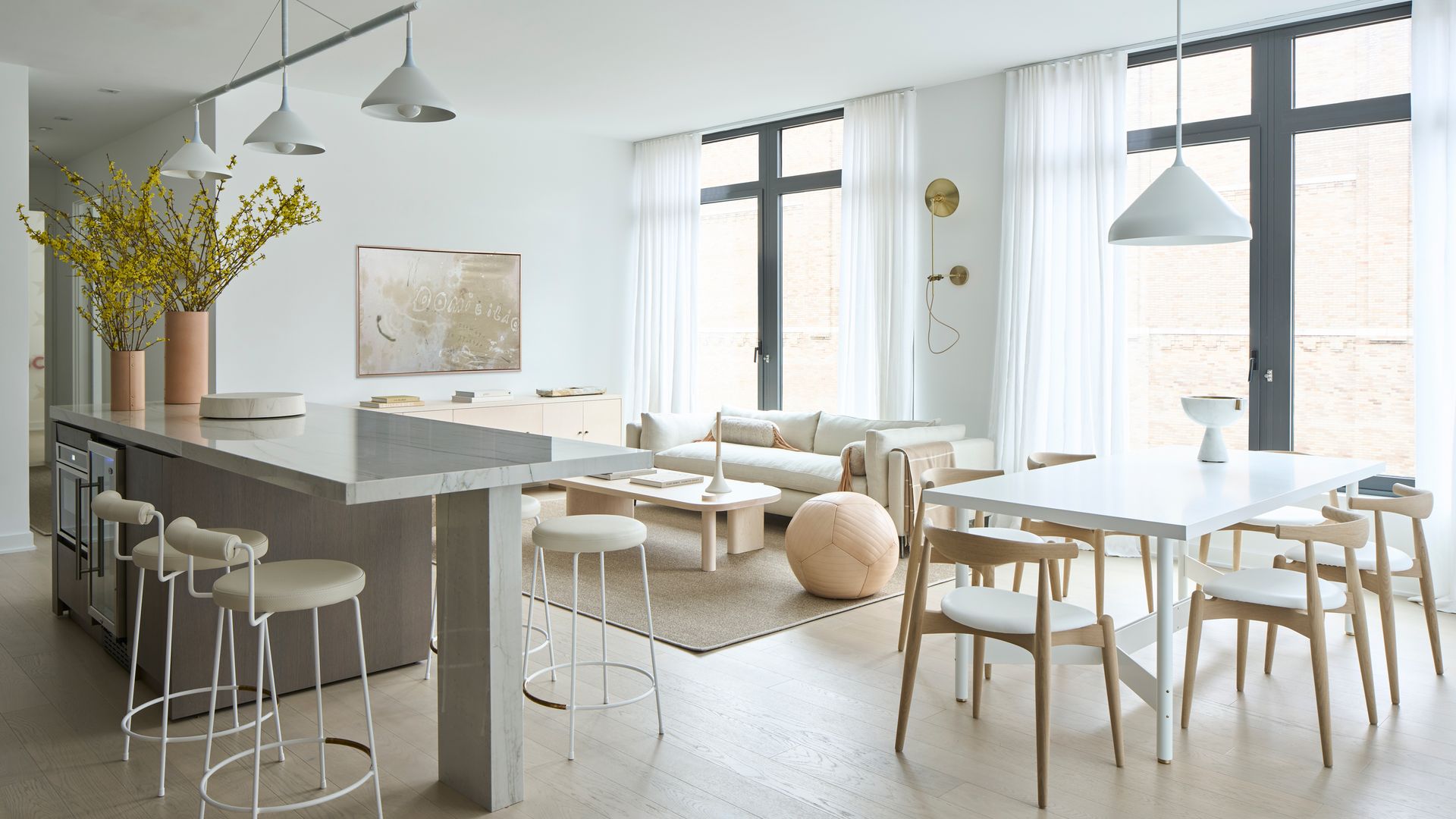 You'll be surprised how much a restful palette can do to a space's visuals, especially if the home is small. This apartment located in New York City's West Village has floor-to-ceiling windows and open-plan living space, and it's not a typical picture of a small home. Yet its footprint says otherwise, and with the client's needs and desires, needed to work hard.
While designing and decorating this apartment, Chelsea Reale and Diana Rice of SISSY+MARLEY Interiors created a lived-in atmosphere through soft materials and warm finishes, along with muted colors, and natural textures, all complemented with natural sunlight. 'In terms of paint colors, we used lots of white,' says Chelsea, 'creating a crisp backdrop to the muted pieces that were added.'
Take a full tour of this beautiful home
2. An art-filled home in Washington, D.C by Nicholas Potts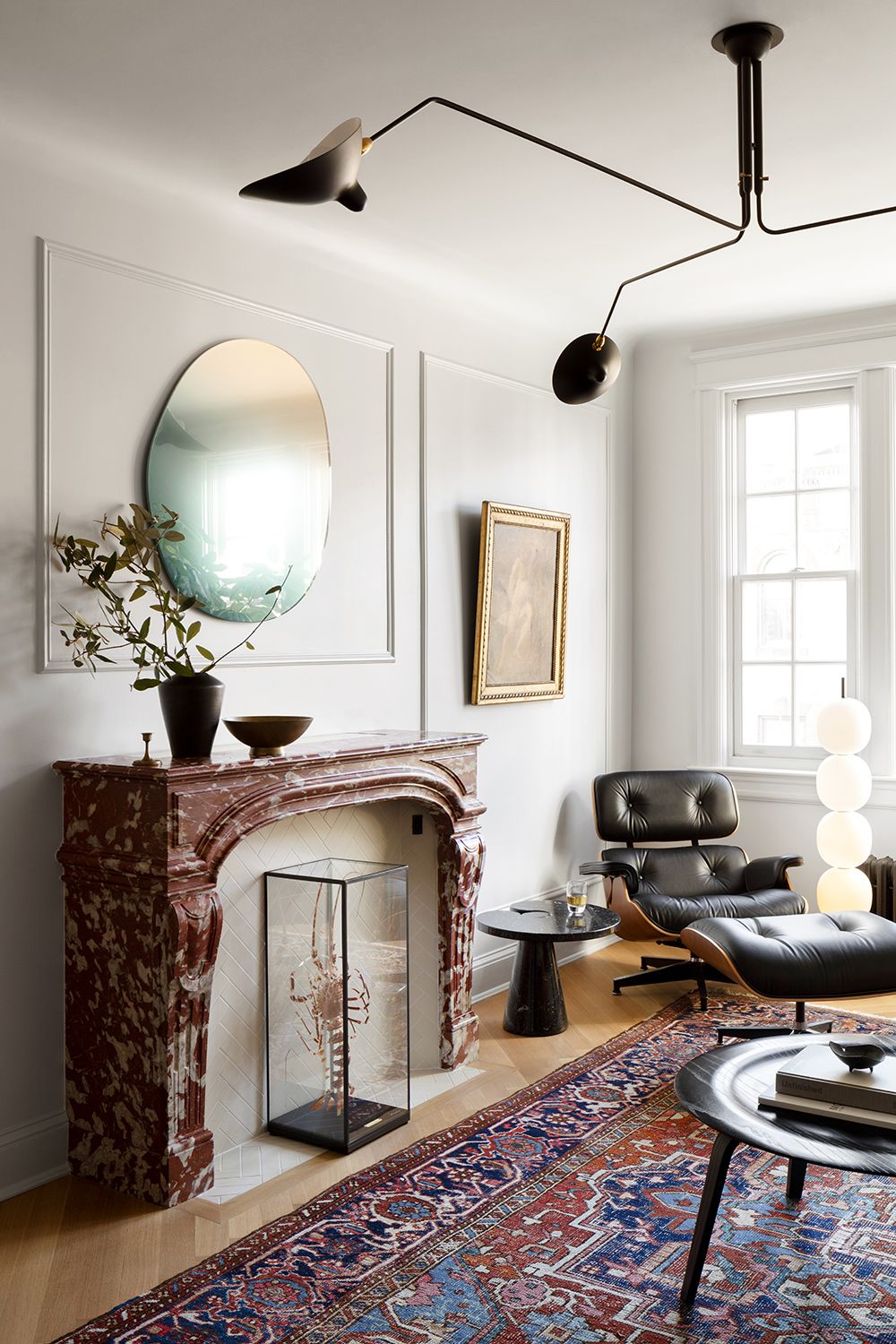 Art, choicest decor pieces, statement lighting fixtures, and more can transform the vibe of even the simplest homes or even studio apartments, making them feel luxe and opulent. Such is the story of this home renovation, where Nicholas Potts, founder of Nicholas G Potts architecture studio inserted walls to zone spaces, and created a calming palette to blur corners and folded in luxe moments like a show-stopping red marble fireplace.
'Instead of adding completely new pieces, we thought of this renovation as a way of restoring it to an idealized state, based on well-proportioned rooms,' says Nicholas.
Take a look at this chic apartment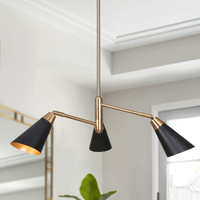 This brass fixture can work with flat, sloped, and vaulted ceilings, and looks stylish in interiors of any style.
3. London home with a seriously cool color palette, by Tala Fustok Studio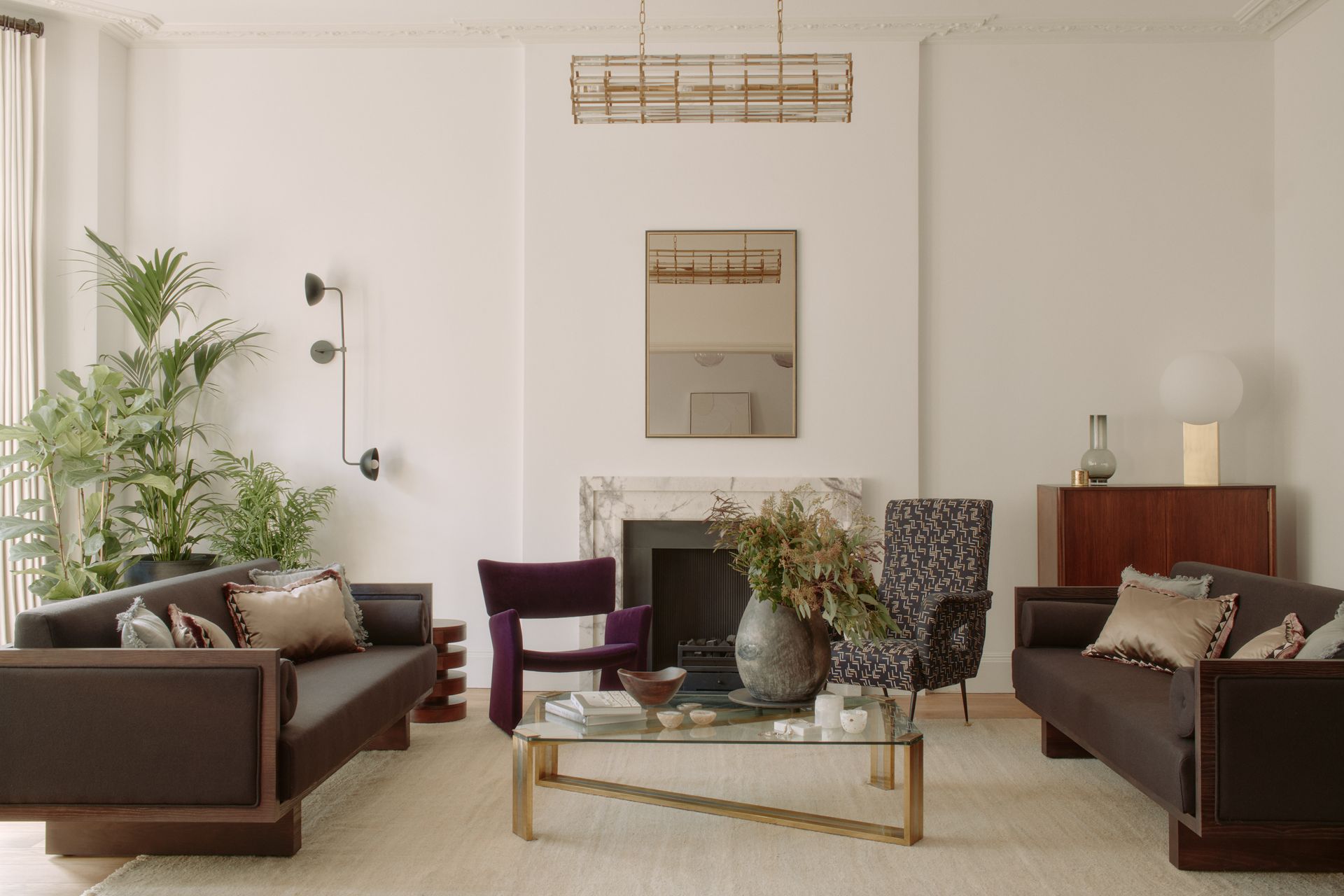 Yes, tiny homes can be full of personality too. British designer Tala Fustok transformed this home's interior to meld with the surroundings while creating a serene, neutral scheme indoors, punctuated by clever uses of color. Soft bedroom colors evoke the setting sun, and stone textures and earthy textiles provide tactility. Running throughout all these features is the remarkable balance of neutrals alongside pops of warm hues.
'For this project, we designed a classic space that was in lieu of the client's modern lifestyle, whilst also honoring their extensive travels around Europe and Morocco,' Tala says. Nods to these regions pepper the space to integrate those passion points within our client's home.'
4. A New York cozy-yet-airy apartment by Studio DB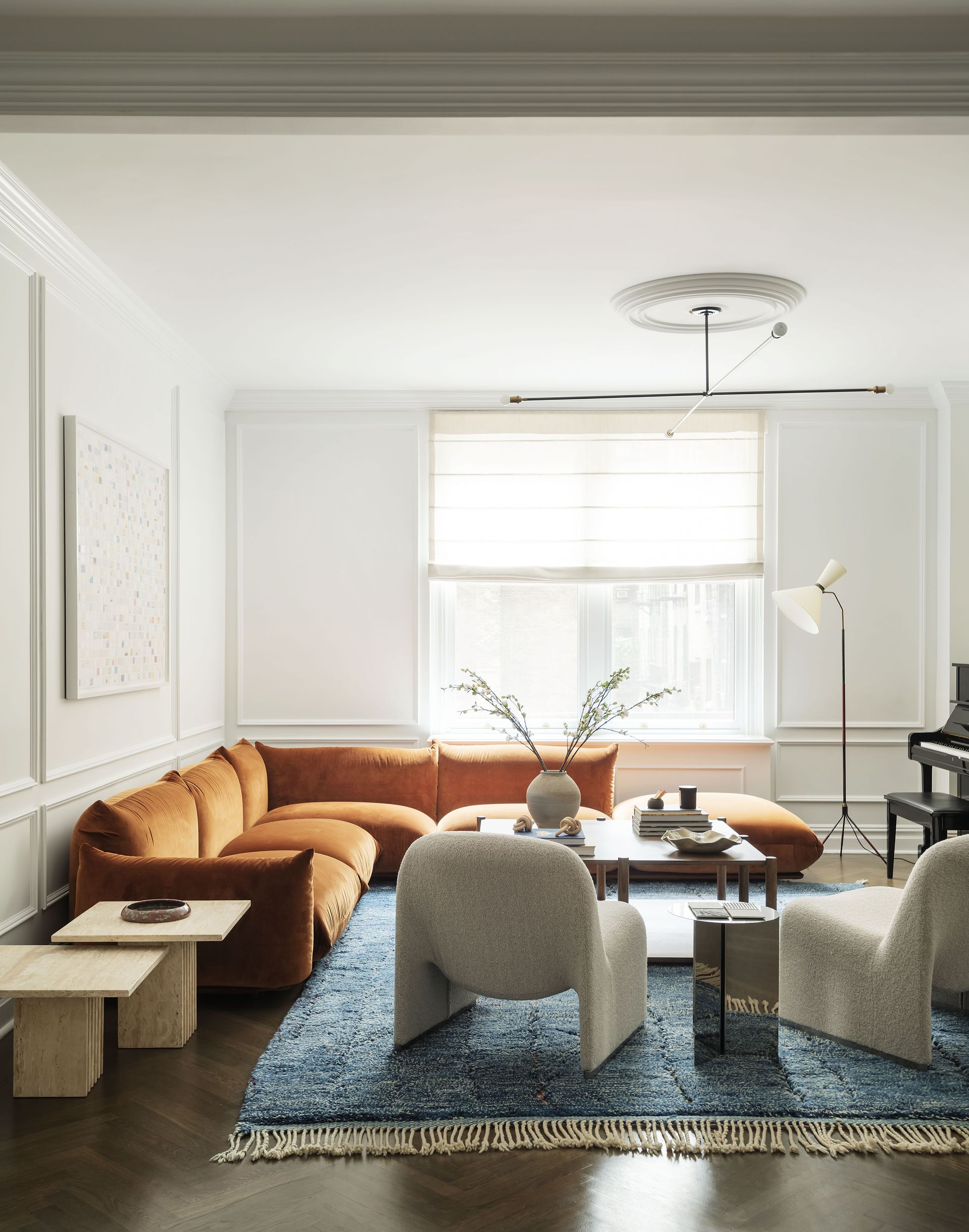 This old-school, pre-war apartment formerly featured outdated design, but got a fresh lease of life with bright colors, airy spaces, and maximalist wallpapers, all thanks to Studio DB. The clients, lovers of classic European aesthetics wanted their home to celebrate the home's traditional, historic details, but also feature contemporary furnishings and art. The final result is an elegant, non-fussy, and not-too-formal home.
Eye-catching den and bathroom wallpapers, metallic finishes, and contemporary lighting pieces create a feeling of coziness that immediately appeals to all.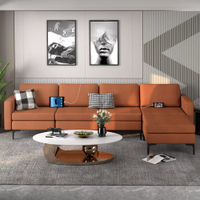 Costway Modular Sofa from Target
This ergonomically designed L-shaped sofa with slightly sloped backrests and wide armrests can add a pop of hue to the living room, while providing utmost comfort.
5. A New York apartment filled with genius storage ideas, by AMMOR Architecture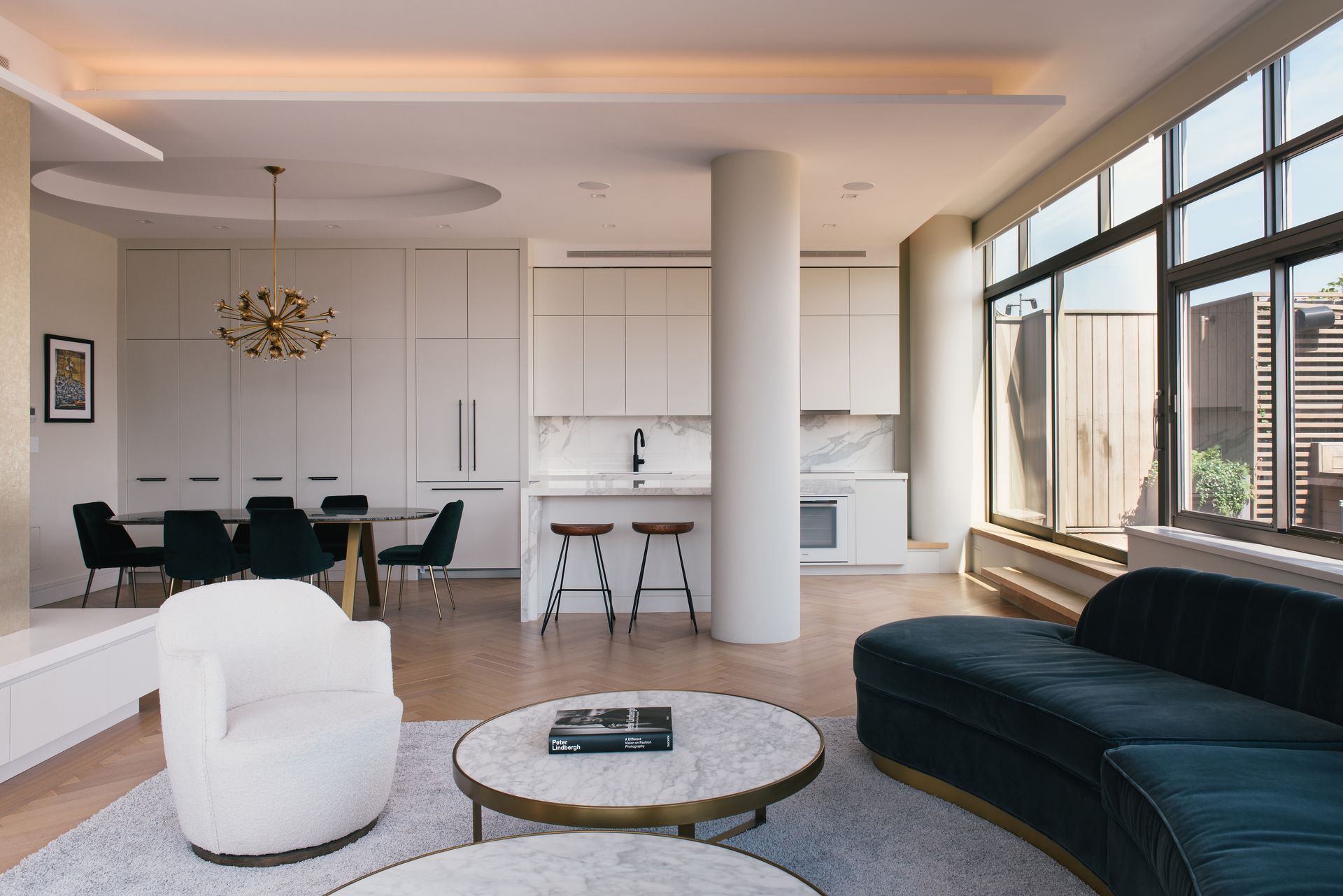 For young city dwellers, wisdom often dictates that when you have a family, it makes sense to move out of the city for larger space and open grounds. But, if you have clever design tactics at hand, you don't need to give up on your city dreams! While space was limited, AMMOR Architecture made it their priority to open up rooms, and windows and, boost living room, hallway, and bedroom storage with units cleverly hidden in plain sight.
'We wanted to contrast this home's super urban environment by designing it as a bright, warm, calm, and peaceful place,' says Goil Amornvivat, partner at AMMOR Architecture. 'The home's visual noise was contained with closed storage. Also, a three-bedroom was turned into a two generous-sized bedroom, making way for nicer, larger, and more well-lit spaces.'
6. An East London apartment that radiates with style, designed by Omar Bhatti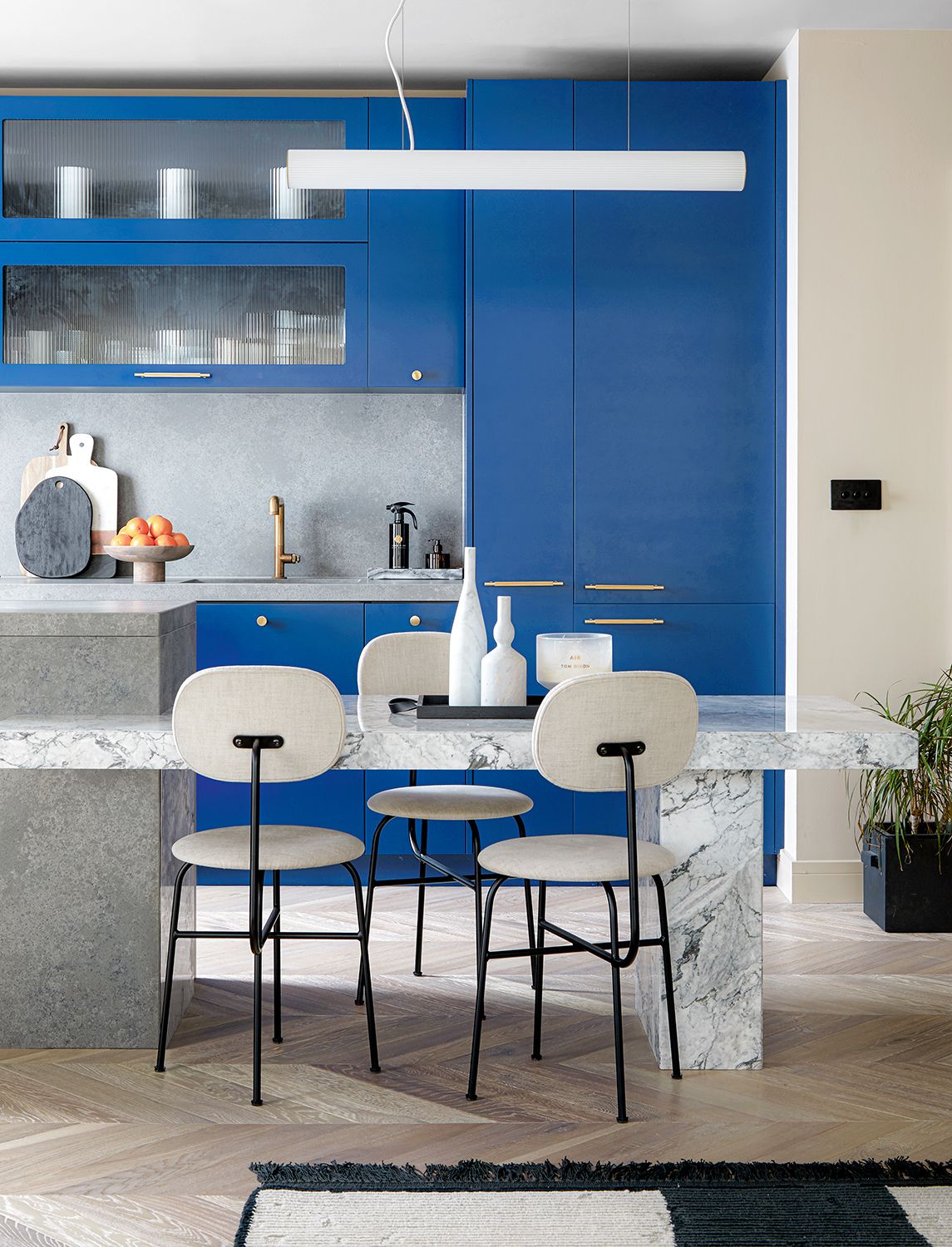 Decorating an apartment in a new build block can be challenging as you try and figure out how to give it a personality, and create moments that catch the eye when you're working with a very smart, very chic, admittedly modern box. Also, as a designer, furnishing your own home can be another uphill task.
However, this home's lofty vibe, tall ceilings, and metal windows were ready to be molded by Omar Bhatti, who decided to push himself and make bold decisions to bring the space out of the ordinary.
This home today is a wonderful mix of concrete, clever design ideas, and a marble kitchen that will steal your heart.
7. A minimalist Madrid apartment by Matteo Ferrari and Carlota Gall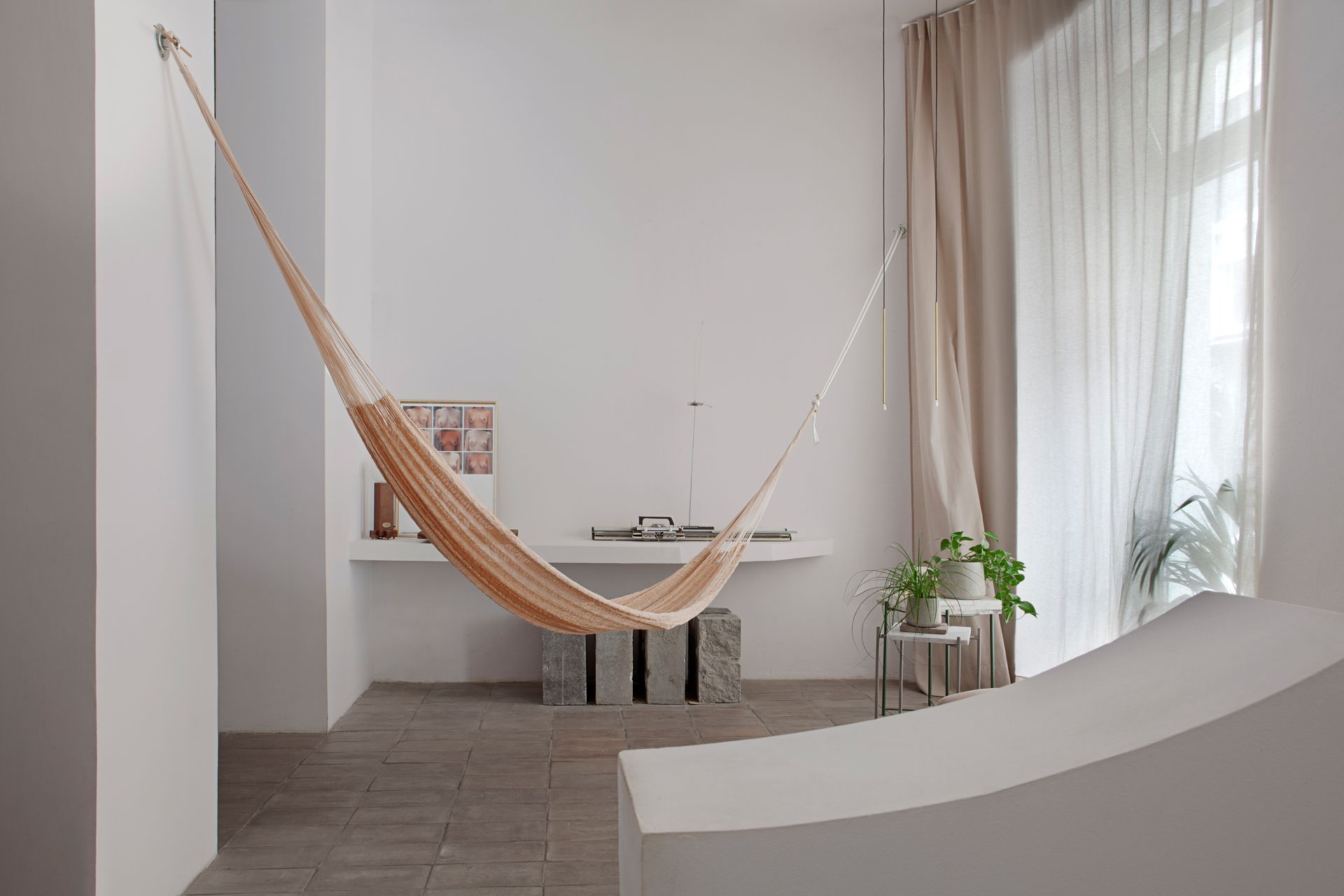 The apartment, dipped in neutral minimalism shows how to live with a less is more philosophy. Designers Matteo Ferrari and Carlota Gall wanted to bring more natural light into the home and used local craft materials that spoke to the apartment's heritage. With an underlying aesthetic of a rural retreat, dipped in comfort, this home is truly a haven.
'Our house had to be conceived as a sensorial refuge, a non-urban space to get away from the hustle and bustle of the city,' says Matteo.
Peek inside this unique dwelling.
8. A south London home with incredible space-saving ideas, by Studio Enass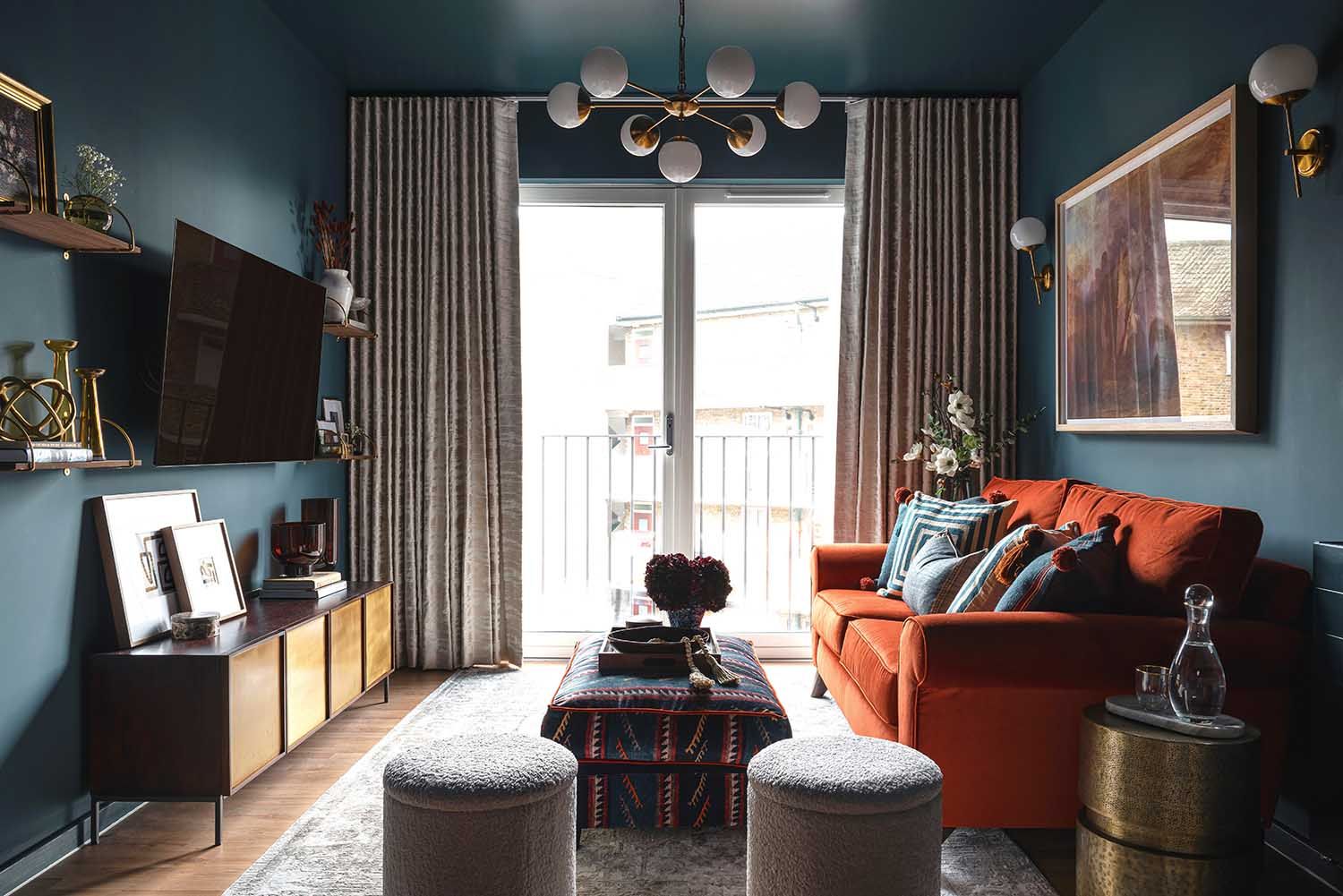 Every single inch of space is utilized and creatively designed in this 'pocket home', thanks to Enass Mahmoud, director of Studio Enass. The concept of pocket homes was invented by Marc Vlessing of the company Pocket Living - an idea aimed to help Generation Rent buy homes by making them small yet highly practical and usable. While just 130 square feet in size, the interiors are enriched with style and decorative flair.
'I was tasked to create a space that feels eccentric and luxurious but also inviting and warm,' says Enass. 'Also, the brief was to include a warm color combination with blues while avoiding white, grey, and beige.' The home is a masterclass in a modern, color-rich interior that proves that good things truly come in small packages.
9. A narrow London home designed by Fiona Barratt Interiors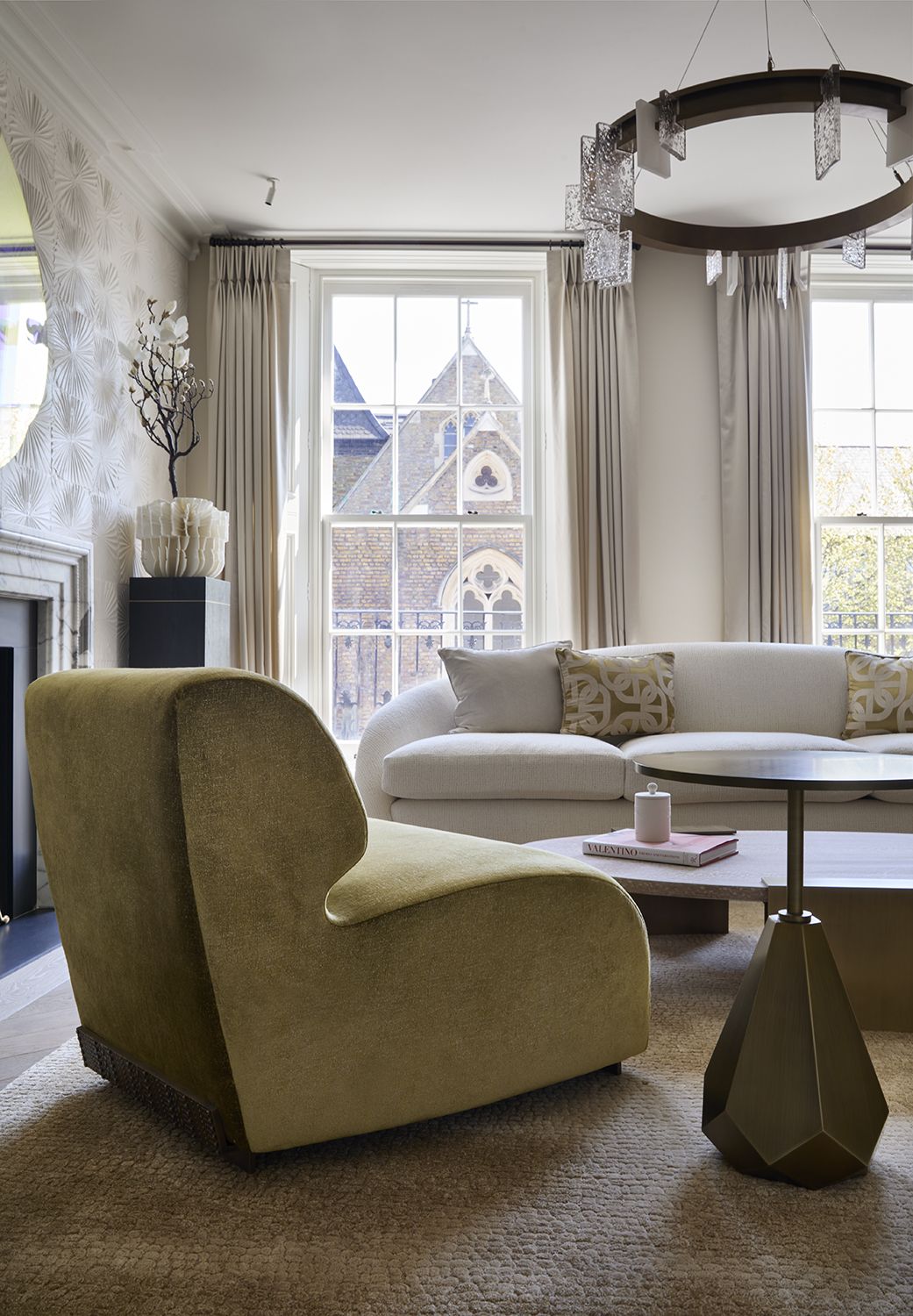 This was designer Fiona Barratt-Campbell's first redevelopment undertaking, and she completed this project by using luxurious artisan finishes to create a sumptuous and welcoming home. 'The aim was to create a liveable feel in the house and this was done by creating a special interior layout, an eye-catching color palette, and by customizing the furniture and artwork, with potential future owners front of mind,' says Fiona.
Certain structural changes were made, like widening the small entryway hallway and adding a skylight. Overall the home's vibe is laid-back, calm, and restful.
10. A Manhattan apartment designed in 90 days by Justin Charette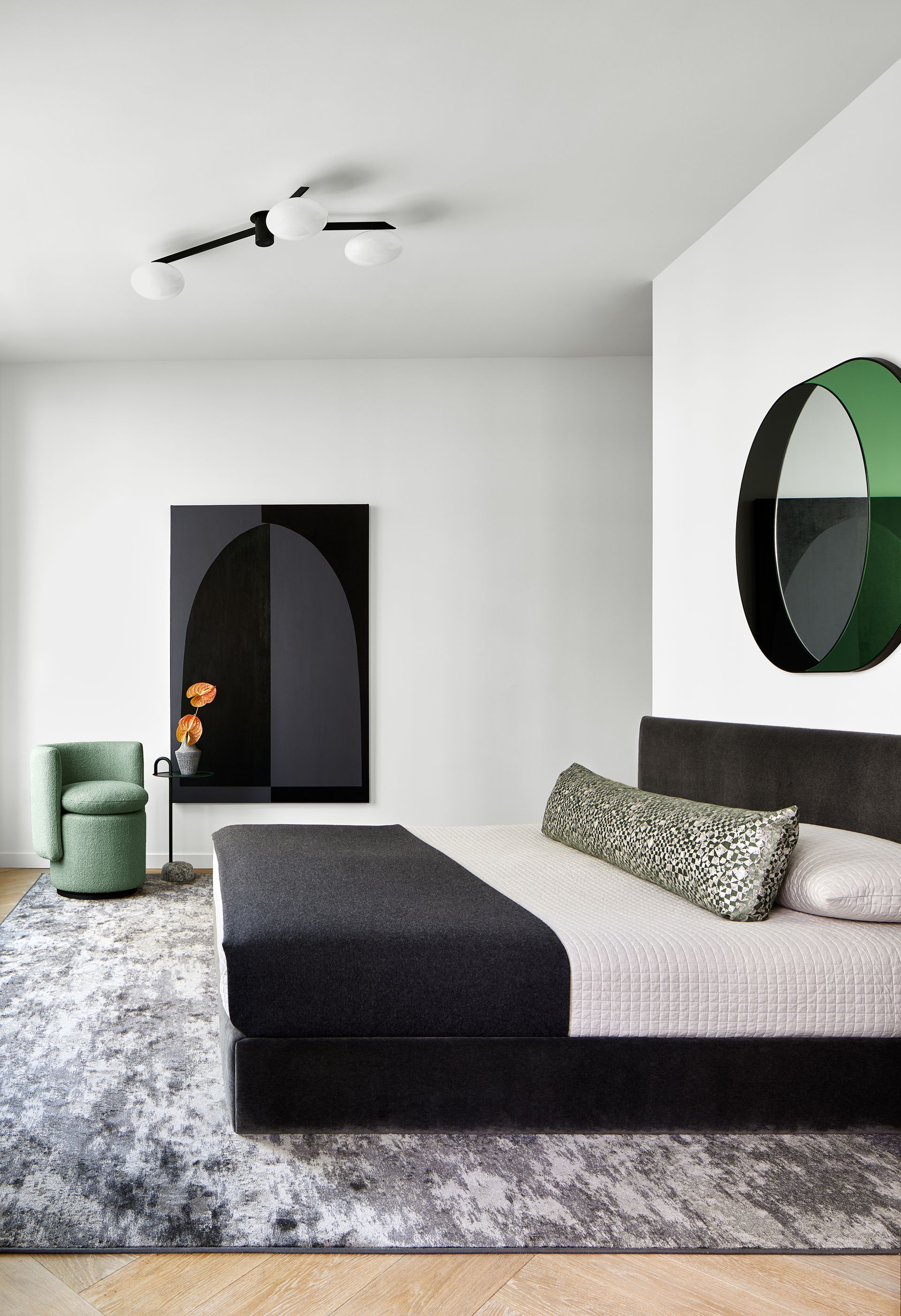 Facing a client brief to design a home in just 90 days would have sent any designer spiraling into anxiety, but not Justin Charette, who took up the challenge with full gusto. He had to work hard, and smart, and deliver a home that was peaceful, comforting, and full of style.
The scope of work included removing a wall, painting, and wallpapering, along with bringing in new living room window treatments and custom built-ins. 'We started from scratch and at the end, the clients moved in with their suitcases and dogs by the end of 90 days,' reveals Justin.
For style leaders and design lovers.
Aditi Sharma Maheshwari is an architecture and design journalist with over 10 years of experience. She's worked at some of the leading media houses in India such as Elle Decor, Houzz and Architectural Digest (Condé Nast). Till recently, she was a freelance writer for publications such as Architectural Digest US, House Beautiful, Stir World, Beautiful Homes India among others. In her spare time, she volunteers at animal shelters and other rescue organizations.