The 12 best large rugs that allow you to create sumptuous schemes
Livingetc's editors have picked the 12 best large rugs to fill your space with texture, color, pattern and print. A wonderfully big dose of comfort and style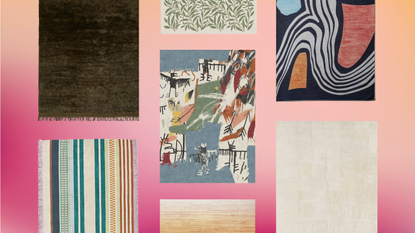 (Image credit: Lulu & Georgia, Anthropologie, Ruggable, Amazon, Urban Outfitters & DWR)
The Livingetc Newsletter
For style leaders and design lovers.
Thank you for signing up to LivingEtc. You will receive a verification email shortly.
There was a problem. Please refresh the page and try again.
Go big or go home. When choosing the right rug size, it's important to understand the proportions of the room, and often, going for a smaller size can restrict the realms of possibility for a space. Bigger floor pieces can help create a larger sense of space and provide a canvas for the rest of your interior. Changing your flooring can be a time-intensive and expensive project. Opting for a large rug instead can mitigate a lot of the work by bringing light, color, and comfort into the room.
To help you find your perfect rug, you can begin by looking at our best rugs feature for expert advice and our favorite finds. If you know you want a floor piece that is larger than life, discover our exclusive list featuring our favorite sizable rugs below. We've scoured the best home décor stores to find these beautiful designs and help make your rug search a little easier.
Best Colorful Large Rugs
Material: Polyester
Size: 9' x 12'
Price: $759
This cool and contemporary blue patterned rug from Ruggable was inspired by Basquiat's striking artwork, City of Angels. The dynamic use of color and abstract line work make this rug an immersive and sizeable design for your floor.
2.Colorful Birds Large Rug
Material: Polyester
Size: 10' x 14'
Price: $1,049
Rhythmic and filled with reverie, this Ruggable design was created in collaboration with color and fashion icon, Iris Apfel. It would create a palpable sense of energy for your floor.
Material: Polypropylene
Size: 10' x 14'
Price: $269.55
Despite being so colorful this is actually one of the best minimalist rugs, its bursts of sunset orange and sunshine yellow working well to soothe you. This expansive design is also stain resistant and non-shedding so it will make for a lasting design statement.
Best Patterned Large Rugs
Material: Polypropylene
Size: 9' x 12'
Price: $799
Interlocking branches of Willow decorate this large design, one of the best green patterned rugs from Ruggable x Morris & Co. This Arts & Craft print would add a touch of tradition to modern living and dining rooms.
Material: Recycled Polyester
Size: 9' x 12'
Price: $1,298
Why choose just one color? Larger patterned rugs allow for more creativity with color as the scale and size make the print feel easier on the eyes. Enliven indoor or outdoor schemes with this rug.
Material: Wool
Size: 12' x 15'
Price: $4,298
Designed in collaboration with interior designer, Sarah Sherman Samuel, this 100% wool rug brings a touch of retro flair to your interior. The minimal color palette makes it easier to pair this distinctive design with whatever you choose.
Best Neutral Large Rugs
Material: Recycled Polyester
Size: 12' x 18'
Price: $2,379
This eco-friendly Pottery Barn rug showcases an intricate pattern that takes inspiration from Persian rugs and is balanced by a neutral color palette. It works well in creating a large floor piece that is durable, textured, and easy to pair anything with.
Material: Recycled Polyester
Size: 12' x 15'
Price: $2,988
This organic-looking jute rug adds an earthy edge to interiors. It would make a great foundation for an elegant and neutral-toned living or dining room. Paired with light furniture and lighting choices, a sophisticated scheme would come to life.
Best Washable Large Rugs
Material: Polyester
Size: 8' x 10'
Price: $259
Machine washable and filled with color and form, this Urban Outfitters rug is perfect for spaces where you want to make a statement. The low-pile height makes it a great choice for more high-traffic areas like entry ways or living rooms.
2. Blue Abstract Washable Rug
Material: Polyester
Size: 9' x 12'
Price: $639
There's nothing like a bit of blue. This Ruggable design is machine-washable, stain resistant and lightweight making it functional and beautiful. The deep blue and abstract white linework make for an tasteful match.
Do large rugs make a room look bigger?
Size matters when it comes to rugs. Rugs should feel proportional to the spaces they inhabit. When designing smaller spaces, you shouldn't be afraid to use every inch available to you. "You can create a sense of increased size in a room by dividing up areas such as different seating areas with smaller rugs, but you must be careful not to create a sense of choppiness doing this. I always like to maximize the size of a rug which not only brings the whole room together but creates a sense of a unified space," says Rosemary Hallgarten, rug expert and fiber artist.
Your choice of rug style will also impact how the rug performs in making a space look larger or smaller. "A darker more patterned rug will make the room seem smaller while a subtle and light-colored rug will create a sense of space," Rosemary adds.
For style leaders and design lovers.
Writer and design expert Faaizah Shah is the founder of The Interiors Consultancy. She has worked with designers such as Staffan Tollgard and design houses such as Sanderson to help them understand and communicate their narratives. She is known for crafting engaging stories and imaginative content, and understanding great decor from her years alongside some of the best creatives in the industry. She is also a contributor to Livingetc.