10 of the best grey sofas for any scheme
The best grey sofas will suit any scheme. See our top picks that are every bit as comfortable as they are stylish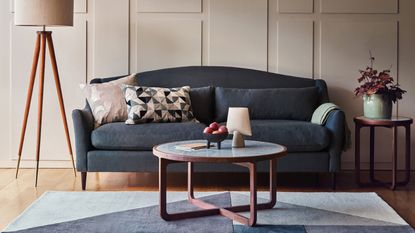 (Image credit: Heal's )
While comfort is key when it comes to shopping for a new sofa, the style and colour you choose also needs to be right for your scheme. This is why grey sofas are so popular – the neutral base goes with so many trends.
Also your chosen colour needs to not just work seamlessly within your interior scheme, but blend in with home – or family – life. For example, is the colour white a good idea for those with little ones? Perhaps not.
But grey, everyone's go-to hue, is still as popular as ever with people looking for the best sofa. And there is plenty of choice out there too – from moody slate greys to warm heather greys and light doves, it is not hard to find a beautiful settee in this timeless colour.
So, if you have been looking at grey living room ideas and want a sofa to suit the scheme, or have gone for bold wallpaper and need a grounding piece of furniture that will work with future makeovers, look no further.
We've pulled together or pick of the best grey sofas to suit any mood, space or scheme.
1. Habitat Julien 3-Seater Velvet Sofa, £595
(opens in new tab)
With its wide arms, generous proportions and boxy shape, the Julien 3-seater Velvet Sofa, £595 from Habitat (opens in new tab) is a handsome design with pure comfort in mind. The low arm rests allow for easy access to a side table you may wish to put next to the sofa - perfect to reach your drink or adjusting your table light. In addition, the low arms make lying down on this sofa effortless, adding just a single cushion for extra comfort.
Styling tip: The Julien sofa is masculine in style, why not soften those angular edges with textured throws and fluffy cushions.
2. Furniture Village Ercol Bellaria Left-hand Facing Chaise Sofa, £3,185
(opens in new tab)
What makes the Ercol Bellaria Left-hand Facing Chaise Sofa, £3,185 from Furniture Village (opens in new tab) stand out is the unique solid oak frame and beautiful tapered legs. The soft grey cushions look as though they're floating within the frame, a style that feels reminiscent of classic Scandinavian furniture. Designed with smaller spaces in mind, the Bellaria sofa has a slim silhouette, even as a corner sofa this design won't overpower a room.
Styling tip: create even more comfort by adding an ottoman so that two people can enjoy stretching their legs out – perfect for a film night.
3. Heal's Somerset 4-seater Sofa, from £3,099
(opens in new tab)
The Somerset 4-seater sofa, £3,099, from Heal's (opens in new tab) incorporates natural materials such as layers of hessian, rubberised horsehair and wool wadding, all constructed using traditional methods. As an original Heal's design, this sofa feels classic with a contemporary edge characterised by the elegant curved lines.
Styling tip: to complete the look, add the Somerset armchair (opens in new tab) so that all your guests can sink into the generously deep duck feather-filled cushions.
4. Made.com Samona Left-hand Facing Chaise Sofa, £1,299
(opens in new tab)
Looking for the ultimate in social seating? Well, look no further than the Samona Left-hand Facing Chaise Sofa, £1,299 from Made.com (opens in new tab) with its relaxed shape and slouchy cushions. Did we mention that the upholstery fabric is a retro corduroy velvet? Perfect for you and your friends to sink into whilst simultaneously ticking the style boxes.
Styling tip: complete the 70s vibe by adding a shag-pile rug and arched floor lighting and why not use the pale grey as a neutral backdrop to add punchier pops of colour?
5. Sofa.com Remy 2-Seater Sofa, from £805
(opens in new tab)
Sofa.com's Remy 2-Seater Sofa, from £805 (opens in new tab)will add both sophistication and elegance into your living space, thanks to the detailed stitching, high back and sumptuous feather-filled cushions. Available in an array of different colours and fabric finishes, you can really add your own personality to this design but we adore this mid-grey velvet – the ultimate versatile colour to complete your interior look time and time again.
Styling tip: accentuate the beautiful button detailing on the back on the sofa by adding a deep buttoned ottoman – mix things up even further by choosing a different colour, or varying shade of grey.
6. Cox & Cox The Milano Sofa, £2,295
(opens in new tab)
The Italian-inspired Milano Sofa, £2,295 from Cox & Cox (opens in new tab) , with its defined black aluminium legs and luxurious velvet cushions, oozes the sophistication and style of many Italian design classics. Available in two sizes and in six different colours, there is something to suit everyone and every living space. For added comfort, the Milano comes with two scatter cushions perfect to style on the arm rests.
Styling tip: buying a grey sofa give you the perfect neutral backdrop so why not add colour and pattern with an array of different sized cushions, which can even be changed with the seasons.
7. Graham & Green Campbell Sofa, from £2,950
(opens in new tab)
Based on an classic English design, the Graham & Green Campbell Sofa, from £2,950 (opens in new tab), has the perfect proportions for curling up and sinking into for the evening. The generous depth of the seat means that no ottoman is required as there's plenty of space to tuck your feet in. Interestingly, this sofa is handmade by a father and daughter duo in Derbyshire – a family made design with families in mind. This design is available in a number of colourways, yet nothing quite beats the luxurious Lava Stain Guarded velvet.
Styling tip: continue the luxe theme with pops of metallic – add a brass side table or bronze reading lights.
8. Willow & Hall Deverill 2-Seater Sofa, £1,015
(opens in new tab)
When looking for a grey sofa you don't have to limit yourself to just cool grey or warm grey – why not consider blue grey? The Deverill 2-seater Sofa from Willow & Hall (opens in new tab) is the perfect fresh hue. Relaxed and stylish, this armless sofa is an ideal choice for those short of space or looking to accommodate those awkward areas of the home. Not only that, the covers are removeable – perfect for busy homes, especially those with small ones with grubby mitts.
Styling tip: a sofa this size is perfect for bay window – specially a square bay – as it's half way between a sofa and a loveseat.
9. Next Home Nancy Right-hand Corner Chaise, £1,450
(opens in new tab)
For a corner sofa with a smart tailored look, try the Nancy Right-hand Corner Chaise, £1,450 from Next Home (opens in new tab) with its sophisticated dark grey upholstery and dainty wooden feet. Perfectly proportioned, this sofa offers both style and comfort and includes bolster cushions for endless relaxation and support.
Styling tip: it's a common misconception that a sofa needs to be pushed against a wall. A corner sofa of L-shaped sofa is the ideal piece of furniture to use as a room divider, if you live in a studio flat try using a corner sofa to divide the living area from the kitchen and dining zone.
10. Amara Hay Arbour 3-Seater Sofa, £4,219
(opens in new tab)
Fusing Scandinavian aesthetics with extreme comfort, the Arbour Three-seater Sofa from Hay at Amara, £4,219 (opens in new tab), is every bit stylish as it is durable. The large, plump seat cushions offers additional comfort and work harmoniously with the stylish wooden frame for a beautifully elegant profile. The Arbour sofa is definitely for those with an eye for style – for those who like form and function to work together seamlessly.
Styling tip: make the most of the wooden frame of this sofa by paring it with a wooden coffee table or side table in the same shade of wood.
Jo is a News & Shopping Editor across Homes & Gardens and Livingetc magazine. Before joining Future Plc, she worked as an interior stylist and set designer, specialising in editorial and commercial photo shoots as well as installations, exhibitions and events. Her background within this field means she has a particular interest in the creative ways to make a house a home, as well as hunting down the best places to source beautiful things.