The best baby bouncer: best rockers and bouncers that soothe and entertain babies
Our pick of the best baby bouncers offer designs your baby will love, promising to give you your hands back so you can get on with other things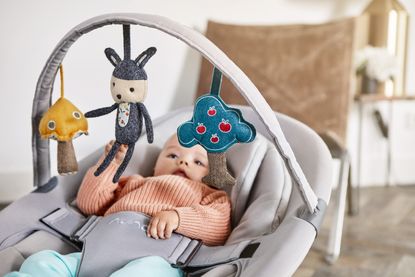 (Image credit: Nuna Leaf Grow)
The Livingetc Newsletter
For style leaders and design lovers.
Thank you for signing up to LivingEtc. You will receive a verification email shortly.
There was a problem. Please refresh the page and try again.
We've pulled together six of the best baby bouncers for to keep your little one soothed and relaxed, and to give you hands-free time to do other things.
Baby bouncers are fabric baby chairs with a harness that keeps your little one strapped in safely. But baby bouncers aren't just a chair for babies – they bounce, sway, or rock, and most come with either a toy arch or soothing sounds and lullabies to keep the baby happy and entertained for longer.
A baby bouncer or baby rocker is essential for any new parent, as it offers somewhere safe to put baby down for a moment so you can shower/cook/unload the dishwasher and countless other things that are otherwise impossible to do when the baby is awake.
Some feature colourful toys and patterns, while others are more minimalist in design. Some come with all the bells and whistles – from various motions and vibration modes to a choice of sounds – while others are more streamlined and compact. What you choose ultimately depends on your personal taste.
One important thing to note is that for any baby bouncer or baby rocker, the baby should always be strapped in with a harness and the chair must never be placed on a raised surface such as a table. In a household with pets and other children it's also important not to leave the baby in the chair unattended.
Ready to rock? Keep your hands – and hips – free with our pick of the best baby bouncers.
Prospective parents might want to check out the best cot beds too
The best baby bouncers and baby rockers for 2021
Image 1 of 6
1. Nuna LEAF™ Grow
The best baby rocker overall
Specifications
Dimensions: H44 x W70 x D70cm
Weight capacity: From birth to 60kg
Reasons to buy
+
Beautiful design
+
Smooth rocking motion
+
Does not require batteries or power source
+
High weight capacity (60kg) means it can adapt as baby grows and lasts from baby to childhood
+
Comes with three reclining angles
+
You can lock the bouncer in place for feeding time
+
Machine washable cover
+
Compatible with a toy arch
+
Very easy to assemble
Reasons to avoid
-
Not very portable
-
Requires manual rocking
-
No additional features like sound
-
Pricier than other options
Looking for a sleek baby bouncer that your family can use for years (yes, years) to come? The Nuna Leaf Grow is an innovative design from Dutch baby brand Nuna, with a design and rocking motion inspired by the shape and movement of leaves (hence the name).
The Nuna Leaf seat bounces or sways for a few minutes with just a nudge, and it sways smoothly from side to side for up to two minutes (or until you give it another nudge). The movement is super smooth, like gliding, and mimics how smoothly the baby would be rocked in their parents arms. The seat can also be locked for feeding or playtime.
There are three reclining angles, plus there's a detachable toy bar included which babies can reach for during playtime.
Aside from its sleek and elegant design and battery-free rocking movement, the main selling point is the huge weight limit: 60kg. The weight capacity means that the chair can be used throughout a child's life, from newborn months into childhood, as a stylish kids chair.
The chic and clever design won it the Red Dot award in 2019.
What we like
The Nuna Leaf Grow arrives in a handy box with a handle. It's super easy to assemble, and clicks into place.
The rocking motion is soooo smooth. It doesn't rock or bounce, instead it sways smoothly from side to side, like a hammock.
It's also super cosy, with a soft padded seat. The toy arch comes with rattling toys that rattle when baby knocks them. There's also a lever at the back which tilts the chair so you can adjust the recline position.
Unlike many colourful or plastic options out there on the market, this baby rocker is about as far from an eye sore as you can get, and in our opinion deserves a permanent spot in the home. It also doesn't need batteries or a power source, so there are no ugly cables or cords to worry about tripping over.
As the rocker is suitable up to 60kg, it's also great for toddlers and children, and makes a cosy (and stylish) seat for them to curl up in.
The seat insert/cover is made with soft cotton and can easily be removed for machine washing.
What we don't like
It's not easy to just fold away and put away constantly so perhaps not the best option if you're looking for something super portable. The base of the chair is relatively heavy to manoeuvre around the house, so it's a good choice for open-plan homes rather than traditional lay-outs that mean you're having to schlepp the bouncer from one room to the next.
You have to manually give the chair a push for it to rock, and it stops after two minutes, so not ideal for parents who are looking for something more automated.
Image 1 of 2
2. Maxi Cosi Kori Bouncer
Best value baby bouncer
Specifications
Dimensions: H48 x W42.5 x D72cm
Weight capacity: From birth to 9 months/9kg
Reasons to buy
+
Stylish design
+
Lightweight
+
3 reclining positions
+
Folds flat, making it easy to tidy away, store, or even take on holiday or weekends away
+
Requires no setting up or taking down, it just folds open and closed
+
Easy to clean
+
Very good value
Reasons to avoid
-
Won't rock independently
-
No toy bar
A sturdy baby bouncer / rocker that doubles up as a chair, the Maxi Cosi Kori boasts a stylish modern design that rocks, and folds completely flat for easy storage.
The Maxi-Cosi Kori rocker has a sleek and stylish design with neutral, sophisticated colours. It's the perfect design for parents who would rather avoid brightly coloured or patterned baby products, and this design will blend neatly into the background in most living rooms.
What's more, the design is easy to fold away when not in use. It folds down so compactly that it's perfect for travel, can easily pack into a suitcase, the back of the car, or be stored away when not in use.
The chair adjusts to three different positions with just one hand, and has a soft bounce. It's also super plush and comfy (not that we've sat in it), as the seat is well padded and super soft.
What we like
The seat comes in a surprising slim box – yet this is no flat pack chore or job. One of the key advantages is that is packs away so neatly. It props up a bit like a sun lounger, in three different settings based on how reclined you want the seat to be.
The baby's legs go on either side of the harness belt, keeping them secure and in place.
The seat is very lightweight and easy to rock with your foot. The snug inner cushion is super soft and is also removable, so any accidents can easily be thrown into the washing machine.
Most of all we love the compact design.
What we don't like
The Kori's design is minimalistic and so it doesn't have a toy bar or any other features (like sounds or automated movement) to entertain your baby.
The rocking motion is very limited, and you have to continually rock it with your hand or foot – it won't carry on bouncing on its own. Also don't expect it to offer baby any option of independent rocking as it's quite sturdy.
Image 1 of 5
3. Graco Grow With Me Soother
Best baby bouncer for keeping babies entertained
Specifications
Dimensions: H81 x W65.2cm
Weight capacity: From birth to approx. 9 months (0-9kg)
Reasons to buy
+
Five speed gentle side-to-side swaying motion
+
Two position recline
+
Two vibration speeds
+
5 built-in sounds
+
10 music options
+
MP3 connectivity
+
Somewhat portable, with an integrated carry handle and two-step folding mechanism
+
Very good value
Reasons to avoid
-
Large and clunky
-
Only lasts until 9 months
The Graco All Ways Soother might not be the most attractive or streamlined thing to look at, but there is much to love about this chair, which not only has 10 built-in melodies and five nature sounds, but also 16 calming motions, six swinging gears and two speeds of gentle vibrations.
While the design is relatively clunky, it's still somewhat portable, with an integrated carry handle which allows you to carry it from room to room. There's also a detachable toy bar, a reclining seat and a support strap to keep the baby strapped in.
What we like
This baby bouncer is a multi-functional seat with a range of options that are great if your baby gets bored easily or doesn't like certain swinging modes or directions.
While it might look expensive at first glance, it actually offers amazing value considering that the chair offers 8 different swinging options, including in two directions, six different speeds, three recline positions, 10 melodies and nature sounds, as well as a hanging mobile with two soft toys.
On top of the built-in sounds, the chair also offers MP3 connectivity.
What we don't like
It's large and clunky, not the most elegant looking thing, and takes up a lot of room. The base is large and cumbersome, so this seat is not ideal for more compact spaces.
While the chair offers a lot, it only lasts for the first nine months of a baby's life, as the seat and mechanisms aren't strong enough for older or heavier babies or children.
Image 1 of 4
4. BabyBjörn Bliss Bouncer 3D
Best space-saving baby bouncer
Specifications
Dimensions: H89.5 x W10 x L39cm
Weight capacity: Birth to 2 years (13kg)
Reasons to buy
+
Sleek design
+
Lightweight and portable
+
Folds flat for easy storage
+
Four reclining positions
+
No batteries or power source required
+
Turns into a toddler seat
+
Lasts for two years, thus offering good value
Reasons to avoid
-
No toy bar, automated motion or built-in sounds
The BabyBjorn Bliss baby bouncer is simple, stylish, lightweight and unobtrusive, and can be easily moved around from room to room.
Available in three muted colours, it's unassuming and has a pared-back design that's designed to help your baby bounce by themselves to develop their balance and motor skills. The natural rocking motion is powered by your baby, so no need for batteries or power cords.
It can recline in three positions (a bit like a sun lounger), to either sit upright, or reclined, or very reclined.
One of this baby bouncer's main selling points is how light and portable it is, so you can easily move it from room to room, store it away in between uses or take it on holiday.
The chair is suitable for babies from birth up to two years, making it good value for money, and it also features an ergonomically-shaped seat to provide support to your baby's back, neck and head.
What we like
We were amazed at how compact and slim the design is, and how easily it folds flat and back into its slim box. The box is very light to carry (even with the chair inside) and has a handy handle. It barely takes up any space at all, making it easy to store under the sofa, under the bed, under the stairs or in a cupboard, as well as easy to take on nights away or holiday.
The seat also has a very soft fabric, stretched over a metal frame like a sock, making it easy to remove the fabric for washing. The super soft jersey fabric is as snug as it gets, and it doesn't lose its shape or comfort post-wash.
While the design is compact, the large floor frame makes it very sturdy – it's not easily knocked over. Instead the chair bounces because of the way it's connected to the base. So it's secure and sturdy, and a baby can bounce itself simply by kicking its legs.
What we don't like
Aside from the fact that the baby can bounce by themselves in this seat, there is little else to keep them distracted or entertained.
Image 1 of 8
5. 4moms MamaRoo 4.0 Rocker/Bouncer
The best all-singing, all-dancing baby bouncer design for automated entertainment
Specifications
Dimensions: H86 x W51 x L61cm
Weight capacity: Suitable from birth up to 9kg, or until baby can sit up unaided.
Reasons to buy
+
Sleek base and modern design shape
+
Comes with 5 unique motions (car ride, kangaroo, tree swing, rock-a-bye, wave)
+
5 speeds
+
4 built in sounds
+
MP3 plug-in
+
Bluetooth enabled
+
Adjustable seat recline including lie flat
+
Overhead toy mobile with interactive, reversible toys
+
Easy to remove, machine washable seat
+
2 year guarantee
Reasons to avoid
-
Relatively expensive
-
Quite large
-
Only lasts until baby is 6 months
The MamaRoo prides itself on being the only seat to move like you do. The concept is that parents don't vibrate or swing like swings, they gently sway and bounce, so the seat has been designed to mimic the natural movements parents make to soothe their babies.
The team behind the MamaRoo used motion sensors to see how parents moved when comforting their babies and then replicated that motion in this unique seat. There are five different motion settings (car ride, kangaroo, tree swing, rock-a-bye, wave) and five speed options, as well as various recline positions from upright to sleeping.
What we like
The movements are super smooth, and will instantly clm your baby. If they don't like one of the movements, they're bound to like one of the others.
The MamaRoo also offers four built in sounds, as well as an MP3 function so you and your baby don't have to keep listening to the same melodies over and over again.
This baby bouncer is also Bluetooth-enabled, which means that you can control the swing motion, speed and even sounds from your phone.
The overhead toy mobile includes interactive, reversible toy balls, with a crinkle ball, rattle and reflective mirror.
Plus, the fabric cover zips off and can be thrown in the wash.
What we don't like.
While the large footprint makes this chair very stable, it's pretty hefty and not that easy to move around the house unless dismantled. It also won't fold up and store easily – so not ideal for compact homes or for travel.
It also doesn't come cheap, and can only be used from birth until around six months, so some would argue that it's not the best value.
Image 1 of 6
6. Babymoov Swoon Air High Bouncer
Best raised baby bouncer for including baby at a more convenient height
Specifications
Dimensions: 42 x 72 x 95cm
Weight capacity: From birth until 9kg
Reasons to buy
+
5 swing speeds
+
Relatively quiet motion
+
8 melodies and natural sounds with adjustable volume control
+
Reactive motion detector – baby bouncer starts swinging when crying is detected
+
Height can be easily adjusted, putting the baby at a more convenient height for interaction. Choose from 5 positions (94 cm, 92 cm, 90 cm, 88 cm or 86 cm)
+
A 360° rotating seat, with a locking system, makes it easy to face the baby in any direction without moving the bouncer
+
Comes with 5 reclining positions
+
Comes with detachable play arch with 3 toys
+
Comes with lifetime warranty
Reasons to avoid
-
Very large base, need floor space
-
Quality looks plastic compared to other baby bouncers
What sets the Babymoov Swoon Air bouncer apart is that it can swivel 360° to face any direction without having to move the stand, and it can be raised up to have the baby at a more convenient height – great for when you're busy in the kitchen, or sat at the dinner table.
It's great for very small babies: the super soft newborn insert wraps around your little one to form a cosy cocoon, while the five-point safety harness keeps your baby strapped in safe. While it has quite a large footprint with a large base, this is what makes it safe and secure.
The seat can also recline into five different positions – so you can use it to feed, play, or even for naps.
What we like
Aside from the smooth swishing motions, the unique 360° rotation is another key feature here, as it means you can easily swivel your baby to face a different direction, without having to move the whole thing.
But the absolute highlight for us is the fact that it can be raised to a relatively high height – much taller than other baby bouncers. This means that the baby's seat can be brought right up to the dining table for meal times, and the baby can play at hip height in the kitchen, so you don't have to crouch down to pick them up.
It also comes with various motions, all of which are very smooth, and you can select the swing time. The seat also reclines fully, making it easier for babies to fall asleep. Then there's also eight melodies and natural sounds with adjustable volume control, plus a motion detector which will kick-start the swinging motion into action automatically when crying is detected.
What we don't like
It has a very large base, so needs some floor space. And the quality looks plastic compared to other chairs.
What to consider when buying a baby bouncer
There are lots of aspects to consider when investing in a baby bouncer or baby rocker. Is the seat for a newborn? If so, the seat will need to be able to recline fully. Is the seat meant to entertain? Then you'll probably want to consider one with a toy arch and possibly even integrated motion and sounds. Aesthetics are also important – as the baby bouncer will likely be placed in the most used areas of the home, you'll want to pick a design that you can live with.
Consider how much space you have. You don't want to get your bouncer home only to find that you're tripping over it as you cross your living room. If space is an issue, look for one that can be easily stored.
You'll also want to think about portability. If you want to be able to move the baby bouncer from room to room (say, from the living room to a safe space in the kitchen), you'll want one that is light and easy to carry.
Babies are messy, and you're going to want a seat that's relatively easy to clean. Look for a seat with a removable, machine-washable cover for when baby inevitably spits up or has a nappy leak.
Think about the power source. A baby bouncer that needs to be plugged in is not as mobile, plus means there will be cables or wires running across the floor. Some are battery operated, but will often eat through batteries at record pace – which is both costly and bad for the environment.
You should also consider the longevity of the product. For example, in order to limit the number of baby products you buy, look for a baby bouncer that can be transformed into a toddler chair to get more life out of your purchase (just make sure to double check the upper weight limit as set by the manufacturer).
And finally there's the cost. Usually, the more you pay, the more you get. So if you're planning to use this seat quite a lot, then it could be worth investing in one that will keep your baby entertained for longer.
What's the difference between a baby bouncer, a baby rocker and a baby swing chair?
Baby bouncers move (or bounce) slightly when you push down on the chair or when your baby kicks. This is a great way to encourage young babies to move and start using their leg muscles – they love the movement. Bouncers usually come with a toy bar or hanging mobile, which is ideal for keeping your baby entertained. As they are often have an upright position, bouncers can also be used as a feeding seat as your child grows.
Meanwhile baby rockers are usually quite sturdy and many have a curved or slanted base that allows you to rock the chair manually or using battery-powered motion. They often have different recline positions and rocking speeds. Rockers that run on battery or mains power may also offer white noise, nature sounds or melodies that can be played while the chair is rocking or stationary.
Swing chairs are similar to rockers, but are usually limited to a back and forth swinging motion, rather than rocking from side to side. Swings offer the ability to change the speed of the swing and may also feature sounds or nursery rhymes. The soothing swing movement helps to soothe babies, and many parents find it particularly helpful if their babies have colic or are very fretful.
You'll find that some chairs are now a combination of more than one of the types – which is usually reflected in the price.
What are the main advantages of a baby bouncer?
It's a safe place to put your baby down, freeing up your hands to do other things
Many have toys attached or you can add a mobile so that your baby can learn to play
Your baby can learn how making kicking movements will make the chair move
How to choose the right baby bouncer for you
Most baby bouncers have the same basic design: a soft fabric seat with a three- or five-point harness buckle to keep baby safe and secure, set on a flexible frame that's made out of metal or plastic.
From there, some bouncers have added bells and whistles that you may — or may not — find useful. One that many parents swear by is a vibrating function that can help soothe a fussy baby. Another feature to look for is a toy bar with colorful plush toys for baby to bat at — and help hold her attention for longer. Some bouncers play music or emit nature sounds, which can be calming or annoying, depending on how much you like those tunes.
There are even high-tech bouncers that rock baby in different motions (forward and back, for example, or in a figure eight pattern) and can be controlled using an app. Some baby bouncers also have swing functionality, so they can swing back and forth, usually powered by batteries.
How long will a baby bouncer last for?
Most babies will outgrow their bouncer by 6 months; by that time, they start to be more mobile and could potentially roll over with the bouncer attached (which is why you'll always want to keep your baby-filled bouncer on the floor, never a table, countertop or other raised surface).
For style leaders and design lovers.
Lotte is the Digital Editor for Livingetc, and has been with the website since its launch. She has a background in online journalism and writing for SEO, with previous editor roles at Good Living, Good Housekeeping, Country & Townhouse, and BBC Good Food among others, as well as her own successful interiors blog. When she's not busy writing or tracking analytics, she's doing up houses, two of which have features in interior design magazines. She's just finished doing up her house in Wimbledon, and is eyeing up Bath for her next project.