On the House: Sophie Heawood's Property Binge: This week, houses with Grandeur on a budget
This week Sophie Heawood unearths hidden homes with delightful delusions of grandeur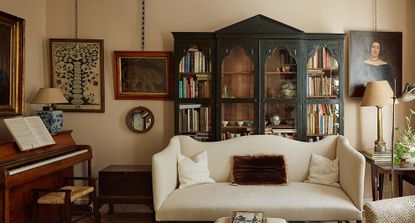 (Image credit: Inigo)
"My delusions of grandeur are steadily becoming a reality of grandeur," wrote Pietros Maneos, who had the right idea entirely. Fake it til you make it, like the houses we're about to look at: be the massive staircase you want to see in the world. Because this week we're looking at properties that don't cost millions of pounds but still act like they do. These are homes that enjoy tarting themselves up to annoy the neighbours. Houses that style it out.
Houses that walk in like they mean business even though they don't own the business or even necessarily have any business, they just enjoy the idea of business. Homes that walk into the party like they're walking onto a yacht. Carrying a cigarette holder and announcing that they have just slept with your husband and that he was so-so. What are we talking about? Nobody is certain. So just scroll down and look at the pictures instead:
1) Flat in St Johns Wood, £485k, Inigo
See, this is how the decorator Robert Kime does his houses, and he looks after Prince Charles and other clients with substantially larger homes than this one. This is a one bed flat above some shops in St Johns Wood, but its owner has clearly taken a tip from the Kime palaces and hung old paintings from a metal picture rail on hanging chains. Doesn't it look fabulous? If you want to try this in your own home, though, you have to carry the whole look off, with a full household of antiques to match. Preferably inherited from your deceased ancestors who lugged them over from Persia by hand after bludgeoning a bandit to death at a border crossing.
Then there's the petite, charmant kitchen, so perfectly organised that, before you move in, you'll need to bin off all your George Foreman grills and your Spiralisers and your big clunky juicer and indeed most of your plates, because they won't fit. Also your glasses. Also food. Ok so you'll basically have to eat gruel out of a copper kettle that sings on the stove because electricity is so déclassé, but it's all worth it for this grandeur. This poise! This refusal to accept that the 21st and indeed the 20th centuries have happened to us!
I mean you've got to admire the hustle of a home owner who wants to believe they still live in a world where none of the horrors of the modern age have happened and you shouldn't be able to see that you own a fridge because fridges haven't been invented yet. I think they've put a little skirt over the fridge, to give it the appearance of a cupboard, but really I think they should have gone one further and done what we did when I was younger. Put the milk in a plastic bag and hung it out of the window overnight, awaking to a bottle of red-top pecked at by starlings. It's the perfect way to create a period feel, as long as the period in question is a student houseshare in Fallowfield in Manchester in 1994.
See more of the property here.
2) Craiglea, St Leonards-on-Sea, £650k, Knight & Knoxley
Oh Craiglea, I'm so impressed by your lavish proportions. Your healthy sense of self-esteem. You're like an anti-depressant in spatial form. You could get a counselling role teaching other houses how to be prouder of their curves. Because I checked the floorpan and yes, you really did put your staircase right there in the sitting room, rather than the hallway. What a baller move! Speaking of ballers, you also have an actual ballroom, and while it's currently operating as some kind of TV-watching den, I know you're going to roll back those sofas and lead us all into some dirty dancing any moment now, Craiglea.
Look at those green windows around the dining table! The wood-panelled bedroom! The garden swamp guarded by a flamingo! I'll be honest, I'm not entirely sure what's going on with any of this but I am here for your efforts, Craiglea. Especially because, when I go on Streetview to see where you're actually located, it's a nondescript street in the bit of St Lens that isn't even the beach or the cafes and just looks like a sort of grey A-road of dreary nothingness. And yet there you are, a one-house party all by yourself, with absolutely zero fucks given. Perhaps you're drunk. You should be. If I were you I'd stay inside you imbibing cocktails and never ever leave.
See more of the property here.
3) Hawley Square, Margate, £875k, Aucoot
Oh here we go, a lovely big Georgian townhouse in a seaside town, deconstructed in the noble pursuit of art. Look at the whole floor that's been turned into a gallery [pic 31], the kitchen that's been reduced to a series of elemental concepts [pic 40 and 41] and the fireplace [pic 7] that's been stripped back into a hangover. A hangover that tells you that you are naked and raw and you really embarrassed yourself last night and maybe lockdown was better than this? Can you handle your new, exposed life? Well can you? There's also a room full of white clothes which appear to be performing as characters in a one-man play about the cruelty of cotton - a play I'd like to write, as long as I could do the entire script in comic sans.
Hawley Square is arguably the poshest bit of Margate, having become trendy about ten years ago when people started buying up these Georgian properties for cheap and tarting them up. Independent record label honchos from London, music managers, writers, architects and artists all bought in and turned the square into a bit of a Dalston-on-Sea. The cafes and bars all opened in the rest of the town and suddenly everyone from East London was moving to Margate. And then, as the years passed, suddenly everyone was moving back again, having realised that a small depressed town in Kent that voted for UKIP wasn't necessarily the place their dreams were to be made. The sea's nice though!
See more of the property here.
4) House with a tower in Wigton, Cumbria, £500k, PFK
Now this is the sort of grandeur we can absolutely get behind. Buy this house in remote Cumbria and get a free 15th century tower, designed to withstand short sieges. I've done some research into these Pele Towers, as they were called round these parts, and though this one has been hollowed out, it would have enjoyed a battlemented roof back in the day. Which I'm sure you could rebuild with just a little construction work. The roof, apparently, would have been "flat for look-out purposes and to allow arrows to be fired at raiders, and missiles hurled down on unwanted visitors."
Which is giving me flashbacks to after I had a baby, when I took to hiding down the back of the sofa when the health visitor kept coming round and saying really weird things to me because I wasn't married. Yes I know that health visitors are a wonderful thing in theory but it's just possible that mine wasn't. I'm just putting that thought out there. Imagine if I'd had a tower and hadn't had to insert myself into the living room wall! Anyway. If I keep typing these words into the box here can people actually read them? They can? Ah. I see.
See more of the property here.
5) Georgian house in Montpelier, Bristol for £785k, CJ Hole
Rumours that the Montpelier area of Bristol is solely populated by people called Marzipan who don't believe in vaccinations or steak or washing have been greatly exaggerated. Largely by me. Rumours that Montpelians believe that they haven't contracted polio because they eat organic vegetables and wank with crystals while thinking sexual thoughts about graffiti, rather than it having been wiped out in this country through a scientific process of injections into people's arms - well it's totally unfair, and I must stop suggesting it. Rumours that the good people of Montpellier started living there in the 18th century, because some excellent public baths had been opened, and that this is the last time any of the residents had one - I'll shut up already.
Because in fact, the area is not just home to graffiti-whistling soap dodgers, but also to some beautiful, classy enclaves such as this one. A white Georgian semi for the same price as an East London flat, well look at that. Isn't she gorgeous? It is particularly impressive how they've done an extension that combines the old and new in interesting ways - not an easy feat. And just look at all that greenery!
All in all you've got three storeys inside a walled garden, sash windows, and a sense of verdant fertility so abundant that I feel pregnant just from looking at the place, mmmmm. Although it's giving me nervous thoughts about that health visitor again. Aaaargh.
See more of the property here.
See Sophie's other Property Binges here:
homes ideal for getting away from it all
The Livingetc newsletter is your shortcut to the now and the next in home design. Subscribe today to receive a stunning free 200-page book of the best homes from around the world.
Sophie Heawood is a journalist and author, who writes regularly for The Guardian, Evening Standard and The Observer. She lives in London, and also contributes to titles such as Red. Her book, The Hungover Games, was published in 2020. As well as being brilliant on her own instagram, she runs the left field interiors instagram account @propertyjazz