What colors make a house look expensive? These are the 7 hues designers use to elevate their homes
What colors make a house look expensive? Designers say that if you pepper your home with these hues you'll get a high-end finish and a luxurious aesthetic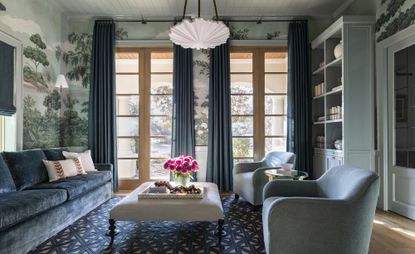 (Image credit: Marie Flanigan Interiors/Julie Soefer)
The Livingetc Newsletter
For style leaders and design lovers.
Thank you for signing up to LivingEtc. You will receive a verification email shortly.
There was a problem. Please refresh the page and try again.
Thinking about what colors make a house look expensive is all part of the modern interior design process.
A chic color palette can help to take a space from low-key to luxurious, whether it's saturating the walls with a high-end hue or using it as part of your decor scheme in accent pieces and features.
Using certain colors to enhance a room, in anything from soft furnishings like cushions and curtains to furniture pieces like sofas and dining tables, will add another level of luxe for a plusher feel.
What colors make a house look expensive?
Here our experts reveal what colors make a house look expensive so you can easily up the fancy factor in your own home.
1. Green
Whether it's rich velvet curtains, printed wallpaper, a green sofa, or simply plants or a statement tree, green is a hue that will elevate any space. It helps that there are so many colors that go with green - it elevates everything,
Marie Flanigan, Prinicpal of Marie Flanigan Interiors, says: 'Green evokes a sense of place and nature, which is why I love to thread it through the design in both textiles and natural elements.
'Whether you're mixing green into your soft furnishings or simply adding greenery to your space, it will make an elevated statement.
'Plus, anytime there are fresh flowers or stems in a space, it will look, feel and even smell more expensive.'
Make a statement with a botanical print wallpaper or choose a beautiful curved sofa and marry an on-trend piece of furniture with a bold yet upscale hue, as seen in the room by LALA Reimagined below. You'll want our guide to the best green sofas if so.
2. Blue
A versatile color that will enrich any space, blue, especially dark or navy blue, always helps to create an upscale finish. Just look at these Hague blue living rooms if you don't believe us.
'Blue is one of the most beautiful ways to play with color saturation,' says Marie. 'A room full of gorgeous blue hues makes a statement that is bold in design but subtle enough for relaxation and enjoyment.
'Any play on color saturation creates a jewel-box effect and makes the space feel special.'
Dark blue creates a home office with a grown-up feel (inject a laidback luxe feel with a 'couch desk') , adds gravitas to a kitchen island, or looks chic on a velvet sofa or armchair.
It's also a color that works really well with metal finishes, making brass, gold or copper pop for even more lavish finish. It's hard to go wrong with a deep blue hue.
Jennifer Verruto, Founder and CEO of Blythe Interiors, adds: 'Darker colors, like deep blue and navy, help make your home look more expensive. They add richness and intention to the space, especially if art pieces and scale are used properly to break it up.
'I like to use these colors on lower cabinets or islands to anchor a kitchen, and in a bedroom or den to create depth, warmth, and coziness. The space can still feel light and airy by contrasting the dark paint colors with bright whites and mixed metals, mirrors, and larger scale artwork.'
3. Ochre
Ochre is a rich hue that leans into gold and mustard territory, all of which work to adds to a timeless and luxurious aesthetic. It's no wonder this is a big color trend right now - it's so enriching.
Top designer Sarah Sherman Samuel is a fan of the color, and peppers it throughout her projects on armchairs, cushions and curtains.
Marie Flanigan is also a fan. She says: 'For a touch of unexpected, I love gravitating toward a gorgeous ochre color. Ochre reminds me of a patinated, unlacquered brass, which is one of my favorite high-end finishes to incorporate into designs.'
4. Rust
This reddish-brown hue might not be the first shade that springs to mind when thinking about colors that make a house look expensive. But its rich saturation and elegance allows it blend in yet stand out at the same time.
It's perfect when used on accent pieces like curtains, cushions and seating.
Marie Flanigan says: 'Rust is a very similar tone to copper, and both are easy to integrate into a space as they often complement both warm and cool tones.
'Further, I find that soft finishes in either color elicit a beautiful, luxurious luminosity.'
5. Terracotta
Another earthy brown like rust, terracotta helps to create the 'stealth wealth' look for interiors as neutrals do for fashion.
It's an understated and humble hue that has now taken on an elevated aesthetic thanks to its rich history and connection with nature.
Wash walls with the shade for an inviting dressing room, use it on kitchen or hallway floors, or showcase it in your displays on ceramics or lampshades and bases. Colors that complement terracotta? All warm neutrals, and all warm brights, just nothing too cool.
6. Black
'Black is the ultimate statement, as it certainly commands your attention when used in design,' comments Marie.
'Black shows that you're not afraid to take design risks which is a testament to elevated and daring interior choices.'
An effective powder room idea, black works well in small spaces as it adds a sense of drama without being too overwhelming. When paired with high-end materials, like a marble sink, it's a recipe for a sumptuous and expensive-looking space.
'Colors with moody depth almost always always make a room look more expensive,' agrees Maiya Kathryn Dacey of the Maryland-based Maiya Kathryn Design. 'Think of it like a little black dress. When done well, the moody color can hide flaws by providing a beautiful distraction from what the room might be lacking and give it something new with great intensity.
'A room without great light doesn't lend itself well to white walls. Lean into what it does have or could have by emphasising the moodiness and coziness of the room. This can be great for any space from an entry to a living room, dining room, library or bedroom.'
But you don't need to cover your walls in black to use it to great effect; you can also introduce it into a room through accents, whether that be abstract artwork, a coffee or dining table, or ceramics and objet.
7. White
A classic for a reason, white is the epitome of elegance, and works to create a clean-lined, fresh space that's also elevated and stylish.
'A lot of designers have their popular whites and work under the philosophy that neutral colors and bright spaces cause less reactions so let paint, art and furniture pop,' says Seth Ballard of the Washington, D.C. architecture firm, Ballard & Mensua.
And what are his favorite go-to white paints? 'Benjamin Moore's Monterey White adds a warmth that enriches a house and is used throughout our projects,' says Seth.
'And, for a wonderful white that goes with everything when a brighter white is needed, Cotton Balls by Benjamin Moore.'
For style leaders and design lovers.
Ruth Doherty is a lifestyle journalist based in London. An experienced freelance digital writer and editor, she is known for covering everything from travel and interiors to fashion and beauty. She regularly contributes to Livingetc, Ideal Home and Homes & Gardens, as well as titles like Prima and Red. Outside of work, her biggest loves are endless cups of tea, almond croissants, shopping for clothes she doesn't need, and booking holidays she does.