What colors best complement terracotta? These are the shades to pair with this on-trend earth tone
Some see it as the new neutral – but what are the colors that complement terracotta, exactly? Designers reveal how they pair it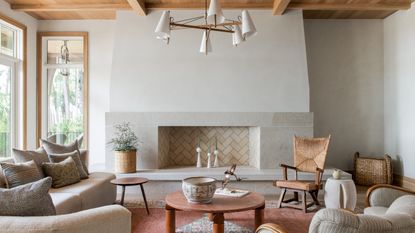 (Image credit: Cortney Bishop)
The Livingetc Newsletter
For style leaders and design lovers.
Thank you for signing up to LivingEtc. You will receive a verification email shortly.
There was a problem. Please refresh the page and try again.
If you're looking for colors that complement terracotta, chances are you're thinking of decorating with the shade. If so, we've got great news for you: this hue is as versatile as they come, which explains why it's such a popular design trend right now.
'I think terracotta is the ultimate neutral,' says Ashley Macuga of Collected Interiors, an interior design studio in the Bay Area. 'It's been grounding spaces for centuries, and is a truly timeless, versatile color, pairing as beautifully with teal as it is with sage.' It might surprise you, but as many colors may just go with terracotta as colors that go with grey, for example.
We spoke to the design experts for this piece to find out how exactly to use terracotta – and they all had the same thing to say about the tone it sets for a room. 'Terracotta is one of those materials that feels warm, familiar, and cozy,' says Brigette Romanek of Romanek Design Studio, a 1stDibs 50 designer. 'The color is strong and pleasant, but somehow soft and calming. Not an easy feat for one material – but some terracotta achieves that.'
What are the best colors that complement terracotta?
Before we go into the details, it's worth noting that you can get creative in a scheme that features terracotta: the colors you choose to pair with it really just depend on how you want your space to feel. Kristen Fiore, interior designer at Sacramento-based Kristen Elizabeth Designs, suggests identifying your design scheme and your intention.
'What feeling or cultural aesthetic are we trying to create? Do we want an organic and soft palette or a bold and contrasting one?' she says. 'Sticking to complementary colors like greens and blue-greens will bring higher contrast and a bolder palette. For a softer, more calming combination, we choose lighter shades in the color spectrum depending on the depth of saturation in the terracotta.'
Below, we've broken down some of the key colors to pair with terracotta – and how to make them work in your scheme.
Terracotta and blue
You've probably seen terracotta and blue used in schemes before: terracotta is a classic color that goes with blue for a reason. 'Terracotta and blue is a natural combo,' says Kristen Fiore. 'They're great contrasting colors to create a more dramatic effect. Pair your blues in a richer deeper shade for an optimum pairing – royal blue is a great companion.'
The dining room scheme by Brooklyn interior design duo Jesse Parris-Lamb shown above is a great example of how different shades of blue respond to terracotta. The deeper navy blue of the seat provides the sophisticated pairing, while a pop of teal adds interest and confidence.
'Beautiful blues paired with terracotta tones is a winning combo as they are opposite colors on the color wheel,' says interior designer Julia Dempster. 'The combination is reminiscent of sunset clad desert vistas filled with sand and blue sky.'
Terracotta and green
If blue is the perfect pairing for a dramatic effect, then green is the go-to if you're looking for a more soothing scheme. 'Green is an environmentally harmonious pairing with terracotta,' says Charleston-based interior designer Cortney Bishop. 'The two work well together across a variety of materials, including paint colors, fabrics, wall covering and metals.'
Kristen Fiore agrees that terracotta is one of many colors that go with green. 'We like this when you bring a natural, organic green into the mix – especially plants,' she says. 'Lighter, yellowish greens are a nice accent too. Avoid the green-red Christmas feel by differentiating the shades, whether lighter or darker.'
For the entryway scheme above, Arkansas-based Meet West Studio wanted to create a connection with nature through the palette. 'We chose this Red Earth terracotta from Zia Tile to restore a sense of earthiness and place in this historic farmhouse,' says interior designer Whitney Romanoff. 'The playful sage green (Farrow and Ball's Breakfast Room Green) softens and grounds the bold hue of the terracotta and provides another connection point to nature outside.'
Terracotta and pink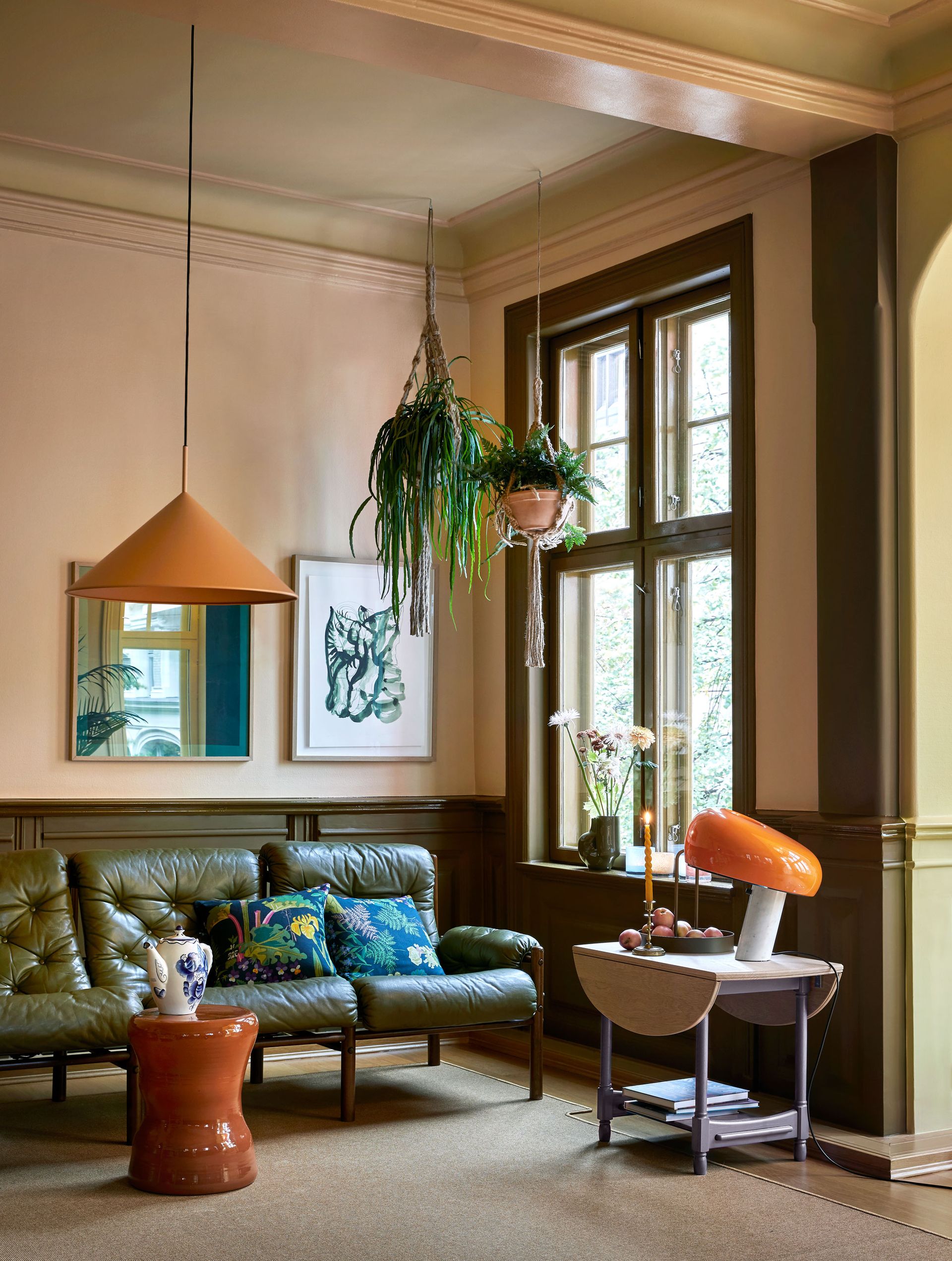 While color theory dictates that choosing complementary colors (colors that sit opposite each other on the color wheel) is the way to a perfectly balanced scheme, rules are made to be broken – and opting for colors that sit next to each other can produce interesting results. Case in point: terracotta and pink. 'Pink tones that emit coziness and a sense of ease are made for pairing with terracotta,' says Cortney Bishop. 'The combination feels fresh and energetic!'
The best entry point into this palette is to use terracotta as the accent, like the lamp and side table against the wash of pink wall in the space pictured above. Either way, this combination is definitely a color trend to watch. 'Terracotta and pink reminds me of a Mai Tai on a warm, breezy Hawaiian day,' says Ashley Macuga of Collected Interiors. 'The rich tones combined are both grounded and lively – and deeply youthful.'
Terracotta on terracotta
Who's to say you even need another color to make terracotta work – especially when the color is already so varied? 'As a warm, earthy material traditionally made up of clay, terracotta can vary from a deep red to lighter, softer hues with oranges and pinks,' says Kristen Fiore.
In the monochromatic color scheme above, Los Angeles-based interior designer Kelly Wearstler pairs plaster-like, almost peachy walls with deeper red tones, creating a scheme that's both dramatic and cocooning – and draws on terracotta as its base. It's a technique that Malibu interior designer Sarah Solis also uses. 'Terracotta is sultry, it's rich, it's grounding,' she says. 'I'm a monochromatic addict so I choose variations within the terracotta family to either deepen or lighten, and then refer to complementary pigments.'
Terracotta and yellow
Finding colors that go with yellow can be tricky – but as another unconventional pairing, yellow and terracotta can add a sunniness to a scheme, perfect if you're looking to create an uplifting space. 'Both yellow and orange pairings are analogous to terracotta on the color wheel, so this combination works,' says Kristen Fiore. 'We like it when you want a more chill, earthy vibe. We see this a lot in today's trendy color palette. It's earthy, organic and calm.'
Terracotta and black or dark brown
Those who prefer a more dramatic scheme will enjoy the contrast of terracotta against black or dark brown, like the scheme by Kelly Wearstler. Terracotta can be a great color that goes with brown, in particular: it's softer than black and often contains the same warm tones. 'Terracotta and brown are both very grounding pigments so they work well together to create a rich, inviting, soothing pallet that is transformable really in any aesthetic,' says Sarah Solis.
'Though not quite as intense as black or orange, chocolate brown can add depth, warmth, and a hint of moodiness,' agrees Julia Dempster. 'Because brown is an earthy tone, it can be easier to match terracotta to complement it.'
'I love the combination of terracotta and brown,' adds Brigette Romanek. 'I see it in a powder room with brass fixtures, or a conservatory with lots of greenery. The reason this will work is because the colors complement each other. They're both rich and warm tones.'
Terracotta and white/neutral
If you're partial to a neutral living room scheme with whites, greys or beiges, terracotta can add a grounding element, helping the scheme transition from stark to earthy. 'I like the use of terracotta as the ground color against variations of creamy whites and taupe tones, allowing the terracotta to be the singular moment in and have its voice in the space,' says Sarah Solis.
One way of working this scheme is by combining terracotta with another trend: cozy bouclé. 'Terracotta looks lovely paired with sculptural white bouclé furniture, which is having a major moment right now,' says Julia Dempster. 'It also shines alongside mid-century modern wooden pieces.'
For the above scheme by South Bay Area interior designer Cathie Hong, a base of pure brilliant white is brought to life with warm shades. 'We wanted to fill the living spaces with warmth by utilizing terracottas, warm oaks, mustard yellows and rusts,' Cathie says. 'We repeated the terracotta notes in the womb lounge chair, original painting, beni rug and accent pillows to create a cohesive color palette that wasn't overwhelming.'
How should you use terracotta in your home?
There are numerous creative ways to bring terracotta into a scheme beyond tiled floors and traditional pottery – be it paint, textiles, wallpaper or accessories. 'To use terracotta in the bedroom, I like layering it with other natural tones,' says Julia Dempster. 'It mixes easily with nudes, sands, and blush, or if you prefer a darker contrast, can be mixed with chocolate browns and even dark gray.
'Terracotta has an organic vibe that works with popular wood tones, like walnut and natural oak. It also has a depth to it that is lacking in more vivid shades of red and orange; it's more soothing and can therefore make an impact visually without looking harsh. Terracotta furniture is versatile and invokes a sense of warmth and coziness in the living room while packing an earthy punch.'
Ultimately, using terracotta is about embracing the organic richness of this shade. 'I look towards warmer colors and earthier hues that will complement the richness of terracotta – think organics and naturals that'll allow terracotta to truly stand strong in a space,' says Cortney Bishop. 'Terracotta is unique in many ways. From tones that can range in warmth and shade to its worldly essence, it's an inspiring material that speaks to a timeless design energy no matter its form.'
For style leaders and design lovers.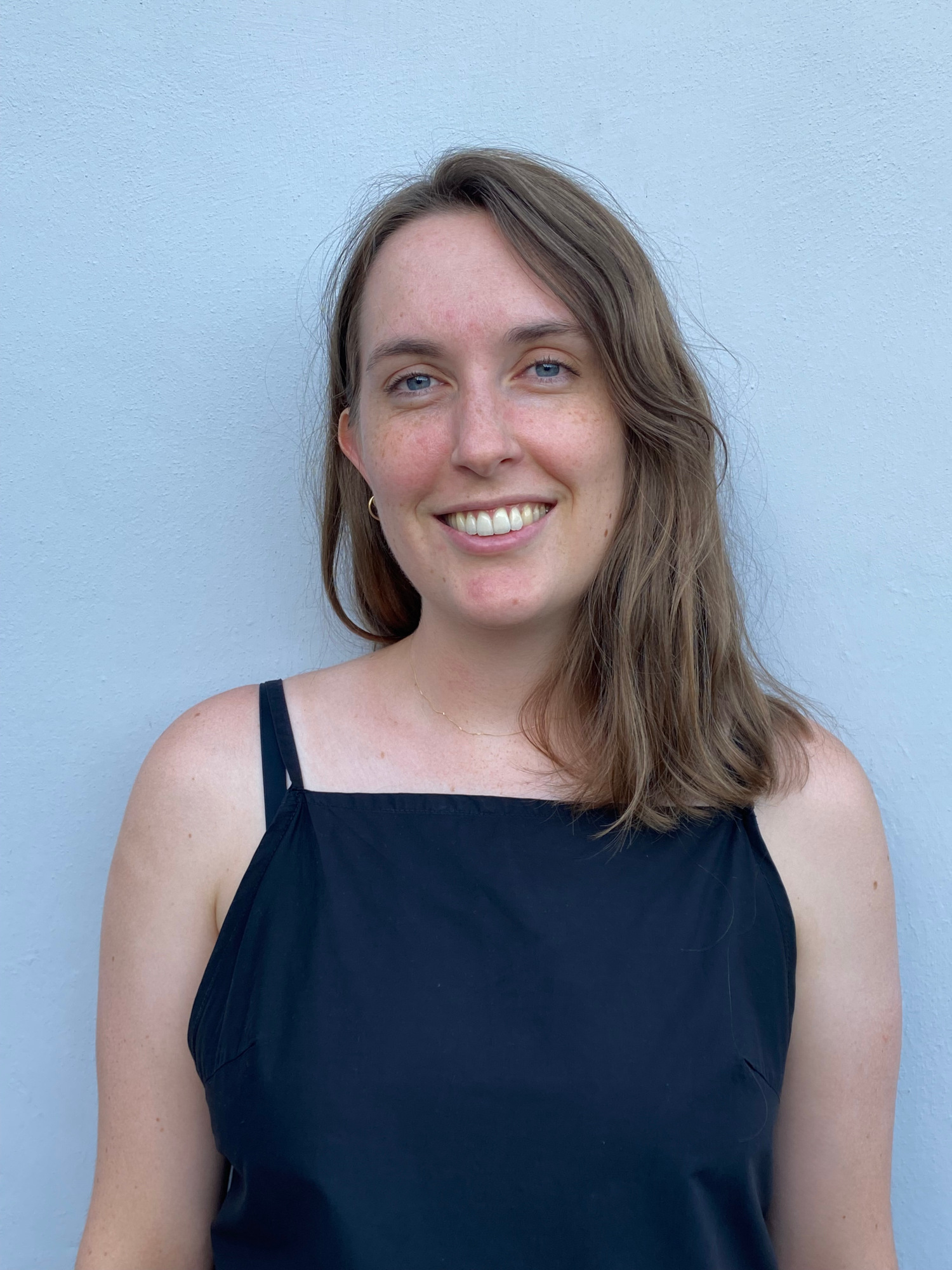 Ellen is deputy editor of Livingetc magazine. She cut her teeth working for sister publication Real Homes, starting as features editor before becoming deputy editor. There, she enjoyed taking a peek inside beautiful homes and discovered a love for design and architecture that eventually led her here. She has also written for other titles including Homes & Gardens and Gardeningetc. While she gets ready to buy a house of her own, she takes inspiration from the works of some of her favourite architects and tastemakers. She has a particular passion for green design and enjoys shopping small, local and second-hand where she can.