Small addition ideas - the expert guide to getting a lot out an extension
Small addition ideas are key to maximizing your home, with experts proving just how much you can do with a little extension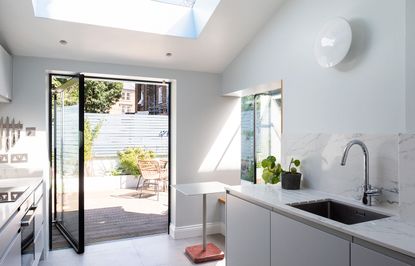 (Image credit: Andy Matthews)
The Livingetc Newsletter
For style leaders and design lovers.
Thank you for signing up to LivingEtc. You will receive a verification email shortly.
There was a problem. Please refresh the page and try again.
Small addition ideas are the renovator's best friend. They're proof that even if you don't have much room to extend into, you can still add just a little more, increasing the square footage of your home and adding value, too.
Whether it's a rear addition, verandah or a loft conversion, all will add space to your property if carried out correctly. 'The high costs of moving home have had a significant impact on the housing market and it makes sense to investigate the possibility of putting an addition on your existing home,' says Richard Atkins, Director of Design at DesignSpace London. 'Whether it's upwards, sideways or backwards, increasing your living spaces, kitchens, bedrooms or bathrooms, it can be done at a cost that would be less than the combined costs of buying a larger property'.
The best addition ideas can also enhance natural light, link existing areas of the property to make better use of the space and improve the overall design, turning a cramped space into something lighter and airier.
In the US, only 8% of homeowners tackle home additions, but with houses tending to come with more land than many other countries, there is more potential to explore.

Small addition ideas
1. Small rear additions
Building a single storey addition on the back of your house is the cheapest and often most viable architectural ideas for homes, and could totally transform your home. Creating a bigger kitchen, an open-plan kitchen diner, a utility room, cloakroom or home office with access to the garden, you could be getting the extra space you need without having to move. With the addition of glazed doors and roof lights it will also bring in more natural light, giving an airier feel. This one, above, cleverly used pivot doors which are a smart solution.

A two-storey extension will need substantial foundations and structural work, so will be more expensive, but certain costs - such as design, planning and materials are the same or similar for both. So in the long run, a two-storey extension could be more cost-effective per square foot. Both a single and two-storey extension will require planning permission.
2. Side additions
Most Western cities are filled with houses built closely together - many of which can benefit from side addition. Without one, the side of the property tends to get used for for bikes and garbage cans, which could be hidden or incorporated into the main house fairly simply.
'Side return additions can transform a narrow, dark space into an airy, open-plan area, whilst conserving your garden,' says Daniel Bowler of luxury kitchen manufacturer Eggersmann UK. 'Extending into this passage may only add a few feet to the width of the house, but it can dramatically improve the size and feel of the space. It's a great way to increase the size of a kitchen to include a dining or seating area and will bring in more light.'
There are some decorative tricks to be employed here too, with some clever kitchen color schemes making all the difference. 'Use pale colours and reflective materials like glass and high gloss to bounce light around the room,' Daniel says. Side additions are a cost-effective option, but their down-side is that in a terraced home you can't access the garden directly from the front, so anything such as garden furniture or plants or even building materials have to be brought through the house.
3. Wrap-around additions
This addition takes in the side return and combines it with a rear addition to give an L shape. Effectively wrapping around the existing house, this design gives a bigger, brighter kitchen and dining space which also improves the indoor-outdoor connection without eating up too much of the garden.
This style of small kitchen extension idea allows for a flexible design whether you want a larger, more open-plan kitchen and living space or to create extra rooms such as a playroom, utility room or cloakroom.
4. Party Wall Act
The party wall act is designed to protect you and your neighbors, and can be the cause of much anxiety on both sides. By law, you must give your neighbors notice before starting work close to the boundary with their property. Notifiable work includes excavations within three - six metres of a neighboring property, depending on the depth of the foundations planned. Having party wall agreements explained from the outset can avoid a lot of headaches and heartache.
5. Roof addition
The style of roof addition you choose largely depends on whether there is enough head height without having to build on, and what the space is to be used for.
If the room is to be used for a child's room, chill-out space or for home office ideas, it might be enough just to put rooflights in to bring in light. Ideally your loft should be 2.2m or higher from the floor to the ridge point. However, if the plan is to use it as an extra bedroom or bathroom, a dormer or mansard loft conversion is a better option, but it will be more expensive as you will need an architect and/or structural engineer. Think about room for the stairs too, they need a decent amount of headroom – 1.9m minimum at the centre. You will also need to put in fire doors throughout the rest of the house to comply with building regulation.
5. Glass box window
If you are really tight on space or to add interest to a single storey addition then a box - or oriel window - could be an option. They are becoming increasingly popular as a show-stopping design feature. These contemporary boxes protrude from the wall and appear to float, but are sturdy enough to form a window seat offering extra seating - our guide to glazing will help you get this right.
6. Galley kitchen addition
One of the smartest modern small kitchen ideas, this has been created in a small space by installing an internal window and roof lights to turn a dark, cramped space into a usable kitchen, filling the space with light.
7. Porch additions
If your front door opens directly onto the living room, or you have been reliant on small hallway ideas, then a porch addition is a good option. It could be used for coats, shoes, bags and prevents dirty footprints being walked directly into the house. It is also a useful barrier from the elements.
A porch in keeping with your home could be an asset and could add value to your house. However, make sure the porch is in proportion - it shouldn't be higher than 3m at the highest point and the ground area measured externally should not exceed 3 m2, but it should be no smaller than 2 m2 to make it worthwhile. It must also be over 2m from the road or boundary. You generally don't need planning permission for a porch.
Is a small addition worth it?
Even if you are short on budget, a well-thought-through addition to your house can make a small space more usable or create space for an extra room, a home office for example, and it's a lot cheaper than moving. On average a basic single storey extension would typically cost between $1500 - $4000 per m2, but it could be up to $2000 or more per m2 for a two-storey extension.

Is it cheaper to extend up or out?
Building up is always the least expensive option for increasing your home's square footage because it requires less materials and labor. 'If you can convert the loft space this would be cheaper than building out,' says David Conlon, founder of En Masse Bespoke Interiors. 'For the simple reason you already have a roof on your home, whereas if you are building out, you will have to build everything from the ground up.' Extending out means you have excavation costs, foundations, a roof and you may encounter problems with drains being in the wrong place, particularly in an old property. Although fixed costs, such as planning and design and building regulations fees are the same, so per sq.m a two storey extension could be more cost effective.
For style leaders and design lovers.
Alison Davidson is well-respected British interiors journalist, who has been the Homes Editor of Woman and Home magazine, and the Interiors Editor for House Beautiful. She regularly contributes to Livingetc, and many other titles, and often writes about kitchens, extensions, and decor ideas. She is the go-to for information about green energy, sustainable home improvement and eco design ideas.