'You'll never feel uncomfortable' - 7 simple ways to make your home feel more like you
Because designing a decor scheme that looks stylish and making your home feel like you at the same time actually takes quite a bit of skill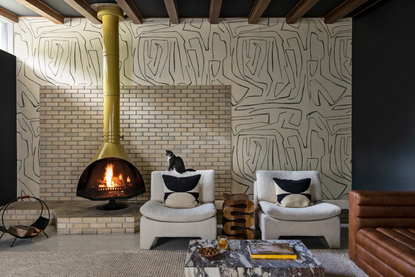 (Image credit: Amy Lamb of NativeHouse Photography)
The Livingetc Newsletter
For style leaders and design lovers.
Thank you for signing up to LivingEtc. You will receive a verification email shortly.
There was a problem. Please refresh the page and try again.
I lust after other people's homes every day and while I love that I get to be constantly influenced by gorgeous homes, there's nothing that feels quite like my own rooms. They are by no means perfect, in fact, they are slightly hectic in their style, and sometimes I do crave the simplicity of a super minimalist, sleek space. But isn't it the personality we bring to our homes that makes them interesting?
And I am noticing that interior design trends are leaning more toward lived-in spaces too. Not everything needs to be hidden, knick-knacks are cool, quirky collections can be styled into chic displays and you can bring together different elements of styles you love.
These spaces are still curated and considered but you can also so easily conjure up the type of person that lives in those rooms and clearly see the thought process that has gone into the design decisions. These spaces have depth and meaning, they feel like someone as well as looking beautiful. In them, you'll never feel uncomfortable. Just like you're at home.
But this very (seemingly) effortless approach to interior design does take some skill. Making a home feel like you while still keeping it on-trend and not tipping over into chaos takes some thought.
How to make your home feel like you
I asked designers for their top tips on how to give rooms some character, how to design spaces that reflect your style but still feel chic and on-trend.
1. Don't be overly led by trends
The most interesting and characterful spaces we see are ones where you can't pinpoint the style. They aren't just about minimalism, or just modern, or just Mid-century, there's a blend of looks going on. If you stick with just one style, the room can end up feeling a bit... flat. It's the bringing together of different styles you are drawn to that makes a home feel more like you.
And with that in mind, never let your rooms become too trend-led. Don't decorate your space based on what's just in fashion at the time. If you are inspired by a trend, lovely, let it influence some of the design decisions you make, but not every decision you make. And never jump on a trend too quickly, if you are looking to buy a new piece, sit on it for a while, see if you are still as keen once the hype around the trend has died down.
'I'm sure this is the advice that all designers will suggest, but classics work well in interiors, not trends,' says Marta Chrapka, founder of Colombe. 'Usually, my designs are based on the style of the home too, classical or historical elements. I like to be inspired by the original features – the windows, shutters, shapes, and even the arrangement of floorboards.'
2. Think about how you want to use your space
Imagine your dream weekend at home for example, what does that involve? And how can you design your home around that vision? Or what do you enjoy doing most while you are relaxing in your home? Picture how you want you to feel in your home, what's going to bring you joy, and reflect your loves. That's the kind of consideration that should go into your decor choices if you want to create rooms that feel more like you.
'My No. 1 piece of advice to my interior design clients is to never forget that you need to love the way a space looks and feels and it needs to serve you in your everyday life. It's easy to design a beautiful room, but a truly great interior design also feels personal and practical,' says designer Kathy Kuo.
'To make your home feel more like 'you,' ask yourself what kinds of things do you love doing at home? Entertaining friends? Cooking? Making art? Curling up with a good book? Once you have clarity on how you envision using your space in ways that will make you happy, the design priorities usually fall into place. For example, I love to play the piano, so I made sure to carve out a corner of my dining room for a beautiful upright piano. It sounds kind of out there on paper, but when you step into the room, it feels like a true reflection of my personality.'
3. Bring in colors that make you happy
Color is one of the biggest decor decisions you make it your home. In fact, we would say it is the biggest decision. The shades you paint your rooms and the schemes you choose to go with totally dictate how your room looks and feels. So naturally, to make a home feel more like you pick colors and paint ideas that feel like you. A really easy place to start is to look at your wardrobe, what colors do you like to wear and can you imagine these colors in your home?
'Select colors that resonate with you and create a sense of calm and happiness. Whether it's warm and earthy tones or vibrant and bold hues, the color palette should reflect your taste and preferences,' says designer Kati Curtis.
Chelsey Cox, founder of Chinotto House agrees, 'Choose a color palette that brings you joy! For some, it may be a neutral space layered with shades of cream and white, for others, a rainbow of pinks, yellows, and greens fit his vibrant and youthful personality.'
4. Add shelving
In order to make a house feel like your own, you need to create displays - vignettes that allude to your personality and passions. So shelving is a simple place to start. Here you have the perfect platform to bring color and character into any room.
As Melissa Lee, founder of Bespoke Only suggests, when it comes to shelving ideas, 'collect what you like and do not overthink. A home should be what feels true to the dweller and these irreplicable bits of life is what makes a home characteristic to me.'
'Incorporating shelves in open areas and bare walls ensure you are making the most of empty spaces. Floating shelves or a tall bookshelf that extends to the ceiling will provide ample amounts of storage and a place to showcase decorative items. This is where you can add real depth and interest to your living room,' adds Jen and Mar, co-founders of Interior Fox.
5. Only decorate with meaningful artwork
Scrolling through Instagram we see the same prints come up over and over. They pop up on the best-sellers page of popular print sites, and backgrounds of viral Tik Toks. And while we think it's great that artwork has become so affordable and accessible, artwork should always be a reflection of you, not the trending pages of Pinterest. Artwork is such a wonderful (and easy) way to make your home feel like you, so fill your rooms with prints that have meaning.
'Collect pieces that you love staring at every day, add art from travel experiences (it's easy to travel home with art), and use the items you have in your home, versus saving them for "special" times,' suggests designer Kendra Nash. 'And, take your time collecting artwork that speaks to you. It's important not to rush the art buying process, we see it as a lifelong endeavor that ideally will resonate for years to come and will travel from space to space with you,' adds Chelsey Cox.
'A house is more than just a building made of bricks and mortar. It's a place where we create memories, spend time with loved ones, and feel safe and secure. Therefore, its design should reflect the people who live there. Artwork is one of the best ways to achieve this. Whether it's an investment piece or a sketch bought on holiday, art makes a house feel like a home. In my opinion, a true home has something on almost every wall,' says designer Irene Gunter.
'Don't wait until the last minute to choose artwork. It doesn't matter if you're undertaking a whole-home project or just rethinking one room, the best projects are those in which the art is chosen at the beginning and the scheme develops from there. If you're not sure what your art style is, follow your heart. Ask yourself, "Does this put a smile on my face?'
6. Create displays out of your collections
The trend for more minimalist interiors has given us a bit of a fear of stuff. But stuff needn't be a bad thing, it's stuff that makes a home. It's all about curating your stuff so it looks beautiful and adds some character to your rooms. Style up and elevate your knick-knacks and add in more neutral pieces if you need to balance out your collections with some less... quirky decor.
'Don't let travel souvenirs and collections linger in storage, display them in your living space as artwork,' suggests Chelsey. 'For this project, our clients – two jet setting doctors – each had their own collections of vintage medical instruments, decorative masks, framed family photos, and small trinkets they collected over the years. We painted the built-ins black so a blended selection of their treasures could stand out and live among them, serving as conversation starters and a memory bank for their growing family.'
Kati Curtis agrees, 'If you enjoy traveling, incorporate souvenirs and artefacts from your trips into your home decor. These items will serve as a constant reminder of the places you've been and the experiences you've had. Display your favorite artwork, photographs, and souvenirs. These items carry sentimental value and bring back cherished memories. Consider creating a gallery wall with pictures that showcase your life journey and experiences. And don't be afraid of mixing frames and styles for a more collected look.'
7. Find spaces to add personality in every room
In more practical spaces like bathrooms and kitchens, it can be tricky to know how to bring in some personality, as in general, everything in those spaces needs to serve a purpose. But you can make room to bring in touches of your personality – as aforementioned, shelving can be ideal but even a tray that can sit on a kitchen surface to display some of your favorite books and photos or lean a few of your favorite prints against a wall or on a windowsill. Creating these little displays with inject some character into any room.
'Try and create beauty in unexpected places,' says Ginger Curtis, founder of Urbanology Designs. 'This is one of the ultimate ways to make a home feel more cozy and ensure you are not missing impactful or meaningful moments. Several opportunities include the end of a hallway where you might create a striking vignette, kitchen opportunists waiting for a magical piece of artwork, or one of my favorite areas of opportunity, the bedroom.'
'One of the ways I love to cultivate all the cozy feels is to add either a bench or two armchairs at the foot of the bed. From there, drape a textured throw blanket, add a stack of beautiful design, culinary or floral books (whatever inspires you!) to create a mood that feels not only intentional, but welcoming. The wonderful functionality of a conversation area is an added bonus!' she adds.
Easy ways to add personality, based on Ginger's recommendations
For style leaders and design lovers.
Hebe is the Digital Editor of Livingetc; she has a background in lifestyle and interior journalism and a passion for renovating small spaces. You'll usually find her attempting DIY, whether it's spray painting her whole kitchen, don't try that at home, or ever changing the wallpaper in her hallway. Livingetc has been such a huge inspiration and has influenced Hebe's style since she moved into her first rental and finally had a small amount of control over the decor and now loves being able to help others make decisions when decorating their own homes. Last year she moved from renting to owning her first teeny tiny Edwardian flat in London with her whippet Willow (who yes she chose to match her interiors...) and is already on the lookout for her next project.