Pan storage ideas – 11 of the best (and most stylish) ways to save space
Because our favorite pan storage ideas are the ones that look great, as well as do the job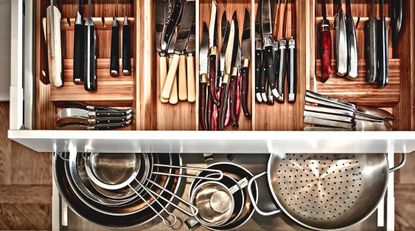 (Image credit: IKEA)
Pan storage ideas are hardly the most exciting part of your kitchen design, we know. But like all kitchen storage, it's essential to creating a functional, clutter-free space. You've got to have some kind of plan for storing potentially the most awkward of your kitchen equipment.
But, you know we never like to be purely practical. We think pan storage should look beautiful as well as function efficiently. So here you will not only find plenty of hacks from expert organizers and declutters that will help you make the most of your kitchen storage, but you'll also find tips on how to store your pans in a way that's going to add character and even decor to your kitchen. Stop stressing over that time-consuming game of Tetris you play every time you need to retrieve a pot or pan from your cabinet and let these ideas inspire you to get sorted or try something new...
1. Start with a declutter
Yep, it's got to be done. Before we move on to pan storage ideas we've got to say it – declutter your pans. If you know how to organize kitchen drawers then the same principles apply. Check you need all the ones you have, check they are squeaky clean and getting regular use. Any you don't think serve their purpose anymore rehome.
'Spares aren't useful unless you use them!' says professional organizer Sue Spencer. 'The storage space in your kitchen is prime real estate for things that you use everyday so if you are short of space consider whether you really need to keep any spare pans that you don't naturally reach for (people do tend to have favorites). Don't clutter up the space with items that you don't use. If you absolutely have to keep something for your annual family get together then store it somewhere else so that your kitchen works for you the rest of the year.'
Once you have made your cull, take a look at what you have left and we can make a storage plan from there...
2. Turn pan storage into a chic display with open shelving
Starting off with a very aesthetic (but still practical!) pan storage idea from Jersey Ice Cream co. Open kitchen shelving gives so much character to a kitchen, but it needn't be just a space for decor, we think they look best when kitchen items are mixed in there too. Pans are ideal for this as you want them to be really accessible too, just be aware you want to keep your most used pans at a lower level so you don't have to reach to get them, and any heavier pans are best in cupboards or draws.
Copper pans are perfect for adding a rustic country vibe to a kitchen, but they are also one of the best materials for pans too so worth the investment. Plus, if you are going to keep your pans out on show you want them to look good too.
'The sweet spot for design is always a space that is functional and beautiful. Sometimes it's best to hide pots and pans away in deep cabinets, but when everything you use is gorgeous, having open shelves for storage and display is an obvious choice,' suggests Tara Mangini, co-founder of Jersey Ice Cream co.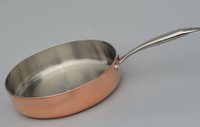 This stylish chef's pan is good enough to keep out on display, and will only get better with age.
3. Keep pans accessible in drawers rather than cabinets
'If you are lucky enough to be remodeling a kitchen from scratch, consider deep drawers instead of cupboards,' suggests Amanda Biggs, APDO's Membership Director and Founder of Professionally Organised. 'Drawers can be fully pulled out so that you have access to everything in there. With cupboards, items always lurk at the back and become hard to find.'
Sue agrees, adding 'Pan drawers are great for saucepans that you use regularly, it makes it super easy to grab the pan you need rather than trying to unstack it from a pile in a cupboard. If you have space you don't need to stack them inside each other which allows you to store the lids with the pans.'
'When specifying the design of your pan drawers, make sure you consider every item of cookware you own to ensure the drawer can accommodate them. Because there is nothing less stylish than an over-stuffed drawer with everything piled on top of each other so it will fit in,' explains designer Irene Gunter.
'This also applies to the location of the drawers. It might sound obvious, but if you don't have sufficient space under the hob or oven for all your storage, make sure they're within easy reach of where you're cooking.'
4. Arrange in order of usage
This is the first rule of kitchen organization. Think about how much you use each pan – keep the favorite ones within easy access and the ones that just come out for special occasions at the back of cupboards or on higher shelves so they aren't in the way when you reach for your everyday pans.
'If you have cupboards for storage, keep your most used pots and pans at the front and your lesser-used items further back,' suggests Amanda. 'And take time to look through what you have and consider whether you really need and use everything in there. If you don't use it - donate it. If it's had better days, get rid of it. Decluttering regularly will make everything else much more accessible.'
5. Stop lids causing clutter with an organizer
If you do opt for drawers over cabinets for your pan storage, the most annoying thing to then store are the pan lids. Don't let them just roll around in the drawer, instead use a handy kitchen organizer to keep them in one place and easy to access. If your drawer is deep enough you could use these for your pans too.
'We love using tray organizers to store pans or lids vertically. It avoids pan from being stacked up one upon another and makes it super easy to grab any pan, without having to remove the others first.' explains Caroline Caron Dhaouadi founder Homefulness.
You can find some really cheap dish racks that can retract or expand to fit perfectly in your drawer or are ideal for organizing kitchen cabinets too. Both Amazon and IKEA have plenty of handy options.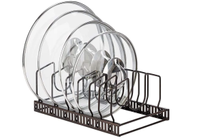 Such a clever creation, this pan lid organizer will stop so much rattling around.
6. Make use of a corner cabinet
A corner cabinet with a handy lazy Susan/spinning contraption is perfect for pan storage. However, if not well organized it can also be where pans go to die. The key to getting the most from this kind of storage is not to overcrowd and have a system to ensure everything is accessible.
It goes without saying that you should keep your most used pans front and center with this kind of storage, and then work back to the pans you use the least. And create mini groups too – woks together, frying pans together, pots together etc. Lids work best if they are separate and stored vertically in a rack. Try not to stack too many pans together either, we'd say three max as any more and you are just never going to get around to using those bottom pans.
There are loads of organizers available to make corner cabinets more efficient too – pan racks or towers for example stop your pans getting damaged and ensure they are always accessible.
7. Protect your pans if you stack them
Whether you choose to store your pans in a drawer or a cabinet, having to stack them is inevitable. But constantly piling your pans on top of them can cause damage, so consider using pan protectors to stop them from getting scratched.
'Stacking pans on top of each other will increase the risk of scratching and damaging the lower pans in the stack, which if you opt for non-stick pans, it will impact the coating, longevity, and quality of the pans,' explains Simon Parker of Blackmoor.
'I would recommend using pan protectors. Using these types of products reduces the risk of scratching, chipping, and cracking on every pan they are placed on to protect. They are also non-slip, water-absorbent, and anti-bacterial. Or place any kind of fabric material, cloth/tea towel between each pan. This will help to reduce the pans from scratching each other in their place of storage.'
8. Store lids on the back of the door
This is such a handy small kitchen storage hack – courtesy of IKEA of course. Pan lids are perhaps even more annoying than the pans themselves, so put that unused space on the back of your door to good use by adding a rail to slot in your lids. Add in some hooks so you can hang other utensils too. We think it actually looks quite chic too.
But if you are not a clutter person (even when it's curated) use this same idea but hide your lids on the inside of your kitchen cabinet doors. 'If you are storing pans in a cupboard make sure the ones that you use are stored at the front and keep clutter in the cupboard to a minimum by storing the pan lids on the back of the door using holders,' suggest Sue Spencer.
9. Add a rustic vibe with hanging racks
And from the very practical to the very pretty. 'Whether you're short of space or you have beautiful copper pots and pans to show off, pot and pan racks can be a great option!' suggests designer Marie Flanigan. 'For this space, the copper pots added a beautiful patina to the room that complemented the beautiful old-world-inspired kitchen. Further, in small spaces and kitchenettes, racks are a great way to save storage for other items while still being visually pleasing.' Agreed.
10. Mount your pan storage from the ceiling
This is a great pan storage idea if you have limited space in a small kitchen – look to the ceiling. A rail traditionally runs along the wall, but if even wall space is tight mount a rail to your ceiling to hang your pots and pans from. This is probably isn't best for your most used pans, you don't want to be constantly having to get up on the step stool to reach them, but is a great solution for the ones you use every now and then so don't need to always be accessible.
And of course, we can't resist the look of pots and pans hanging from the ceiling – it's so unexpected in a modern-day kitchen. Plus, you can use that rail to add some extra decor and turn your pan storage into a real feature.
11. Keep your most used pans accessible on a peg rail
A peg rail is a lovely addition to a kitchen and again is that balance between being practical and aesthetic. Just get the positioning right, there's no point having it too far from the hob. If you can position your rail above the stove so your most-used pans are always within arm's reach.
We know it's a luxury in a kitchen to be able to totally forgo wall cabinets, but we are drawn to the simplicity of this modern farmhouse kitchen. Using a peg rail instead of upper cabinets keeps the space really light and open, and running it the whole length of the units means it can have different uses at different points – pans above the stove, washing up utensils above the sink etc.
How do you store pans in a small kitchen?
Bulky pots and pans can be such a pain to store in a small kitchen, but obviously, they are essential so need to find a home somewhere. Firstly, make sure you only have what you need, special occasion pans are not welcome in a small kitchen. And consider the pans you do buy – you can get stackable sets with removable handles that are ideal for smaller kitchens as they are far less awkward to store.
'Displaying pans out isn't so usual unless you're an avid chef or want a more rustic look in the kitchen. We prefer hiding them in the cupboards and neatly stacking them, that's why pans with removable are so great. You get so much more to fit, especially living in tiny flats!' say Jen and Mar founders of Interior Fox.
'More recently pans without handles have become more popular and I feel this is a great space saver too!' agrees professional organizer Lucy Mansey. 'The key is to not overcrowd your drawers or cupboards with too many pots and pans, so be decisive about which ones you do and don't use and donate some if they no longer serve a purpose.'
If your cabinets are already looking crowded, look elsewhere in your kitchen too. The backs of doors, the tops of cabinets, even the ceiling can provide the perfect spot for some extra pan storage.
How do you store and organize pots and pans?
'I would always encourage clients to store pans in a drawer, close to the hob for easy reach,' suggests Lucy. 'If you don't have many, store them with the lids on, otherwise purchase some pan protectors so that you can stack them on top of each other.'
'If, however, a drawer is not available, a pull-out corner cupboard works well too. If space is an issue, you could utilize vertical space in your kitchen and do the classic 'hang a pan on a hook'. I would advise in this situation, buying one or two pans, so that it doesn't overcrowd the wall and cause a huge amount of eye clutter.'
'Flexibility is the key to keeping pan drawers organized,' adds designer Irene Gunter. 'I like to create a bespoke interior to the drawer with wooden pegs to hold pans in place, which crucially can be moved to accommodate different sizes and shapes. This is particularly important when you add to your cookware collection – because you shouldn't make the mistake of designing the storage solely for the pans you currently have.'
How do you store pans vertically?
Storing pans vertically, i.e not stacking them on top of each other, is a great way to make sure your cabinets stay organized and everything is really accessible. To achieve this, you can use tray organizers or racks – very affordable from the likes of IKEA or Amazon.
'We love using tray organizers to store pans or lids vertically. It avoids pan from being stacked up one upon another and make it super easy to grab any pan, without having to remove the others first,' explains Caroline.
If you do store your pans in drawers, just check the drawer is deep enough to be able to store your pans vertically and still open and close easily.
The Livingetc newsletter is your shortcut to the now and the next in home design. Subscribe today to receive a stunning free 200-page book of the best homes from around the world.
Hebe is the Digital Editor of Livingetc; she has a background in lifestyle and interior journalism and a passion for renovating small spaces. You'll usually find her attempting DIY, whether it's spray painting her whole kitchen, don't try that at home, or ever changing the wallpaper in her hallway. Livingetc has been such a huge inspiration and has influenced Hebe's style since she moved into her first rental and finally had a small amount of control over the decor and now loves being able to help others make decisions when decorating their own homes. Last year she moved from renting to owning her first teeny tiny Edwardian flat in London with her whippet Willow (who yes she chose to match her interiors...) and is already on the lookout for her next project.