14 modern pelmet ideas that prove this design trend is back and looking fresher than ever
Because flouncy floral fabrics arent the only options, some of our favorite designers are using pelmets in creative and contemporary ways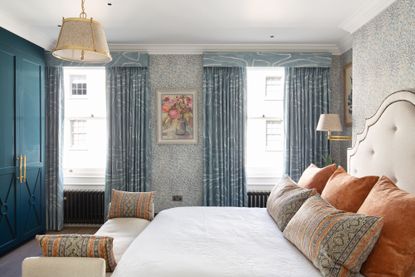 (Image credit: Jonathan Bond)
Think pelmets and you probably go straight to stately homes with towering windows and heavy curtains. A while yes, that's where you were once most likely to find a pelmet, recently we have been seeing a resurgence of this decorative addition. No longer are they reserved for more traditional styles, but we are seeing them being used in playful, modern ways that are more in line with contemporary spaces.
We spoke with some of our favorite designers to find out how they are using pelmets in different ways and putting a modern twist on the classic look. From box designs that are perfect for adding a touch of contemporary luxury, to using plaster for a really minimalist vibe, there are plenty of pelmet ideas here that have quickly persuaded us they are back on trend.
What is a pelmet?
A pelmet is simply a border that sits along the top of a window to hide a curtain track. The traditional, and most common approach, is a box pelmet which is made from a wooden frame and is, again, traditionally covered in a fabric matching the curtains it's housing. But there are so many variations on the pelmet, and there are plenty of contemporary ways to add a pelmet to your curtains...
1. Elevate a neutral space with a bold pelmet
Treat a pelmet like any other soft furnishing, like a rug, bedding, or throw pillows. A pelmet allows space to bring in accents colors and patterns without totally overwhelming a room. The plaster-like pink tones of this salon in Kin House are such a huge color trend, but the modern whimsical print and pop of red gives this room a more playful twist.
'When designing more muted or paired-back rooms we're always thinking about how we can elevate them further with soft furnishings, accessories, and textiles,' explains Lucy Barlow, co-founder of Barlow & Barlow. 'Our Kin House project gave us so many opportunities to be bold, using accents of color and pattern. For example, in the beauty parlor we wanted to create something show-stopping out of the curtains and pelmet to contrast against the soft tones of the wall.'
2. Blend a pelmet into the walls
Sleek and simple. By either painting or covering a pelmet so it matches the wall color means you get the benefits of it disguising the curtain track but non of the... fussiness that is often associated with pelmets.
'This pink bedroom had an unusual pitched roof, so we created the pelmet in a timber and painted it in the same warm enveloping tone adding warmth with the curtain that runs the full length of the wall,' explains Becky Russell, Associate Director of Kingston Lafferty design.
'Pelmets have an amazing way of streaming what you see, a simple timber pelmet when painting in with the wall gives an illusion of more space focusing what you see only on the view from the window and the beautifully selected fabric of the curtain. The pole or track the curtain is on is concealed making it a more minimal look. Pelmets work well in modern and contemporary spaces to help draw your eye away from any fuss and accentuate the clean architectural lines.' adds Becky
3. Create a clash with wallpaper
Clashing patterns always gives a room a more modern feel. And you don't have to go super bold with the combination either. In this bedroom designed by Barlow & Barlow, the bedroom wallpaper picks up on the same blue tones used in the curtains and pelmet, but the patterns are what clash. The small traditional floral print of the walls sits unexpectedly next to the bolder, more contemporary print of the curtains, and the overall look does feel fresh and current.
'We love layering patterns and color in our projects to create playful and unique schemes. For this project, we layered different tones of blue and used the same fabric across the curtains and pelmet to create a cocooned and cozy effect,' says Lucy Barlow.
4. Keep it minimalist with a modern pelmet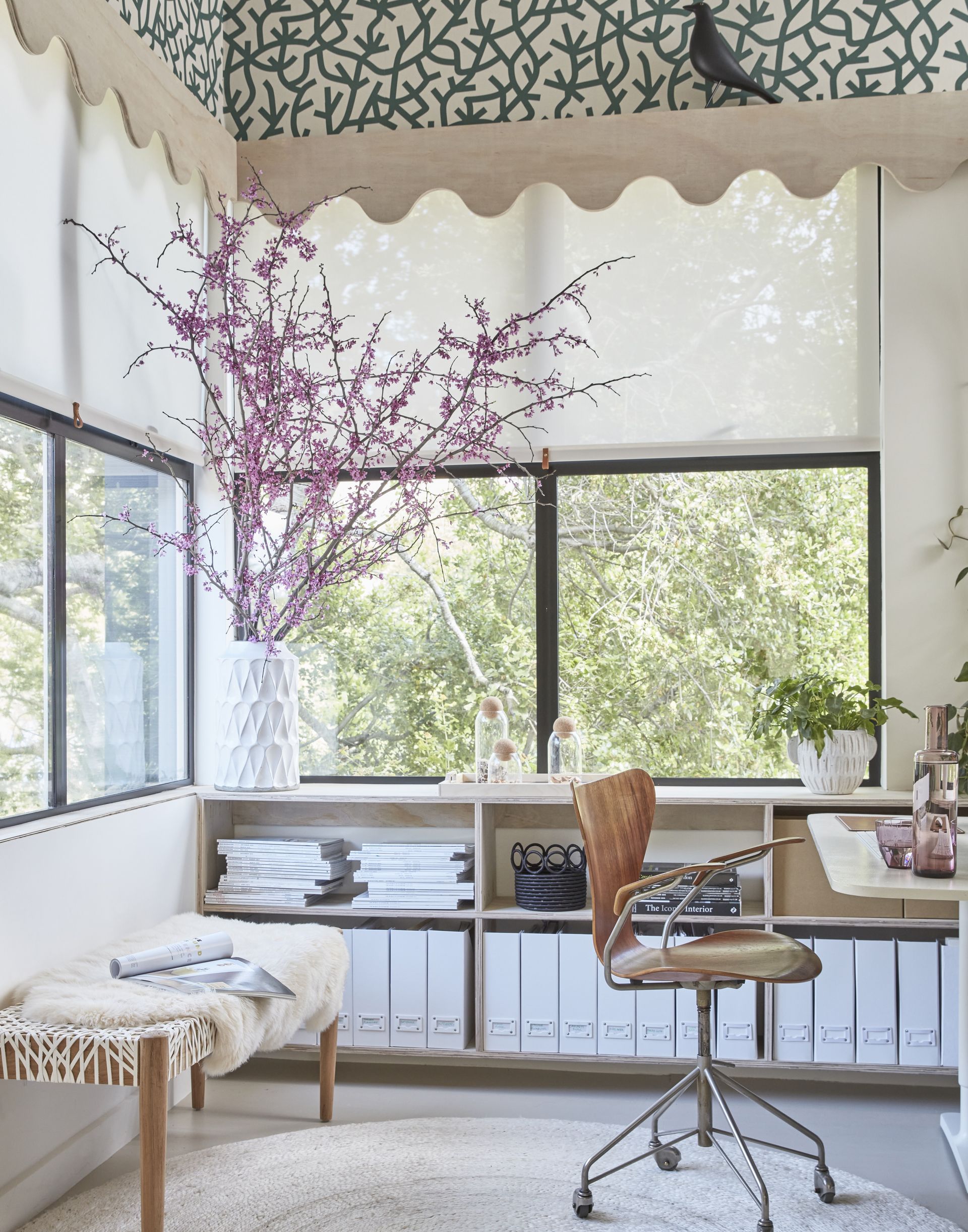 Wooden pelmets are the best approach if you are after something really modern and minimalist. You can play with colors and shapes, but unlike a traditional fabric pelmet, the effect will always be sleeker and more contemporary. Case in point, the beautiful birch creation used in this home office.
'Because of the dimensions of the room (small floor space, high ceilings) I wanted to use a simple, graphic wallpaper to readdress the balance. However, I didn't want the wallpaper on the walls, as this wouldn't create the illusion of wider room space, so in order to stop the wallpaper with a transition that felt intentional and at the correct level I chose to use a pelmet. It does the job of both hiding the tops of the roller blinds, and creates a distinction between wallpaper, walls,' explains designer Lisa Le Duc.

'The cabinetry was all made from birch plywood, and the upper cabinetry is in line with the pelmet, so the natural extension was to create a window pelmet that connected everything at one level. The wave was added to soften all the angular cabinetry and the squareness of the room. It also creates a nice shadow - as the pelmet overhangs the top of the window.'

5. Add a clean look to a softer space
All pelmet is perfect for giving a room a little...structure. Making it feel neat and clean, even in a room like this that's all about the softness. The simple pelmet just adds a touch of formality to an otherwise very relaxed, delicate white bedroom.
'Pelmets can mostly work in any interior scheme and can be used as a subtle addition to a room or as a bold feature. In this London townhouse, we wanted the room to feel fresh and sleek but still peppered with elements of color and pattern. We love how the headboard's border mirrors the curtains lining, yet the paired back pelmet helps to keep the overall space look clean, organized and chic!' explains Lucy Barlow.
6. Blend old and new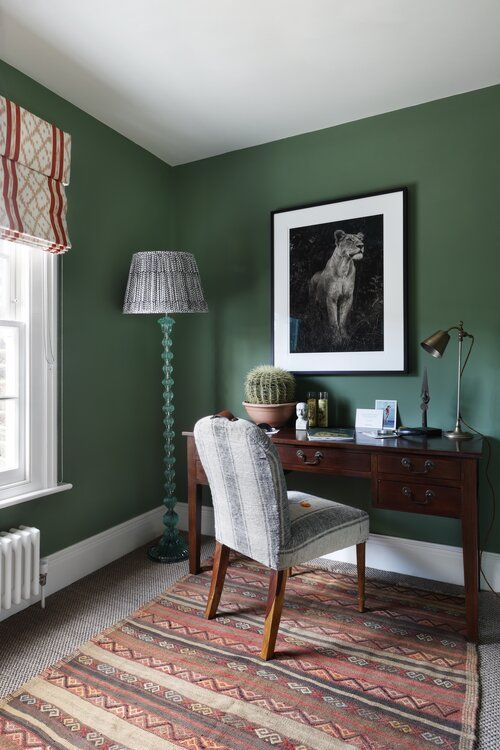 A box pelmet, is probably what you think of when you think of a pelmet. And despite their connotations with more traditional homes, the clean lines and simple design actually lend themselves to more minimalist, modern spaces too.
'There is something about a pelmet that really 'finishes off' a window dressing. I love interesting shapely designs but in this example, a contemporary box pelmet is an effective yet subtle way of creating a more polished, well-considered look. Pelmets also come in very handy when concealing electrical tracks for remote operated window treatments, or for emphasizing the height or width of windows,' says Tiffany Duggan, founder of Studio Duggan.
And what's to say a more traditional, fabric-covered pelmet can't work in a more modern space? So many interior design trends are based around this blending of old and new, ornate and minimalist. This home office brings together more traditional patterns and finishes with modern shapes.
7. 'Plaster in' your curtains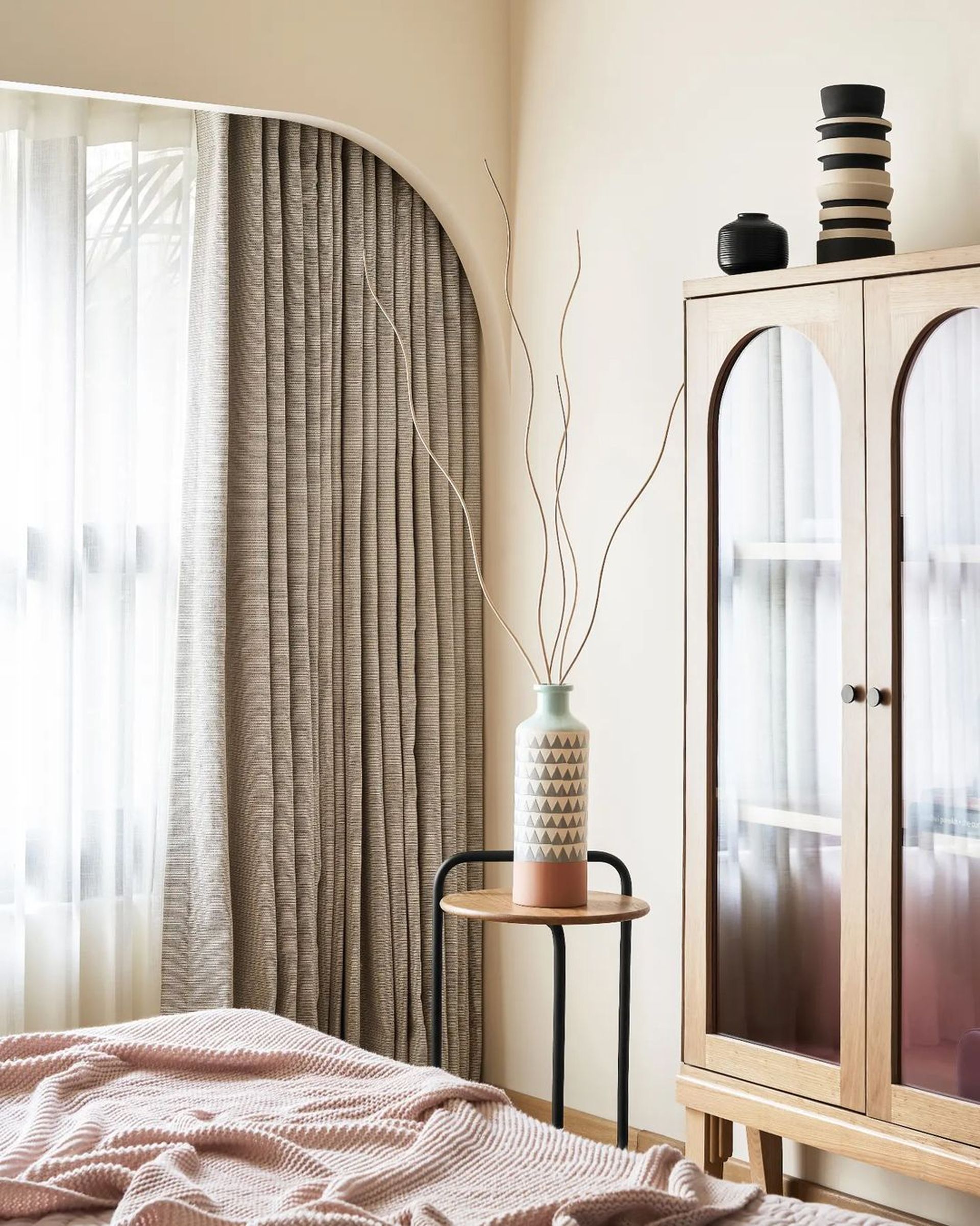 This has got to be the chicest way to do a pelmet. Forget fabric, forget using wood, a plastered pelmet is the way to do it. This wonderful design by Shiraz Jamali Architects not only does the job of framing the curtain, it adds an architectural feature, creates interesting shapes to the room and that arch just looks like it's just part of the design of the building.
8. Add a pop of color with a painted pelmet
We've so far seen a lot of blending in and matching, but the subtle approach isn't the only option if you want to make a pelmet feel more contemporary. Contrasting a pelmet to a curtain fabric can feel decidedly modern, especially if you go with a bolder shade and make the pelmet a real feature. And consider going playful with the shape too. A scalloped edge is something we often see to give a pelmet more drama, but you could go even more decorative as seen here. This ornate arched silhouette elevates the window, instantly giving it a more interesting shape.
The key to this look, and keeping it feeling fresh, is to not go too busy with the print of the curtains. Either go for a solid color or, like in this living room, something more graphic with just a couple of shades. And of course, make the look feel even more contemporary by upping the contrast elsewhere in the room – the pink sofa with the cobalt blue used in this space balances out some of the more traditional aspects of the room.
9. Create a neater finish with a box pelmet
'You can create a more modern look by using a box pelmet,' says designer Kate Guinness. 'Keep it slim and simple for a very paired back and contemporary look. You can still create a lot of interest with a box pelmet while keeping it contemporary by adding a contrast trim to the pelmet that matches the leading edge of the curtain. Or upholster it to match the wallpaper.'
This deliciously luxurious neutral bedroom designed by Bryan O'Sullivan keeps the pelmet really simple and subtle. It's taken right to the ceiling and does the job of elevating the windows and curtains. Again the pelmet is matched to both the wall colors and the color and fabric of the curtains, it almost goes noticed, which is perfect for this more minimalist space.
10. Keep it fuss-free with a solid fabric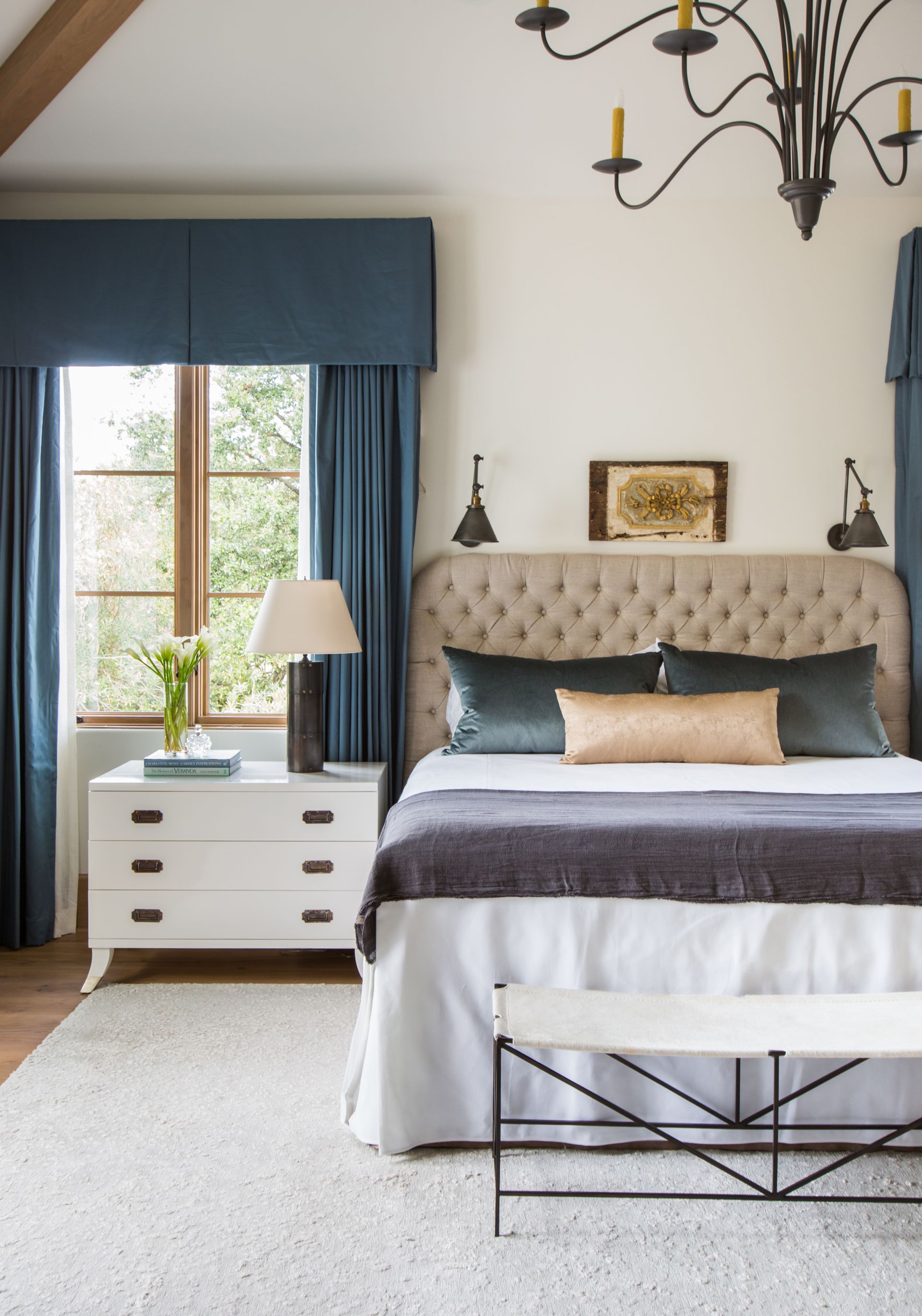 A simple way to ensure a pelmet has a more modern feel is to stick with solid colors. As designer Marie Flanigan advises, 'If you're looking to include a pelmet, but want a more modern take, avoid using patterned fabric. Keeping the fabric selection simple, leaves the entire window treatment elevated and sleek, instead of dated or heavy.'
'For this bedroom, the homeowners loved a slight nod to traditional style, but wanted the room to feel updated. We chose a beautiful window treatment with drapes and a pelmet because it gave the space a punch of color and sophisticated depth.'
'Pelmets are certainly experiencing a resurgence in design. I think people are beginning to gravitate toward this type of detail because it shows off gorgeous craftsmanship and luxe fabric. Plus, pelmets are a great way to infuse a bit more color and interest into a space,' adds Marie.
11. Lean into the traditional style (so much so it feels modern)
Sometimes the best approach is to lean into the traditional feel of a pelmet. Embrace the flounce and the fuss and go all out with patterns and fabrics. As designer Kate Guinness says, 'Similar to a frilly dress or oversized collars people are becoming more confident with more traditional interior styles and giving them a twist. Similar to the vanity/larder/bed skirt pelmets are being used more frequently.'
With this more traditional approach, keep the walls a solid color so the space doesn't get too kaleidoscope, but don't be afraid to bring in patterns elsewhere in the room. A traditional pelmet can feel decidedly modern if you can create that traditional maximalist, but still considered, look that you can see in this green bedroom.
'In this room, the fabric had a natural border within it which we used within the base of the pelmet. It is the primary spare bedroom and the pelmet helps to elevate the room,' explains designer Elizabeth Hay. 'Pelmets have always been a classic part of designing a room and a good way of adding another layer to a room which does seem to be quite popular. In a more modern space, cleaner and simpler pelmets with straighter lines work best.'
12. Add a scalloped edge to a pelmet
Not all of the best pelmet ideas are about blending them in, matching them to walls, making them as subtle as possible. Pelmets can look fabulous when contrasting with the curtain fabric, as seen in this playful space.
And let's talk about the scalloped edging. They've gone through a bit of a journey, scalloped designs, big in the 1920s, then brought back in groovy 90s girlish bedrooms, and now the scallop trim is back again in a more contemporary form. In this space, the scalloped edging adds a simple, statement roulette amongst all the softer, busier patterns and clashes the subtle stripes used elsewhere in the room. It's fun and playful, but feels fresh and modern too.
13. Make a statement with oversized pelmets
If your room, and the windows, can handle it turn pelmets into a real feature of the room by going for a larger box pelmet. Going larger with the design makes a pelmet less of a fussy unnecessary addition and actually adds some drama and elegance to the room. Case in point, this eclectic formal living room designed by Kit Kemp.
'This is a summery light room with big windows so they could take a good sized pelmet without taking too much light,' explains designer Kit Kemp. 'We used a straight Buckrum pelmet that holds its shape well. The fabric Is my Ashenwood for Chelsea Textiles. It has a straight border so matches the pelmet. We have used down the leading edge of the curtain fabric. A less expensive way to use a beautiful but expensive embroidered fabric.'
'Pelmets add strength and detail to a room. Just be careful they do not take too much light from the room. A more modern space needs a more geometric design or more straight lines to give a slightly more severe look. It finishes off a room giving fresh detail and adds to scale and balance,' adds Kit.

14. Soften the look with a valance pelmet
A valance-style pelmet creates a much softer, relaxed look than a classic box design – the perfect choice for a more laidback style space. The slubby linen fabric used here works perfectly with the beachy feel of the bedroom, and the pelmet still adds a touch of sophistication and works to make the window look larger.
'A valance is the perfect finishing touch for the top of window treatments, soft valances add a nice tailored detail,' explains designer Vani Sayeed. 'In this Tudor style home, the windows are flush to the wall without a casing around it so adding a valance frames the window while hiding the mechanics of the roman shade under it. The vertical stripes of the embroidered fabric bring your eye up giving an illusion of a taller ceiling and repeating the embroidery stripe horizontally across on the valances balances the pattern out.'
The Livingetc newsletter is your shortcut to the now and the next in home design. Subscribe today to receive a stunning free 200-page book of the best homes from around the world.
Hebe is the Digital Editor of Livingetc; she has a background in lifestyle and interior journalism and a passion for renovating small spaces. You'll usually find her attempting DIY, whether it's spray painting her whole kitchen, don't try that at home, or ever changing the wallpaper in her hallway. Livingetc has been such a huge inspiration and has influenced Hebe's style since she moved into her first rental and finally had a small amount of control over the decor and now loves being able to help others make decisions when decorating their own homes. Last year she moved from renting to owning her first teeny tiny Edwardian flat in London with her whippet Willow (who yes she chose to match her interiors...) and is already on the lookout for her next project.