10 maximalist bedrooms that are brave and interesting, but that you can still get a good night's sleep in
These maximalist bedrooms show how larger-than-life design can meet soulful comfort, without being too over-stimulating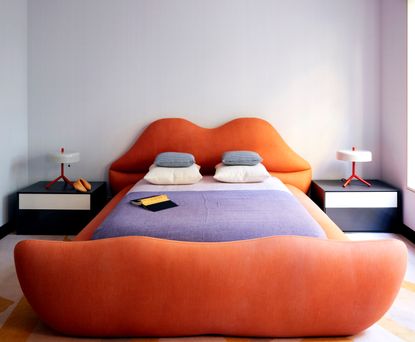 (Image credit: Kelly Wearstler)
Maximalism is for those who believe 'more is more and less is a bore', but is it a style of design that naturally fits a bedroom? Bedrooms are more regularly designed with briefs that include words like 'calm' and 'relaxing', after all.
This style of interior is the ultimate antidote to the minimalist design philosophy that dictates clean lines, simple furnishings, and a neutral color palette. Maximalism evokes drama, but as daring as it is, it's also a style that can feel warm and welcoming.
If you're looking to design a modern bedroom with statement pieces and surprising elements, but don't want a space that's too over-stimulating, we've found 10 of the best rooms that showcase how to balance maximalism with a calm feel. With bright colors, sculptural elements, custom designs, plush drapery, soothing textures, statement lighting, your maximalist tendencies won't go for wanting.
1. This bedroom with a unique headboard
Maximalist design is all about using tones and elements that are daring, and immediately stop you in the tracks. Often, maximalist bedrooms showcase the use of deep, metallic tones and lighting elements that are unique and inspirational. These rooms have an aspirational value to them, and are reminiscent of high-end hotels, resorts, or even art galleries. But at its core, a maximalist bedroom is also deeply cozy and comfortable. It's a room that promotes rest.
In this bedroom by Crosby Studios, the bedroom ceramic square tiles were designed in collaboration with Mumbai design studio Hatsu, covering the floors and walls. A standing headboard designed in gold lame contrasts the purple pillows and a set of circular side tables. The table lamp with a hand adds a layer of interest.
2. This jewel-toned bedroom
Deep colors such as purple, red, and grey have an inherent warm feel to them. These bedroom colors, when used liberally, can create a feeling of cocooning while giving the interior a grand, modern feel. If you want to add more drama, consider a color block with two deep tones, via paints and furnishings.
'This cocoon-like bedroom was designed with layered purple tones to achieve the goal of a bedroom that felt like a hug,' says Sarah Barnard, founder of Sarah Barnard Design. 'A combination of deep jewel tones adds richness and depth while creating an enveloping sensation perfect for rest and recovery.' Consider this deliciously deep purple paint color that can almost appear black in dark spaces. This hue pairs well with pink and white.
3. This bedroom with several accent walls
In this design scheme, the outrageous bed is undoubtedly the first thing you notice. 'For this room, we chose a vintage 1969 bed; interestingly, only 14 of them were produced by designer Frank Oelke,' says interior designer Tim Veresnovsky, founder of Veresnovsky Design Interior. 'I found it in a vintage store and the client's teenage daughter liked it. Plus it gave the room a dramatic flair.'
In the larger context, the true maximalism of the room hinges on its wall coverings and the soft, tactical palette. Wooden wall panels meet an abstract wallpaper and a muted bed along with a thick mattress ensures endless comfort. Plenty of sunlight keeps the indoors illuminated, always easy to work, play and relax in.
4. This bedroom with a creative lighting installation
For a beautiful bedroom lighting idea, instead of choosing a singular chandelier or pendant, this interior designer chose a cluster of lights that take over the ceiling in a maximalist way, and create a feeling of a glittering night sky. The design helps to illuminate the room evenly and give the room a warm glow at all times, while feeling very much 'extra'.
'The Baukunst Grid Light system was inspired by the modernist architecture movement and deconstructed grid experiments prevalent at that time,' says Arjun Rathi, founder of Arjun Rathi Design. 'The light is composed of a steel frame with brass junctions and hand-blown glass, which can be customized to various formats based on the space.'
5. This room with leopard print carpet
If your worried about a maximalist scheme being the last thing you see as you try to drop off to sleep, this design by Tim Veresnovsky keeps it out of sight and mind as soon as you're laying horizontal. A brilliantly bold leopard print carpet introduces a maximalist element which plays off of some statement, if a little more restrained, furnishings in this room.
Four poster and canopy beds feel inherently maximalist, too, so consider one as a way to add some more drama to your bedroom.
'What sets four poster or canopy beds apart from all others is that they offer an element of refined romance to a bedroom space,' says Nidhi Kapur, founder, and CEO of Maiden Home. 'A four-poster bed looks maximalist and creates a natural statement. Consider a mixed material model to add a modern yet organic feel.'
6. This space with an architectural wall
Above the bed decor ideas are a great choice for a maximalist bedroom, as you, again, won't see them while you're lying in bed, so can be as outrageous as your heart desires.
In this bedroom, this idea manifested in a custom wall made from pink tiles. 'While working on the lady's bedroom and bathroom areas, our artists were drowning in the pink glaze,' says Serhii Mahkno, founder of Mahkno. 'We used handmade pink tiles above the bed, along with the Kvitka lamp. We believe that the combination of the two designs brings happiness and harmony to the owners of the space.'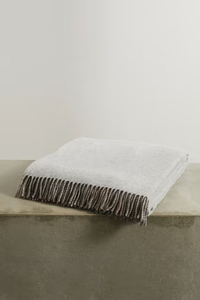 Cashmere blanket, Net-A-Porter
Want to add softness to your bed? Consider this blanket made of double-faced cashmere and finished with fringed ends for a touch of textural interest. It'll add a cozy layering to the bed.
7. A bedroom with an onyx fireplace
The mere presence of a fireplace in a room can add oodles of warmth to the space (in addition to actual warmth!). These have a historical grandeur to them and are representative of period properties and high-end resorts.
If you happen to have one or want to design one for your bedroom, give it a smart, modern look with stone fireplace tiles.
'The fireplace design was based on a reworking of period fireplaces that traditionally consisted of a marble mantle on top of a black steel hearth surround,' says Broderick Ely, design director, at B.E Architecture. 'Here the entire fireplace and mantle have been constructed out of steel plate that has been curved into interlocking shapes more akin to timber detailing than plate steel.'
'The traditional marble mantle has been extended up the wall above the fireplace with bookended onyx slabs,' says Broderick. 'The edges of the stone create a delicate junction detail on the corners. The fireplace sits comfortably in the period surroundings giving the impression that it might have been part of the building's original fabric.'
Because the onyx is green, it straddles both being a bold color to inject into this space, and a calming, serene piece of decor to look at before you go to sleep.
8. This bedroom with a carved bed
Bespoke is a new luxury, and while getting specially designed, made-to-measure pieces for your home, if you're up for an indulgent space, consider a large, sculptural piece that can become a conversation starter.
'This bed is bespoke,' says Utkan Gunerkan, founder of Studio Utkan Gunerkan. 'We used breezeway bricks and made a metal construction to hold the mattress. We did this by simply laying bricks, on top of each other and sanding them to make them smooth. We also carved them for a decorative touch. There's also a brass tubing layer on top which is made from salvaged materials that become a canopy for the bed.'
9. This bedroom with a resort-like vibe
A pretty bedroom that takes you back to your favorite vacation is usually made of natural materials, lighting elements and bedding you want to take back home with you, all with a vibe of understated luxury.
In this bedroom, Dorothee Meilichzon, founder of Studio Chzon has created a graphic yet warm design story. 'LRNCE has created some unique handwoven blankets, especially for the space,' says Dorothee. 'LEA MUNSCH has hand-sculpted some large lighting fixtures, made with clay. Wooden beams, roof tiles, and stones dot the area. The colored and shaped door, the round concrete bead-head, the terracotta floor, and furniture built by local artisans add to the room's charm.'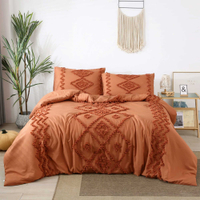 Boho jacquered bedding set, Walmart
Choose this comforter set which shows a lovely blend of bold and vibrant colors, and can transform a room from bleak to bright and cheery in a matter of minutes.
10. This room with hand-embroidered elements
'Enlisting the help of Alex Sherman, an upholsterer with a particular knack for applique leather, we set about with the exciting task of creating a bespoke headboard for the room,' says interior designer Kit Kemp of this colorful design. 'The statement headboard was made using leftover materials in a patchwork style.'
'We wanted to make sure the headboard was the shining star of the show, but this doesn't mean the rest of the scheme needs to be plain,' says Kit. 'The walls are adorned in a simple yet striking Designers Guild Essentials orange stripe, which complements the Nina Campbell 'Ashdown Stripe' curtains. To echo the strong color-blocking on the headboard, we upholstered the sofa in my 'Ikat Weave' design for Christopher Farr Cloth in the lime colorway.'
The Livingetc newsletter is your shortcut to the now and the next in home design. Subscribe today to receive a stunning free 200-page book of the best homes from around the world.
Aditi Sharma Maheshwari is an architecture and design journalist with over 10 years of experience. She's worked at some of the leading media houses in India such as Elle Decor, Houzz and Architectural Digest (Condé Nast). Till recently, she was a freelance writer for publications such as Architectural Digest US, House Beautiful, Stir World, Beautiful Homes India among others. In her spare time, she volunteers at animal shelters and other rescue organizations.