How to make your windows feel bigger – 6 tricks experts use to give the illusion of grander proportions
Thinking about how to transform your home's windows into more of a feature? We spoke to the experts to discover how it's done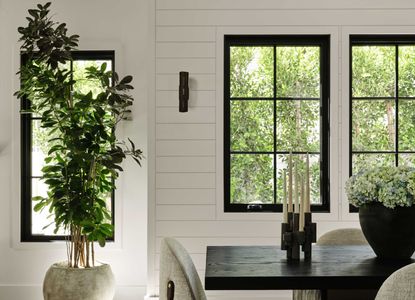 (Image credit: Jessica Nicastro Design)
The Livingetc Newsletter
For style leaders and design lovers.
Thank you for signing up to LivingEtc. You will receive a verification email shortly.
There was a problem. Please refresh the page and try again.
Natural light is a must-have element when it comes to enhancing mood and well-being in the home, so it makes good sense for windows to be as large as possible to maximize the amount of sunshine that streams in.
As well as the important role windows play in inviting brightness and fresh air into the home, they frame views of the outdoors and can function as a design focal point in themselves. So, how can you make your windows look bigger? And are there any design tricks you can use to transform your home's windows into more of a feature?
We asked the experts for their best tips for specifying windows, as well as modern window treatments, to make these features stand out in your home.
Rebecca is an experienced homes and property journalist, who has worked for numerous self build and interiors magazines. Here, she spoke to experts and designers to get advice on how to make our home's windows look bigger from the inside.
1. Tailor window frames and sightlines
If your aim is to brighten a dark room and you're having new windows installed as part of your renovation, spend time researching the various framing options. Materials such as steel and aluminium are inherently stronger than wood and plastic, which typically means that window frames can be thinner but still robust enough to support the glass.
If there's a supplier you're interested in, investigate their ranges to see which products come with slimmer frames that maximise the amount of light coming in. 'Talk to your window manufacturer about any options they might have to make the rails and stiles of a window thinner,' says Ashley Macuga from San Carlos-based Collected Interiors. 'Oftentimes there are adjustments they can make if you ask.'
2. Add seating
Arranging furniture and built-in joinery around your windows is another way to make them stand out. If you have a bay window or a projecting Oriel window, for instance, a built-in window seat is a smart way to make the most of the space – especially if you incorporate storage underneath by fitting hidden drawers or seats that lift.
'If you can flank the window with some tall bookshelves and add a sweet bench seat, it really does create the perfect place to stop and enjoy the view,' says Samantha Struck from Oregon-based StruckSured Interiors. A well-designed seat should be multi-functional. For instance, it might provide a workstation, a platform for kids to play and a spot to sit and enjoy a cup of coffee.
3. Bring the outdoors in
If you're aiming for seamless indoor-outdoor living, your chief design goal might be to blur the boundary between the house and backyard as much as possible. Incorporating a selection of plants and flowers around the window is a quick and easy way to achieve this effect – and it won't break the bank if you stick to something small and contained like a window box.
'We always try to introduce plants around a feature window, to add to the indoor/outdoor symbiosis,' says Timna Rose, founder and creative director at Studio Atara, a London-based design practice.
4. Paint window frames
Bring attention to your window by framing it in a standout color. 'Consider painting the sash in a darker color that can help focus the eye to its structure and the view beyond,' says Ashley Macuga from Collected Interiors. Depending on the rest of the room's color scheme, you might even opt for a bold, vibrant paint idea to infuse your interior scheme with extra personality.
If it's not possible to paint the window frames, other fixed elements such as radiators beneath windows can be used to achieve a similar effect.
5. Hang curtains higher
Positioning curtains as close as possible to the ceiling is a straightforward way to make your windows appear larger and establish a dramatic effect. Fitting floor-length drapes will also help to elongate the and lengthen the perceived height of the window.
'Extend the curtain rod eight to 12 inches beyond the width of the window on each side, too,' says Lauren Sullivan, founder and principal designer at Well by Design. 'Following this 'high and wide' theory will give the illusion of a larger window, and ultimately a larger space.' When taking this strategy, aim to fit curtains so they clear the glass when drawn back, but just about cover the window frame.
6. Layer colors and patterns
There's a raft of design tools you can use to draw the eye towards windows and make them appear larger – the key is to create a scene around the that adds drama and design interest. 'The more you dress up your windows the more attention they'll demand,' says Leslie Murchie Cascino Ann Arbor-based Bonnie Wu Design. 'Add color and pattern or try layering window treatments by installing both Roman shades and drapery panels.'
Emma Green, from London-based Emma Green Design, agrees that introducing strong curtain colors or unusual fabrics can make your windows more of a feature. 'I often line curtains in unexpected and complimentary colors so that when they're pulled back you get a little glimpse of color where they meet the floor.'
For style leaders and design lovers.
After starting my journalism career at a luxury property magazine in Bangkok, I re-located to London where I started out as a sub-editor and features writer. I later became the features editor of a popular self-build and renovation magazine, where I delved into the world of structural systems, eco tech and smart homes. I went freelance in 2017 to pursue my dream of becoming a yoga teacher, but I still write for numerous titles in the homes and interiors sector, including Grand Designs, Ideal Home, Livingetc, Homebuilding & Renovating and Build It. I write a range of articles, from design-focused features to real life case studies.