Retro 'chik blinds' are now a surprising trend again - both elegant and super affordable
Designers are bringing back bamboo chik blinds and it's a move we never saw coming. But they're versatile and affordable and surprisingly smart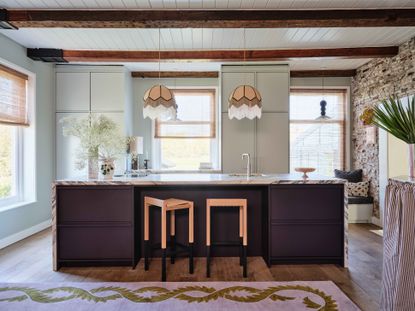 (Image credit: @spacecontentstudio)
The Livingetc Newsletter
For style leaders and design lovers.
Thank you for signing up to LivingEtc. You will receive a verification email shortly.
There was a problem. Please refresh the page and try again.
If you haven't started to see these blinds everywhere, we promise you will now. They grace the portfolios of nearly every interior designer, adding a subtle rustic touch to any style of space. And the best thing about this new trend (that's actually not new at all but has been around for centuries), it can be one of the most affordable window treatments available. We are talking about chik blinds.
Incredibly simple, but effortless chic, these natural blinds, usually made of bamboo, are the perfect window treatment for when you want a little something for privacy, and to keep temperatures cool, but still want plenty of light filtering through. They are ideal for creating a modern rustic feel to a room, but look equally at home in a contemporary space too. Their versatility is definitely a big part of their appeal in current curtain trends, they work in super laid baid, casual spaces, but do have an edge of sophistication that means they can be adapted for more formal spaces too.
We've pulled together some of our favorite looks using these super trendy yet classic blinds, and asked designers to weigh in on what they think of this affordable, adaptable window treatment.
What are chik blinds?
Even if you haven't heard of chik blinds, you definitely will have seen them before. They are usually made horizontally woven of bamboo, sometimes jute or rattan, and are a very fine, light blind that keeps direct sunlight out but still allows plenty of diffused light to filter through. They are a really traditional design, originating in India, to keep rooms cool, but still bright.
The reason so many designers are drawn to them today, and why they are such a huge interior design trend, is they are the solution to what so many of us want in a window treatment – they manage to both be subtle and minimalist but also add so much style and texture to a room. They also tap into that every-favorable rustic, laid-back trend that lends itself so well to so many styles. And that's another plus of chik blinds, and you'll see in these spaces, they really do work with any look, from super traditional to uber contemporary.
It's also worth noting these blinds can be a really affordable option. You can spend a small fortune on gorgeous, traditional handmade bamboo chik blinds – both old and new if you are after the real real thing. But you can pick up remodels (equally beautiful) for under $30. This Walmart chik blind does the job well.
And why are they a good choice?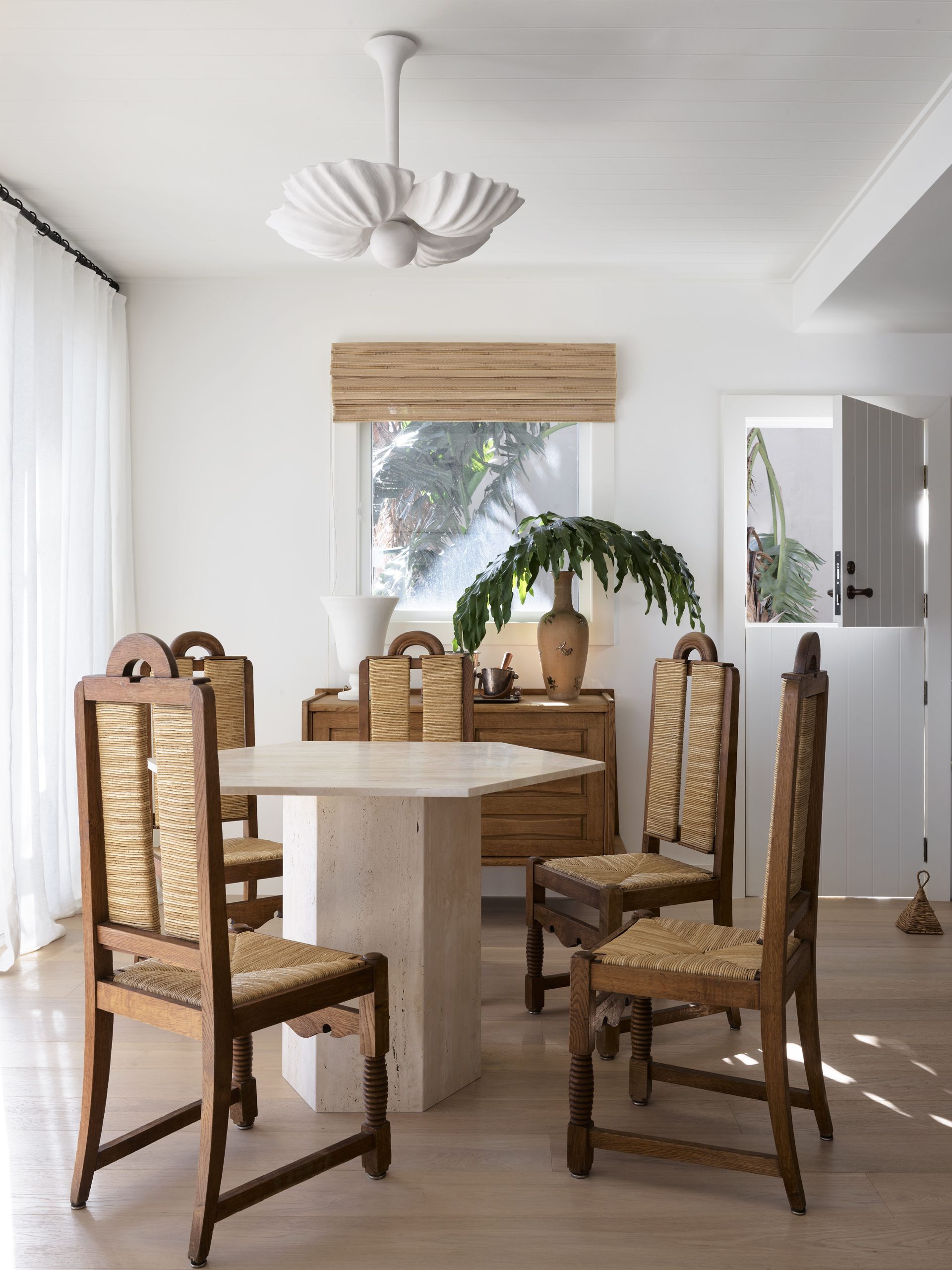 They let in the perfect amount of light, they look gorgeous and suit any style, they can be super affordable, and despite being on trend right now they are also a classic window treatment that's been around for centuries so you know they have longevity. What's not to love?
'They are ideal for adding texture to a room for one,' says Heide Hendricks, co-founder of Hendricks Churchill. 'It's the simplest way to elevate a space. They look great in every room – both rolled all the way up or all the way down. Whether a room is already rich in pattern and texture, or sparse and minimal, the natural bamboo material coupled with the handstitched cotton strings can dress up or dress down a space.'
'It's also a customizable window treatment idea at a fairly accessible cost and often readily available in several sizes, textures, and tones. The natural material is universal and can be applied in both traditional and more contemporary spaces – with or without curtains. They can also help scale down larger windows to create smaller, cozier, more intimate spaces. Or vice versa.'
'I think there is an organic layer these window treatments add to a space. I love their misshapen and uneven imperfections. There is a quality of light that these shades filter into a room that just feels inviting. Conversely, from the exterior, it's always comforting to see one of these shades drawn with the warm glow of a lamp peeking through. There is also a very practical element to them – they're easily installable and operable,' adds Heide.
We are obviously sold, so let's take a look at the ways some of our favorite designers have styled this versatile window treatment...
1. Add shade to a sunroom
Choosing a window treatment for a sunroom or a conservatory can be tricky. There are a lot of windows, so you need a lot of window treatments. You want to avoid anything that's going to add too much visual bulk, and sap light when not in use. Chik blinds are the perfect choice – they can roll totally out of the way when needed, so you barely notice they are there, but also look lovely when rolled down too and actually add something to the room rather than being purely practical.
'We are seeing bamboo blinds being used more often these days as they offer a ton of texture and a warm natural look to any space. Light diffuses nicely through them as well, whereas traditional roller blinds can look just that, too traditional. They look great in most rooms but especially in windows facing direct sunlight. Bedrooms, living and dining rooms, and kitchens are perfect places to incorporate bamboo blinds. They look great with curtains layered over the top as well,' explains Jen and Mar, founders of Interior Fox.
'This conservatory space was the perfect place for a dining and entertaining room as it featured so much natural light and views over the town. We chose to use oversized bamboo blinds as we had little depth from the wall (there is a bar that is built close to the window). The style was also perfect as it had this old-world relaxed style that was harmoniously paired with the interior design scheme.'
2. Juxtapose a dark color scheme with natural textures
'We love the natural quality of bamboo blinds and how they can add another dimension to the space very different from fabric blinds. They are also really beautifully made and bring in another material that in this space was the perfect juxtaposition to the bright blue walls and brass elements and tie in beautifully to the sisal/jute carpet,' says Brittany Hakimfar, lead designer at Far Studio.
Texture is key when you can for a deep and dramatic color scheme. You need all those layers of natural materials to ensure those dark colors still feel inviting, and it helps to soften the space. Hence why bamboo blinds were the perfect choice in this dark living room, and paired with the lampshade, carpet, and coffee table it makes this super trendy space still feel inviting.
3. Balance light and privacy in a bathroom
By their very nature, bathrooms are very practical spaces – lots of clean lines and hard surfaces. Of course, they need to be functional, but that doesn't leave much room for adding character and decor. And that's why window treatments can come into their own in bathrooms. You are relying on them to really add something to the room, a texture and a softness. Chik curtains are sleek and concise, what you want for a bathroom window treatment, but they also add a healthy dose of texture. Plus, they allow for privacy without totally blocking out the light.
'The chik blinds used in this bathroom draw upon the brass elements in the space – the faucet, towel "hooks" and hardware – help to warm the otherwise cool gray and white tones of the bathtub, floor, millwork, and textiles,' explains Heide. 'These shades are not the traditional choice for a bathroom; however, I love to use them when privacy is not required and to bring in a warm and organic layer.'
4. Layer up the textures in a neautral space
'For this summer home on Martha's Vineyard, we wanted the interiors to feel calm, warm, and layered with a mix of natural textures – leather, wool, whitewashed ash, indigo-dyed denim, rattan, and seagrass,' explains Keren Richter, co-founder of White Arrow. 'It lends a casual atmosphere and they add texture to the farmhouse windows. The blinds are usually open but when closed the light filters in an interesting way.'
If you love an all-neutral space like this one, texture is important. The color scheme is stripped back and simple, so it's the materials and the finishes that are going to need to do the work to add depth and interest. As we have said many a time now, bamboo blinds will do just that. They won't interrupt the color palette or the minimal feel, but they will add just a slight amount of contrast in color and finish.
5. Pick as a practical window treatment
This is the kitchen at our family home and in this instance, the chik blinds act practically on the northwest side of the home to bring in a muted light all day long, again without obscuring the view or diminishing light while working at the sink,' explains Heide. 'Aesthetically, the shades act as a nice contrast against the traditional Shaker cabinets, linear beadboard and historic color. They complement the warm tones of the brass hardware and work to mitigate the sterility of the white marble. Not to mention, the shades just felt right in the space.'
Kitchen blinds are a bit like bathroom blinds, they are an easy way to bring in some texture to a practical room. But they are also a practical choice, so long as they don't get constantly splashed with water, they are fuss-free and can be adjusted to allow in as much or as little direct light as desired.
6. Bring bamboo into the rest of the room
Make bamboo more of a feature in space by using it elsewhere in accessories and lighting. It's far lighter than adding wooden accents and adds a relaxed feel to any style or color scheme.
We love how the natural textures give this very contemporary, edgy dining nook a slightly more laid-back feel. The rich colors and tactile textures are contrasted by the lightness and relaxed nature of the bamboo lighting and chik blind. It's a blending of styles that very much works. 'This house is a very cool town villa and we only used the blind in the dining area. The other windows in the house are more dressed up. It makes the dining sofa a cozy corner and if you close it you can still look outside and still have privacy,' explains Nicole Dohmen, founder of Atelier ND Interior.
7. Blend chik blinds into the background
Sometimes you just want a window treatment that's going to do the job, but not draw any focus, and bamboo blinds can do just that. If you are designing a room that already has quite a lot of dominant features or a lot going on visually– be that colors or furnishings – chic blinds are a subtle option. You notice them, and they still add to the room, but they don't ask for any attention.
In this space, it's minimal, but that gorgeous, heavy traditional furniture is the stand-out feature. If there was anything heavier at the windows, the room would risk feeling too full and closed in. 'For this project, I kept the room fairly minimal in terms of design,' explains Heide. 'I utilized only a table runner as the dominant textile and aimed to keep the room traditional, balanced and rooted. The chik blinds bring the woven seat cushions outward to the perimeter of the room, and the light tones act as a device to break up the darker, rich wood tones found in the cupboard, antler chandelier, table, and floor.
'The shades nicely filter the light without obscuring the view through the large windows, and work to soften the rigidity of the geometric elements of the traditional millwork. The shades are the cohesive glue that unites the space,' she adds.
For style leaders and design lovers.
Hebe is the Digital Editor of Livingetc; she has a background in lifestyle and interior journalism and a passion for renovating small spaces. You'll usually find her attempting DIY, whether it's spray painting her whole kitchen, don't try that at home, or ever changing the wallpaper in her hallway. Livingetc has been such a huge inspiration and has influenced Hebe's style since she moved into her first rental and finally had a small amount of control over the decor and now loves being able to help others make decisions when decorating their own homes. Last year she moved from renting to owning her first teeny tiny Edwardian flat in London with her whippet Willow (who yes she chose to match her interiors...) and is already on the lookout for her next project.