These 8 designer-approved tricks will hide your curtain rod brackets – and help you create a more minimalist vibe
Disguise your curtain rod brackets and create a more streamlined look with these top tips from the designers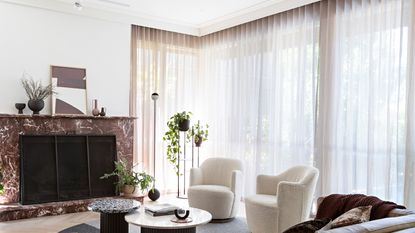 (Image credit: Michelle Williams. Design: Ansari Architects)
The Livingetc Newsletter
For style leaders and design lovers.
Thank you for signing up to LivingEtc. You will receive a verification email shortly.
There was a problem. Please refresh the page and try again.
Beautiful drapery has the power to transform every room in the home. Practically, too, the right curtain can block or complement natural light, help insulate, and impact a room's acoustics. 'Curtains are as important as any other piece of furniture,' says fabric designer Pierre Frey. 'They bring warmth, presence, and softness.'
But counteracting that softness is those big, bulky brackets that so often interrupt the eye and detract from the view. Rod brackets are often mounted into the wall, holding up the rods that support the curtain fabric. But with curtains bringing such a discreet and relaxing vibe to the room, sometimes, we might be tempted to hide these eyesores.
'Often when choosing curtains, all the effort and time goes into the selection of the fabric itself,' says Caroline Milns, head of multi-award-winning interior design consultancy, architectural practice, and design and build specialist, Zulufish. 'This is vital for the overall feel and ambiance of a space, but it's also worth considering how that curtain will be hung so that it is displayed at its very best.
You might want to disguise the brackets through clever design, or do away with them in their entirety for a seamless look. Read on for a guide to showing you how to hide curtain rod brackets for a more modern window treatment.
Oonagh is an interiors writer and editor, and expert at keeping up with trends. She's also a keen online shopper, with shopping baskets full of decor must-haves that reflect wider trends from the world of interior design. For this story, she's spoken to the designers to find out how exactly they hide curtain rod brackets, and how best to display drapery so it remains the star of the show.
1. Recess the curtain rod into the ceiling
'In our projects, we like to use coves to conceal the curtain tracks. This instantaneously brings a modernist elegant flow to the room,' says
Lea Pernet of Crina Arghirescu Architecture, the firm that designed this space.
The trick to hide the curtain rod brackets they employed is to use the architecture of the room to carefully hide your curtain rod in any groves or space between the window and the wall. Covering the track with the wall is a stylish way to hide the drapery hardware and create a minimalist look, which can work in both traditional and contemporary homes. It effortlessly makes your curtains look expensive, too.
2. Or use crown molding to disguise the hardware
'One option that truly celebrates the fabric, ensuring all focus is on the pattern or materiality, as well as elevating the architectural detail of the room, is to recede the curtain into the ceiling coffer and crown moldings,' says Caroline Milns, head of multi-award-winning interior design consultancy, architectural practice, and design and build specialist, Zulufish.
'This will ensure the first impression is a show-stopping moment with a seamless flow of fabric from ceiling to floor, which can also work as a trompe d'oeil, by drawing the eye and making the room feel elongated.'
'When selecting curtains for the hidden cornice, it is important take into account the dimensions of the niche,' says Alla Yaskovets of O&A London. 'The depth should be 2 1/2 - 3 inches and width can vary depending on windowsill size and radiator placement, ensuring that when opened or closed, curtains do not touch these fixtures.
'For heavier materials such as velvet drapery, we recommend metal rod brackets whereas wooden/plastic alternatives work best with lighter fabrics like tulle. Before deciding which type of window dressing you would prefer, it is worth considering whether your room has space for a hidden cornice.'
3. Pick your curtain header to tactically hide the brackets
One way to cleverly disguise your rod brackets is to carefully bunch fabric together, meaning the header of the curtain helps to hide the hardware.
The header is how the curtains look at the top, which will affect how they drop and sit when closed and drawn. Eyelet, tie-top and tab-top curtains have fabric going over the rod, and when you carefully space your curtains out, you can hide the brackets.
For a full effect, remember that there's about three times as much material in a pleated curtain, and the more material, the more chance you have of deftly disguising the rod brackets.
4. Go for understated hardware
Ultimately, the hardware for your curtains depends on the material you want to hang. If you want a thick and long curtain, you are going to need the hardware to hold it, and this means you have more chance at a chunkier and bolder bracket, and more likelihood of it being on show.
If you are desperate to have your brackets disguised, it'll need to be reflected in the curtain material you're choosing. If you choose a lightweight curtain, like light cotton or sheer and it can be easily supported by a delicate rod and bracket. Think simple, fine-lined rods resting on simple and small brackets screwed to the window frame, and you'll achieve that minimalist living room or bedroom look you're after.
5. Paint the curtain rod bracket the same color as the wall
Another clever trick to disguise your hardware is to paint your brackets the same color as the wall. Going monochromatic with paint helps them blur into the background.
Wood is an easier material to paint, and metal is a little more difficult and may require a coat of primer and a coat or two of spray paint. It can have a big impact on a small budget. Make sure to paint a good few coats so that when you move the drapery back-and-forth it doesn't wear away over time.
If your curtain fabric is a different color to your wall, it's even more likely to fade into the background.
6. Get rid of the brackets altogether and opt for tension rods
The typical way to hang curtain rods is by drilling and screwing brackets onto the wall, but it's not the only way, and one way to hide your brackets is to get rid of them in their entirety.
'A tension rod fits snugly inside the window frame,' says Tecla Tangora, co-founder and principal designer at Labscape Architecture and Design. 'This will give the appearance of a floating curtain rod.' A great option for renters, it's a way to hang curtains without drilling as the tension rod can fit snugly inside the window frame, giving the appearance of a floating curtain rod.
The way they work is that the rod fits into a space between two walls. Often used for window treatments, it can also be used anywhere else in the home where there is a frame - the doorway for example. Poles extend using a spring from the inside and can be loosened and tightened again to any length you choose.
When you're choosing the rod, make sure that the curtain you have has a pocket that the tension rod can slide through. One secure in the frame, the rod should be wedged in place and so snug that it doesn't move.
Make sure you replace them whenever you notice the spring giving out - tension rods can weaken over time.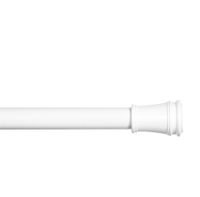 Twist and fit tension rod, Walmart
This simple twist and fit 28- 48" mechanism means you don't need any tools to install a curtain - perfect for renters or commitment-phobes. It's an absolute bargain too at just $7.67.
7. Go for near-invisible curtain brackets with curtain tracks
Curtain tracks can be mounted directly into the ceiling or wall at regular intervals and are best if you have limited space above the window.This means no sagging of heavy curtains and no brackets.
Curtain tracks are a great option for how to hang curtains when you want to detract away from the rail. They are made from plastic or metal and the fabric is attached to the track with hooks.
The track is mounted onto the wall or ceiling with very small brackets. Make sure you get them in the same color as the wall. When the curtains are closed the tracks are hidden by the curtain header and the track brackets are impossible to see.
8. Install a curtain pelmet
Think about other ways you can cover your rail. A pelmet is a box-like cover that hangs above the frame. Meanwhile, one curtain mistake would be to go for a valance - often a frilly piece of fabric that hangs over the top of the curtain rod. Both work to cover the rod and its accompanying hardware, but valances are a little out of style. Meanwhile, a homemade pelmet is easy to install with a bit of DIY, and can look sleek and stylish when painted the same color as the ceiling for a neat look.
'However, pelmets are back!' says interior design consultant, Chloe Vince from House of Hackney. And they have an aesthetic element to them. 'Pelmets are particularly great for new build properties as they create a feature of the window and add depth to the space and are a great opportunity to combine prints.'
Should I just embrace my curtain rod instead?
If all the above options aren't doable for you, perhaps your best bet is to accept that you can't hide your curtain hardware. Instead, embrace it, go big and bold, pick out a beautiful material and decorative end pieces - or finials to match.
Take inspiration from the rest of your room. If you've gone for a lot of brass in the space, then pick hardware to match and go for decorative brass brackets that can hold their own charm and bring a glimmer of metallic to the space.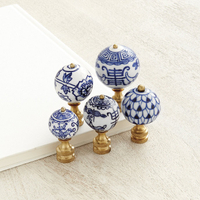 Go big and bold with these decorative finials with an Oriental motif, each handmade from porcelain.
For style leaders and design lovers.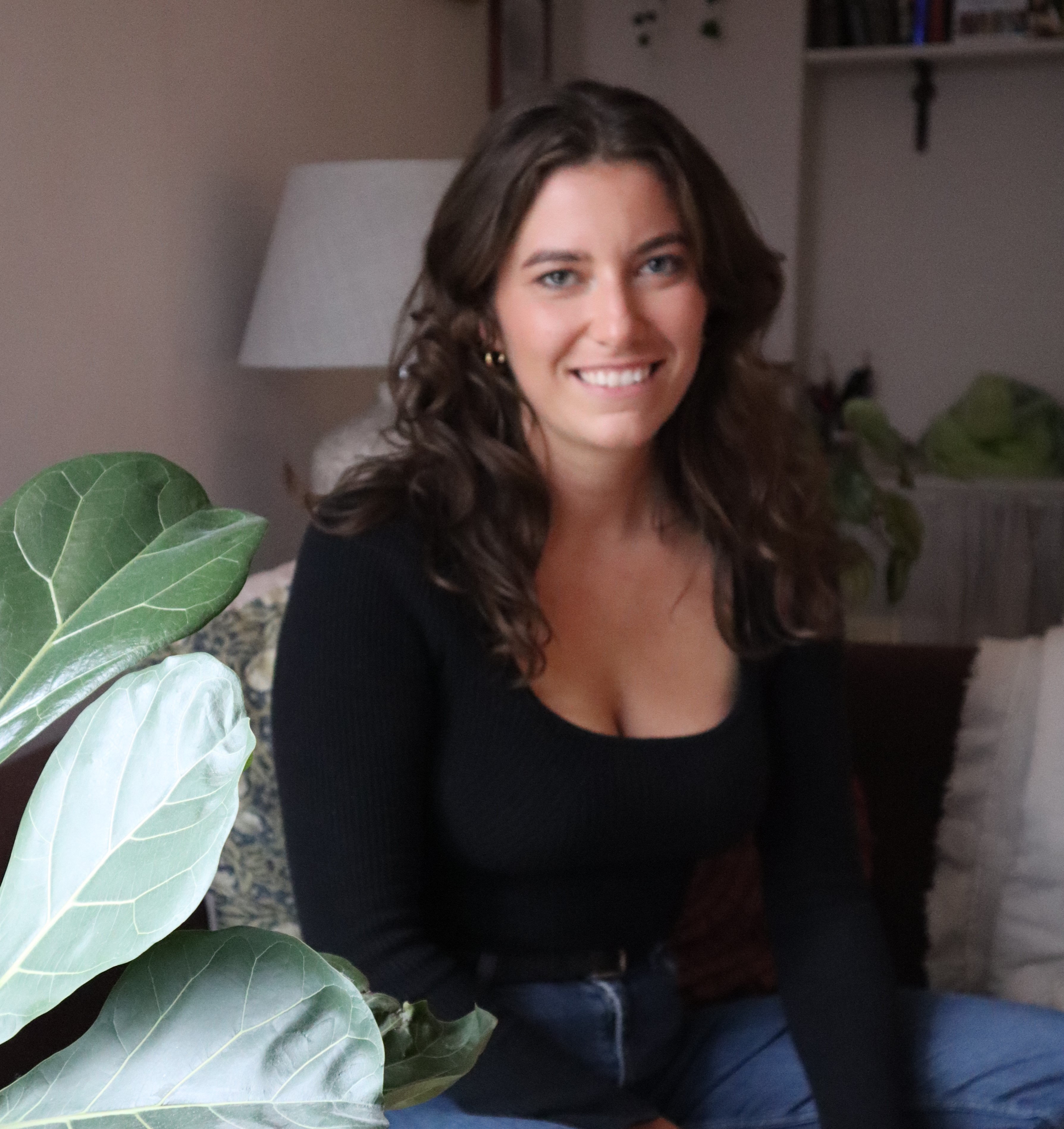 Livingetc content editor and design expert
Oonagh is a content editor at Livingetc.com. Previously, she worked on a London property title, producing long-read interiors features, style pages and conducting interviews with a range of famous faces from the UK interiors scene, from Kit Kemp to Robert Kime. In doing so, she has developed a keen interest in London's historical architecture and the city's distinct tastemakers paving the way in the world of interiors.