How to hang curtains without drilling - easy renter-friendly ideas that won't damage your walls
No power tools required with these clever ideas for how to hang curtains without drilling, as shared by the experts in design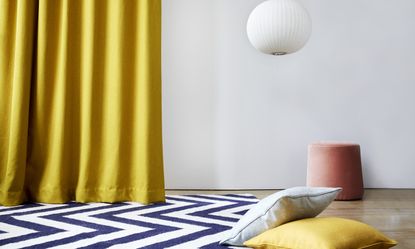 (Image credit: Stitched)
The Livingetc Newsletter
For style leaders and design lovers.
Thank you for signing up to LivingEtc. You will receive a verification email shortly.
There was a problem. Please refresh the page and try again.
Do you fancy floaty sheers, cafe curtains or room darkening drapes but you're renting your home and don't want to damage the walls? Or perhaps you don't feel confident wielding power tools up a ladder? Thankfully, there are numerous ways to hang curtains without drilling.
Whether you're renting or just after a simple or temporary window treatment, canny home hackers, stylists and designers are all over this decorating dilemma.
Some of the options available are more attractive and longer lasting than others. Whatever your curtain ideas, we've highlighted our favorite ways to hang curtains without drilling, with these easy to install options.
How to hang curtains without drilling
'I've opted for zero-drill curtains in all of my rentals—it's a great way to add some style to your windows without the worry of losing your security deposit,' says Heather Goerzen, design expert at Havenly. 'Let's face it, curtains can be expensive, especially when your windows require custom-sized treatments.
'Luckily, there's always a temporary solution to drilling, whether it be tension rods, magnetics, or adhesive tapes. Honestly, all those options are easier than getting out my drill! It's the easiest and most inexpensive way to punch up your windows without damaging your walls.'
1. Fit a tension rod
Often used to hang shower curtains, tension rods can be used as a window treatment too. The rods have built-in springs so they can be fitted within a window frame or two walls. Tension rods are available in lengths of up to eight feet, so can be suitable for windows in small rooms.
When it comes to how to hang curtains, measure the space and choose a rod with a minimum length that's less than the space and a maximum length that's longer. The rod will be compressed, so once it's in place you can let it expand to fit.
Most tension rods can take the weight of heavy curtains but check the capacity is sufficient to take the weight of your curtains before installing. Attaching your drapes with curtain rings will make them easier to slide along the rod, so you're less likely to dislodge it.
'A simple tension rod is also a great placeholder for when you're ready to break out the drill and invest in the curtains you really want down the road,' says Heather Goertzen at Havenly.
As well as window treatments, tension rods are great for hanging curtains in other spots too. Interior stylist, Lucy @at_lucys_house revamped her utility room and added a stylish skirt hung from a tension rod to disguise her washing machine. They're ideal for hanging French style cafe curtains too. Simply thread the rod through your curtains and fix it in place.
'The curtain to hide the washing machine was super easy,' says Lucy. 'All you need is a tension rod which twists to expand (I got a white one on Amazon for about $10 for two) and a ready-made curtain with a loop at the top- to conceal the rod. I cut the curtain to length and used hemming web to iron the hem at the bottom. It took 5 minutes and has made a such a difference.'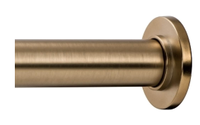 Brass tension rod, $24, Amazon
The beauty of this tension rod is that it looks like a well considered part of your decor - it's sturdy and design-forward enough to seem like a choice rather than a solution to the problem. The brass finish looks more expensive than it is.
2. Fix adhesive ceiling tracks
Home hacker Steph @ohsorented is a big fan of adhesive ceiling tracks, also available from Amazon. These barely there thin white strips slot together to create up to three meters of curtain track and stick easily to the ceiling.
Slide curtain pleat hooks onto the strips and mark where they need to go in pencil, before simply peeling off the backing paper and attaching the tracks to a clean ceiling.
Admittedly, the tracks are best suited to voiles, sheers and light-weight curtains, but this is a genius solution if you want to create privacy at a large window without drilling holes into the walls or ceiling.
Steph hung four floaty curtain panels from H&M on her ceiling track and says 'I've had no issues since putting them up, but I'm not sure if they would hold heavy curtains.'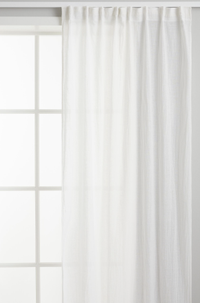 Set of two linen curtains, H&M
The clothes giant does a fantastic line in affordable curtains that feel soft, floaty and elegant. It sells several shades, from this bright white to earthier neutrals and greys.
3. Tap in 'no drill' curtain rod brackets
'Depending on your window, some may look better with curtains hung on the inside of the frame, while others look better on the outside,' says Heather at Havenly. 'I recommend using a tension rod when you're hanging curtains within a window frame. Tap in brackets are best for hanging curtains outside of a window frame.'
No-drill Kwik-hang curtain rod brackets (available on Amazon) are most suited to window and door frames with a 1/2 inch architrave or frame that they can be attached to. Made with a couple of tacks included as part of the metal fixture, these nifty brackets can be tapped into each end of a flat edged timber frame with a hammer.
Check the weight capacity but most brackets can hold up to 20lb, which should be enough to hold of a pair of curtains and a rod. For wider windows, you may need extra brackets for support in the centre. Once secured, the brackets are ready for a curtain pole to be placed onto them.
As well as suitable for window frames, these brackets are great if you're looking for ways to keep your home warm, as they're easily tacked into a door frame. Then all you need is an inexpensive rod and curtain to keep out draughts.
Be aware that the brackets would leave tiny holes if you needed to remove them, but these could be easily filled and would be far less noticeable than filling drill holes in a wall.
4. Attach self-adhesive door hooks
Self-adhesive Command hooks are an extremely simple solution to hang curtains without drilling. These are best for decorative curtains that you want to leave closed, such as light-weight fabric used as a wall panel or a voile at a large window.
We don't think these would stand up to scrutiny for curtains that you're going to want to open every day. The constant movement could dislodge them and they only suit thin rods, but they're a handy way to hang sheers at a window for privacy.
For a smarter look, avoid white plastic versions and opt for Command's metallic style adhesive door hooks. As always, check the hooks can take the width of the rod and the weight of the fabric you intend to use. You don't want to startle the neighbours.
Before fixing them in place, wipe the area where the hook is to go with alcohol to clean it and mark the spot. Then simply peel the backing paper off the adhesive strips on the hooks and stick them either side of where you want to place your curtain rod and voila!
'Adhesive hooks are definitely best for lightweight curtains,' says Heather at Havenly. 'If you're hanging something heavier like blackout curtains, go with a sturdier bracket, like Kwik-Hang. Of course, every window is different, so always make sure to measure the length and width before you add to cart. One size doesn't fit all.'
5. Use magnetic rods on metal frames
With metal frames, such as Crittal-style windows or steel around glass doors frames, it's possible to use magnetic rods. The rod is moulded to a heavy duty magnetic bracket at either end, so it can be easily attached to a metal surface.
Again, these are a great solution for sheer curtain panels used for privacy, rather than heavier drapes that will need to be opened and closed frequently. (The rod could be dislodged if the curtain was yanked a little too hard). However, the magnetic rods are available in a range of colours and are a simple way to hang curtains without drilling on metal frames.
For style leaders and design lovers.
Jacky Parker is a London-based freelance journalist and content creator, specialising in interiors, travel and food. From buying guides and real home case studies to shopping and news pages, she produces a wide range of features for national magazines and SEO content for websites
A long-time contributor to Livingetc, as a member of the team, she regularly reports on the latest trends, speaking to experts and discovering the latest tips. Jacky has also written for other publications such as Homes and Gardens, Ideal Home, Red, Grand Designs, Sunday Times Style and AD, Country Homes and Interiors and ELLE Decoration.