This is how designers maximize kitchen wall storage so you never have to deal with overflowing cabinets
Maximize kitchen wall storage by utilizing the walls (and ceiling) to the fullest – top designers explain how they do it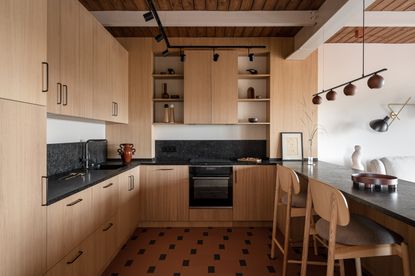 (Image credit: Yana Molodykh)
When it comes to kitchen storage, there's no such thing as enough. That's why kitchen designers are embracing schemes that maximize the amount of storage that cabinets can offer. By implementing effective kitchen wall storage solutions, you can make the most of the vertical and horizontal surfaces in this room, and make every inch count.
If storage is a concern during your kitchen remodel, then what should you be looking out for? We asked designers for their best kitchen storage tips that make the best use of your walls.
Aditi is an experienced homes writer and editor. She has written hundreds of articles for various international titles helping readers make the best home design choices, and spends her days interviewing interiors industry experts to bring the latest ideas to her readers. For this piece she spoke to the world's best designers to learn ways to maximise kitchen wall space for storage.
How to expand kitchen wall storage
You will feel you've doubled your kitchen's square footage with tall ceiling cabinets, kitchen shelf ideas, hooks, pegs, and more. By adding these in, you will be able to streamline everything you own, in a neat and orderly manner.
'Before planning on adding additional storage, carefully assess which items you would like to have available to you at your fingertips, such as kitchen towels, small bowls, and measuring cups,' says interior designer Julia Mack. 'Next measure the width and height of the walls where you would like to add storage, then stop by your local kitchen supply store and check out the multitude of narrow wall-mounted shelves, towel rods, hooks, and hanging baskets you can bring home.
'Keep in mind that you will be seeing your selections daily so be certain that your displayed items are both visually pleasing and make cooking and cleanup easier for everybody in your kitchen,' says Julia.
1. Take the cabinets all the way up to the ceiling
Make the most of the entire vertical surface of your kitchens for storage by going custom with kitchen cabinets that go all the way up to the ceiling. Store the frequently used items on the lower shelves and the most rarely used items (perhaps expensive crockery, high-end tableware, and more) on the top shelves.
'I always recommend above head pulls out drawers or trays with deep storage, set along the entire length of a wall,' says Jennifer Morris, founder of JMorris Design.
2. And across the adjacent wall
If you have an open kitchen, consider extending its storage capacity beyond its two walls. Use the wall opposite or adjacent to the kitchen, and fit smart cabinets across the entire breadth of the space. Choose a seamless color scheme for the storage that matches the kitchen and the rest of the house.
This is also a good opportunity to hide a spacious kitchen pantry within the closed cupboards. The easy access to all essentials will make working here a breeze.
A great tip, in case you aren't extending the cabinets up to the ceiling, would be to use the tops of your cabinets for storage. Place baskets or acrylic boxes atop to keep special-occasion serving platters. If you're worried about how it will all look, choose pretty storage containers that add a whimsical touch to the room.
3. Add floating shelves
'If your kitchen cabinets and drawers are filled to the brink, consider adding additional storage to your walls with floating kitchen shelves, above the stove or the sink,' says Julia. 'Remember to install the shelves 18 to 24 inches above the counter or sink so that it doesn't come in the way when you're working.'
These are great for keeping spices, jars, mugs, and small glasses, or for storing coffee, tea, or even displaying flowers. Since this is the most visible storage, remember to purchase interesting-looking bottles, ones in vivid colors or styles, to maintain the clean and smart aesthetic of your kitchen.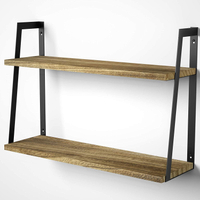 Add these sleek, clean, and smart wooden shelves to your kitchen walls, and keep spices, jars, and more at arm's reach. The entire shelf can hold a maximum weight of up to 40 pounds.
4. Install a rail to hang pots and pans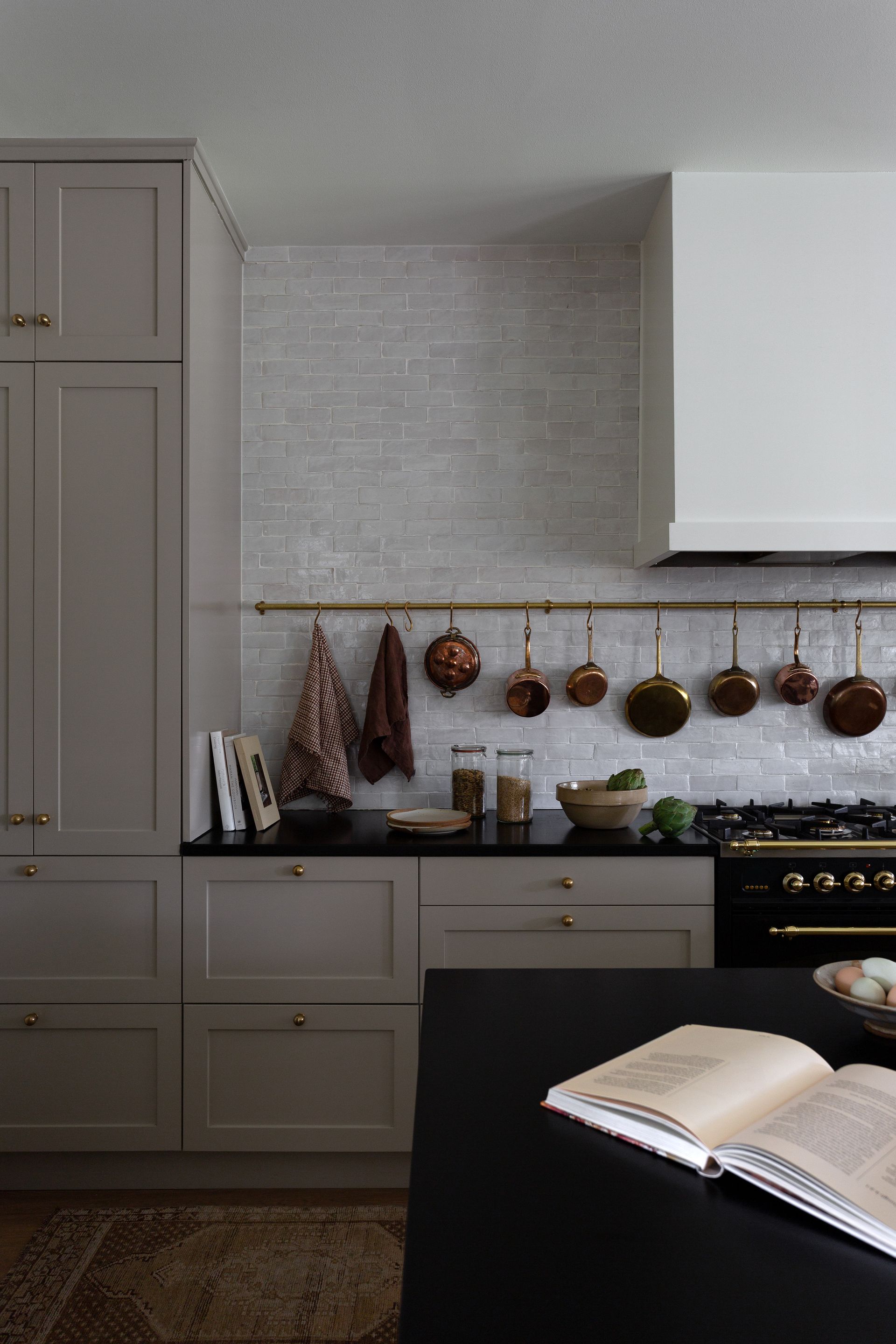 Pots and pans take up more space than you'd like, and can easily and quickly saturate the storage of your kitchen cabinets. So a great idea for pan storage is by hanging them on empty walls. It is easy to purchase rails from a hardware store or online.
Alternatively, galvanized pipes or even towel bars can be used in the kitchen to hang pots, as long as they are anchored well. Another great thing to hang on walls is knives. These can be stored in different locations in the kitchen if the space is large enough.
While the large and sharp butcher's knives can go inside drawers (away from harm's reach), the ones used for salads, vegetables, and even butter knives can be hung on the walls, with hooks, or on a pegboard.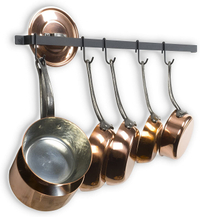 This kitchen organization and storage unit can be mounted on the backsplash, behind doors, or on any wall in this space. Use it to hang pots, pans, aprons, mugs, to even kitchen towels.
5. Make the most of door space
To upgrade storage on pantry cabinets on your kitchen walls, you can install a few shallow racks on the pantry or cabinet door for single-file lines of sauces, spices, and dry goods. You could also consider adding a rollout vertical storage inside your cabinet to store spoons, spatulas, and oven mitts. Pullout drawers are also great for trash and recycling bins.
'Utilizing cabinet corners is very important, so consider components like the pull-out corner racks that create a huge amount of storage and use the space effectively,' says Kashi Shikunova, director at Yam Studios. 'A pull-out larder is very good for utilizing height.'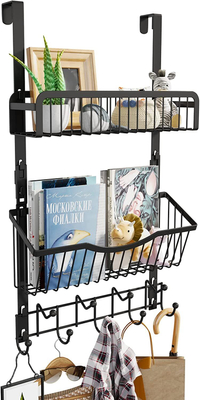 Over-the-door organizer, Amazon
Use this door-hanging storage unit to store small bottles and other kitchen knick-knacks. These can be inserted inside pantry doors or cabinets.
6. Use a wine rack as a cabinet infill
If you've got a selection of wines, display them proudly inside a built-in wine rack. Converting a cabinet to wine storage with an interesting design or glass paneled door can be a huge visual bonus, adding to your kitchen wall decor ideas.
Staggering the bottles horizontally to vertically also helps draw attention to them. In this project, interestingly, the middle section is used as a small home bar space, where glasses, a decanter, and a drinks accessories.
7. Suspend storage above the island
If you've already maxed out the wall space in your kitchen, look to the space above the kitchen island, and opt for a single hanging shelf or two for extra storage. These can be open or closed shelves and can be used to keep things you want to display, say books, glasses, and jars, to things you want to hide like utensils and napkins.
If you're remodeling the kitchen, you could consider building these racks above the island, but if not, then you can even find removable racks that can be easily hung and require little to no overhauling.
You could also use the ceiling as an opportunity to bring in hidden storage. 'In small kitchens especially, efficient storage is critical,' says Rachael Stollar, Partner, Studio SFW. 'Hidden storage is always great. In one of our projects, we hid a shelf across a beam where extra pantry items can be stashed out of sight.'
What should I hang on my kitchen backsplash?
The kitchen backsplash is a great open, and empty surface area to include several storage ideas. You could install racks to dry dishes, keep chopping boards, and even small cutlery here. Long, floating shelves that scale the entire breadth of the backsplash and the wall could be used for storing smaller kitchen essentials as well.
Hanging a pegboard or a rail can create space for knives, spoons, forks pots, and pans. You could even mount wine racks to keep some of your best spirits on display.
The Livingetc newsletter is your shortcut to the now and the next in home design. Subscribe today to receive a stunning free 200-page book of the best homes from around the world.
Aditi Sharma Maheshwari is an architecture and design journalist with over 10 years of experience. She's worked at some of the leading media houses in India such as Elle Decor, Houzz and Architectural Digest (Condé Nast). Till recently, she was a freelance writer for publications such as Architectural Digest US, House Beautiful, Stir World, Beautiful Homes India among others. In her spare time, she volunteers at animal shelters and other rescue organizations.