How to use your kitchen's dead space in ways that improves your overall decor
Designers explain how to get the most from your kitchen by turning the parts that you've forgotten to love into stylish and functional areas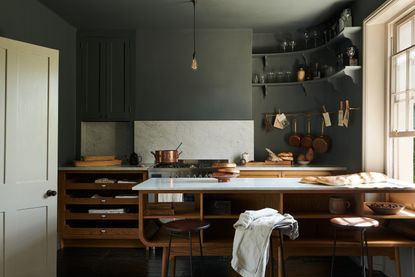 (Image credit: deVOL Kitchens)
The Livingetc Newsletter
For style leaders and design lovers.
Thank you for signing up to LivingEtc. You will receive a verification email shortly.
There was a problem. Please refresh the page and try again.
Thinking about how to make the most of dead space in your kitchen will require a perfect balance between style and substance. Nothing should feel crammed in just for the sake of it but, particularly if you're working with small kitchen storage ideas, optimizing space is always a good idea.
'Not all dead space is bad space,' says Victoria Holly, Principal and Founder of Victoria Holly Interiors. 'Sometimes dead space in a kitchen provides a break in an otherwise overwhelming amount of cabinets.
'For example, instead of going for traditional cabinets above and next to a sink or cooktop, opt for a wall of tile or marble backsplash with a floating marble shelf above to stack pretty plates and spices, etc. It's a little bit of a design flex: It's saying, 'This is how organized I am, I have some of my cookware and serving ware exposed'.'
She adds: 'That being said, some kitchens are smaller or some cooks need to make use of every area in a kitchen, and that's when dead space should be avoided.'
How to make the most of dead space in your kitchen
From creating an appliance garage to hanging a cool utensils rail, these expert tips will ensure you know how to make the most of dead space in your kitchen for optimized kitchen storage and usability solutions.
1. Take cabinets to the ceiling
'First and foremost, it's always important - with a few rare exceptions - that kitchen cabinets go all the way to the ceiling,' says Victoria Holly, Principal and Founder of Victoria Holly Interiors. If you have very high ceilings, then break your cabinets into two rows: a shorter cabinet row at the top and a taller cabinet row - your main cabinets - at the bottom.
'Otherwise, if you don't take the cabinets to the ceiling, you're shorting yourself storage, making your kitchen feel smaller, and collecting dust above the cabinets.'
2. Create an appliance garage
If you're looking to declutter your kitchen countertop, and create more usable space, an appliance garage is a brilliant modern small kitchen idea.
Appliance garages can take on many forms, some with bifold doors, some sliding or pocket doors, but they all have one thing in common: they work to hide regular-use appliances - like blenders, toasters and kettles - for a clean-lined, clutter-free kitchen countertop. And they're a clever way to use 'dead space' to boot.
'An appliance garage is a great way to fill a dead space within your kitchen,' confirms Kristen Pena of K Interiors.
'It is the best marriage of form and function. Hiding those everyday appliances behind a door but allowing for ease of access and usage.'
3. Fashion a utility alcove
That alcove above the corner cabinet? It's perfect for becoming a super handy mini utility space.
Any small alcove can be turned into a pretty utility spot that houses brushes, soaps, towels and creams, or even decanted dried foods, like pasta and rice.
'Laundry and utility rooms are becoming much more normal in people's homes these days,' says Helen Parker, Creative Director of deVOL Kitchens.
'It may not be a separate room, but it may be a small corridor or a designated area of a kitchen that has been allocated for this new little work area (maybe near the back door or in a slight alcove).'
4. Add pull-out shelves to corner cabinets
'Another area where you can avoid dead space is corner cabinets,' says Victoria Holly.
'Not all dead cabinets have to lose a 24" x 24" storage area. You can make use of this space with pull-out shelves or lazy Susans.'
Learning how to organize kitchen cabinets can really boost your kitchen storage.
Artem Kropovinsky, Principal, Arsight, says: 'Every kitchen has those underutilized spaces, and they can be the perfect spot for storing pots, pans or dishes.
'Use the space above your fridge, beneath a window, or install a custom corner cabinet - these unorthodox spots can become valuable assets with the right planning.' This pull out shelf system is really affordable and makes all the difference.
5. Put up open shelving
Open shelving in the kitchen offers the perfect blend of pretty and practical. It's a great way of using spare wall space and can be used to store bowls, plates, glassware, dried foods, and chopping boards, as well as showcasing attractive pieces like vases, ceramics, art and vignettes.
'I love a shelf above a sink or a cooker, or a corner bookshelf high up full of cooking books,' says Helen Parker, Creative Director of deVOL Kitchens.
Helen continues: 'I also really love a huge floor to ceiling, slim open set of fitted shelves or racks full of patterned plates, a very Scandinavian look. I like slim shelves unless they are in an alcove and then they should be the depth of the alcove, even if it's deep, it just feels more authentic and original.'
Optimize every inch of space by filling a potentially wasted corner with open shelves, as seen in the kitchen by Melinda Kelson O'Connor Architecture and Interiors below.
6. Hang a utensils rail
Fed up of disorganized, overstuffed drawers? Use dead wall space by installing a rail to hang your (very chic, obviously) regularly used kitchen utensils on.
Not only does it make life easy have everything at hand, it's also a cool design feature that allows you to showcase aesthetically pleasing pieces for an authentic yet luxe lived-in vibe. This utensils rail is affordable and comes in a perfect brass finish.
And you can put your rail wherever suits your kitchen... beamed ceilings? The perfect spot for your hanging rail.
7. Utilize the seating side of the kitchen island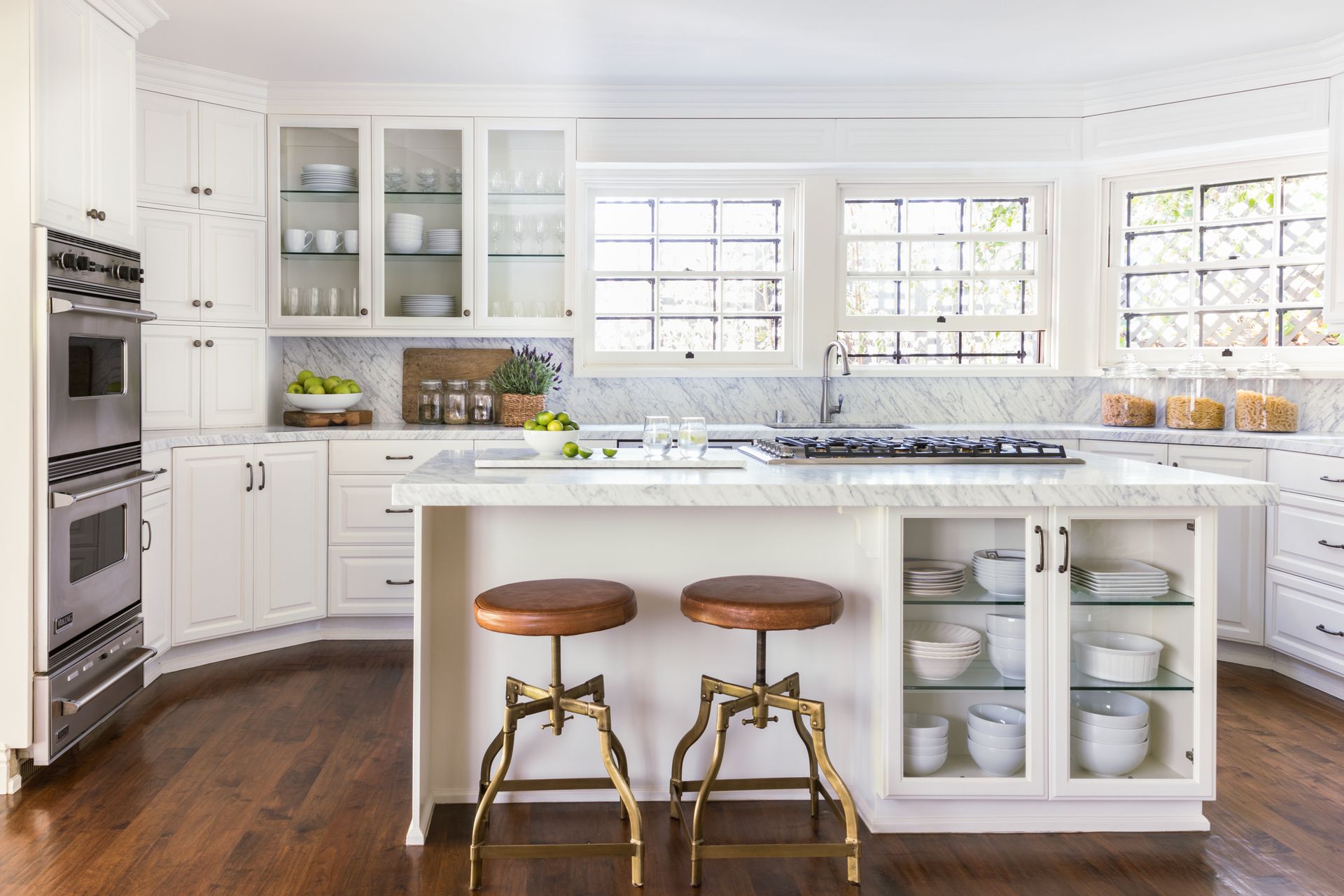 Kitchen islands with seating can often have dead space on either side of the stools; this is actually a great place to add more kitchen storage or kitchen shelving.
Victoria Holly says: 'Often when creating an island you'll have standard cabinet depth on the functional side (24") and then filler on the other side before you get to your seating inset. This can leave anywhere from 6" - 12" of headspace - use that space. Even 6" depth cabinets can be allocated for nicer glassware that's not frequently used!'
Another nifty idea is to create alcoves on the side of your kitchen island to store anything from cookbooks to your microwave, as seen in the clever space by Melinda Kelson O'Connor Architecture and Interiors below.
8. Place baskets or objet on spare surface space
The top of fridges, kitchen cabinets or kitchen dressers can serve as the perfect spot to add a storage basket or pretty pot or two.
Instead of letting the space collect dust, let it be a way of creating more storage in a small kitchen, or simply a way to get creative and showcase some aesthetically pleasing collectibles or ceramics.
For style leaders and design lovers.
Ruth Doherty is a lifestyle journalist based in London. An experienced freelance digital writer and editor, she is known for covering everything from travel and interiors to fashion and beauty. She regularly contributes to Livingetc, Ideal Home and Homes & Gardens, as well as titles like Prima and Red. Outside of work, her biggest loves are endless cups of tea, almond croissants, shopping for clothes she doesn't need, and booking holidays she does.