These 9 tips from designers on how to entertain in a small apartment will make hosting so much easier
It's one of the trickier sides to apartment living – but these tips for small-space entertaining will make your life that little bit simpler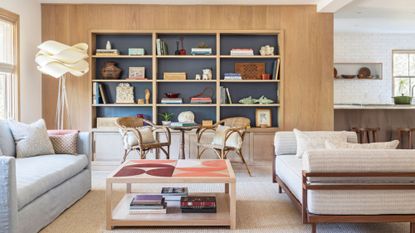 (Image credit: Julia Lynn. Design by Jill Howard Design Studio)
The Livingetc Newsletter
For style leaders and design lovers.
Thank you for signing up to LivingEtc. You will receive a verification email shortly.
There was a problem. Please refresh the page and try again.
Entertaining in a small apartment is always something of a logistical and styling challenge. Even the most well-behaved guests bring with them coats, bags, empty glasses and other paraphernalia – and without a thoughtfully planned layout, people start to congregate in the very places you don't want them (like the kitchen while you're making last-minute food preparations – sound familiar?).
Happily, though, there are plenty of ways to maximize efficiency, squeeze in extra room and make hosting in even the smallest of apartments a dream – and we've spoken to interior designers to find out the clever tricks they use the most. So whether you're looking for layout tweaks for a small living room or ideas for decorating without adding to all the clutter, read on to make your next get-together a breeze.
1. Declutter before your guests arrive
Before everyone arrives, declutter the rooms your guests will be in – it'll help make room for drinks, make cramped spaces feel more open, and avoid overwhelming guests with 'stuff'. But be careful not to go too far the other way: you still want a bit of character, so a few well-placed trinkets, like in this living-dining space by New York's DATE Interiors, are still welcome.
'You want your space to feel lived-in, yet uncluttered,' says Artem Kropovinsky, founder of New York interior design studio Arsight. 'Edit ruthlessly but thoughtfully, removing items that are neither functional nor beautiful. Keep surfaces relatively clear to accommodate your guests' needs, but retain those personal touches that make your home uniquely yours.'
2. Opt for a space-saving menu with maximum visual impact
If space is at a premium, dinner party-style events might be more stress than they're worth; instead, interior designers recommend easy wins that take up less space. 'Serve easy-to-eat finger foods and small portion items, such as truffle mac and cheese in small cups or mini pizzas on small appetizer plates,' says James Stanley, principal and founder of James Stanley NY, a boutique architectural design firm in Tribeca, New York. 'Elevate the presentation: cake stands, small square vessels, or upside-down bowls can be used as a base for platters and boards. Additional low food items and utensils can be placed under these bases to maximize space, not to mention look fabulous.'
'Buffets are a great way to serve food in space-challenged environments,' adds Dianne O'Connor, founder of Weston Table. 'I recommend making use of tiered stands, different height bowls, and serving platters. Fill them with bite-sized foods that are interesting combinations of textures and tastes and that may be served on appetizer-sized plates. While it is important to serve high-quality food, the presentation will elevate anything you are serving. It is these details that will be remembered long after the party ends.'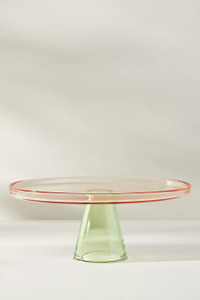 Ramona cake stand, Anthropologie
Elegant but playful, this colored glass cake stand will sit comfortably as a subtle centerpiece – top with crudites, finger food and, of course, cupcakes.
3. Include somewhere to store coats and bags
Coats piled up in the hallway or on your bed are an eyesore, so avoid this if possible. If you already have a hall closet, the solution is simple: 'It would be a great spot for your guests' coats and bags,' says James Stanley. 'Unload the current contents of the closet to another location in your home, such as your bedroom or a back area if you can.'
If hallway storage is hard to come by in your apartment, invest in wall hooks, like this space by Denver interior designer Ashley Campbell, or try other handy helpers. 'Get creative with storage solutions: a standalone coat rack can be a practical and stylish addition, or consider stylish over-the-door hooks,' says Artem Kropovinsky. 'If you're really short on space, large woven baskets can hold bags and coats without looking messy.'
4. Maximize your surface space
As guests move around the apartment, you'll need to make sure there are plenty of surfaces for them to set down glasses. 'Make sure each seat is accompanied by a drink surface – this encourages guests to spread out and relax,' says Ksenya Malina, founder of New York-based design studio Time & Place Interiors. 'You can employ space-saving cocktail tables or pull up any little end tables taken from around the apartment.'
Other small space furniture ideas include multifunctional pieces. 'Invest in furniture with multiple uses – an ottoman can act as seating, storage, and a place to set a tray of drinks,' advises Artem Kropovinsky. 'Nesting tables are your best friend – they can stay tucked away when not in use, and easily pulled out to provide additional serving surfaces when needed.' If you have room, varying the heights of your tables – as in this space by Sydney practice Woods&Warner – adds a layer of interest to your space.
5. Use zoning to create different functional spaces
The last thing you want while you're prepping food is to have guests crowding around to fill up their drinks in the kitchen, so creating practical hubs like a makeshift living room bar will help the flow of your apartment – and your stress levels. 'People tend to gather where the action is, so don't centralize everything,' recommends Artem Kropovinsky. 'For example, have a bar area in one corner, hors d'oeuvres on the coffee table, and a dessert station elsewhere.'
One elegant way to usher guests away from the kitchen is with a cocktail area – like the wood-clad zone above by Brooklyn and Austin-based MK Workshop – says Ksenya Malina: 'Designate a surface like the top of a chest or sideboard – even a shelf, whether built-in or part of a bookcase, will do. Dress it up with a vessel with fresh cut flowers, plug in a small lamp to create a mood, and prepare stylish cocktail napkins (in linen if possible) to serve along with the drinks.'
Dianne O'Connor recommends offering a limited selection of drinks – beer or wine, and two or three versatile spirits – and paying attention to details. 'Include cherry, olive, lemon, lime, and orange garnishes in small bowls tucked in and around the bowls with a stylish vessel filled with cocktail picks,' she says. 'Print a recipe card for a couple of classic drinks, and include a selection of barware, an ice bucket with tongs, and a jigger. In no time, the pressure will be off the host.'
6. Tweak your layout to invite guests to spread out
Only having one area for seating can also create crowding problems, so preempt this by experimenting with small living room layout ideas, like the above arrangement from DATE Interiors. 'Arrange chairs in groups of three or four to encourage smaller groups to congregate,' says Dianne O'Connor. 'Some guests will want to sit. If seating is limited, sitting on the floor on a collection of comfortable pillows creates intimacy and fun. Invite guests to remove their shoes and make themselves comfortable.'
Small additions can signal separate areas to gather, too. 'Creating designated zones for eating, socializing, and relaxing can make your layout more functional,' says Artem Kropovinsky. 'This doesn't require physical dividers – a shift in the furniture arrangement, a rug, or even lighting can effectively define different zones in your space.'
7. Include flexible seating
Investing in small apartment furniture ideas like foldable chairs or handy stools – like those used above in a living space by DeForest Architects and Ore Studios – will come in handy when you have people over.
'I always encourage homeowners to invest in stools and ottomans: they come in super handy for entertaining, when you're bound to run out of regular seating spots,' says Ksenya Malina. 'Stools' diminutive size and light weight make them easy to move around for a party, or to serve the dual purpose of drink or plate tables. Plus, stools offer an visual nuance to a static arrangement of a sofa and armchairs in a living room.'
Alternatively, if you really don't have the space to store extra furniture pieces when the party's over, consider other means. 'Feel free to mix it up and borrow from a friend or rent them from a local party supplier,' says interior designer Ashley Macuga of New Orleans practice Collected Interiors. 'Place the borrowed chairs in between your own to create an intentional pattern.'
8. Don't neglect the lighting
Entertaining under the glare of a ceiling light isn't quite the vibe we want from a cozy gathering, so follow the experts' small living room lighting tips and build up those layers. 'Even if your space is tight, lighting goes a long way to create a feeling of welcoming, luxurious atmosphere,' says Ksenya Malina. 'Dim or turn off overhead lighting in favor of table lamps, wall sconces, or reading lights. Scatter tea lights or candles (unscented if you're serving food) throughout your space, including on the entryway console, with the drinks cart, and in your guest bathroom.'
9. Keep decorations simple
As tempting as it is to go all-out with extravagant centerpieces, small spaces can be easily overwhelmed – especially when there are already guests' glasses and plates to contend with – so keep it simple. 'Focus on creating a cohesive look,' says London-based interior designer Rudolph Diesel. 'Use a neutral color palette and add pops of color with accent pieces like throw pillows or table linens.'
'I prefer to stick to one color of flower when entertaining in small spaces as it pulls the entire room together and creates a feeling of a larger space,' adds Dianne O'Connor. 'However, I love putting the flowers in all types of vessels and having each arrangement a bit taller or shorter, single stem, or a plump bunch. Candlelight makes guests' faces glow and creates a relaxing atmosphere: I put candles on the mantle, on the bar, on the buffet, inside a fireplace, and even the bathroom – guests will eventually make their way there too, so I leave no detail undone. Little more is needed. In small spaces, less is always more!'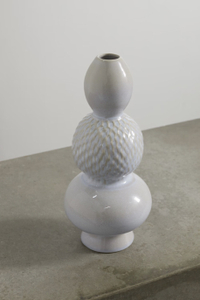 For style leaders and design lovers.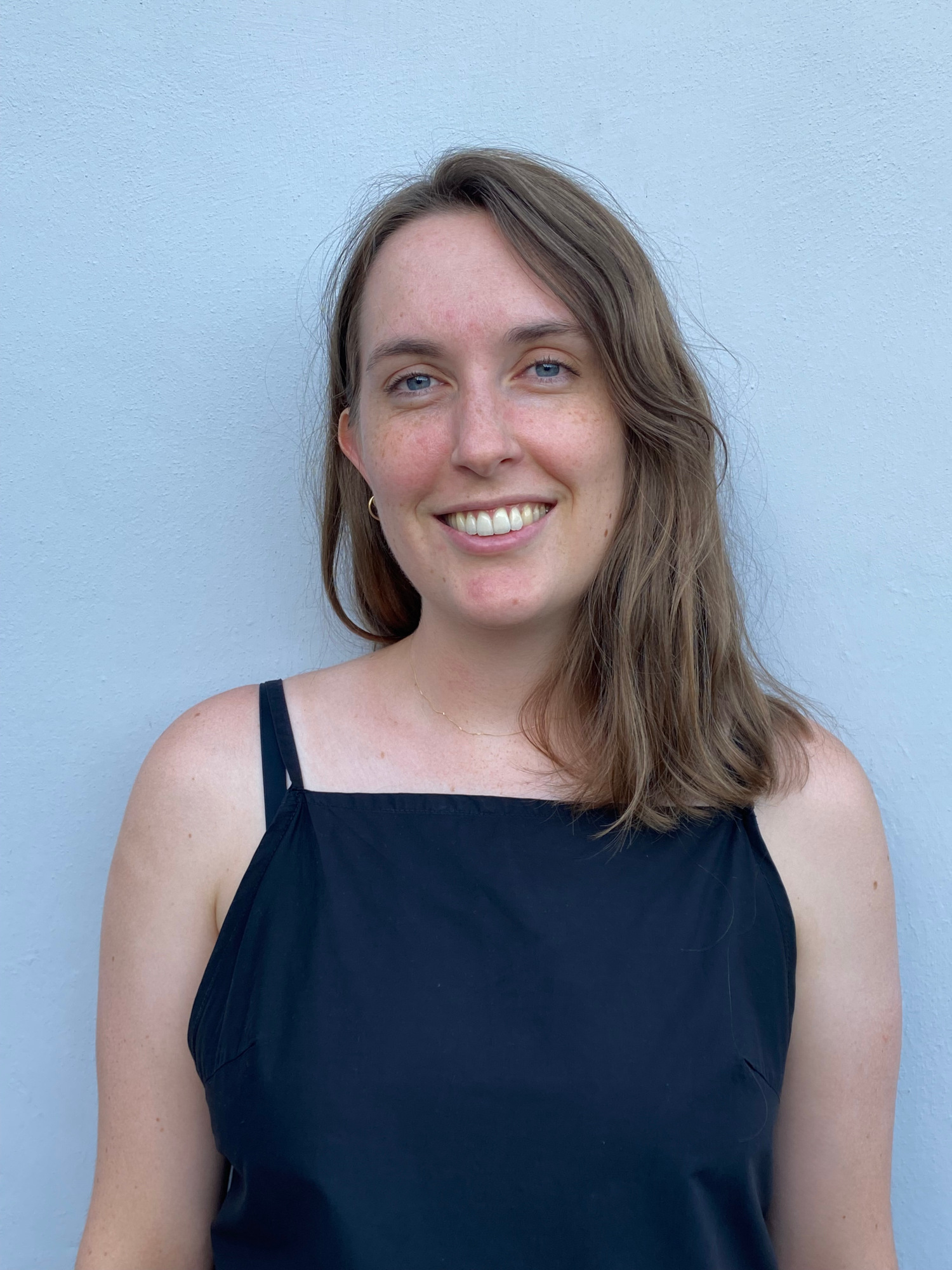 Ellen is deputy editor of Livingetc magazine. She cut her teeth working for sister publication Real Homes, starting as features editor before becoming deputy editor. There, she enjoyed taking a peek inside beautiful homes and discovered a love for design and architecture that eventually led her here. She has also written for other titles including Homes & Gardens and Gardeningetc. While she gets ready to buy a house of her own, she takes inspiration from the works of some of her favourite architects and tastemakers. She has a particular passion for green design and enjoys shopping small, local and second-hand where she can.