Trad-meets-mad in this Edwardian house in Melbourne
An elegant fusion of old and new gives a timeless feel to this Edwardian house in Melbourne
The property
An extended Edwardian house in Melbourne, Australia. On the ground floor of this modern home, there's an open-plan kitchen/dining/living room, as well as a pantry, utility room, master bedroom with en suite and dressing room, a guest bedroom/music room, bathroom and study. The first floor has two bedrooms, a playroom and a bathroom.
See Also: A historic Melbourne home brought up to date with floor-to-ceiling steel-framed windows and a monochrome palette

Entrance
The brilliant blue of the doorway and glorious wood pendant light tell you you've arrived!
A little trad, a little mad. That was the thinking when it came to doing up this Edwardian suntrap, tucked into a leafy corner of Melbourne.
Living room
When they bought the house 12 years ago, neither of the ownershad experience in property development – she was working in PR and he is a lawyer. What they did have was a love of architecture, a serious auction habit anda beady eye for good design.
At the time, the Edwardian part of the single-storey property had been split into two apartments, with two more bedsits tacked on to the rear of the building.
Over the past ten years, as well as having three boys, the couple have totally re-imagined the house. The family moved from room to room as the ground floor was renovated, culminating in the looks-like-it's-been-there-forever extension that contains the kitchen and living area.
A stone fireplace creates a focal point at the centre of the open-plan space and is the ideal chill-out zone, come rain or shine. In a simple decorating scheme, pops of colour provide impact – here, it's the glow of the teal footstool against the charcoal sofas.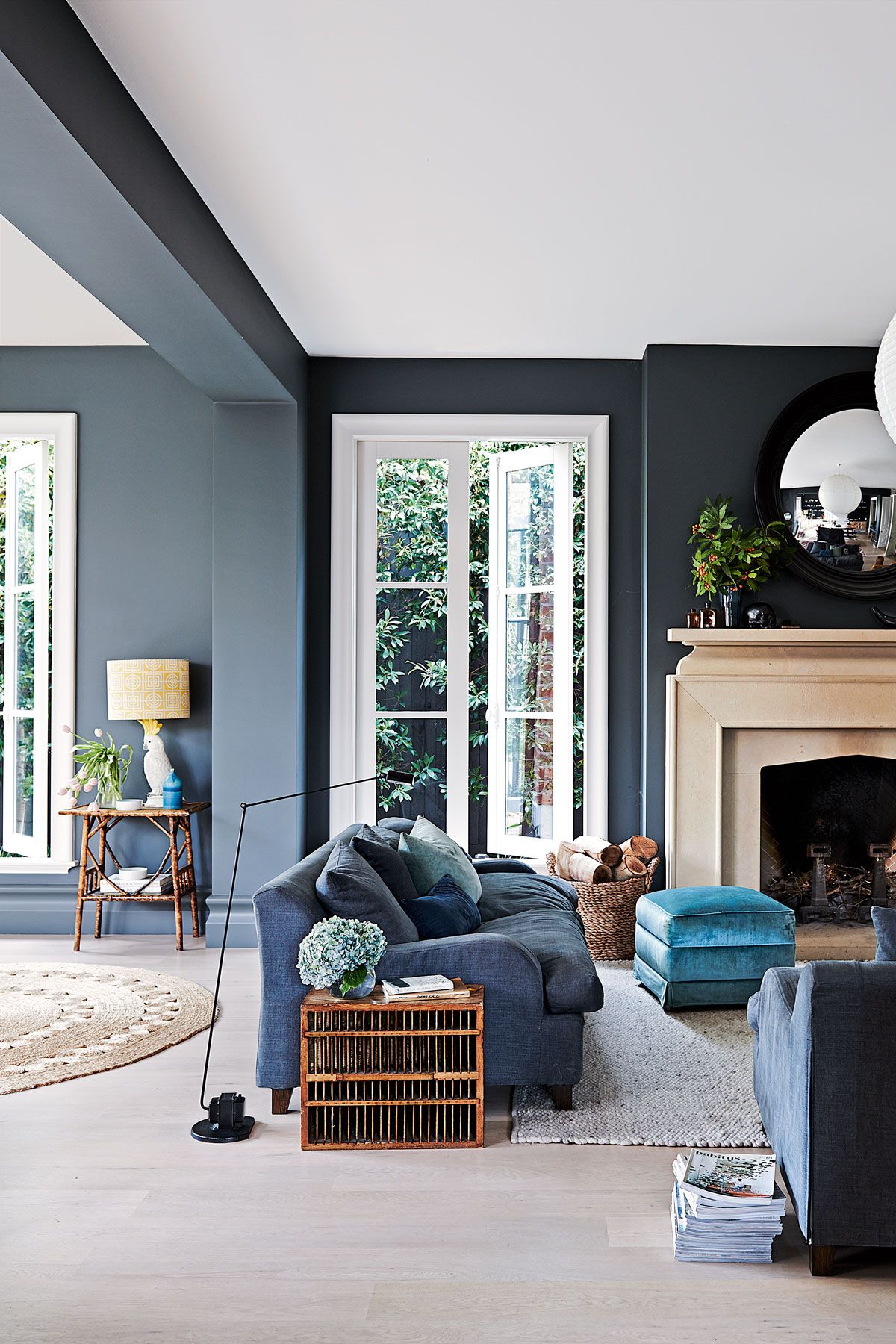 living room/shelf detail
For tradition with a twist, you can't go wrong with this Fornasetti wallpaper.
See Also: Living room ideas - 24 decorating tricks to inspire
kitchen-diner
Despite its contemporary feel, the kitchen is filled with touchstones that add a note of history and tradition. The white china was a gift from the owner's mother-in-law, who runs a cookery school, while the pendant light was brought back from a trip to France.
Utility room
Like ghosts of scullery maids past, faces gaze down from the utility room walls
Guest bedroom
Friends of the family say this Aussie house has an English feel. The embroidered cushion was brought back from London by the owner's sister.
Guest bedroom/ music room
The furniture and artwork inherited by both owners helps to ground the house, adding depth and narrative.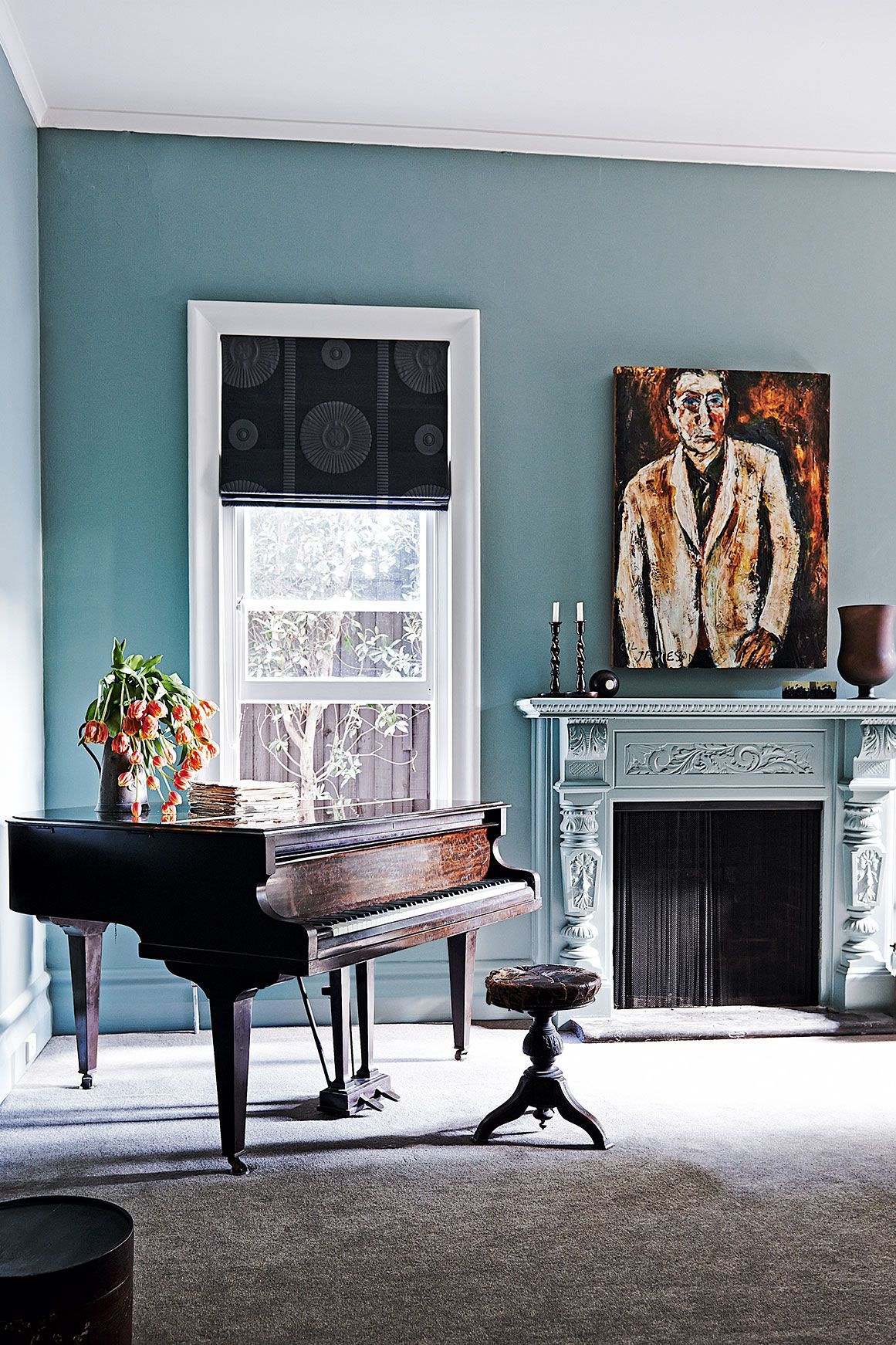 BOY'S BATHROOM
This room has a contemporary feel, but careful use of materials links it with the more traditional elements elsewhere – the metro tiles match those in the utility room and the natural wood of the cabinets mirrors the furnishing throughout.
Photography / Lisa Cohen
See Also: Small bathroom ideas - 22 super chic ideas for bijou bathrooms