Explore this detached house in Berkshire brimming with canny design finds
This detached house in Berkshire has gone from a pub and Indian restaurant to sophisticated house full of chic pieces that rocks its fresh identity in style
THE PROPERTY
A detached house in Berkshire, built in around 1880 as a pub. Downstairs has a large kitchen with walk-in larder, TV area, two living spaces, dining room, office and WC. Upstairs in this modern home there is a master bedroom, guest bedroom and two dressing rooms, plus a bathroom.
See more stunning modern homes across the globe
TV ROOM
Once a pub, then an Indian restaurant, this property has undergone a dramatic overhaul. As soon as the owners ripped the old carpets up, they could see it would be great. A monotone backdrop unites the ground floor, with soft accents woven throughout.
An old sofa that the owner has had for years is teamed with Adler table lamps, snapped up for £50 each in a warehouse sale. The cracked mirror console was from the owner's fashion boutique in Chelsea.
The soothing blue and gold notes were taken from a Tom Dixon-designed rug and Jonathan Adler chair near the hall and continue into most of the reception rooms to knit it all together. The Queen artwork is by Chris Levine.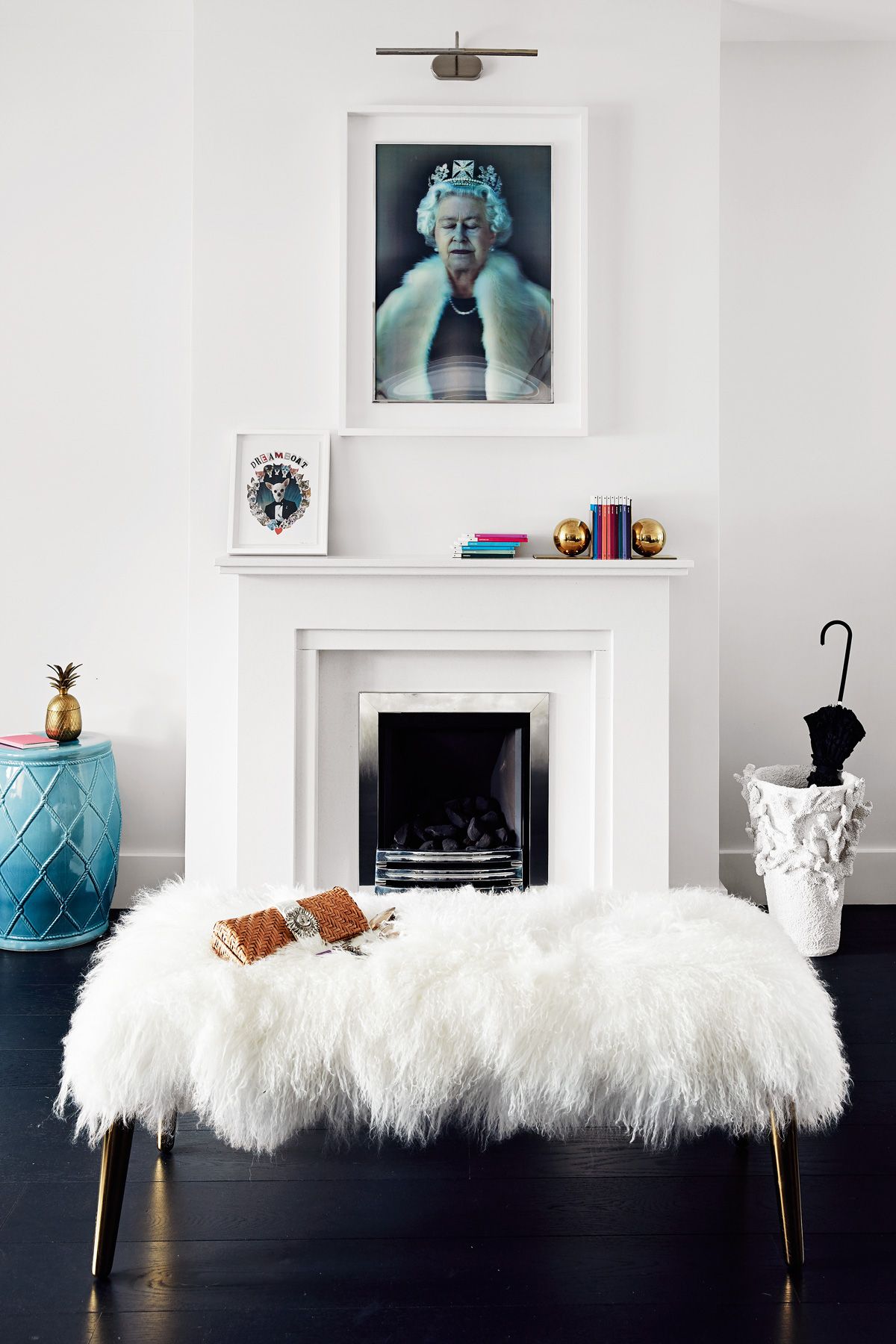 KITCHEN
Extra supports had to go in so that the kitchen roof could be opened up and toppling walls strengthened. This drove up the build spend but the owners knew it was worth it. They chose the blackest floor they could find, rejecting most of the builder's samples for being too brown and 'suburban'.
The simple kitchen from a no-frills supplier is 'luxed up' with marble worktops. There are no wall-mounted units as the owner wanted the kitchen to feel like a lovely room you would want to spend time in.
See Also: The 15 best modern kitchen ideas - stylish, smart and chic

DINING AREA
The dining chairs have been borrowed from the fitting room of the owner's fashion boutique.
LIVING ROOM
Handsome pieces of furniture take centre stage in the living room, originally the bar area of the pub.
The formal seating area contains a chic handmade coffee table, white velvet armchairs and a Neisha Crosland rug.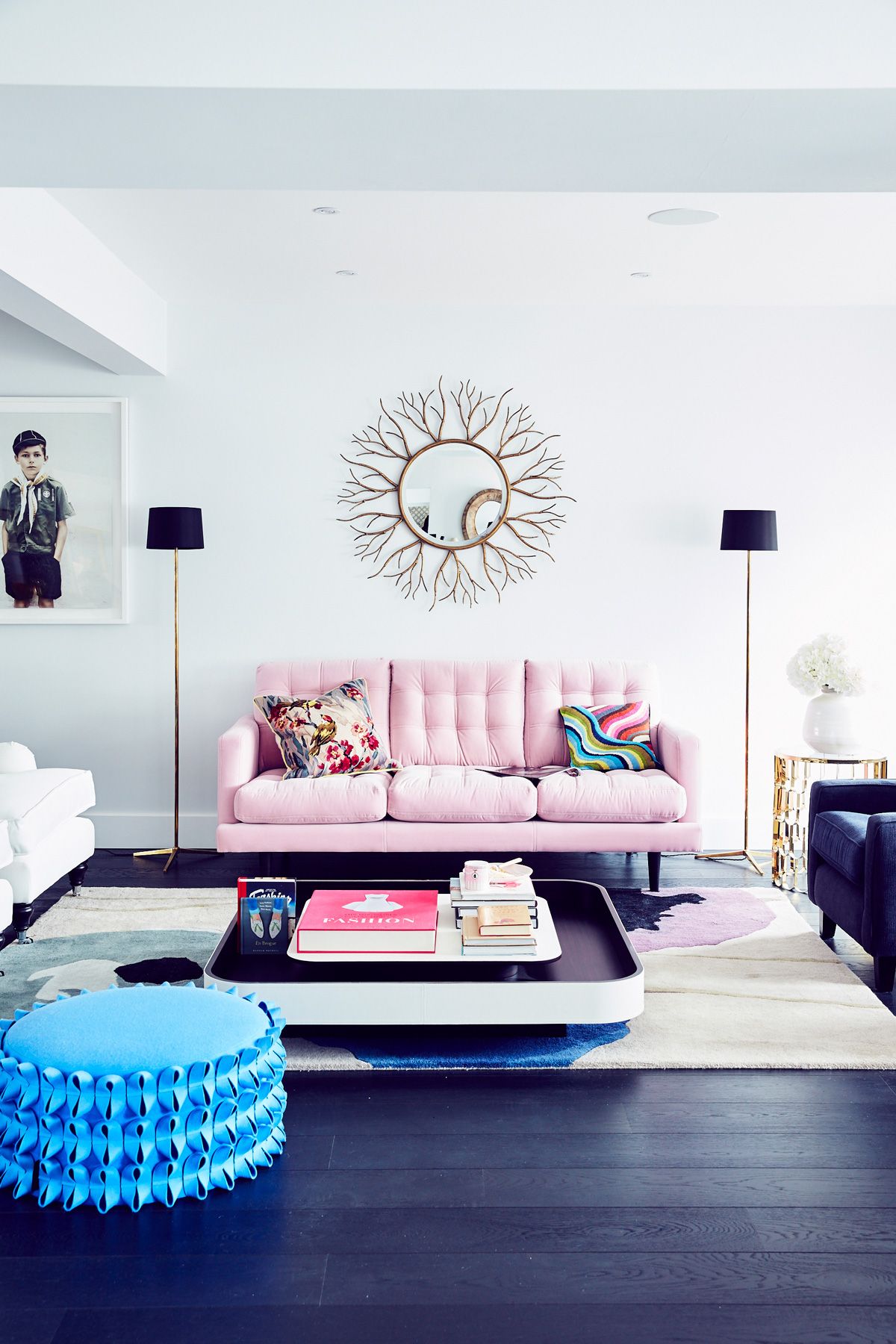 DOWNSTAIRS LOO
Once the men's loo in the restaurant, the basins were the only things that were salvaged. The room was painted in black gloss for a dramatic look.
CLOAKROOM AREA
A delicately patterned monotone wallpaper maximises the feeling of light in here.
MASTER BEDROOM
The bed is upholstered in Designers Guild velvet, while the lamps have gold bases for a little touch of luxe.
BATHROOM
The overmantel mirror was bought in a bric-a-brac store in Shepherd's Bush near the owner's first flat and has moved everywhere with her since.
The sideboard was bought on eBay for £100 and painted white. The open shelving allows the owner to easily access her beauty products.
Photography / Nato Welton
See Also: Master bathroom ideas -19 stunning design ideas for a dreamy master bathroom