Best baby play gym: 6 baby gyms to last from newborn to age 1
We've found the 6 best baby play gym buys for little ones, chosen for style, quality, development and fun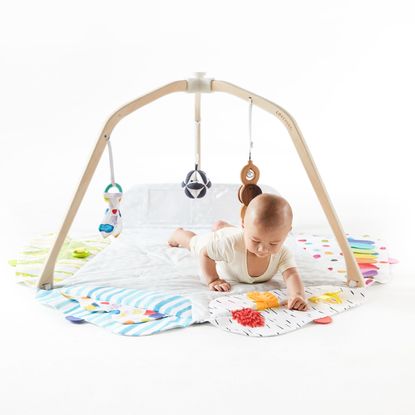 (Image credit: Lovevery)
Looking for the best baby play gym for your little one? We've found the 6 best options out there, including tasteful designs to suit your interior scheme, interactive and toy filled options to stimulate, engage and entertain babies, as well as a couple of seated baby play gyms for babies aged six months and above.
Baby play gyms are super useful during the first year of baby's life, as it offers parents a safe place to lay (or seat) baby down for a few minutes so they can get on with doing other things. Play gyms can help aid baby's development, as many come with rattle toys to encourage fine motor skills, and some even come with bold graphic design to help stimulate baby's eye development (babies are born only able to see in black and white).
We've chosen the below six designs for style, quality, development and fun. These are the six best baby play gym buys for little ones...
If you need something a little bit bigger, or for a toddler, check out the best play mats.
The best play gyms for babies
Image 1 of 4
1. The Little Green Sheep's Curved Wooden Baby Gym
Best looking baby gym to suit stylish homes
Specifications
Material: 100% certified sustainable Birch wood
Assembled size: H50cm x W68cm
Reasons to buy
+
Stylish design won't clash with design
+
Toys are detachable, non-toxic and washable
+
Arch made from sustainable wood
+
Toys made using certified organic cotton
+
Non-toxic and eco-friendly design
Reasons to avoid
-
Not as stimulating or engaging for babies as brightly coloured designs.
If you're looking for a play gym that won't clash with your living room, then this Little Green Sheep baby play gym is for you. The wooden frame can be adapted to suit your child's stage of development, with detachable toys including organic cotton rattles and mango wood teething charms.
What we like
The gorgeous yet simple wood arch comes in a flat box and is easy to store away. The arch works with any play mat – or just lay it on a cosy rug.
It comes with 4 detachable toys: a cotton bear rattle, a wooden star, some cotton bunny ears, and a wooden heart. The toys are made from organic cotton and wood, safe for your little one to bat away and chew. They're attached to the gym using Velcro, making them easily removable for use as standalone toys. You can hand wash the cotton charm toys and wipe clean the wooden ones.
Meanwhile the arch itself is as natural as it gets, made from natural, sustainable Birch wood and hand-finished with oil.
Toys are available in other themes too, including Ocean Whale, Bunny Love and Safari.
What we don't like
While this simple Scandi design will look gorgeous in your home, it won't stimulate babies as much as brightly coloured or black & white designs.
Image 1 of 4
2. Sebra's Babygym – A Red Dot Design Winner
The best baby play gym for clever, compact design
Specifications
Material : Painted plywood
Assembled size: 55 x 55 x 84 cm
Reasons to buy
+
Easy to assemble and disassemble
+
Folds completely flat, easy to store away
+
Made up of 2 arches to surround baby
+
Comes with 8 fun toys to entertain them
+
Muted colours and sleek design to please style-conscious parents
+
Won a Red Dot Design Award
The Sebra baby gym from Scandiborn arrives in a surprisingly flat box, is super easy to slot together, and can be taken apart just as easily to store it away. Made up of two arches, it can accommodate more toys than other designs, and will completely surround baby with lots to look at. The design itself is sleek, chic and stylish, in muted colours. It's the perfect middle ground for pleasing both baby and parents, as it's nice to look at plus there's plenty to keep babies occupied and engaged.
It's no wonder this Danish-designed baby activity centre won the internationally renowned "Red Dot" design award in 2016.
What we like
We love the stylish design, streamlined shape and muted colours. There are 8 different toys included for your baby to explore, including a rotating mirror, two birds with little bells and a cloud toy, helping stimulate baby and train their motor skills and coordination.
Aside from being easy to assemble and disassemble, it folds super flat and couldn't be lighter or smaller for packing away when not in use.
What we don't like
Great design comes with a price. These types of baby gyms will realistically only last for the first few months of baby's life as it's not really suited to sitting or crawling babies – so the price is quite steep when you bear the product lifespan in mind.
Image 1 of 6
3. Wish Upon A Cloud Sit & Play Gym
The best budget play gym for sitting babies
Specifications
Material: Inflatable ring, covered in plush synthetic material
Assembled size: 29 x 68 x 60cm
Reasons to buy
+
Great value
+
Ideal for sitting babies, or babies learning to sit
+
Comes with detachable tray with toys
+
Soft, plus fabric
+
Muted colours to fit in with your design
Reasons to avoid
-
You can't attach other toys
-
Quite bulky, not that easy to store or pack away, without deflating each time
The Wish Upon a Cloud Sit & Play baby gym has an inflatable ring that holds babies upright and feels soft and supportive. There's a detachable tray (with velcro fastening), which includes a mirror, a penguin toy, a hanging cloud and star with crinkle noises.
It's the perfect design for babies aged six months and up (or when babies are able to hold their head up), to encourage them to sit up.
What we like
This is a sweet little chair, ideal for that 4-7 month stage when they're robust but not yet walking. It's covered in a plush, soft fabric, features muted colours (easy to blend into your interior design) and comes at an unbeatable price.
What we don't like
There's not a lot to keep babies stimulated for long, and you can't attach other toys.
Image 1 of 3
4. Edvin Babygym from Kid's Concept
The cosiest play gym for very little ones
Specifications
Material: Cotton and Plush material
Assembled size: 80 x 50 cm
Reasons to buy
+
Soft mat with raised edges to prevent baby rolling away
+
5 plush animal rattles to stimulate / entertain
+
Muted colours, gender neutral, Scandi style make this appealing to style conscious parents
+
Arrives in clear case for easy storage
+
Super lightweight and portable
The Edvin Babygym by Kid's Concept is a soft and stimulating baby gym with a soft mat, and two overlapping soft arches with 5 plush, detachable animal toys to stimulate their senses and development.
With padded comfort that's oh-so-cosy and a muted colour scheme that fits in with home interiors, this woodland-themed, Scandi-style play gym appeals to both baby and parents.
The hanging toys are curated from various Nordic craft producers; Konges Slojd, Liewood, Cam Cam and Roommate.
What we like
We love the muted and gender neutral colours, the Scandi style, the super soft, velvety plush material and we love how light it is – making it very portable and easy to move around (or take along on nights away).
It's for small babies that aren't yet sitting up, and can be used from birth. The play gym arrived in a semi circular bag with popper closing. The clear case makes it easy to see what's inside – handy if it's being stored in a cupboard.
The toys have rattles inside, and they rattle when baby kicks or taps against them, making them more engaging. The woodland animals include a hedgehog, deer, moose, fox and a mirror.
What we don't like
There's not much we can fault here as it does everything it says on the tin.
Image 1 of 3
5. LovEvery Play Gym
The best baby play gym for stimulation, engagement and child development
Specifications
Material: FSC-certified wood, cotton
Assembled size: 60 x 127 x 119 cm
Reasons to buy
+
There's enough to stimulate and engage babies from birth right up to 12 months, making this the longest lasting play gym
+
Comes with range of toys, pictures, textures, and even a handbook on baby development
+
Red Dot Design Award winner 2018
+
Made from natural materials
+
A doddle to assemble
Crafted with natural materials, and sustainably sourced, FSC-certified wood, the Lovevery Play Gym was designed by child development experts. There are five sensory zones to help your baby through everything from tummy time to teething, including an organic cotton high contrast ball ideal for grasping and rolling, a batting ring, a cotton teether, a black and white card set and much more.
The zones are divided into 5 sections: Learning to focus, Making sounds, How things feel, Hiding and finding, Exploring colours, and Play Space Cover for imaginative play.
Each of the five sensory zones can be concealed or revealed, promoting development and discouraging overstimulation.
The play mat also comes with interchangeable cards ranging from black and white images for newborns to faces and mirrors for older babies.
The play mat even comes with a Play Guide book which includes expert tips, child development research, and ways to play.
What we like
What we love most is that this play gym offers the longest use, with toys, textures, cards and even a play guide book to encourage play from birth until 12 months.
The play guide is a handy flip book that's broken down by age category. For example there's a section all about the first 12 weeks, how babies only see in black and white and are easily over stimulated, so it offers play advice tailored to them. Then it moves on to advice for months 3 and 4, then moves on to 5-6, 7-8, 9-10 and finally 11-12.
The play mat arrives in a compact box, and the mat folds open like a flower. Tabs can also be folded inwards to create a grey circle, more muted colours and easy on the eye to have in the house.
The wood toy arch is truly great quality, as are the toys.
What we don't like
Sure, it's expensive. But it comes with child development suggestions and advice, it's made from all natural materials, and it will last you much longer than other products on the market.
Image 1 of 4
6. Mamas & Papas Baby Snug and Activity Tray
The best multi-functional and wipe-clean play gym, and best for longevity
Specifications
Material: Plastic
Assembled size: 25 x 43 x 43 cm
Reasons to buy
+
Designed as a first chair for babies
+
Interactive tray tale includes 6 stimulating and engaging toys
+
Removable seat insert so seat lasts beyond first year
+
Wipe-clean design, can be used for weaning
+
Long lasting design – play gym can be used from when babies can support their own head, until beyond 12 months.
+
Lightweight and portable, good for travel
This Baby Snug play gym is designed as the first chair for babies, and comes with an interactive tray table with toys that stimulate and entertain. The padded, supportive seat will help little ones get accustomed to sitting up on their own – great for helping develop their core strength. With a removable insert, it can be adapted to suit your child as they grow, so will last beyond the baby months. You can start using the seat as soon as baby supports their own head, and it will last them right through their first year and even beyond – making this a long lasting play gym.
The easy-to-clean design means it can be used for early weaning too (as long as it's kept on the floor).
What we like
We love that this play gym is compact and will last you a long time. It's also super multifunctional: use the tray for them to play, or remove it to use the seat as a booster seat or for mealtimes. The Play Tray includes 6 interactive features including a beaded loop, spinning flower, twisty bendy stalk, a teether and picture book with baby safe mirror. The removable tray can be placed on or taken off in a simple click.
Plus, it's the only wipe-clean play gym, making this by far the easiest one to keep clean.
It's also very lightweight and portable, and is ideal for taking along on trips as it can be used to keep baby safe, entertained, and can be used for weaning and feeding.
What we don't like
Absolutely nothing. We can't fault it.
From what age can you use a baby play gym?
Your baby will usually be able to start using a play mat / flat play gym from six weeks / two months onwards, but they can still get overstimulated at this age so don't need much to entertain them.
Babies can use these flat play gyms (most of them come with toy arches) as long as they are happy lying down. As soon as they learn to sit up (around 6 months) then they may prefer a seated play gym – for example with an activity tray.
As soon as babies learn to crawl, they will start to lose interest in traditional baby play gyms. At this point they will be more interested in climbing and soft play – for example ball pits, tunnels, foam climbing blocks etc.
What is the best baby play gym?
The LovEvery play gym is the best option for babies, as it comes with lots to stimulate, entertain and aid their development.
The Mamas & Papas Baby Snug and Activity Tray is the best play gym option for babies aged 6 months up, as the activity tray features toys better suited to this age, the seat is supportive, the design is wipe-clean, and it can even be used for weaning / feeding (as long as it's kept on the floor).
Lotte is the Digital Editor for Livingetc, and has been with the website since its launch. She has a background in online journalism and writing for SEO, with previous editor roles at Good Living, Good Housekeeping, Country & Townhouse, and BBC Good Food among others, as well as her own successful interiors blog. When she's not busy writing or tracking analytics, she's doing up houses, two of which have features in interior design magazines. She's just finished doing up her house in Wimbledon, and is eyeing up Bath for her next project.