12 best beige rugs that show why this neutral color is trending and how it adds warmth
The 12 best beige rugs are chosen by the Livingetc team for the way they elegantly lift the rooms they're in, providing subtle shades of a neutral warmth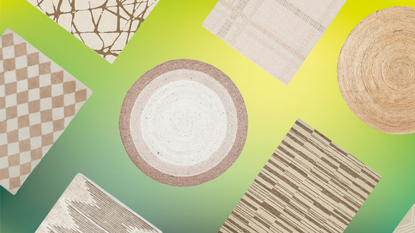 (Image credit: Lulu & Georgia, Ruggable x Nina Takesh, Wayfair & Amazon)
The Livingetc Newsletter
For style leaders and design lovers.
Thank you for signing up to LivingEtc. You will receive a verification email shortly.
There was a problem. Please refresh the page and try again.
Beige doesn't have to be boring. A blend of creamy white and rich brown, beige is considered the original neutral and a staple of interior design. Its earthy but elegant coloring makes it a natural choice for a plethora of rug designs. Color psychologists praise beige for its ability to offer calm and warmth. Beige works well with others too. Matched with black, beige makes for a sophisticated and smart rug choice. Blended with white or cream, beige feels softer and more serene.
To help you find the right rug, you can start by looking at our best rugs feature for expert advice and our favorite finds. From geometric designs to easy washable options, we've searched high and low through the best home décor stores to find our favorite beige rugs.
Best Round Beige Rugs
Material: Polyester
Size: 8'
Price: $349
Golden beige is covered in striking diamond lines on the round grey patterned rug design. Beautifully neutral, this rug would be perfect for layering with other carpets.
Material: Wool
Size: 6'
Price: $134.02
A structured ombre effect comes to life on this Amazon beige wool rug. Made with 100% wool, this soft floor piece would be great for creating zones within a room to accentuate key pieces.
Material: Jute
Size: 6'
Price: $228
An organic take on beige, this round rug from Anthropologie is the perfect entrance piece. Textured and resilient, it will be sure to enhance natural interiors and offer your guests a warm welcome.
Best Washable Beige Rugs
1. Arts & Craft Beige Rug
Material: Polyester
Size: 5' x 7'
Price: $289
Inspired by the Arts & Craft movement, this Morris & Co. x Ruggable celebrates a cooler tone of beige. Intricate depictions of flowers are presented across this washable rug design, making it wonderfully detailed.
Material: Polyester
Size: 5' x 7'
Price: $279
Explosive and abstract lines of camel cover this patterned rug from Ruggable x Nina Takesh. Perfect for adding visual intrigue to contemporary bedroom or living room designs, the neutral coloring makes this design both exciting and versatile.
Best Outdoor Beige Rugs
1. Pink & Beige Outdoor Rug
Material: Polypropylene
Size: 4' X 6'
Price: $228
Tonal blends of pale pink and soft beige give this outdoor rug a romantic feel. Resistant to the weather, this durable design can be used inside as well as outdoors.
2. Geometric Beige Outdoor Rug
Material: Cotton, Chenille & Polyester
Size: 5'3" x 7'7"
Price: $349.99
Resistant to staining and shedding, this resilient design from Wayfair showcases an organic and earthy beige. The geometric rug pattern brings a sense of movement to the design as well.
Best Geometric Beige Rugs
Material: Wool & Jute
Size: 5' x 7'6"
Price: $325
Refined tones of beige and tobacco brown form a smart stripe pattern across this wool and jute rug. Balanced in texture and elegance, this piece would make a great addition to living rooms.
Material: Wool & Cotton
Size: 6' x 9'
Price: $972
A soft statement covers this wool rug from Lulu & Georgia, the diamonds of beige and ivory are ideal for neutral and modern interiors. With its plush pile, this would be the perfect rug for a living or bedroom interiors.
3. Sand Beige Chevron Rug
Material: Wool & Nylon
Size: 10' x 14'
Price: $3,498
This cool chevron patterned rug shows a sandier side to beige, perfect for more cool-toned interiors. You can lean into the light color palette with your choice of furniture, lighting, and accessories or opt for darker tones to create a strong and striking contrast.
What do you pair with a beige carpet?
Beige's popularity is in part owed to its ability to work with ease into schemes. Whether you want a neutral and welcoming scheme or a vibrant and maximalist one, a beige carpet can blend seamlessly into your room. Working as a base for your interior, beige offers balance for those around it. Specifically for neutral palettes, the calming color works to complement the other tones, stronger or lighter around the room.
"A beige carpet can be a great anchoring option for any room. Neutral colors like beige tend to create calm spaces for a zen-like ambiance, so wherever you are looking to cultivate some serenity, this can be a great foundation. One thing to consider is the tone of the flooring where the rug will live. You want the shades to be complementary to create a layered look," says Los-Angeles based interior designer Erin Fetherston. As Fetherston mentions, undertones are important. Consider the under-tone of your beige when matching pieces to your rug, cooler toned beiges would work well with greys and white whilst warmer tones blossom when paired with terracotta and brown.
For style leaders and design lovers.
Writer and design expert Faaizah Shah is the founder of The Interiors Consultancy. She has worked with designers such as Staffan Tollgard and design houses such as Sanderson to help them understand and communicate their narratives. She is known for crafting engaging stories and imaginative content, and understanding great decor from her years alongside some of the best creatives in the industry. She is also a contributor to Livingetc.