Designers agree on the 5 best greens for kitchen cabinets, all of which create instantly more uplifting schemes
When it comes to kitchen cabinet colors, most people tend to sway towards green. But which specific green is cooking up a storm amongst homeowners and designers?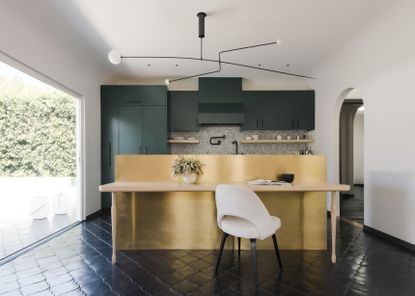 (Image credit: Joe Fletcher. Studio credit Siol Studios)
The Livingetc Newsletter
For style leaders and design lovers.
Thank you for signing up to LivingEtc. You will receive a verification email shortly.
There was a problem. Please refresh the page and try again.
The days of white kitchens are long over and green has been enjoying the limelight for some time now. And for good reason. The varying shades of green – dark, light, mid-tone or icy – act like soothing neutrals with endless opportunities. Green kitchens create a wonderful indoor-outdoor vibe, adding a refreshing touch to the house.
And of course, there being so many colors that go with green, it's an easy shade to live with. It'll work with many floorings, many countertops, even many fixtures and fittings. But which green in particular is the most appealing, timeless, and easy to live? Which shades do experts swear by? To answer this, we asked top professionals who shared five energizing shades for kitchen cabinets that can revive your space. Take a look.
1. Mint green
For kitchen cabinet colors, a mint or light green palette can be just as neutral as white or grey. In this kitchen, the watery color pairs particularly well with white appliances and is ideal for a narrow space like this. The color, which reflects enough light around the kitchen, makes it feel airy, spacious, and seamless.
'Our clients presented us with the challenge of having a desk, pantry, and laundry within their already tight galley kitchen,' says Lucie Ayres, founder and principal of 22 Interiors. 'In this space, we added retractable doors to create more space when the pantry and laundry are in use and finished all cabinets in the same mint color as the kitchen cabinets for a sense of cohesion. We chose Serene Breeze by Benjamin Moore for this space.'
One thing to keep in mind before choosing the right green is to remember that certain colors look different in different light and spaces. Much of your color selection depends on how much light the room gets, its orientation, and more. A good way to go about selecting your green is by painting a sample on your wall and seeing how the color transforms through the day.
2. Grey-green
A dark green kitchen like this speaks of elegance and style. The tone adds layering and depth to the black backsplash, making the brass hardware stand out. A grey-green can also pair well with crisp whites and dusty pinks, injecting sophistication into this otherwise purely utilitarian space. Plus, dark paints hide stains well, so it is ideal for homes that have a lot of family members.
'While not a big fan of following trends, I have seen a large shift from the 'white kitchen' lately,' says Donna DuFresne, principal at Donna DuFresne Interior Design. 'I love the organic feel of a green kitchen, as it just reads heart and home. For this space, we chose a Benjamin Moore Caldwell Green.'
Paint type: Acrylic
Price: $75 for 3 liters
Make your kitchen an on-trend space with this color that speaks of sophistication and class. It coordinates well with wood tones and gives a space depth and layering.
3. Blue-green
This particular blue-green cabinet wonderfully juxtaposes against the natural wood island and the kitchen countertop, and gives the entire space an earthy, warm, and inviting feel.
'When designing this home I wanted a color that I hadn't seen before on cabinets and I also love colors that make you think,' says Micah Abbananto, owner of Micah&Co. 'Using Studio Blue Green SW 0047 by Sherwin Williams, was the perfect color because in some light it leans blue and in others it leans green. I love colors that give the illusion of changing in different lighting. Having a different species of wood was also an important decision. White oak and maple are common in this part of the country but this wood is pecan.'
4. Petrol green
Dark, moody kitchen cabinets make a statement as-is, but they pop against jewel tones and metallics, much like in this small kitchen island made in brass.
'We brought brass into this space to celebrate the threshold moments at the door and between the kitchen and eating space,' says Jessica Weigley, principal at Siol Studios. 'The supporting elements – the white-and-blue backsplash tiles and the maple table – help to tie the brass plate to the deep petrol green cabinets.'
'I particularly like the dark green Benjamin Moore Salamander, #2050-10,' says Julia Mack, founder of Julia Mack Design. 'Think of dark green when considering color for kitchen cabinets instead of the standard white paint or wood tone. The darker the color the more your cabinets will recede into your space, keeping you from tiring of them in the long run. Dark green is fresh and full of natural life, and pairs beautifully with other kitchen materials like stone or porcelain, and a mix of metals like warm brass and cool stainless steel.'
5. Chalky green
Green can be trendy and modern, but it can also work well in a more farmhouse style or traditional space. This green transitional style kitchen is a bit more rustic with wooden beams and vintage lights. The cabinets give it that perfect pop of color against the otherwise neutral space.
'In this kitchen, we used Green Smoke by Farrow & Ball which is a bold yet fresh color and links the kitchen with the outdoors,' says Lara Clarke, founder of Lara Clarke Interiors.
Recommended Primer & Undercoat: Dark Tones
Price: $40 for 0.75 liters
Choose this shade with an inviting deepness and weathered familiarity, that can evoke a calm and serene environment.
What goes well with green kitchen cabinets?
Several colors go well with green kitchen cabinets. Think green cabinets paired with a pink kitchen breakfast bar, or a green cabinet against a sky blue wall. Along with paint colors, you could also consider adding gold hardware to the green cabinets as these will look stunning against the nature-inspired hue. For a bold statement and maximum visual contrast, choose rich, dark green kitchen cabinets with white countertops.
For style leaders and design lovers.
Aditi Sharma Maheshwari is an architecture and design journalist with over 10 years of experience. She's worked at some of the leading media houses in India such as Elle Decor, Houzz and Architectural Digest (Condé Nast). Till recently, she was a freelance writer for publications such as Architectural Digest US, House Beautiful, Stir World, Beautiful Homes India among others. In her spare time, she volunteers at animal shelters and other rescue organizations.