Explore the private spaces of East London's creatives
Step inside 29 of the most creative homes in the East End...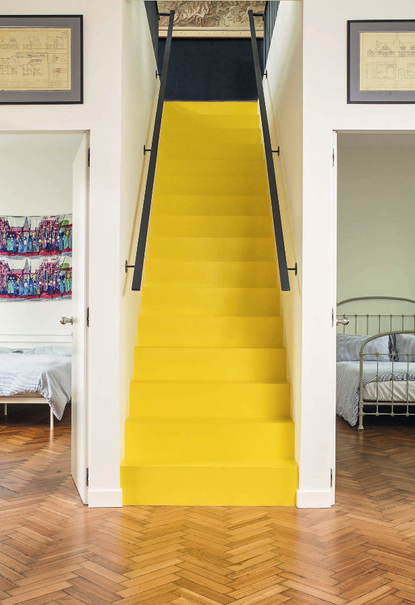 There's no such thing as a typical home in East London.It's a place where tradition and experimentation collide.
The area has always been a melting pot of cultures and has been subject to constant change, and this sense of movement feeds into the present day.
In their new book, East London Homes, Author Sarah Bagner and photographer Jon Aaron Green showcase the most inspiring interiors from this creative and diverse neighbourhood.
They share 29 of the most exciting homes in the area, each one reflecting the individual style of the people who live there.
The properties include a hummus factory, a converted dairy, a workshop, a gin distillery and a rotten old garage, among others, each one reimagined by their dwellers and transformed into striking personal spaces.
Read Also: London's Hoover Building gets A Facelift
From Spitalfields to West Ham, these private spaces belong to architects and florists, photographers, designers and shop owners.
"When people think of east London, they tend to imagine warehouse conversions with high ceilings and exposed brickwork and artists living in their studios. Though I have seen some beautiful flats in former factories that are reminders of the area's industrial past, there is so much more to this eastern side of the city", Sarah Bagner explains in her author's note.
Read Also: Inside the Most Stylish Homes of Tangier, Morocco
"East London has flourished as the setting for free spirits and inventive private lives, as this book so vividly demonstrates, mixing old and new, the findings from local antique shops and Bloomsburiana, some interiors managing to maintain a modernist purism, but more often enriched with wild, inebriated clutter, potted plants and finds from Haus, the Scandinavian interior design store on Lauriston Road, or the design shops which now line Chatsworth Road."
The photo book is a celebration of diverse creative expression, a journey through the compelling interiors of architects, florists, film makers, upholsterers and many more who don't play by any rules other than their own.
Explore our 7 favourites...
1. Old Meets New
One of the featured properties belongs to Charles & Romilly Saumarez Smith, and had been vacant for over 100 years before they purchased it.
They restored and retained much of the exposed panelling and kept the original floorboards, added their collected antiques but invested in modern art and lighting. The result isan organic mixture of old and new.
Read Also: 300-year-old church gets a Michelin-starred makeover
2. Concrete Jungle
A sculptural house in Stoke Newington is inspired by the looping of music.
The spiralling concrete house that sits in the heart of Hackney is a collaboration between an architect and a musician.
Corrugated metal and concrete give the ground floor bedroom its distinctive industrial feel.
Read Also: A Look Inside Tom Dixon's New Coal Office Restaurant
3. Seeing Red
ArchitectChantal Martinelli gives her Hackney flat a Mediterranean touch.
Chantal is inspired by Pedro Almodóvar's bold use of colour, and the Dadaists' sense of play.
4. Converted Dairy
Showcasing a more industrial-style space, Florence and James Kennedy's converted dairy in Clapton has been converted into an impressive and open family home. Warehouses can feel cold but here atmosphere comes from a wood burner, mid-century furniture and an abundance of indoor plants.
As renters, the couple have found clever ways of creating a beautiful space while not investing large amounts.
Read Also: A First Look Inside The Former BBC HQ's Luxe Apartments
5. Georgian Grandeur
A Georgian home in Spitalfields is sumptuously renovated by renowned architectChris Dyson.
Each floor has an entirely different mood, while each room is a little world of its own, providing a welcome escape from the busy city just outside.
His home is an example of his architectural practice: he has reimagined a Georgian space and added modern elements such as this chair (below), which he designed himself.
Chris displays classical and modern art alongside each other. The Hercules sculpture outside sits in contrast with the modern taxidermy pieces.
6. Lemon Yellow
Meanwhile, in a converted school building in Forest Gate, alemon-yellow staircase connects what were once two individual flats.
Read Also: Statement Staircase Ideas
Home to Carlo Viscione and Florence Andrews, light minimalism meets curated clutter in this colourful space.
Read Also: Inside the world's most beautiful bedrooms
7. Dalston Delight
In Dalston, twosmall neighbouring flats have beencombined to make an unusual family home for David & Anna McHugh. The calm white walls and restrained details in the dining space act as a canvas for stand-out features like the colourful vintage Murano glass pendant lamps.
The children's bedroom features a beautiful long desk across one wall where they can draw, and there's also a dedicated area for them behind a glass partition where they can play freely while their parents keep an eye on them.
East London Homes with Styling and text by Sarah Bagner and photography by Jon Aaron Green is published by Hoxton Mini Press
Lotte is the Digital Editor for Livingetc, and has been with the website since its launch. She has a background in online journalism and writing for SEO, with previous editor roles at Good Living, Good Housekeeping, Country & Townhouse, and BBC Good Food among others, as well as her own successful interiors blog. When she's not busy writing or tracking analytics, she's doing up houses, two of which have features in interior design magazines. She's just finished doing up her house in Wimbledon, and is eyeing up Bath for her next project.