Cloakroom ideas: small spaces, big decor suggestions to get the most out of your home
Cloakroom ideas for limited spaces, ideal spots to experiment with bold decor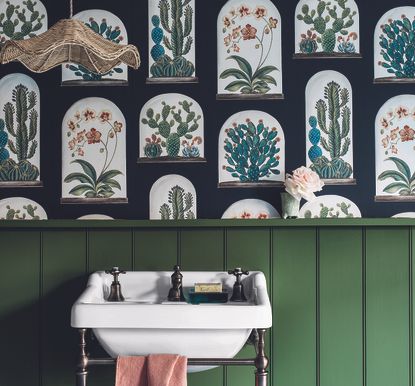 (Image credit: Future)
Cloakroom ideas often get left until last. It tends to be the smallest room, it tends to not have any windows, and it tends to get passed over for bigger ticket spaces like kitchens and living rooms. But all these points are actually a big advantage - they free you up to be bold, make a splash, try something here you might not be brave enough to do in the rest of the home.
"These sorts of rooms are lower stakes, so you can afford to have fun with them," says interior designer and Livingetc columnist Linda Boronkay. "If you're not very confident with pattern or color, then utility rooms or cloakrooms give you the chance to experiment in a space where you're not spending a lot of time." Because these rooms tend to be used quite demandingly, Linda suggests gloss paint for the walls which doesn't scuff so easily when people bustle in and bustle out. And the use of gloss tells you everything you need to know about our cloakroom ideas - that we intend to empower you to make them into glamorous little boltholes with a daring air of sophistication about them. Add green panelling and a graphic wallpaper like the one at the top of the page, use color in ways you wouldn't dare elsewhere. The cloakroom may be the smallest room in the house but it lends itself to making big statements with your choice of pattern, colour and texture. Bathroom ideas are meant to be fun. So go wild with your wallpaper or fully embrace decorative paint and tiling effects.
Cloakroom ideas
1. Start with a plan
Before we get on to all the fun decorative ideas, it's worth working out how to get the most from this tiny space. And yes, that means starting with small bathroom storage ideas. Because when rooms are little, every inch counts, and if you're going to need to stash toiletries anywhere, you'll need to plan for them, first.
"Hire a carpenter to construct built in storage," says the stylist and designer Lucy Gough. "And it doesn't have to be expensive. MDF is a wonderful material that can be painted in any color." As in the image above, you can create bespoke joinery to fill what little room there is with cupboards and drawers. Still not enough? "Install a shelf that runs the length of your room but position it above the door frame just below the ceiling. It'll be so high that it won't be a focal point and if you paint it the same color as your wall it won't stand out. By doing this you can store books and other objets above your head which will feel tucked away."
2. Make a small budget have a big impact
While the cost of wallpaper can sometimes feel prohibitive, if you've got the urge to cover anywhere then the cloakroom is going to be the place. In fact, when it comes to budget small bathroom ideas, this could actually be the easiest way to create a big bang for your buck.
You see, going big in a tiny space has advantages when it comes to how much you spend - a little goes a long way. "Smaller spaces are often the perfect places to make the boldest design choices, plus you will need far less wallpaper to cover a small downstairs loo than a whole sitting room," says Kate Guinness, interior designer. "So perhaps you can afford to spend more on something really fantastic."
2. Embrace the boldest patterns
As Linda Boronkay said at the top of the page, if you can't test the waters of your color and pattern confidence in your cloakroom ideas, then when can you? Vibrant shades, racing zebras, they might be too much for your living room but here, in your guest closet, as bathroom wallpaper ideas? The perfect surprise to a smile on visitors' faces.
"Small spaces need to feel generous," says Tom Bartlett, architect and director of Waldo Works. "This can mean vibrant wallpaper in a bathroom with luxurious floor to ceiling curtains." Or, in the case of the image above, painting the woodwork in the same shade of crimson as the dashing wallpaper you've gone for. "Do at least one thing with gusto to make a small space feel less mean," Tom advises.
4. Focus on wall lighting
It's very common for a cloakroom to have no windows at all. And, to add to the awkwardness of the space, very often the ceiling can be sloping as the cloakroom is tucked into the cupboard under the stairs. Together, these facts make lighting imperative, but also tricky - you have to be able to see in this dark little cubbyhole, but hanging a pendant from on high will often hit anyone on the head as they enter.
"If possible, always have warm lighting in a bathroom," says interior designer and Livingetc columnist Minnie Kemp when talking about bathroom lighting ideas. "A pair of wall lights that can be fitted either side of the mirror will create the cosiest of glows."
5. Don't be afraid to go really dark
And by really dark, we mean black. It's unlikely to be a color you'd use all over in many other places, so go wild with it when it comes to your cloakroom ideas.
The interior designer Martin Brudnizki agrees. "Black marble works so brilliantly in the bathroom because it's practical and goes with almost anything else in the room," Martin says. "Especially color. Peach and black is a traditional combination that you often find on the Ligurian coast in Italy."
Above, this cloakroom doesn't use black marble, but does harness the same gleaming effect of hi-shine black tiles, showing how wonderful it is to incorporate into your modern bathroom ideas. "Using black can add drama and highlight features such as making a white wall look that little bit stronger, or framing a window to give it more prominence," Martin says. "Black fits in really well to what we want from a modern-day bathroom - its darkness makes it incredibly reassuring and enveloping, tying into our desire for a comforting feel."
6. Or tone it down to moody blue instead
If black is a step too far in the bold direction, blue could be a more palatable palette for you instead. It has the same luxe feel as black, the same power to envelope you, but it is a little easier to work with if you're not used to using bold shades.
"Why do blues work so well in the bathroom?" asks the designer and potter Jonathan Adler. "Because they're the color of water, of course! In a space like the bathroom, which is typically one of the smaller rooms in the home, blue marries the fun of color with the clean, crisp and refreshing feeling that people tend to turn to white for."
The joy of blue is just how easy it is to play around with. "Blue never gets old," Jonathan says, and you don't even need to worry about the other colors that go with blue. "Every shade of blue works with every other shade of blue. The beauty of blue is that you achieve so many moods with it - pale blue is spa-like, calming and tranquil, whereas deeper shades speak of something warmer and edgier.
7. Lay tiles in interesting formations
The metro tile has long been a favorite when it comes to bathroom design, but for a cloakroom, why not look at things a little differently? Fixing rectangular tiles to the wall on an angle, so as to create a zigzag effect, is an unusual and surprisingly effective way to add a bit of pizazz and personality to a small space.
"The exposed, jagged boundary of the zigzag pattern adds interest and character where typically the edges would be squared off with a straight border," says Lee Thornley, founder of Bert & May. "The laying style emphasises both the beauty of the formation and of the tiles themselves."
As a small splashback to a cloakroom sink, this is an easy way to be dynamic in your decor. Or, like below, take the chevon formation all the way up to the ceiling. You don't get the same edge, but the pattern is appealing in its own right.
8. Add texture to the walls
A limewash or clay paint, rather than a more expected matte finish, will overhaul a small space like a cloakroom. And while they can be more expensive than regular paints, for a little room like this you won't need much to play with.
"I've always loved the tactile finishes provided by brands such as Bauwerk or Clay Works," says Livingetc's editor Pip Rich. "When you walk into a little cloakroom and are greeted by something with this much flair, it feels considered, interesting, and well designed. It's a small detail that can go a long way."
How do you decorate a small cloakroom?
Start by working out how much storage you need, and once that is in place, go big on the walls. An eye catching patten or dramatic color is exactly what you need to decorate a small cloakroom.
What is the minimum size for a cloakroom?
While a cloakroom can be small, there are still certain space requirement - it needs to be able to fit a toilet and plumbing, ideally a sink too. The smallest it can be is 70m wide and 130cm in length in order to be fully functional.
Express yourself with a super-funky design you might not be daring enough to try normally. Get the look: This arresting hand-painted Deco Monkeys wallpaper is by de Gournay and is made to order. Black Blue modern eggshell by Farrow & Ball, £66 for 2.5L, is a similar rich navy blue.
The Livingetc newsletter is your shortcut to the now and the next in home design. Subscribe today to receive a stunning free 200-page book of the best homes from around the world.
Lotte is the Digital Editor for Livingetc, and has been with the website since its launch. She has a background in online journalism and writing for SEO, with previous editor roles at Good Living, Good Housekeeping, Country & Townhouse, and BBC Good Food among others, as well as her own successful interiors blog. When she's not busy writing or tracking analytics, she's doing up houses, two of which have features in interior design magazines. She's just finished doing up her house in Wimbledon, and is eyeing up Bath for her next project.