Gray living room ideas - how to get this shade right
Gray living room ideas range from moody darks to whisper pales. Read on for all the advice you'll need to find your perfect gray paint.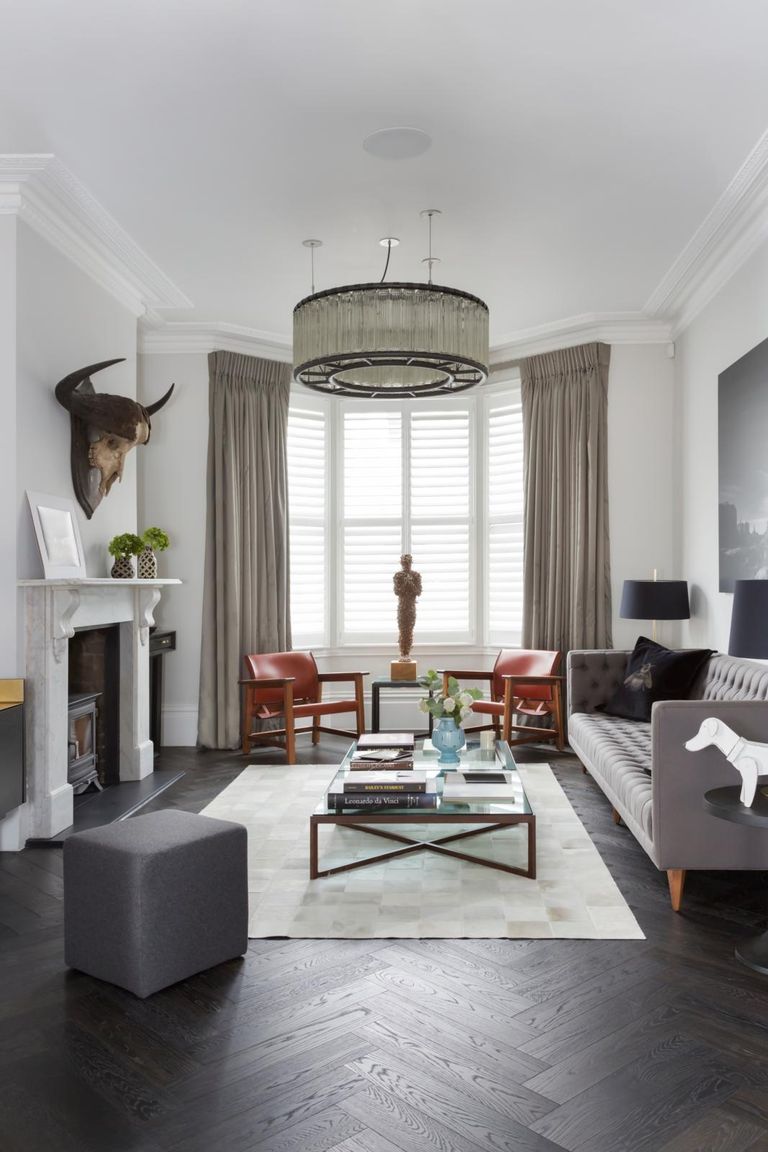 (Image credit: Paul Craig)
Looking for some gorgeous gray living room ideas? Gray paint has the ability warm a scheme in the colder seasons as well as cool a space in the summer – with the lighter shades keeping a room looking bright and fresh. A light, muted palette will open up a space, while darker tones bring intimacy to larger modern living rooms.
Each shade of gray is capable of creating a completely different look. From Dimity to Down Pipe, gray is one of the most versatile colors on the spectrum; it can channel edgy Rock 'n' Roll vibes or create a calming rustic feel. It's no wonder gray living room ideas are among the most popular images on Instagram.
Choosing the right gray
Most gray paints include different colored pigments within the black/white mix, which provide depth and character, and change how the gray appears when it reacts to light. Place grays side by side and you'll see one may seem a bit green, violet or blue if it has cool undertones or it could appear tinged with red, orange, brown or yellow if it is a warm grey. "Gray is often perceived as cool but with the right underlying tonal notes, grey can deliver a gentle warmth to spaces too," advises Patrick O'Donnell, brand ambassador for Farrow & Ball.
As well as the temperature of gray, you'll need to think about its intensity. For a feeling of light and space, keep it pale, but for cosiness and drama, shade down to the darker greys. If you only use the room in the evening, consider a stronger colour to create an intimate feel, but if you use the room during the daytime you might opt for a lighter gray.
Which grey works where
To find the best undertone to use, you'll need to consider the direction of your living room – and handily there's a compass app on most phones for that! South-facing rooms are filled with light so all greys will work. A pale gray will maximise the feeling of light and space so is good as a small living room idea – while a cooler-based gray will balance the intensity of the sunlight. Northern light tends to bring out a gray's cooler notes, so either choose a deeply saturated grey for a cocooning effect or select a lighter grey with warm undertones for a more welcoming vibe. East-facing spaces receive warmer light in the morning and cooler light in the evening, and vice versa for West-facing rooms. The changing light means you'll need to find a grey that works with both – or with the lighting at the time of day you'll use the space.
If your living room has two aspects, work out which light dominates and pick your gray accordingly. Don't forget to tie in with the colours and undertones of adjoining rooms or external views for a scheme that flows, and, if layering greys, choose ones with the same undertones from a single colour family.
Tried and tested grays
Before taking the plunge, paint large test squares on each wall in your living room and look at them at different times of the day. Tape other furnishing samples next to them so you can see how your planned accent colours play off the grays. And take the opportunity to experiment with artificial light sources, using soft/warm white bulbs to enhance warmer tones or cooler white bulbs to emphasise blue and green tones.
"Choosing your perfect gray can be tricky as the spectrum is huge and its colour can be nuanced," says Dominic Myland, CEO at Mylands. "It's a personal choice so really it comes down to what you're drawn to and what look you'd like to achieve."
Should small rooms be painted light grey or dark grey?
There are two camps here – those who advocate light grey for a feeling of spaciousness, and those who say that dark tones bring small rooms to life. "The function of the space and the atmosphere you wish to create are key," advises Andy Greenall, head of design at Paint & Paper Library, "For spaces that see a lot of activity like kitchens, you can lift the scheme by using a cooler, lighter gray. For restful spaces like bedrooms, deeper warmer greys are perfect for creating a sanctuary for rest and relaxation."
Which gray paints make a living room look bigger?
Lighter grays will help light bounce around the room and continuing the grey onto the ceiling and trim will avoid any visual stop-start effect. Consider Farrow & Ball's Ammonite, Dimpse or Skimming Stone. Little Greene's suggestions include Shallows 223, French Grey Pale 161 and Ceviche 230, and Paint & Paper Library's recommendations are Salt I, Salt II and Cotton III. Skylon Grey and Modernist White by Fired Earth are crisp, pale greys that will open up a room or try Earthborn's Whisker which has an airy blue-green undertone. For a warmer option try Mylands' Ludgate Circus No. 89.
What is the on-trend grey for living rooms?
With the current trend for earthy palettes, nurturing greys are enjoying a heyday. "We're seeing a shift towards greys with warm undertones such as Barbican and Moleskin," says Andy Greenall, head of design at Paint & Paper Library. Ruth Mottershead, creative director at Little Greene agrees. "Our warm stone-toned greys, like Dolphin, Limestone and Rubine Ashes, are proving popular as they offer a sense of comfort and cosiness." Patrick O'Donnell, brand ambassador for Farrow & Ball notes that the use of deep, cocooning greys is also on the rise. "We are seeing customers becoming more confident by embracing darker tones like Worsted, which offers warmth and depth."
Which accent colours go with gray paint in a living room?
From ochre and coral to navy and forest green, you'll be hard pushed to find a colour that doesn't sit well with grey. Some designers advise picking a grey with undertones that are opposite your accent colour to make colours pop – for example teaming a blue-based grey with burnt orange accessories. For a softer look, match the undertone to the accent colour. "Look for a grey that sits on the cusp of another colour – such as a blue-grey or a green-grey – and then pair the grey with a similarly toned accent colour," advises Fired Earth's creative director, Colin Roby-Welford
Which grey paints are best for North-facing living rooms?
Here it's best to stay warm-toned or go bold. Consider the rich, earthy notes of Farrow & Ball's Mole's Breath or the drama of Down Pipe. Good choices in Little Greene's range include French Grey-Mid 162, Lead Colour 117 and Cool Arbour 232. Paint & Paper Library suggests Tarlatan, Barbican and Lusi while Mylands recommends Ludgate Circus No. 89, Shoreditch No. 15 and Crace No. 16. Also look at Earthborn's Cat's Cradle and Hidey-Hole or Benjamin Moore's Kendall Charcoal HC-166.
Which gray paints are best for South-facing living rooms?
All grays work here so it comes down to taste. "Cooler toned grays can read more neutral here, whilst warmer tones may appear too dense in this light," advises Ruth Mottershead, creative director at Little Greene. She suggests their Urbane Grey 225, Shallows 223 and Serpentine 233. Farrow & Ball recommends keeping the look simple with clean greys such as Blackened or Pavilion Gray. Paint & Paper Library suggests Tallanstown Grey, Blanket and Salt V. Fired Earth recommends Plumbago and Antimony. At Mylands look at Walpole No. 42, Islington No. 23 and Mid Wedgwood No. 113. Pale grays like Earthborn's Tick-Tock feel fresh or try Benjamin Moore's warm-toned Balboa Mist 1549.
What are the best warm gray paint colours for living rooms?
To add some visual warmth and welcome, try Farrow & Ball's Purbeck Stone, Skimming Stone or Elephant's Breath. At Little Greene consider French Grey 113, Mortar 239 and Dash of Soot 244. Paint & Paper Library suggests Barbican, Quail or Tarlatan while Fired Earth recommends Celadon's Robe. At Mylands check out Hoxton Grey No. 72, Stirrup No. 114 and Stone Castle No. 71. At Earthborn look at Kissing Gate and Trilby or try Andrew Martin's Welsh Slate, Monolith and Zulu Mask. Benjamin Moore's Revere Pewter HC-172 is a classic warm gray.
What colour ceiling goes with grey walls?
Either choose a complementary white (with the same base colour as your chosen gray) or for a cohesive look, use the same grey on the walls, ceiling and woodwork. You can vary the sheens in the same grey for textural contrast and added depth – perhaps eggshell on the woodwork, low-sheen emulsion on the walls and matt emulsion on the ceiling and cornice. Alternatively, layering tonal groups of grey in the same room can deliver an airy ombré effect – use the deepest grey on woodwork, two tones lighter on walls and two lighter still on your cornice and ceiling. Accent ceilings are also on-trend right now – team a statement grey on your ceiling with paler walls if you dare!
TWO TONE
Balance has ben achieved in this scheme with two different neutral tones below the dado rails. The gray shade on the lower section of the wall grounds the scheme and let's the colourful Flamingo artwork stand out.
TAUPE TONES
The palest of grey on the walls is teamed beautifully with the rich parquet flooring and darker shades of grey in the soft furnishings. The tan leather chairs keep things bright and breezy.
BLOOMING LOVELY
The big blousy blooms on this floral wallpaper soften this industrial space and are just the right size for the scale of room.
BEAUTIFUL BACKDROP
Painting the ceiling, architraves and window frames in the same mid-grey as the walls creates a cool cocooning backdrop, where vintage furniture, one-off pieces and lush foliage can really stand out.
PICTURE THIS
Painting up to the picture rail in this pale grey puts the emphasis on the gorgeous gallery wall. Splashes of colour in the rug and cushions make the room feel fresh and vibrant.
FADED GRANDEUR
The charcoal lace sheers, mottled sofa fabric and faded rug are offset by the dramatic black chandelier and buttoned chair giving this room an air of time worn opulence.
SET THE TONE
The sombre tone of these steel grey walls is instantly lifted by the bold abstract artwork, crimson red occasional chairs and the La Volière floor lamp.
GLAMOROUS GREY
There's an overtly feminine feel to this room, with its lace-style wallpaper, glittery glass chandelier and Art Deco style shell love seat and chair.
Find similar pieces at Sera of London.
IN THE PINK
A pink rug brings a shot of vibrancy to this otherwise monochromatic palette. Get the look: The Shera rug, Imperial sofa and pouffes are by Layered. The armchairs are from One Kings Lane. The ceiling light is from Dusty Deco.
FADE TO GREY
Artwork by John O'Carroll in layers of wax, resin, aluminium and steel shine out from the graphite-coloured walls, while untreated oak flooring adds natural warmth.
Get the look The wax and the grey artwork are by John O'Carroll and the small painting is of Venice, where Sebastian and Patrina got married. The Etoile marble fireplace is from English Fireplaces. Ochre's Club Chair is paired with Jessica Zoob's It's Complicated cushion for Black Edition by Romo. This is a vintage Twenties table lamp. For similar, try Anglepoise. The rug is by Linie Design at Heal's.
TANTALISING TEXTURES
This room is a textured, layered space, with a zebra printed cowhide layered over a vintage rug, a mix of cushions leaning against a sheepskin and a throw, and a squishy leather ottoman used as a coffee table.
Get the look: Chandelier by Arteriors | Grass cloth wallpaper by Phillip Jefferies | Vintage area rug | Zebra Stenciled Cow Hide rug via Alice Lane Home | Bar Cart by Global Views
STAMP OF APPROVAL
The dark, moody tones in this room beautifully showcase the carefully curated furniture and accessories.
Get the look Find similar artwork at anncarrington.co.uk.
STAY NEUTRAL
Various shades and textures were used for tone and warmth and mixed reclaimed pieces with big, comfy seating.
Get the look: The walls are painted in Tom's Bakery Claypaint by Earthborn. The photograph of Primrose Hill at dawn is by Paul. The wooden bench came from a junk shop in Devon. The Anglepoise was found in a Cornish antiques shop. Try The Old Cinema for similar. The tin flight case was brought back from New York. The coffee table was made by Paul. This is a Trenzas wool rug by Gandia Blasco at Heal's.
DROP THE BASE
Zoning gives what once was an open-plan house a more generous sense of space, and areas with individual personality.
Get the look These are original Senior armchairs by Marco Zanuso for Arflex. The rug is from The Rug Company. The unit is by B&B Italia.
IN THE RAW
This is where the owners retreat to read the paper, watch TV or simply get some 'space'. Soothing grey tones are provided by lime plaster with a grey pigment on the lower part of the walls.
Get the look The sofa is from made.com. The table was designed by Mark Lewis.
WALL TO WALL
Colourful book spines stand out against the floor-to-ceiling grey bookcase.
Get the look The bookcase was made bespoke by Rick Baker. The reclaimed chevron oak flooring is from Solid Floor. The rug is by The Rug Company. Ros sourced the coffee table from an antiques shop. Talisman stocks similar. The Salute sofa from sofa.com is a good match.
SMOKY TONES
Gentle tones of charcoal, buttermilk, caramel and smoke add warmth.
Get the look The walls are painted in Zoffany's Silver flat emulsion. The sofa is from George Smith and the suede-upholstered chairs are by Pippa Paton Design. The resin flooring is from Senso.
COOL CONTRAST
In a simple decorating scheme, pops of colour provide impact – here, it's the glow of the yellow upholstery against the charcoal walls.
Get the look For a similar paint shade, try Off-Black estate emulsion by Farrow & Ball. For a similar round table, try Lombok. The armchair, an auction find, was reupholstered in Peonies in Lemon by Michael Szell for Christopher Farr Cloth. Head to George Smith for a similar chair. Find the Josephine T pendant light by Jaime Hayon for Metalarte at Foundry Light + Design.
JUNGLE FEVER
This house was renovated on a tight budget, with most of the furniture found at flea markets or up cycled – a tight edit of colour and materials brings the scheme together.
Get the look Find a bull's head like this at English Lamp Post Co. The side tables are made from stumps of olive trees. French Connection Home does similar tables. The cane chair is a flea-market find. Try Graham and Green for similar.
DARK ARTS
There is an industrial feel to this overall look, with exposed RSJs, Crittall screens, steel staircases, metal light fittings and varying shades of smoky greys and black.
Get the look Both sofas are from Eilersen. The Caged 4.0 light is by Buster + Punch. The side table is from Stellar Works. The pouffe is from Made.com. The Justine artwork is by Matt Small at the Nelly Duff Gallery. The walls are painted in Pavilion Gray estate emulsion by Farrow & Ball.
VELVET UNDERGROUND
In this room there's a contemporary take on classic interior style.
Get the look The sofa is from The Sofa & Chair Company. The coffee and side tables were all bought at The Decorative Antiques & Textiles Fair. The silk cushions were brought back from Jaipur.
ECLECTIC MIX
Moody and atmospheric, this living room relies on luxe finishes – marble, brass and leather – for its air of opulence.
Get the look The blinds are made in Hackney Empire velvet by House of Hackney. The pendant light is by Soho Home at Liberty. The Chesterfield sofa, Tank chairs, rug and mirror salvaged from a train station in the Czech Republic are from Pure White Lines.
GOT THE BLUES
The grey walls here are lifted by vast, sink-into sofas from Caravane and a pair of circular coffee tables, which were a bargain from French store Petite Friture. The design is owed to interior designers Turner Pocock.
Get the look This is Caravane's Victor sofa. The cabinets were made bespoke. These are Hollo coffee tables from Petite Friture and the Form 2 rug by Tom Dixon for The Rug Company. The vases are from a selection from Anthropologie and Holly's House. The grey throw is from Cologne & Cotton.
BOHO VIBES
This industrial-meets-bohemian interior is alight and airy oasis. The original oak parquet floor was painted white to enhance the low-key mood.
Get the look For unusual architectural salvage, try Lassco. This is Jan's New Sofa by Paola Navone for Linteloo. The Brick stools are by Paola Navone for Gervasoni. This is the 265 wall light by Paolo Rizzatto for Flos. The sculpture is from Objeto de Deseo in Barcelona. The large white panel is a period roof tile discovered in an antiques market in Girona.
MODERN MASTERPIECE
While there are subtle visual flourishes – including contemporary lighting designs by the likes of Marcel Wanders, as well as high-street finds that look as 21st century as can be – the decor is kept calm by avoiding overtly pop flourishes and brash colours.
Get the look The sofa is from sofa.com. The faux shagreen bedside trunks – two of which are used as a coffee table – are from Oka.
SCANDI COOL
Original shutters and radiators have been retained for a rustic look. A soft grey palette and modern classic furniture keeps it fresh.
Get the look These are Oscar sofas by Matthew Hilton for SCP. The Conran Shop has a classic Butterfly chair. The reindeer rug at Heal's is similar.
MODERN MIX
This movie-cum-music room has a distinct modern yet comfortable edge.
Get the look The cabinetry is a bespoke design by the owner's interior design company Magentapink Interiors. This is the Long Island sofa by sofa.com. The Moon Pebble coffee table is by Ochre. The Meurice wall sconce is by Jonathan Adler and the floor standing light, leaning over the sofa, is from Mr Resistor.
CASUAL CONTEMPORARY
The family room has an elegant yet edgy feel. The overall mood is natural, but styled with a contemporary eye.
Get the the look The vintage armchair was found at Pure White Lines. The cushions on the sofa are House of Hackney's Palmeral design. The Beni Ourain rug is from West Elm. The artwork, left on the chimney breast, is by Blacklist. The Nice View typographical print is by Nathan Johnson for Blacklist. This is Tom Dixon's Copper Bronze pendant. The vase is from House Curious.
See more modern living room ideas